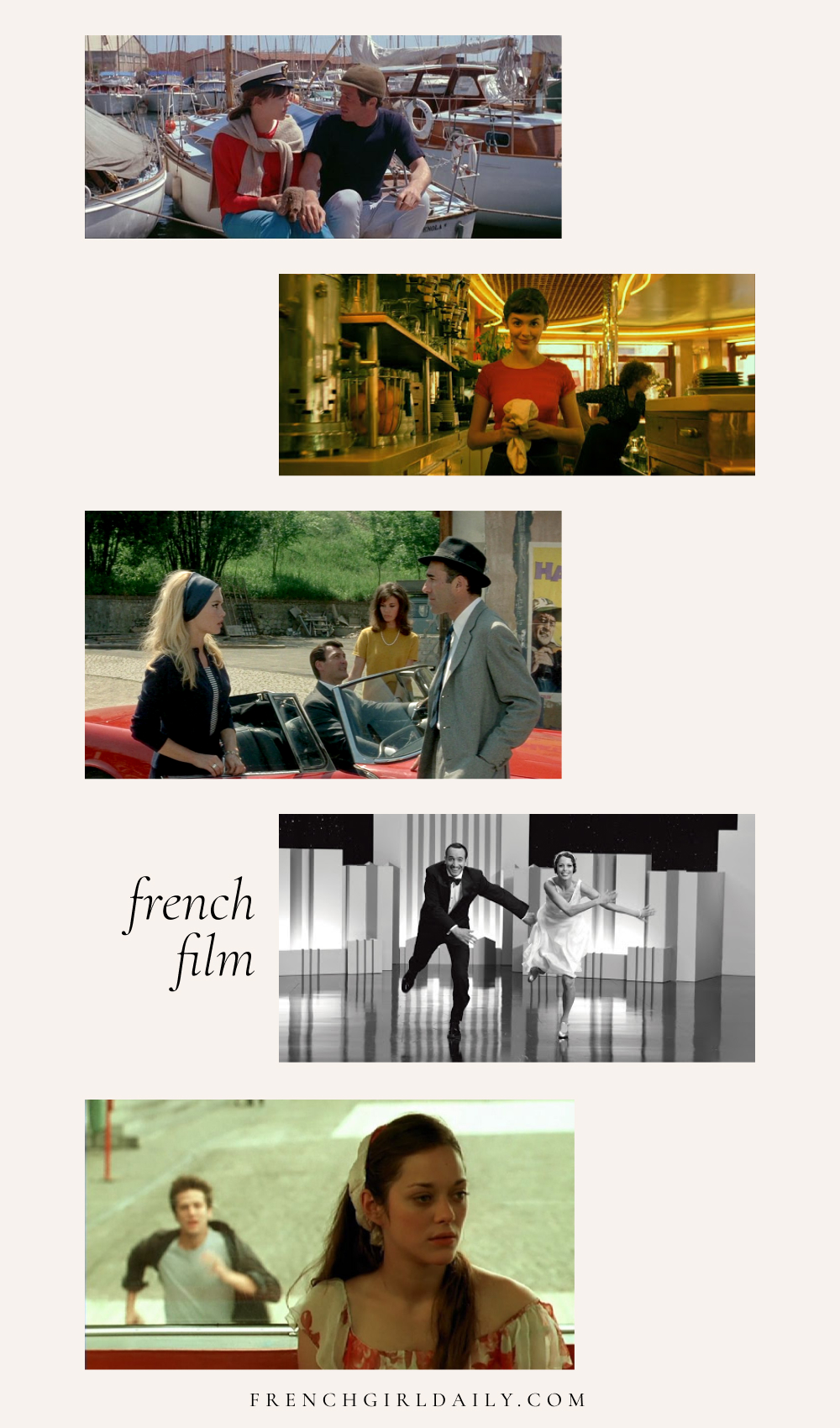 When I was in high school, I came across the French Nouvelle Vague film movement, and ever since then, I've been obsessed with French films. France has a long and storied cinematic history, and some of the greatest films of all time have been produced there.
Needless to say, my personal favorite time period of French film is the 1960s when the French New Wave film movement was born. However, there are phenomenal French films coming out of just about every decade. Today I want to talk about some of the French movies that have inspired me the most!
French Films
The French have always been known for their love of cinema. The art of filmmaking began as early as the late 19th century and continues to flourish today. As a result, the French film industry has produced an impressive collection of beloved films – many of which are premiered at the world-famous Cannes Film Festival.
French films all cover different genres and themes, but they also share certain commonalities that make them a language of their own. French cinema is a phenomenon that has become known throughout the world beyond its borders. Many French actresses have even found success in the United States like Melanie Laurent and Marion Cotillard.
These are the French films that inspired me the most…
The Dreamers (2003)
Romantic and adventurous, The Dreamers is a film for cinema lovers. Based on the novel by Gilbert Adair and set in the seductive world of Paris during a rebellious student revolution in May 1968, it is a portrait of love in a time of changing times that explores what it means when life starts to imitate art.
Film buffs will appreciate the many references to French cinema classics dotted throughout this movie. Starring a young Eva Green opposite French heartthrob Louis Garrel, the film depicts a young American student (Michael Pitt) as he is thrust into the Paris student riots during his study abroad year.
Pierrot Le Fou (1965)
Pierrot Le Fou is a 1965 French crime film written and directed by Jean-Luc Godard. Ferdinand (Jean-Paul Belmondo) is a middle-aged French man who takes off with a young babysitter across the French countryside. He helps her escape as she is relentlessly pursued by foreign criminals. The story is loosely based on the true case of Roland Cuberes, who accidentally killed his partner Christine Jourdan in 1959 and was subsequently sentenced to life in prison for her murder. The film stars iconic French actress Anna Karina. The visuals of this film – bright reds and blues with a very 60s filter – are just as interesting as the content!
Love Me If You Dare (2003)
Jeux d'Enfants is a romance film about love decades in the making. What I like about this film is that it's one of the last great French films to be made before the digital age of cell phones, social media, and ultra-connectedness. In Love Me If You Dare, directed by Yann Samuell, we see a film that defies the banal conventions of romantic comedies and offers us something more substantial. The film begins with two friends who spend their childhood daring each other to do one silly thing after the other. As they get older, the dares get more risky, leading them to risk relationships and jobs all to keep up the game. Will the game break them apart – or pull them closer together?
Contempt (1963)
In Le Mépris, a wealthy, middle-aged woman falls in love with a young man whom her husband deems unsuitable. The plot of Jean-Luc Godard's highly influential story of postwar social division is full of contemporary ironies, including the relationship between an actress and her press agent. Voted one of the outstanding films of all time by the New York Film Critics Circle, Contempt is considered one of Godard's masterpieces.
It stars Brigitte Bardot, Michel Piccoli, Jack Palance, and Giorgia Moll. The story centers around Paul Javal, played by Piccoli, who works as a playwright and is re-writing a script. His wife, Camille, played by Bardot, struggles in her marriage and eventually admits she no longer loves her husband. Much to his wife's irritation, Paul continues to work and try to ingratiate himself with the German director Prokosch. This relationship ends up destroying his marriage and leaves his life in shambles. In the end, Paul must decide the future of his career.
Amélie (2001)
Amélie is a 2001 romantic fantasy film directed by Jean-Pierre Jeunet. The film's story follows a shy waitress, played by Audrey Tautou, who decides to change the lives of those around her for the better while struggling with her own isolation. Her actions, guided almost entirely by her whimsical imagination and daydreams, bring joy to the lives of those she encounters. This film is beloved around the world and is a true blend of modern French cinema with the charm of the past. Don't forget to visit the café where it was filmed during your next trip to Paris.
The Umbrellas of Cherbourg (1964)
Les Parapluies de Cherbourg was highly acclaimed upon its initial release, winning the Golden Lion at the Venice Film Festival and receiving seven nominations for an Academy Award. Arguably the best film from filmmaker Jacques Demy, The Umbrellas of Cherbourg centers on a love triangle between Geneviève (Catherine Deneuve) and Guy (Nino Castelnuovo), a wounded soldier she met in Normandy during the war who has returned to his hometown in search of work. They are joined by Guy's best friend Roland (Marc Michel), a sailor who befriends Geneviève while she waits for her new shoes to be delivered.
Geneviève starts working in her mother's umbrella shop after school. The relationship between the three is smooth but becomes complicated by the presence of Maurice (Jacques Bailly), Guy's father, who has a strained relationship with his son due to their opposing views. The film is a colorful and joyful film that gives you a look at life in France during the 1960s.
Love in the Afternoon (1972)
L'Amour l'après-midi is a masterful drama from landmark director Éric Rohmer. It stars Bernard Verley as Frédéric Carrelet, Françoise Verley as Hélène Carrelet, and Zouzou as Chloé, among others in the cast. Frédéric and Hélène are married in the film and also in real life. Although Frédéric is deeply in love with his wife and they are about to have a second child together, he begins to think about other women. This culminates when he meets Chloé, who shows up unexpectedly at his office. He knew Chloé in his past and begins to spend time with her as the film progresses. Chloé eventually expresses her desire for Frédéric to father a child with her, leading him into a tricky situation. A blend of romance and social commentary, Love in the Afternoon is as enlightening about French romantic relationships as it is entertaining.
My Life to Live (1962)
Vivre sa Vie is a black and white French film directed by Jean-Luc Godard. Godard was well known for his loose filmmaking style that often incorporated scripts on the fly and encouraged his cast to make up lines during filming. The film stars Anna Karina (who later married Godard), Sady Rebbot, and André S. Labarthe. Karina plays Nana Kleinfrankenheim, a woman who leaves her husband and son in hopes of becoming an actress.
On her own, Nana ends up working in a record store but struggles to keep up with her bills and rent. This eventually leads her to enter a life of prostitution through a series of events. She meets an old friend who happens to be a pimp named Raoul and he takes her in as one of his working girls. The film continues to chronicle her life as a prostitute, culminating in tragedy.
Belle de Jour (1967)
This French film is the first to deal thematically with eroticism from a female point of view. For a 1960s audience, it was certainly audacious to dive into the fantasies of some women of what it might be like to be an escort. The provocative film stars iconic French actress Catherine Deneuve who plays a demure housewife who works in an office during the day. At night, she discovers a whole new life using her beauty and wiles to seduce men in hopes that they might lead her to a new love interest.
Breathless (1960)
À bout de souffle, in French, is the film to watch if you want to know about the American girl in Paris experience during the 1960s. Jean Seberg plays a young American journalism student studying in Paris who meets a dashing yet criminal Frenchman. The film's depiction of their escapades impressed audiences and launched the career of filmmaker Jean-Luc Godard.
It artfully tells the story of Michel Poiccard (Jean-Paul Belmondo), a young Parisian and petty criminal, whose romantic ideals lead him into an absurd series of dead-end robberies that he proceeds to get himself caught up in. When Michel meets Patricia (Jean Seberg), his life changes forever, and he seduces her away from her bourgeois boyfriend to live with him on the run.
This film pioneered French new wave cinema, and became a sensation all over the world!
---
If you want to get exposed to more French films, perhaps have a go at watching them while shedding your inhibitions and taking your time in exploring the various different aspects of French cinema that one can encounter in one film. It is also suggested that you watch these best French films with an open mind and try not to impose any bias or preconceptions on them, as this can often give way to interesting observations and experiences. They certainly move at a different pace than modern-day American films, but that's part of their beauty.
These are just some of the best French films that women should watch at least once! I have so many more films to share with you guys, but this is my core list of French films that I really, really adore. I hope you enjoy them as much as I did!