I recently met with French fashion designer Alice Balas at her store in Le Marais to talk about her past and what inspired her to launch her eponymous fashion line, with a focus on leather craftsmanship.
🇺🇸This article is available in English, and then French further down!
🇫🇷Cette article est disponible en anglais d'abord et puis français plus bas!
Alice Balas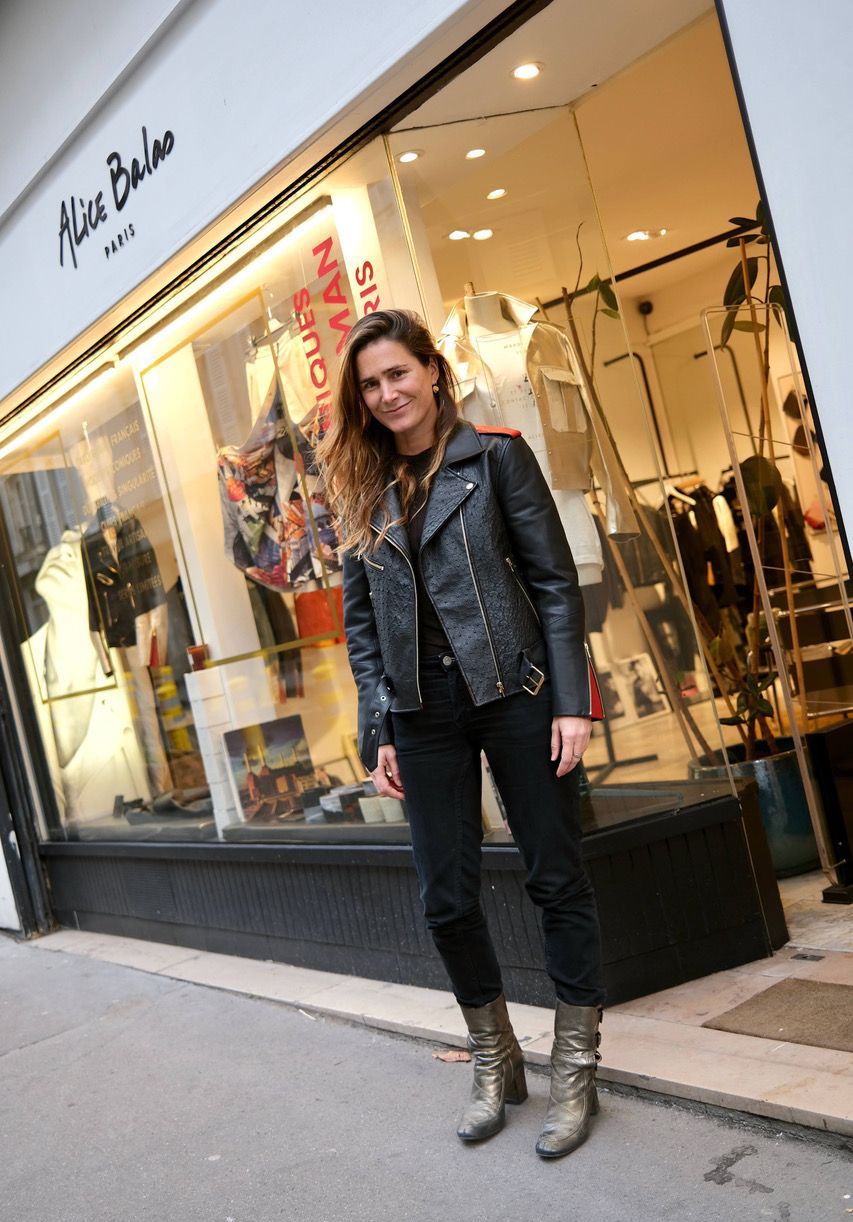 What was your background before launching your brand?
I started as a photography and art director's assistant, then I became an art director myself at a digital communication agency in London. I collaborated with Sølve Sundsbø, Peter Lindbergh, Donald Schneider, as well as other brands like Gucci, Diesel, Comme des Garçons, Olympia Le Tan, Dior Perfumes, and Lancôme. In 2015, I came back to Paris to take on an entrepreneurial adventure and launch my own brand of custom leather jackets.
Why did you choose to launch a brand of leather jackets specifically?
The project came about from my personal interest. At the time, I couldn't find a leather jacket that was not too rock or too masculin. I was looking for a flexible piece, easy to wear and elegant, in which you feel at ease and strong at the same time. As I couldn't find this kind of jacket, I decided to create it.
Where do you find inspiration for your designs? Is there someone in particular who wears the leather jacket somewhat iconically?
I find inspiration everywhere! I wasn't looking to reinvent the style, but to give it a modern and timeless elegant twist. For that, I'm inspired by today's woman, today's modern time where we live at 100 mph without compromising style and femininity. As well as the modern man who is an adventurer and a bit dandy.
It's too hard to choose one person, but it's true that I've always had this image of Kate Moss in mind, wearing the leather jacket with so much confidence. I'm also inspired by Charlotte Rampling, Steve McQueen, Charlotte and Serge Gainsbourg… I often look at this generation of icons, who inspire me a lot.
Has the personalization aspect always been part of the brand? Why did you start to offer the possibility of personalizing a jacket in detail?
Yes, personalization is at the heart of the brand, since the beginning! Each person is different and deserves to have a jacket in their own image, to decide on the details, its lining, and everything. Moreso, this experience of duo-designing is a moment that I love to share with each client. Today, just like the first day, I wish to breathe uniqueness into leather pieces which are often black and standardized. The idea of creating each piece as unique in Paris allows me to make that possible.
Is it important for you to produce the jackets in France? Who makes the jackets in your workshop today?
Yes, very! Leather artisans are disappearing and I'm so proud to be a part of the brands who try to maintain it on French soil. It equally gives me much flexibility. If I didn't manufacture inside Parisian workshops, I couldn't produce each jacket according to the style of each client. I also find it fits in a sustainable approach : we have no overstock, we don't create any waste.
Is there one or several leather jackets that are somewhat "necessary" for a woman's wardrobe, according to you? What are they?
Everyone is different, I don't wish to impose something on my clients. That said, it's true that my project started with the iconic "Biker" jacket and it remains today the most popular product! Our PERF 009.1 model is otherwise an iconic Alice Balas that I recommend to our clients who wish to start with a timeless piece from the brand. It unites all our characteristics : a mix of 4 leathers, champagne leather, a colorful lining…
What are your own wardrobe "essentials" or basics?
A leather jacket, of course!
Day to day, I love to wear it with a pair of leather boots, jeans, and a little crossbody bag. It's kind of my uniform: simple, elegant and comfortable. That's my vision of daily style. Clothing is made for living, not for holding us back. I like to have this feeling across my leather pieces, and my personal style.
En Français
Quel était ton parcours avant de lancer ta marque?
J'ai commencé en tant qu'assistante de photographes et de directeurs artistiques, puis je suis devenue moi-même directrice artistique dans une agence de communication digitale à Londres. J'ai collaboré avec Sølve Sundsbø, Peter Lindbergh, Donald Schneider et des marques comme Gucci, Diesel, Comme des Garçons, Olympia Le Tan, Dior Perfumes, ou Lancôme.
En 2015, je reviens à Paris pour me lancer dans l'aventure entrepreneuriale en créant ma marque éponyme de vestes en cuir singulières et uniques.
Pourquoi as tu choisi de lancer une marque à toi spécialisé des vestes en cuir?
Le projet est parti d'une envie personnelle. A l'époque, je ne trouvais pas de veste en cuir qui ne soit pas trop rock ou masculine. Je cherchais une pièce souple, facile à porter et élégante dans laquelle on se sente à la fois à l'aise, et forte. Comme je ne trouvais pas cette pièce, j'ai décidé de la créer.
Où est-ce que tu trouves de l'inspiration lors de la conception? Est-ce qu'il y a quelqu'un en particulier qui porte la veste en cuir iconiquement?
L'inspiration se trouve partout ! Je ne cherche pas à ré-inventer la mode, mais à donner un twist moderne et élégant à des intemporels. Pour cela, je m'inspire de la femme d'aujourd'hui, cette amazone des temps modernes qui vit à 1000 à l'heure sans compromettre son style et sa féminité. Ainsi que de l'homme moderne, un aventurier un brin dandy.
C'est trop dur de choisir une personne mais c'est vrai que j'ai toujours cette image de Kate Moss en tête portant la veste en cuir avec tant d'aplomb. Je suis également inspirée par Charlotte Rampling, Steve McQueen, Charlotte et Serge Gainsbourg… Je regarde souvent des photos de toute cette génération d'icônes, elle m'inspire beaucoup.
L'aspect personnalisation faisait-il toujours partie de la marque? Pourquoi as-tu commencé d'offrir la possibilité de personnaliser une veste et toutes ses détails?
Oui, la personnalisation est au coeur du projet et ce depuis le début ! Chaque personne est différente et mérite donc d'avoir une veste à son image, de choisir ses détails, sa doublure, etc. De plus, ce moment de création à deux est un moment que j'adore partager avec chaque client. Aujourd'hui, comme au premier jour de ce projet, je souhaite insuffler de la singularité dans les pièces en cuir qui sont trop souvent noir et standardisées. Le fait de produire chaque pièce à l'unite à Paris me permet de rendre cela possible.
Est-ce que c'était important pour toi de fabriquer les vestes en France? Qui fait les vestes dans ton atelier aujourd'hui?
Oui, très ! L'artisanat autours du vêtement en cuir se perd et je suis fière de faire partie des marques qui tentent de le maintenir présent sur le territoire Français. Cela me donne également beaucoup de flexibilité. Si je ne produisais pas dans des ateliers Parisiens, je ne pourrais pas fabriquer chaque veste à la demande pour chaque client. Je trouve aussi que cela s'inscrit dans une démarche durable : nous ne produisons pas d'overstock, nous ne créons pas à perte.
Est-ce qu'il ya une ou plusieurs vestes en cuir un peu "obligatoire" pour la garde de robe d'une femme à ton avis? Elles sont lesquelles?
Chaque personne est différente, je ne souhaite donc pas imposer quoi que ce soit à mes clients. Ceci dit, c'est vrai que le projet a commencé avec l'iconique veste Biker et c'est encore aujourd'hui notre produit le plus populaire. Notre modèle PERF 009.1 est d'ailleurs un iconique ALICE BALAS que je recommande aux clientes qui souhaite commencer avec un intemporel de la marque. Elle réunit tous nos codes : un mélange de 4 cuirs, le cuir champagne, la doublure colorée…
Quels sont tes propres "essentiels" de ta garde-robe, les basiques ?
Une veste en cuir bien sûr ! 🙂
Au quotidien, j'aime la porter avec une paire de bottines en cuir, un jeans, et une petit sac en bandoulière. C'est un peu mon uniforme : simple, élégant et confortable. C'est ma vision du style au quotidien. Le vêtement est fait pour vivre, pas pour nous contraindre. J'aime que cela se ressente à travers mes pièces en cuir, et mon style personnel.