If you find yourself scratching your skin once winter rolls around, then you need a proper French winter skincare routine. Since I've moved to Paris, my whole skincare regime has changed. The water in my shower is much harsher on my skin and leaves it quite dry as I've never felt before.
French Winter Skincare Routine
With winter upon us, I'd like to share my personal French winter skincare routine with you guys and hopefully offer some good tips for caring for your skin during the colder and dryer months of the year!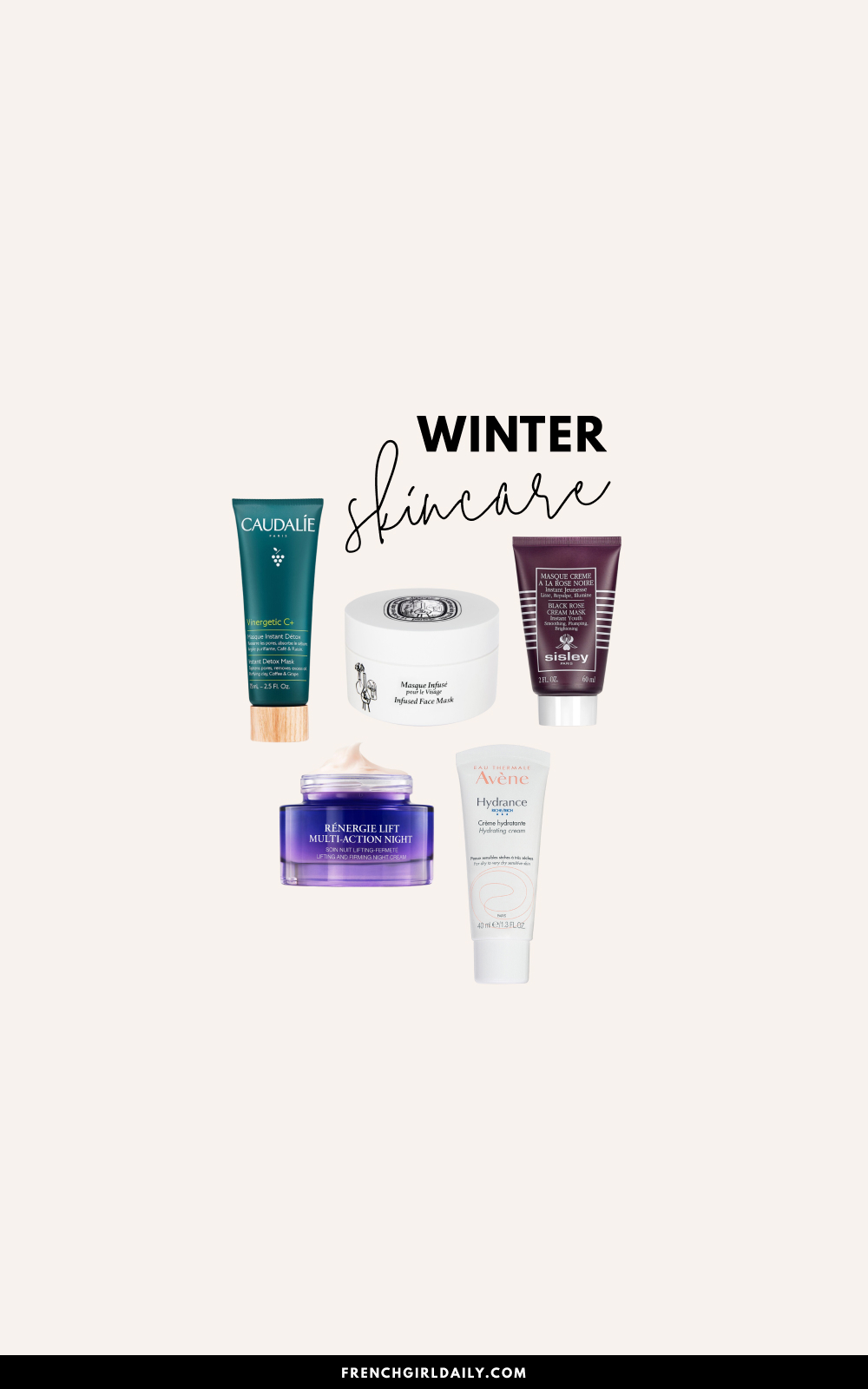 Winter Morning Skincare
Here is my French winter morning skincare routine for cold Parisian mornings!
Cleanse
First things first. A gentle face cleanse is the first step in my French winter skincare routine. I use the light cleanser La Roche-Posay Toleriane Purifying Foaming Face Wash in the morning since my face hasn't faced too many irritants since washing it the night before.
Eye Cream
I apply an eye cream below my eyes since my eyes are very puffy in the morning, no matter what part of the year it is! I use the Vichy Mineral 89 Eyes Serum which has both caffeine and hyaluronic acid in its formula. It's extra hydrating, making it great for winter.
Serum
I use an ultra-hydrating serum in winter as my skin gets dry faster, and the Caudalie Vinoperfect Serum does the trick. This bestselling serum brightens the face while reducing dark spots and evening the skin tone.
Moisturize
Once my serum has dried, I apply a winter moisturizer like the Avène Hydrance Rich Cream to my face. Rich creams tend to be thicker which is ideal for braving the harsh winter wind.
Winter Evening Skincare
These are the steps in my winter evening skincare routine in Paris.
Remove Makeup
After arriving back home to my apartment in Paris, the first thing I do is remove my makeup from the day using the Bioderma Sensibio H20 micellar water solution. This cult French makeup remover is truly a gem. It doesn't leave any residue and effectively removes my makeup while gently cleansing my skin.
Cleanse
Before bed, I cleanse my face once again, but this time with a stronger cleanser. I have oily skin so I use the La Roche-Posay Effaclar Purifying Foaming Gel Cleanser which is pH-balancing and oil-free. Living in a city like Paris means my skin gets exposed to pollution and other irritants so it's important to wash all that away at the end of the day.
Toner
I started using a toner recently and I can't believe how long I went without one! When you see the excess dirt and makeup on the cotton pad after using a toner, you'll understand why you need one too.
A good French toner for finishing up your facial cleanse is the Caudalie Vinopure Natural Salicylic Acid Toner which is best for people with oily skin like me!
Moisturize
Lastly, I use a French moisturizing cream before settling in for the night. The Lancôme Rénergie Lift Multi-Action Night Cream is a great option for overnight anti-aging benefits like lifting and firming the skin. If you have mature skin, read my guide to French anti-aging.
Weekly Winter Skincare
I also have a few additional skincare treatments I do once a week during winter.
Face Masks
At least once a week I do a French face mask in the bath to really hydrate my skin. I have several face masks that I rotate but lately, I've been loving the Diptyque Infused Face Mask as well as the Caudalie Instant Detox Mask.
Face Oils
I apply face oils occasionally as well which really sink into your skin. The Sisley Black Rose Precious Face Oil leaves the skin super soft.
That's my French winter skincare routine!