Since moving to Paris, my skincare routine has evolved and I'm finally at a place where I'm taking advantage of all the best advice and products that France has to offer.
France has several dermatological laboratories that have produced some of the world's bestselling skincare, beauty, and anti-aging products. Today I want to share some French skincare tips that I've learned during my time here!
French Skincare Tips
If you've read my guide to French girl beauty, you know that the French value simplicity above all when it comes to their beauty routines. On that note, let's talk about the easiest French skincare tips you can implement into your daily routine.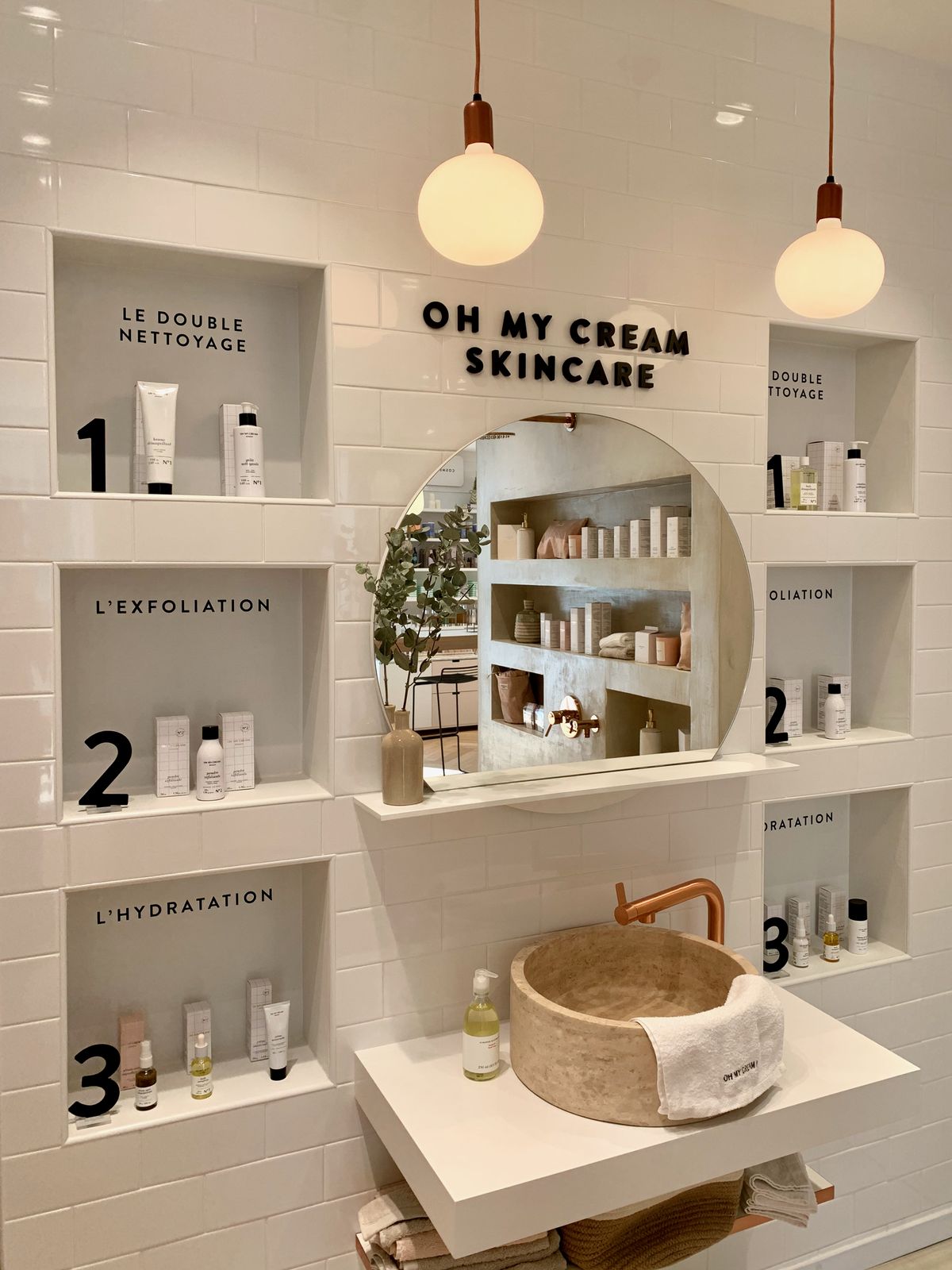 Develop a Skincare Routine
French women always begin their day with a proper morning skincare routine that works for their skin type as well as the current season.
Here are the steps involved in a typical French skincare routine:
If you feel overwhelmed by the dozens of skincare products and steps out there, you can keep it simple and only use these few skincare essentials at first.
Don't Skip Sunscreen
French girls don't skip sunscreen, even on cloudy days, because they know the importance of protecting their skin from the sun's harmful UV rays which can cause disease and speed up the aging process.
Read my French summer skincare routine to learn more about how I care for my skin in summer.
Visit the Pharmacy
French girls aren't afraid to visit their local pharmacie to find the best skincare products suited to their skin type. If you can't make it to France, try these amazing French pharmacy beauty products loved by millions.
Face Mists
During the day, the French might use a face mist like Avène Eau Thermale, especially on hot Parisian summer days!
Micellar Water
At the end of the day, Parisians remove their makeup with ultra-gentle micellar water by Bioderma called Sensibio H2O. I had never heard of micellar water before moving to France but now that I use it, I totally understand why the French are obsessed! This is the only product I use now. It doesn't leave an icky residue which I love.
Retinol Cream
There are some amazing French retinol creams if you are looking to treat the signs of aging. The A313 Vitamin A Retinol Cream is a favorite of Gwenyth Paltrow. Its potent formula helps fight acne, irritations, and wrinkles. Remember, only apply this cream at night as it makes your skin sensitive to the sun!
Exfoliate
The French exfoliate much less than Americans and with gentler products. French dermatologists recommend exfoliating twice a week max. They use exfoliating creams with smaller beads so the product is less harsh on the facial skin. I use the Embryolisse Exfoliate Cream.
Use a Toner
Before moving to Paris, I did not use a toner. Here I learned about the importance of using one! A good toner like the Clarins Hydrating Toner can remove any residual traces of dirt and makeup from your face while restoring its natural pH. I can visibly see its impact on my face and I can't believe I went so long without using one!
Face Masks
French girls take their wellness seriously. They do face masks at least once a week as part of their self-care routine.
The Caudalie Instant Detox Mask is a best-selling French face mask that is effective for clearing pores and treating impurities.
Stay Hydrated
French girls know the importance of staying hydrated throughout the day and drink a ton of water and tea with lemon to keep their skin looking its best.
Body Lotion
If your skin gets extra dry in winter, the French miracle body lotion you must try is the La Roche-Posay Lipikar Balm AP+ Intense Repair Body Lotion.
If you struggle with dry skin in winter, don't miss my best French winter skincare tips.
Hand Cream
With all the handwashing we're now accustomed to, my hands get super dry. The best French hand cream to try is the L'Occitane Lavender Hand Cream. It smells amazing (like the south of France) and doesn't leave your hands feeling too oily.
Fight Eczema
If you suffer from eczema, then you must try the French solution: La Roche-Posay Lipikar Soothing Relief Eczema Cream. This lotion has been clinically proven to treat itchy skin and reduce the effects of eczema. It restores the skin's lipids and provides relief from skin irritations.
Keep Acne Away
The French are not immune to acne, and when the breakouts become intense, they turn to the La Roche-Posay Effaclar Duo Dual Action Acne Spot Treatment, a little tube with a strong power to fight blemished skin.
If you have chronic acne, the best solution is this 3-step French skincare system for acne-prone skin, La Roche-Posay Effaclar Dermatological Acne Treatment, which includes a French cleanser, toner, and spot treatment.
Age Gracefully
Lastly, French women are known for how gracefully they age. They use the proper French anti-aging skincare products as recommended for their skin type. If you can't make it to France to get a custom diagnosis, then one of the most popular French anti-aging skincare solutions suitable for all skin types is the Filorga Time-Filler Wrinkle Correction Cream.
I hope you found these French skincare tips interesting and useful! Next, discover the best French skincare products adored by women across France.