The best French pharmacy products have helped millions of women across France and the globe take good care of their skin. I live in France and have been fortunate to try some of the country's top skincare and beauty products, all of which are easily found at my local pharmacy.
Why are people so obsessed with French pharmacies? In case you didn't know, French girl beauty is making waves in the States. Women are discovering the efficiency of French beauty products, which are often made with natural, non-toxic ingredients – and French pharmacies are the place to buy them. French pharmacies are totally different from American drugstores; they sell high-quality skincare and beauty products in addition to medications.
If you can't make it to Paris, don't worry! Many of these French pharmacy products are sold by American retailers.
French Pharmacy Products
I spent my lockdown in Paris trying out the best French pharmacy products for my skin – since pharmacies and grocery stores were pretty much the only things open! Here are my top picks for the best French pharmacy beauty products you must try out for yourself. Each of them is integral to the French skincare routine.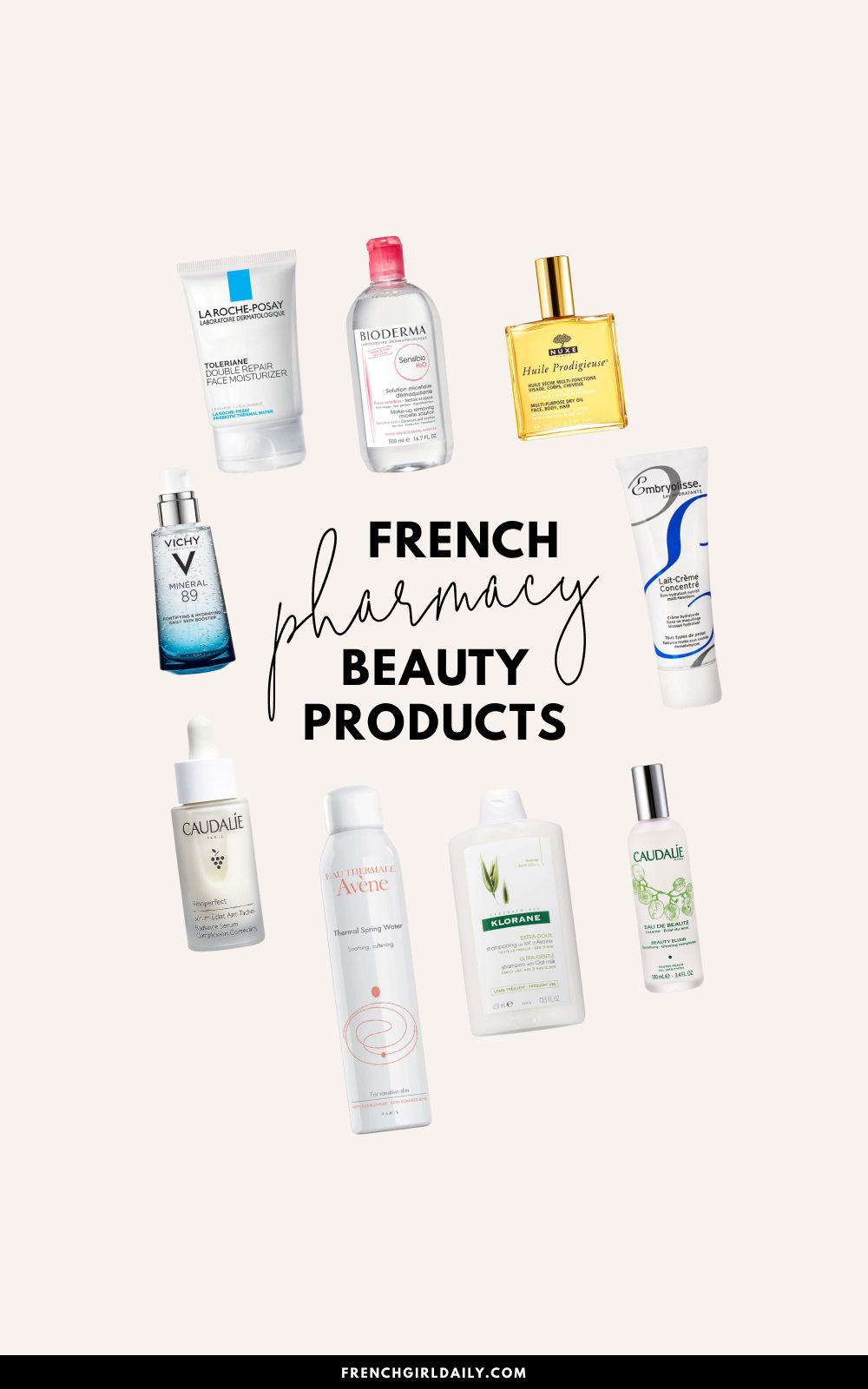 Nuxe Huile Prodigieuse Dry Oil
One of the top French pharmacy products with a cult following is the Nuxe Huile Prodigieuse Dry Oil. Concocted using a mix of 7 precious 100% botanical oils, Nuxe's dry oil can be used on the hair, face, or body. It gently nourishes the skin and leaves that French girl glow you crave. This French dry oil absorbs quickly so you won't feel greasy afterward. It's the perfect summer companion to apply for after hitting the beach.
You can rely on Nuxe Huile Prodigieuse Dry Oil as it's been produced and tested in France. Its antioxidants provide protection against skin-damaging pollution exposure. Women who clinically tested Nuxe dry oil noted that their skin was moisturized for 8 hours. Pregnant women noted the dry oil diminished their stretch marks' visibility. Reviewers noted that both the body and hair felt softer, nourished, and healthy.
Caudalie Vinoperfect Anti Dark Spot Serum
The Caudalie Vinoperfect Radiance Serum is one of the most talked-about French skincare products. French models and influencers swear by it to even out their skin tone. The natural French serum was reinvented in 2021 to achieve even more effective, cleaner, and natural benefits. The serum targets dark spots across the complexion, making your skin brighter than ever.
The refreshing scent of the Caudalie Vinoperfect serum will invigorate your senses with its fresh, subtle fragrance. It combines green notes like a citron blossom, orange leaves, watermelon, and crushed mint to remove dark spots from your skin. The formula is made with 98% natural ingredients, dermatologically tested, and oil-free. The non-photo sensitizing properties make it safe to use even during pregnancy! 93% of people who use this product say that their complexion is visibly more radiant after three months.
Embryolisse Lait-Crème Concentré
Embryolisse Lait-Crème Concentré has been one of the best French pharmacy beauty products for years, and it's easy to see why. This French pharmacy face cream not only cleanses skin while hydrating the skin cells, but you can also use this product as a makeup primer. Embryolisse Lait-Crème Concentré will create a protective barrier from any external aggressors like UV rays or pollution particles that are harmful to your skin.
It is formulated without harsh chemicals so sensitive skin types can use it worry-free. The ingredients in the Embryolisse formula like shea butter, beeswax, soy proteins, and aloe vera are all added to give your skin the all-day hydration it needs. Embryolisse Lait-Crème Concentré is definitely one of the French skincare essentials according to millions of French women. Give it a try!
Bioderma Micellar Water
In 1991, Bioderma developed a product that would change the way people clean their skin and remove makeup every day. The invention was called Sensibio H2O micellar water and it revolutionized how French women take care of their faces. These days one bottle is sold every 3 seconds worldwide!
Bioderma Sensibio H2O is a clean beauty product that can be used all over your face without worrying about breakouts or bacteria build-up. Micellar water is a lifesaver for people with sensitive skin. It's perfect to use in the morning and at night because it doesn't irritate even the most delicate skin as other products can.
Caudalie Beauty Elixir
The iconic Caudalie Beauty Elixir bottle depicts a romantic, enchanted garden on ombré frosted glass. Formulated with natural ingredients like roses, Caudalie is a clean beauty brand you can trust. Caudalie Elixir is a beauty mist for all your skin hydrating needs. The facial mist reduces pore size and makes you look radiant.
Caudalie's natural ingredients won't irritate sensitive skin like other products on the market do. Plus, they don't contain parabens or phenoxyethanol. Use a spritz of Caudalie Beauty Elixir once a day to keep your skin healthy and help prevent damage from occurring.
Nuxe Rêve de Miel Lip Balm
If you're looking for an instant fix for dry and dehydrated lips, Nuxe Rêve de Miel Lip Balm is the perfect French pharmacy solution. Honey, botanical oils, and propolis are combined in this French lip balm to soothe and repair damaged lips. I use this every day after brushing my teeth.
The melting texture of the balm combined with a light honey scent makes this lip balm a must-have in your beauty care regimen. The ingredients of this Nuxe balm are natural, renewable, and sustainable. Beeswax protects your lips from external aggressions such as wind or cold weather.
Collosol Eau de Lait
Collosol Eau de Lait is a milky cleanser and makeup remover that leaves your skin feeling soft and refreshed. The product was developed by a French pharmacy in the 1950s when stage actresses at a nearby theater on the Champs Elysées needed a gentle solution for removing their heavy stage makeup. Collosol Eau de Lait was born and has since been redeveloped for modern times.
This makeup remover will not strip natural oils from the face as other products can. It does not need to be rinsed. Eau de Lait gently cleanses without leaving behind any residue or stickiness. It contains glycerin and castor oil, to hydrate while cleansing.
La Roche-Posay Toleriane Hydrating Gentle Facial Cleanser
La Roche-Posay's Toleriane Hydrating Facial Cleanser is one of the bestselling French face washes. The gentle solution will leave your complexion smooth and refreshed, thanks to its enriched formula of ceramides. This creamy yet light-duty cleaner removes makeup without stripping natural oils from the face. The face wash contains niacinamide (a form of vitamin B3) which helps calm irritation and soothe the skin. It has a pH of 5.5 which is ideal for preventing acne and bacteria growth.
La Roche-Posay Toleriane Double Repair Face Moisturizer
The Toleriane Double Repair Face Moisturizer is a powerful French face cream that has been formulated with dermatologist-recommended ingredients. Ceramide 3, niacinamide, and glycerin work together to hydrate your skin after washing it. This long-lasting cream has a lightweight texture that quickly absorbs into your skin to provide instant comfort. It offers up to 48 hours of hydration!
This French pharmacy face cream will restore a healthy-looking complexion on all types of skin. It's oil-free and fragrance-free making it ideal for those with sensitive skin. La Roche-Posay is one of the most highly regarded French pharmacy brands which is why it's mentioned twice on this list.
Klorane Dry Shampoo with Oat Milk
The Klorane Dry Shampoo with Oat Milk is the ultimate solution for cleansing your hair without water. This French dry shampoo gently cleanses and absorbs hair oil without leaving any residue, giving you fresh, hydrated locks between washes. Klorane's Dry Shampoo with Oat Milk is the perfect way to quickly get rid of oil, dirt, and hair odors. Moreover, it adds volume and texture to most hair types – a plus if you have thin, flat hair.
The ultra-fine powder won't leave traces behind, so you can confidently go about your day feeling fresh. This cult French pharmacy hair product has got everything you want covered, including the light scent, thanks to its gentle formula made from plant-based, vegan ingredients. Jeanne Damas swears by this dry shampoo and so do I!
Avène Eau Thermale Misting Spray
Skin feeling dry? The Avène thermal water spray is one of the best French pharmacy beauty products to give your skin a burst of hydration from natural, pure French springs. It comes from an authentic spa at a French source and is bottled right there in its purest form.
This 30-year-old cult product is made with a mineral composition that doesn't dry out the skin. It works to calm skin cells by soothing and softening the surface of your face. Some women swear it has cured their eczema or acne. In addition, the neutral pH level in this spray helps restore the balance between moisture levels on your body or face to have a healthier-looking complexion. Grab a bottle and store it in your fridge for a cool morning mist.
Homeoplasmine
Homeoplasmine is the go-to French pharmacy solution for chapped lips and gives you results in 2 to 3 days. Homeoplasmine has been designed as an effective skin moisturizer and balancer for dry or oily patches on your face. This French magic cream also relieves redness and skin irritations during or after colds or sickness.
The paraben-free formula uses all-natural ingredients including calendula officinalis which helps soothe cuts & scrapes while fighting off bacteria. Phytolacca acid acts similarly and works wonders against acne breakouts leaving nothing but clear glowing skin. Bryonia acts as an antioxidant for your skin.
Give Homeoplasmine a try; French actress Camille Razat recently shared it is her favorite lip balm in a Vogue beauty video!
Vichy Minéral 89 Serum
Vichy Minéral 89 Serum is a best-selling French hyaluronic acid booster. This miracle French serum contains only pure, premium-grade, naturally sourced ingredients that help your skin stay ultra-hydrated. It's formulated with 15 minerals rich with Vichy volcanic water from France for all-day-long moisture that protects your skin from external irritants.
The lightweight Vichy formula absorbs quickly into your skin without any fragrance or heavy feeling, so you can feel confident about how your skin looks! This is one French serum you need to get your hands on.
Filorga Time-Filler Wrinkle Correction Cream
The Filorga Time-Filler Absolute Wrinkle Correction Cream is the best French anti-aging cream on the market. This French non-surgical anti-aging solution is a must if you have mature skin. It counteracts wrinkles by relaxing your skin. As a result, it reduces the appearance of aging by making your face look younger day after day. In fact, Filorga's anti-aging aesthetic medicine has been proven to reduce the visibility of wrinkles by half in just 2 months!
Inspired by medical practices, this cream tackles four types of common wrinkles: ​​contraction, deep-set, surface, and dryness wrinkles. The face cream has been so successful that Filorga expanded the Time-Filler line to develop an eye cream, a serum, a night cream, and a skin-smoothing mask. Filorga has your back for the best French pharmacy anti-aging solutions.
A313 Vitamin A Retinol Cream
The best French vitamin A pomade is A313. A313 is an excellent over-the-counter, French pharmacy-grade product used for treating fine lines and wrinkles as well as spot treatment of blemishes. It does this all without any harsh chemicals or side effects. You can easily find this beauty staple in the States through Walmart.
A313 cream is a French retinol product that has reached cult status and is endorsed by celebrities like Gwenyth Paltrow. Vitamin A is one of the most powerful ingredients in anti-aging skincare and beauty products. This instant plumping retinoid will give your skin a youthful glow with regular use. The previous French retinol cream Avion has been discontinued, so we recommend using A313 as a replacement. It comes in a handy aluminum tube. You should definitely add A313 to your French anti-aging routine if you have mature skin.
---
I hope you found this list of the best French pharmacy products insightful!
If you're going to Paris soon, the best French pharmacy to shop in Paris is called CityPharma and it's located at 26 Rue du Four in the 6th arrondissement. Women from around the world shop here for the best deals on French pharmacy beauty products. Despite its expansiveness, this pharmacy is always pretty packed, but if you arrive in the morning, you'll have an easier time shopping with a smaller crowd.
Let me know your thoughts on these products in the comments below if you decide to try them!