I spent my lockdown in Paris, France. The only places were open grocery stores and pharmacies plus I had a lot of spare time on my hands, so I basically had a field day trying all of the best French skincare products the country has to offer! With all this newfound free time, I gave each of these French skincare products thorough testing. Here are the ones that made the cut.
French Skincare Products
During my last few years in Paris, I've been able to discover some of the best French skincare products loved by Parisians. Many of these products are integral to the French girl skincare approach. Since I've had plenty of time to try out the country's best skincare and makeup products, here are the top ones I've tried and continue to use!
While the French pharmacy is one of the best places to shop for French skincare products, Sephora is the biggest makeup store for more high-end skincare from top skincare brands in France. You can also find a bunch of these products available online so you can shop directly from the US!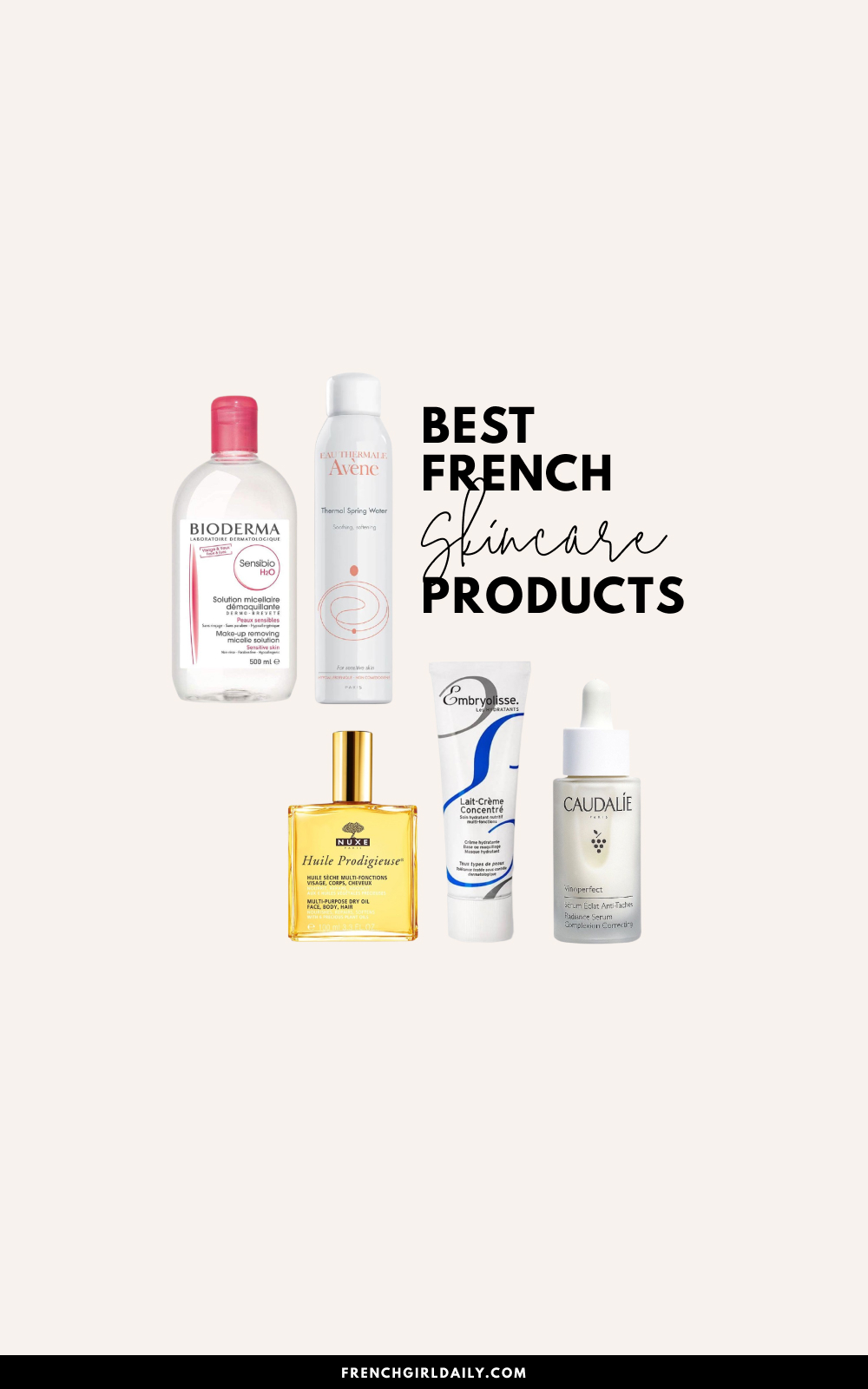 Here are my top French skincare products as well as where to buy each of them.
Embryolisse Lait-Crème Concentré
First on my list of the best French skincare products is the Embryolisse Lait-Crème Concentré moisturizer. This miracle facial cream has a light texture that will absorb easily into your skin. It's a cult favorite among everyone from French influencers to makeup artists to celebrities. I use this in the morning to moisturize my skin as well as a primer before applying makeup. This face cream will leave your face nourished, smoothed, and radiant!
Bioderma Sensibio H2O Micellar Water
The Bioderma Sensibio H2O micellar water was developed in the early 90s and quickly gained a cult following. This is one of the first French skincare products you should buy. This French micellar water gently cleanses while removing the day's makeup. If you hate the residue left behind by American makeup removers, you'll love this quickly evaporating French solution. It's also safe for those with sensitive skin.
Nuxe Huile Prodigieuse Dry Oil
The Nuxe Huile Prodigieuse Dry Oil is the number one body and hair oil in France. Seven botanical oils combine to form this cult French body oil to nourish, repair and soften any skin or hair it touches. It can be used on the face, body, or hair. A few sprays will leave your skin soft and silky like never before. Spritz some into your hair ends to give it an amazing shine and prevent split ends. I use this oil in the summer after beach days, and in the winter after showering.
It has been enriched with powerful Tsubaki oil and antioxidants to reduce the visibility of stretch marks during pregnancy. The scent of this oil will enthrall you and give you a one-of-a-kind experience each time you use it!
Caudalie Vinoperfect Radiance Dark Spot Serum
A best-seller for years, the Caudalie Vinoperfect Radiance Dark Spot Serum has been a cult favorite for years. If you suffer from dark spots and uneven skin tone, you must try this French serum. Containing 98% natural origin ingredients, Caudalie is dedicated to offering clean beauty products for all. This serum diminishes the signs of dark spots caused by pollution, sun damage, aging, acne, and more. After regular use, the skin appears bright and radiant. Applying this cult French serum is a pleasure in itself as the subtle fragrance of citron blossom, orange, watermelon, and mint delights the senses.
Filorga Paris Time Filler Cream
The best French anti-aging cream is Filorga Paris Time Filler Wrinkle Correcting Cream. This pharmaceutical-grade anti-wrinkle cream has been proven to reduce the appearance of wrinkles by half after just two months of use.
The cream works by targeting four types of facial wrinkles. To combat contraction wrinkles, a tripeptide is used to relax facial features without freezing expressions. To fight deep-set wrinkles, the cream uses a peptide combined with hyaluronic acid to fill deep wrinkles. To mask surface wrinkles, the cream has a proprietary active ingredient to smooth cracks in the skin. To fix dehydration wrinkles, the cream has a plant extract that retains water for extreme hydration.
This is definitely the best cream to add to your French anti-aging skincare routine.
Lancôme Advanced Génifique Face Serum
The Lancôme Advanced Génifique Face Serum is one of the bestselling French anti-aging serums. It has been formulated with hyaluronic acid and vitamin C for a stronger defense against external pollution, cold, and dryness. The serum improves facial elasticity and drastically reduces the visibility of fine lines. If your skin is mature, dehydrated, and thinning, this is the serum for you! For plump skin and radiant skin, use this serum every morning and evening.
Clarins Hand and Nail Treatment Cream
I got a small sample of this hand cream on my last Air France flight and I was so blown away by it that I went out and bought a bottle for myself upon landing! The Clarins Hand and Nail Treatment Cream is a French hand cream with just the right thickness and texture to moisturize your hands without leaving them greasy. The smell is really what sold me on this hand cream. It's an absolutely divine mixture of natural shea butter and sesame oil extracts.
Guerlain Abeille Royale Watery Oil
Best for normal to dry skin, the Guerlain Abeille Royal Advanced Youth Watery Oil is a luxury French skincare product you'll love. Leaving your skin with a plump, radiant finish, this watery oil hydrates while easing the appearance of fine lines and wrinkles. It has been formulated with 95 percent naturally derived ingredients so even sensitive skin types will love it.
La Roche-Posay Lipikar Body Lotion
If you're looking for a French body lotion for everyday use, try the La Roche-Posay Lipikar Balm AP+ Intense Repair Body Lotion, a bestselling moisturizing cream you'll love. Featuring a high concentration of La Roche-Posay's proprietary Prebiotic Thermal Water from natural French water sources, this body balm can be used on extra dry skin. It offers 48-hour protection for the body, face, and hands.
La Roche-Posay is one of the best French pharmacy brands and they have dozens of best-selling beauty products for every skin concern, making them very reliable.
Avène Eau Thermale Facial Mist
The Avène Eau Thermale Facial Mist has been a favorite French skincare product beloved by the French for 30 years. This thermal water spray is packaged directly at the French spring source and bottled in a sterile environment for the utmost purity. Its formula is clinically proven to soothe irritated skin and soften even the most sensitive skin.
This mist spray has a proprietary mineral composition that does not dry out the skin. It works to rebalance the skin's pH to reduce sensitivity. Pro tip: You can refrigerate this mist for a refreshing cold blast on your face in summer!
---
If you want to adopt a more French beauty routine, then this list of the best French skincare products should give you a good place to start!