French women are known for their flawless skin and their astounding ability to fight the signs of aging that the rest of us can't seem to escape. France is a country that values astute intellect and scientific research. It has produced some of the world's most impressive scientific achievements. It's no surprise that many of the country's successful doctors and researchers turned to the private beauty market to share their knowledge with the public. This is partly the reason why so many amazing French skincare brands have formed.
French Skincare Brands
Today I want to share with you a few of the best French skincare brands that I've heard of while living in Paris. These skincare companies surely play a large role in the health of French women's skin. Many of these brands are found in my guide to French girl beauty, too!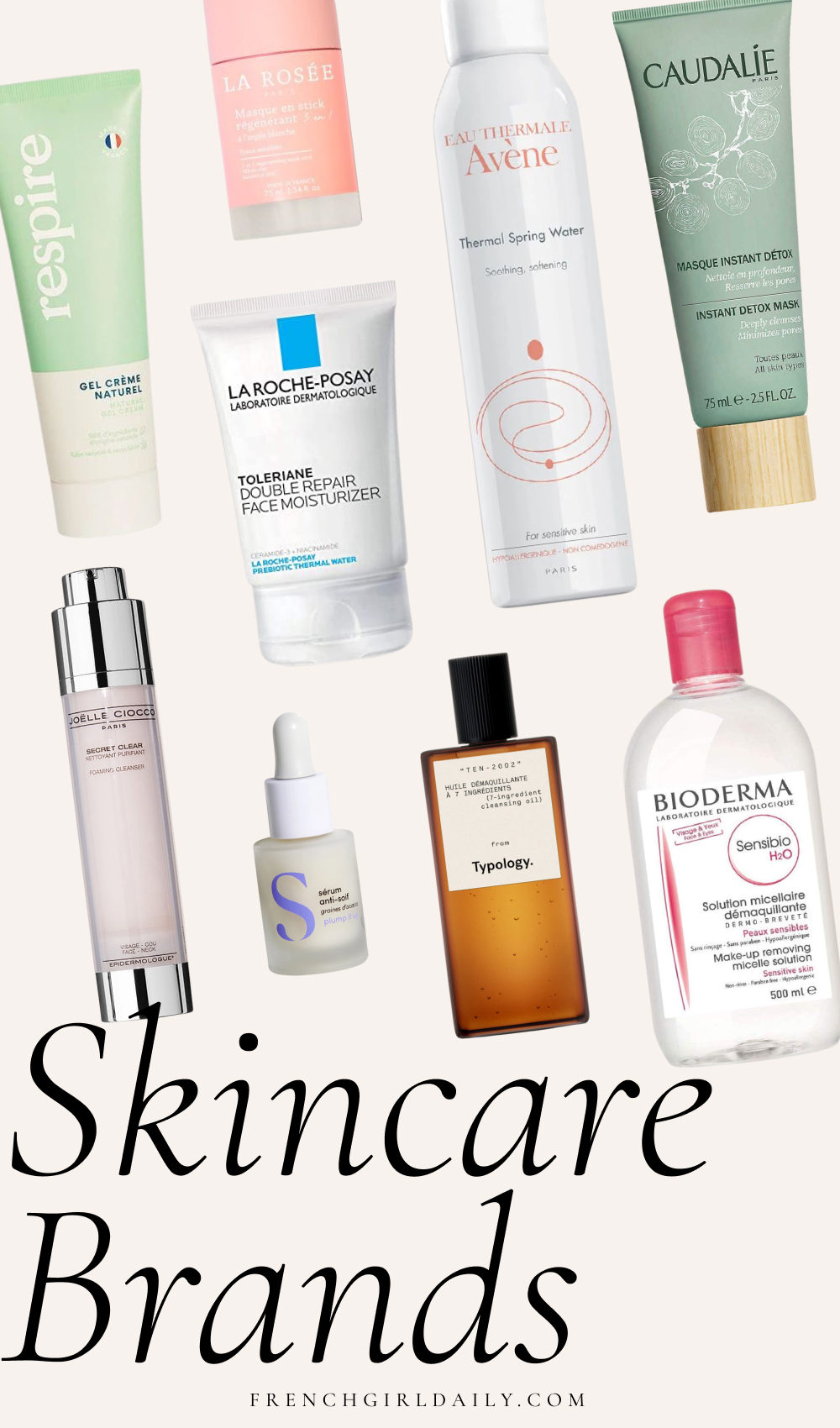 Here are the best skincare brands from France as well as the best French skincare products to buy from each, most of which you can shop directly in the US.
Avène
Avène is a cult French skincare company found in just about every French pharmacy. Founded in 1990 with the goal to offer a range of products for sensitive skin, Avène has grown to become one of the go-to brands in French skincare. The brand's cult-favorite Thermal Spring Water is a refreshing face mist I use after the shower, and I always have a small tube of their facial moisturizer with SPF on hand!
Caudalie
Caudalie occupies that space in skincare where the company is young enough to be fresh and cool but old enough to really know what they're doing through years of experience. The Vinoperfect Serum by Caudalie is a best-seller worldwide, and for good reason. It clears up dark spots and acne scars in as little as one month. Thousands of women have used it to create an even complexion.
Bioderma
Bioderma is another cult-favorite French skincare brand. I always stock up on the Sensibio H2O micellar water which I use as a gentle makeup remover. It removes all my makeup fast with just a few swipes!
La Roche-Posay
La Roche-Posay is a top dermo-cosmetic brand from France with a proven history of treating sensitive skin thanks to the thermal water present in the small French town of La Roche-Posay. The mineral-rich water is the basis of many of the brand's skin products. La Roche-Posay makes several international best-selling products including the Lipikar Balm AP+ Intense Repair Body Lotion for dry skin types.
Embryolisse
Embryolisse was founded in 1950 when a dermatologist formulated a universal care cream that left skin naturally beautiful. That's how the French makeup artist-favorite, Lait-Crème Concentré was born! This face cream and makeup primer has been recommended by everyone from models to actresses to influencers. It is certainly a must-try.
Nuxe
With a focus on using ingredients with natural origins, Nuxe has succeeded in creating a loyal fan base. Nuxe's most popular product, the Huile Prodigieuse, is a nourishing, multi-purpose dry oil that can be used on the body, hair, and face. Jeanne Damas swears by the Nuxe honey lip balm.
Filorga
Created in 1978, Filorga offers a wide range of French anti-aging skincare products. Their best-seller is the 'Time-Filler' range which uses hyaluronic acid to reduce wrinkles and fine lines. Start with the Time Filler Wrinkle Correction Cream which targets deep-set wrinkles on the face. The eye correction cream brightens the eyes while fighting the signs of aging.
Collosol
In 1950, Collosol was born out of a very practical need. A French pharmacist was asked for a makeup removing product that was gentle on the skin yet strong enough to remove the heavy stage makeup of actresses and performers at a nearby theater on the Champs Elysées. Eau de Lait was born and for generations, Parisian women turned to this cleansing milk-based, no-rinse lotion to remove their makeup!
Darphin
I became familiar with Darphin when Monica de La Villardière started talking about adding it to her skincare routine on her Instagram stories. It was founded in 1950 and was inspired by rare botanicals and essential oils, as adored by the previous queens of France. I discovered the glowing reviews of their all-day hydrating cream so this is one brand I can't wait to try!
Biotherm
Legend has it that Roman soldiers came to clean their wounds in the fountains found in the French Pyrénées mountains, which was often called the Fontaine de Jouvence, or Fountain of Youth. It is here that Biotherm was born. A French military doctor named Jos Jullien spent his life looking for a miracle remedy and stumbled upon an extraordinary ingredient in 1952: Life Plankton. He developed a unique process for harnessing the power of the planktons found in these waters.
Today, the iconic Aquasource gel contains the same concentration of thermal Plankton as 5000 liters of water from the youth fountain in the Pyrénées.
Vichy
Vichy is a top French skincare company that uses volcanic thermal spring water from France to create powerful skincare solutions. The Vichy Mineral 89 Hydrating Hyaluronic Acid Serum is a bestselling daily French face serum for women who want to achieve a luminous, youthful glow.
Institut Esthederm
Fascinated by solar protection at the cellular level, Institut Esthederm aims to create products that not only protect the skin but encourage bronzing at the beach.
Cattier
The Cattier story began in 1968 when this natural and organic skincare brand set out to take a better approach to clean beauty. Their products are cruelty-free and made in France.
High-end French Skincare Brands
These luxury French skincare brands offer high-end skincare for those who want the best of the best!
Clarins
As one of the oldest French skincare brands, Clarins has been relied upon by generations of French women for the best skin care products.
Joëlle Ciocco
With education in biochemistry, Joëlle Ciocco has become a sought-after French facialist expert in Paris.
Diptyque
One of my favorite perfumers has turned to master the art of skincare using active plant molecules and slow infusion techniques. I have been fortunate enough to test the line and I have to say that the infused face oil has become a favorite.
Lancôme
You can't talk about skincare without mentioning Lancôme. Their best-selling Advanced Génifique serum is highly regarded as one of the best French anti-aging creams around.
Natural French Skincare Brands
Several French natural beauty brands have popped up over recent years showing that the clean beauty trend is taking hold in France. Here are some of the best French natural skincare brands to know:
Respire
Respire is one of the most popular natural French skincare brands with responsible, clean products that have been made in France. Respire means breathe in French, and the name is quite fitting for such an eco-friendly brand. For now, it's available online and at select Monoprix and Sephora stores in France. Respire offers deodorant, shower gel, shampoo, toothpaste, sunscreen, and a facial skincare routine kit.
La Provençale Bio
La Provençale Bio is a French organic beauty brand that is part of the L'Oréal family. Seeing a need for organic skincare options, La Provençale was created. Olive oil sourced from the Provence region of France is the key foundation of many of the brand's products.
Typology
The Typology approach to beauty is one that prioritizes natural ingredients and powerful yet simple formulas to treat common skincare problems. After taking a skin type quiz, Typology recommends products that correspond to your skincare needs. They use all the same ingredients as the luxury brands, but their simple packaging and direct to consumer business model keeps prices ultra low.
Seasonly
Seasonly is a clean beauty and skincare studio based in Paris. It was founded out of the wish for simple, clean beauty products that didn't use harmful chemicals to achieve results. The founders wanted the products to work for real women, not just those who were born with great skin.
---
What are your favorite French skincare brands?