If you're fascinated by the effortless glow of French girl beauty philosophy, then this guide will give you an overview of the best French beauty tips, products, and brands to know.
French girl beauty is all about creating a naturally beautiful look. The French approach to beauty involves little makeup, yet lots of good skincare. You're not alone if you want to emulate the effortlessly beautiful look that French girls know how to do so well. The truth is that French girl beauty done right subtly enhances the natural attractive qualities of a woman's face, making it seem as if she's wearing nearly no make-up at all.
I'll let you in on a little secret, though. I live in Paris and the fact is that French girls do invest time, effort, and money into their beauty routines.
If you're looking to adopt a simple but effective approach to your everyday beauty routine, then keep reading this comprehensive French beauty guide. I think you'll love the effectiveness that comes with following French girl beauty advice!
Here is my ultimate guide to French beauty.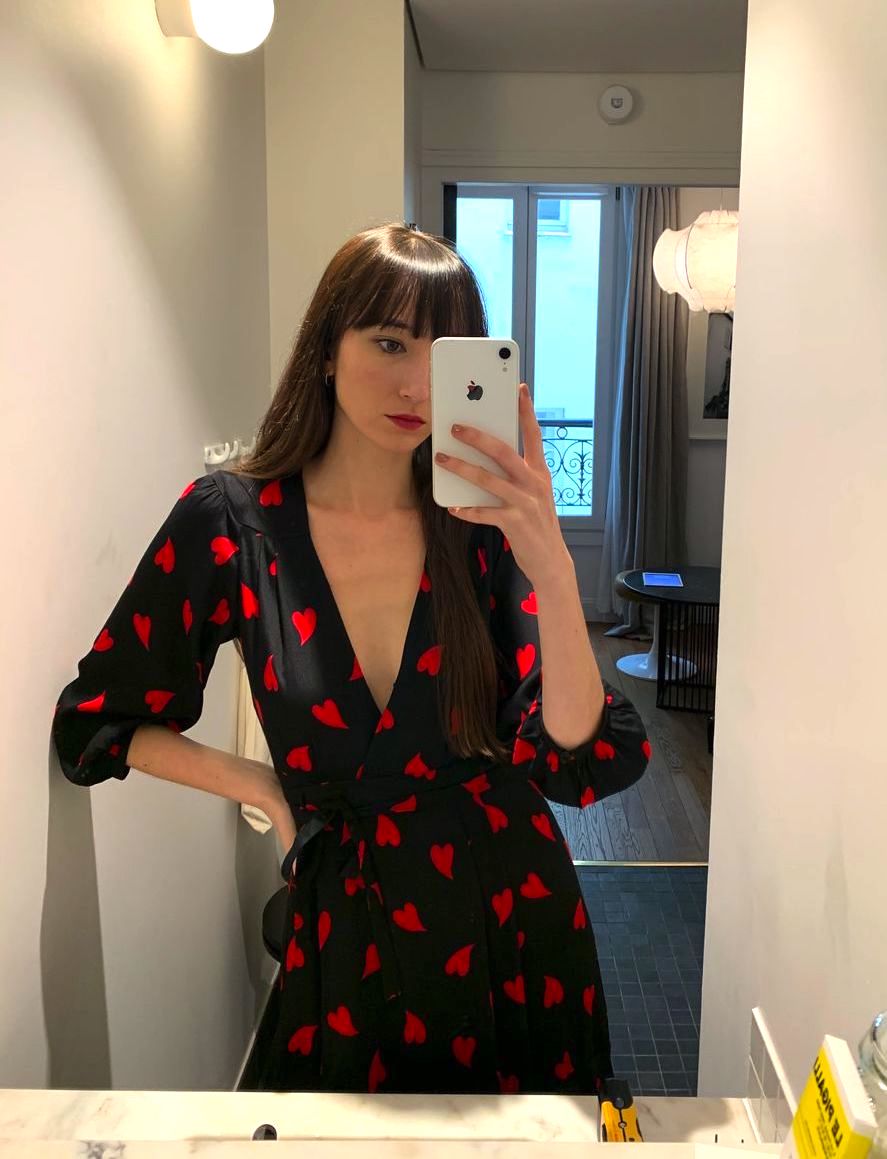 French Girl Skincare
The French beauty regime starts with skincare. French girls take very good care of their skin by cleansing and moisturizing on a daily basis at a minimum. They also understand the importance of protecting the skin from harmful sun rays and preventing premature signs of aging. Be sure to read the French skincare tips I've learned while living in France.
France is a country with dozens of amazing French skincare brands, which makes finding the right products for your skin type relatively easy.
From cleansers to serums, the best French skincare products will help ensure your skin is healthy and glowing.
Shop at the Pharmacy
French girls are known for shopping for skincare solutions at their local pharmacy where they buy clinically tested and dermatologist-backed skincare formulas. The top French pharmacy brands include Bioderma, La Roche-Posay, and Avène each of which has effective solutions for treating common skincare issues. There are a number of phenomenal French pharmacy products that sell out across France!
Cleanse the Face
The first step in the French girl beauty routine is to cleanse the face. Washing your face is very much about clearing your pores, and alleviating the harmful effects on facial skin that has been exposed to pollution and sun rays. This is super important if you live in a big city like Paris where pollution is rampant.
French girls cleanse their face often to keep their skin in top shape. The Avène Cleanance Cleansing Gel is a popular daily French face wash.
Use a Serum
There are a number of amazing French serums on the market that can alleviate many different skin concerns. French girls apply a daily serum to their face according to their skincare needs. A few of the best French serums include:
Facial Moisturizer
After applying a serum, French girls use a high-quality French face cream to moisturize their face. Be sure to invest in a quality facial moisturizer like cult-favorite Embryolisse Lait-Crème Concentré, which French makeup artists use on models' faces in between Paris fashion week shows. This lightweight cream hydrates the facial skin and also serves as a primer to prep your skin for makeup.
If you have mature skin, then go with the Filorga Time-Filler Wrinkle Correction Cream which has rave reviews.
Apply Sunscreen
Most French women wear French sunscreen every day, especially between the hours of 10am and 2pm. This is a very good practice to avoid premature aging due to sun exposure and harmful UV rays. Be sure to invest in a sunscreen that is made specifically for the face, especially if you are prone to breakouts.
The most popular French facial sunscreen is the La Roche-Posay Anthelios Light Fluid Face Sunscreen SPF 60, a lightweight protective formula that leaves a smooth, matte finish. This sunscreen is also available in a beige tinted version to avoid the white-out look many sunscreens leave.
Fully Remove Your Makeup
French girls are adamant about fully removing their makeup at the end of every day. The makeup remover most recommended by French girls is without a doubt Bioderma H20 Micellar Water Cleanser. This lightweight, gentle solution is great for removing makeup, cleansing your face from the day's toxins, and restoring the natural balance of your skin.
The water in Paris is notoriously hard – it has a very high percentage of calcium and magnesium – which makes it harsh on the skin. French girls rely on micellar water to cleanse their face instead and prevent possible skin damage.
Exfoliate Regularly
About once or twice a week, French girls exfoliate their faces to get rid of dry and dead skin and clear their pores. I use the Embryolisse Exfoliating Cream which is amazing for gentle exfoliation. I definitely notice the difference between gentle French exfoliators and harsh American exfoliators with thick and rough beads.
Body Moisturizers
As far as the rest of your body, the La Roche-Posay Lipikar Balm AP+ Intense Repair Body Lotion is a best-selling French body lotion for those with very dry and sensitive skin.
The French Embryolisse body moisturizer is very popular for hydrating the skin from your arms all the way to your legs. It's great for those with normal skin.
I also love applying Avène Cold Cream to my dry feet. Within a few days, any dry and flakey skin is completely gone. It's truly a miracle product!
Nuxe Huile Prodigieuse Dry Oil for Hair & Body has attained cult status among French girls for its ability to moisturize any part of the body – from the legs to the ends of your hair. Not to mention, it adds a beautiful shine to the legs.
Lip Balm
Lastly, French girls apply a good lip balm after brushing their teeth in the morning. Keeping your lips moisturized is a must, especially during the harsh Parisian winter. French it-girl Jeanne Damas swears by Nuxe lip balm – a pharmacy favorite to smooth the lips.
Seasonal Skincare
French girls adjust their skincare routines for the current season. The French summer skincare routine involves protecting the skin from UV rays and removing sweat and oil from the surface. The French winter skincare routine involves hydrating the skin with creams and face masks.
French Girl Hair
Let's talk about French girl hair. French girls are known for their messy, just-woke-up-like-this, lightly tousled hairstyles. They rarely brush their hair and avoid high-heat products like straighteners or curlers which can damage and dry the hair.
French Haircare
Here are some French haircare tips.
French girls don't typically wash their hair every day, and when they do, they use a paraben-free shampoo from their local pharmacie.
On the days in between washing, Klorane's dry shampoo with oat milk can offer a volume boost while absorbing any excess oil. This product is magnifique for helping you achieve that second-day messy hair look French girls are known for.
Makeup the French Way
Now that your skin is hydrated and your hair is perfectly messy, it's time to apply makeup the French way!
When it comes to makeup, French girls keep it very light, and very simple.
They will typically invest in a good lightweight foundation (Armani Luminous Silk Foundation is a favorite), a good mascara (French model Louise Fouillan recommends Lancôme Hypnose), and of course a bold red lipstick (Mac's Ruby Woo is a classic bright red).
That doesn't mean you cannot use other beauty products like eye shadow, or highlighter (YSL Touche Éclat has a cult following among French girls), it just means that those three products are typically the basics for an everyday French girl beauty look.
When it comes to French evening makeup, you can play around with metallic eyeshadow, black eyeliner, or bold lip color!
You should consider French makeup products that are necessary to your particular needs. For example, I typically use the three products mentioned above as well as a brow filler because I have sparse eyebrows. Using the brow filler actually gives my eyebrows a more natural and fuller look. The same goes for concealer. As long as you don't cake it on, it's perfectly fine to conceal any blemishes or uneven skin tones.
Read more about the best French makeup brands to shop.
French Girl Lipstick
Lipstick is the one must-have for any French girl's beauty routine!
When it comes to lip color, stay away from anything too bright or too pink. A deep, Bordeaux red is a great choice or a smooth brown in the fall. You'll have to experiment a bit to find the best shade for your skin tone, but generally speaking, French girls tend to stay away from anything too flashy or unnatural on their lips. Muted tones are the way to go.
Jeanne Damas has cited Mac's Diva lipstick as her go-to shade for a deep, Bordeaux-red lip color. For less than a third of the price, you can also try the Diva dupe Divine Wine. Damas has also shared that Mac's Viva Glam III is her go-to color for a subtle daytime shade.
Now you may be wondering how to apply lipstick like a French girl. While you may be tempted to smear on your new lipstick directly to your lips, French girls dab it on with their fingers and spread the color just outside the edges of their lips, giving their lips an even tint and full pout that looks like they just finished kissing their boyfriend.
Nails
French girls do their nails differently than Americans. They don't often paint their nails a crazy bright color and instead opt for a natural look. Red is the one color you'll see on French girl nails year-round. French girls love red nail polish – in deep red, cherry red, Bordeaux red, and more! Otherwise, a clear coat is the norm.
Anti-Aging
French girls begin a skincare routine to fight the signs of aging in their late 20s. The French anti-aging approach at first relies on anti-aging skincare products for your skin type. French girls visit a dermatologist in Paris at least once a year to get recommendations for products suited to their skin that can help diminish the signs of aging.
As they get older, French women may have a bit of botox or face fillers, but they generally do not overdo it. Getting work done is still quite taboo in France, so most women will do very little for a 'natural' look and tell no one about their secret!
French Beauty Brands
There are so many cult French beauty brands to name. I feel like more than half of the best skincare and makeup brands that exist come from France! Whether you shop at your local French pharmacy or Sephora, there's always a great French beauty brand waiting to be discovered. My top beauty brands for high-end French girl beauty include:
Guerlain
Lancôme
Clarins
Sisley
Be sure to read about the best French beauty products with cult followings to shop from each of these brands.
---
I hope you found this guide to French girl beauty useful! Something to keep in mind is that French women don't see imperfections the way that Americans do. They admire the small differences in our faces which make us unique! So break out your confidence, because that's usually the key to French beauty success.