Living in France for a couple of years now, I have started buying all my makeup here. There are certain French makeup brands that I've come to rely on. France is a country that is known for its phenomenal beauty products, but I have to say that the makeup here is truly one of the best in the world! I've already covered the best French beauty brands, but today I want to focus on makeup specifically.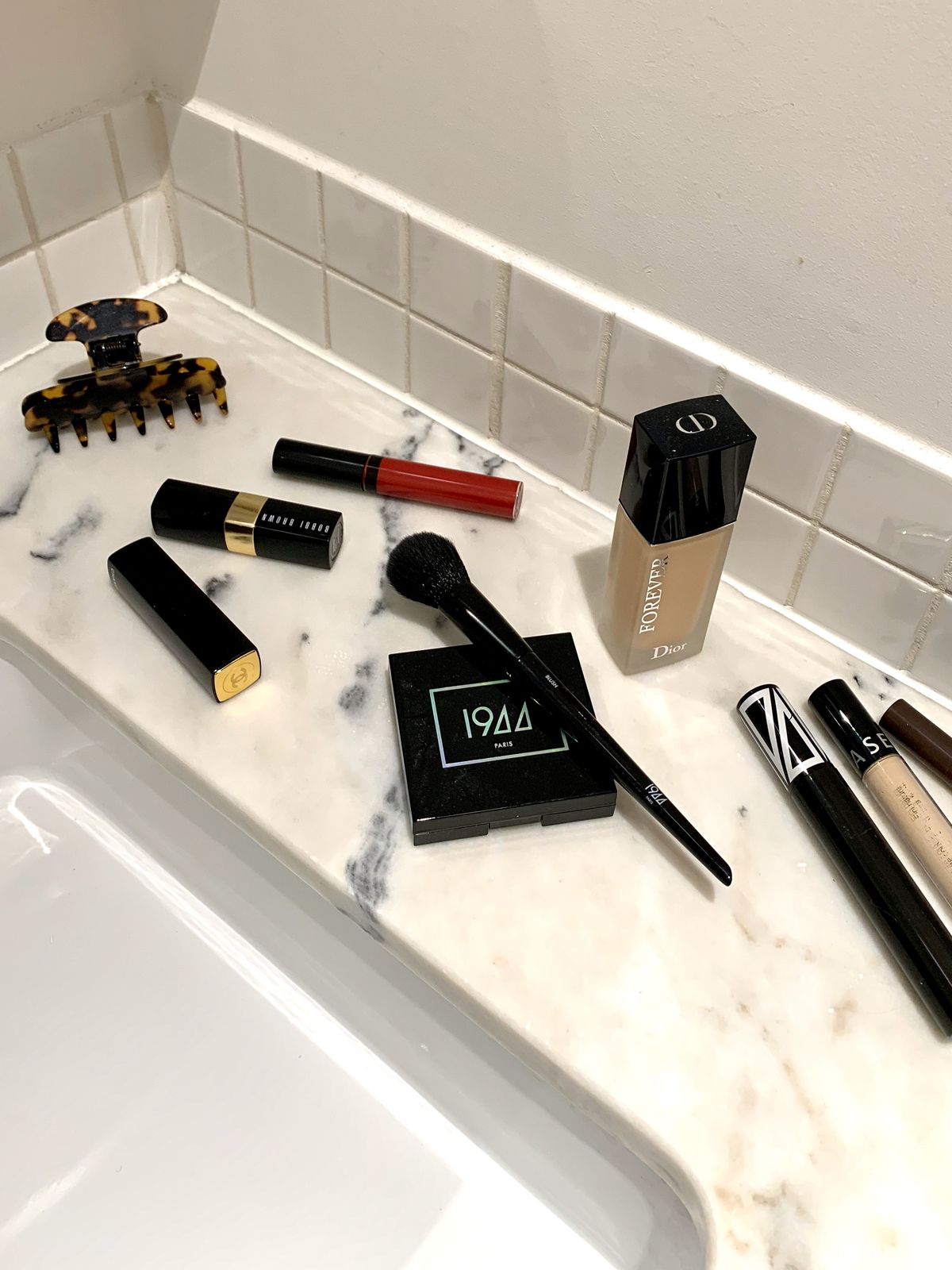 Like most girls, I grew up dreaming of all of the different beauty products I could buy at Sephora. To me, Sephora was like a candy shop! I would roam the aisles in my Connecticut mall and marvel at all the wild colors. All of the little French lipsticks were a different hue, like the sweetest candy.
Of course, it wasn't until I was much older that I learned that Sephora was one of the largest makeup brands in the world. Many of the makeup brands that I feature in this article are available to shop at Sephora. I'll also be sure to include some of the smaller independent makeup brands that I've discovered while living here in Paris.
From luxury makeup to sustainable products, to clean beauty, there's a French makeup company for everyone. Here is my guide to the best French makeup brands!
Luxury French Makeup Brands
These French luxury makeup brands offer the highest quality French beauty products that France has to offer.
Lancôme
I think I was about five years old when I accidentally smashed one of my Mom's Lancôme lipsticks. I twisted the container to see the pretty red lipstick inside and then I put the cover back on without closing it. Needless to say, my Mom wasn't happy but I, on the other hand, was thrilled to discover this classic French makeup brand in my Mom's makeup drawer!
Lancôme is one of the oldest French makeup brands on this list. It was created in the mid-1930s by Frenchman Armand Petitjean. Over the years they've expanded their product line to include makeup products, skincare, and best-selling fragrances. Lancôme is the winner of two Nobel prizes, operates five research labs, and holds 624 patents! Try the cult classic Hypnôse mascara or the best-selling anti-aging serum, Advanced Génifique.
Chanel
Gabrielle Chanel entered the world of beauty in 1924. She began by launching a highly pigmented line of lipsticks. Chanel herself was a fan of a bright red crimson lip color and so she decided to create her own shade. Even the packaging was very Chanel – the ivory tubes were innovative at the time and featured a sliding element. In the 1950s, the lipstick tubes were redesigned into a rectangular shape, a reference to her famous No. 5 perfume bottle design. The creamy velvet Chanel Rouge Allure is my go-to red lipstick for everyday use.
Dior
Christian Dior Cosmetics was born in 1969 with the first line of makeup called "Color Explosion." In the 2000s, Dior Addict lipsticks became emblematic of the new millennium look. Today, numerous cult Dior makeup products exist and the brand shows no signs of slowing down! Try the French girl's favorite Diorshow mascara for bold lashes.
Guerlain
Guerlain is a storied French fragrance house that launched into makeup as early as the 19th century. In 1840, Guerlain began producing some of the world's first lipsticks. Today Guerlain is known for its royal anti-aging bee oil and its terracotta bronzing powder for the face, among many other successful beauty products.
Clarins
In 1991, keen on the needs of their clients, luxury skincare brand Clarins launched an anti-pollution cosmetics line. After developing numerous skincare products successfully for decades, their makeup collection revealed the natural beauty of every woman. Try the Clarins lip comfort oil for everyday lip shine.
YSL Beauty
You can't talk about French makeup without mentioning the 1992 cult-favorite YSL Touche Eclat brightening concealer pen, also called Radiant Touch! One is sold every 10 seconds. The YSL Beauty brand is known for its groundbreaking products and daring innovative moves. In 1978, it burst onto the makeup scene with 70s style gold packaging and brightly colored hues on all of the product lines.
"I wanted a face for the woman I dress," Saint Laurent explained when discussing the idea to launch a cosmetics line attached to a fashion house – revolutionary at the time. In 1979, YSL Beauty debuted Rouge Pur Lipstick No. 19, a bright fuchsia lipstick with blue tones that remains a best-seller today. It's immediately clear why this color came to define the 1980s!
Givenchy
In 1989, French fashion house Givenchy began a foray into the beauty realm. Le Prisme Visage was created as a four-in-one powder for the face which offered women the ability to sculpt their face. Nicolas Degennes took the brand even further in the 2000s. Today, the Givenchy Prisme Libre loose powder is a French makeup artist favorite for mattifying the skin and evening out the complexion.
French Pharmacy Makeup Brands
French girls love to shop for skincare at the pharmacy, but did you know that some of the best pharmacy skincare brands also make killer makeup products too?
La Roche-Posay
Founded in 1975 by René Levayer, La Roche-Posay is well known as a go-to French pharmacy skincare brand, but many people don't know that they make wonderful cosmetics, too! Thousands of people are in love with this tinted facial sunscreen (perfect for summer) and dozens more return to this allergy-tested lengthening mascara.
Contemporary Makeup Brands
These makeup brands aren't the oldest, but they've sure made their mark on the beauty world with innovative formulas and a fresh approach to modern-day beauty needs.
Sisley Paris
Sisley was founded in the 1970s by a husband and wife duo. The brand is well known for its high-end skincare and makeup products. The vast majority of Sisley's beauty products, in addition to its perfumes, are conceptualized, developed, and manufactured in France. The brand's tinted moisturizer is just one product that has glowing reviews. This eye concealer made from botanical extracts will hide your dark circles and any signs of fatigue around the eyes.
By Terry
Parisian makeup star Terry de Gunzburg has a brand like no other. She went to medical school but instead of treating patients, she decided to leave her mark on the beauty world by developing makeup products for the Yves Saint Laurent cosmetics brand for 15 years. She was even the brains behind the iconic concealer we mentioned earlier Touche Éclat. In 1998, she decided to strike it out on her own. With an army of experience behind her, it's no wonder that this French makeup brand has been a huge success both stateside and in France. The By Terry Blackstar eyeshadow pencil is very highly rated.
Laura Mercier
French makeup artist Laura Mercier decided to partner up with an American businesswoman to launch her makeup brand in the United States. Her "flawless face" makeup line which promoted the lightweight application of concealer and a very thin foundation became a favorite in the 90s and today it's the everyday, natural makeup routine that I use. The three-step solution involves using a primer, concealer, and tinted moisturizer to even out the skin tone of the face. It gives me a fresh glow all day long and even a bit of sun protection. The translucent loose setting powder is a must-have if you have oily skin.
T. LeClerc
This is one of the older yet lesser-known brands on this list. T. LeClerc was found by a successful pharmacist name Théophile LeClerc in 1881. He opened a pharmacy in the heart of Paris near the centrally located Place de la Madeleine. He was born into an artistic family but he also loved beauty and experimented with creating different products in the basement of his office in his spare time.
One of these unique products was a rice powder that served to mattify the skin in a delicately light and elegant way. The T. LeClerc powder quickly became a success at the turn of the century among Belle Epoque Parisians. The pressed powder is produced in dozens of shades today.
Independent Makeup Brands
These newcomer makeup companies offer a fresh approach to makeup. They're certainly ones to keep an eye on!
Les Filles en Rouje
Founded by French influencer Jeanne Damas, Les Filles en Rouje is poised to become the next cult beauty brand from France. I use the Les Filles en Rouje lightweight mascara when I want a subtle eye makeup look, and their lip palettes, applied with the finger are hugely popular in France! The 70s style gold packaging is another reason to love this French cosmetics brand.
Violette
After years of working as a makeup artist for top beauty brands around the world and slowly becoming the de-facto face of French beauty, Youtuber Violette has launched her own brand after many years in the works. Her brand Violette launched with a small number of products that she has been developing for a long time. This French makeup brand is literally brand new and I can't wait to see where it goes! So far, the Petal Bouche Matte velvet lip color looks divine.
1944 Paris
1944 Paris is a new Parisian makeup brand which is named 1944 because that is the year that French women gained the right to vote after years of campaigning. The essence of freedom is the motivation behind each of 1944's products. I use the 1944 volumizing mascara when I want thick and full look-at-me eyelashes! Although it is just four years old, 1944 is one independent French makeup brand to watch.
La Bouche Rouge
La Bouche Rouge ("the red mouth") is all about aesthetic design, practicality, and sustainability. With a refillable design on many of their products, the brand aims to embrace a certain Parisian elegance while celebrating French craftsmanship and savoir-faire. They want to bring about sustainability through luxury. The socially responsible Parisian makeup brand is fast developing a cult following. Try their French cherry red lipstick, already available at Net-a-Porter.
Affordable French Makeup Brands
You didn't think all French makeup was incredibly expensive and luxurious, did you? If you're on a budget, these affordable French makeup companies will give you the best of French beauty at wallet-friendly prices.
Yves Rocher
Although affordable makeup brands tend to be associated with low-quality ingredients and toxic additives, Yves Rocher is one brand that breaks that stereotype. Launched by a Frenchman from the western countryside of France, Yves Rocher has gained millions of loyal fans across the country of France for its natural approach to affordable French beauty. Rocher was truly a pioneer when it came to creating cosmetics using natural ingredients.
Bourjois
Bourjois is a French cosmetics company that has since been bought by an American business group, though it has roots going back to the mid-19th century. It was even owned by the Wertheimer brothers, who funded Chanel, for nearly 100 years. When I asked my French friends in Paris what they think of Bourjois, they say that it's a solid, affordable brand that they can rely on for makeup basics. It seems like many Americans agree, as this anti-fatigue medium coverage liquid foundation has crazy high ratings!
L'Oréal
Every woman knows the multinational French makeup brand L'Oréal! L'Oréal is always my go-to solution for affordable French makeup whenever I need a good product but I don't want to spend a lot of money. I typically turn to them when I want to do a particular make-up look that I know I won't do very often but I still want to have fun with it. As the success of the brand attests, you really can't go wrong with L'Oréal. The Lash Paradise Mascara is what I grab from the drugstore when I forget my mascara on vacation!
I hope this post helped you learn something new about the diverse variety of French makeup brands available to Americans. As you can see, many of these French cosmetics brands are available to shop from the United States which means that French beauty is not out of reach no matter where you live!