Scent is strongly tied to memory and the French have mastered the art of perfume creation like no other country. Thanks in part to the small town of Grasse in southern France, several iconic French perfumes have stood out among a sea of scents. Today I'm going to share with you the best French perfumes to know about as you search for your own signature fragrance.
Grasse, a town located in the Provence region of France, has a mild climate well suited to growing lavender, rose, and jasmine. These scented flower fields provide opportunities to create lovely smelling products from fragrance to beauty products and more. The region has produced perfume artisans and professional scent makers for decades. Many of the best French perfume brands work from Grasse.
French Perfumes
Below I'll share the most iconic French perfumes of all time. Finding the right perfume can take time, but don't overlook the importance of this key French beauty aspect.
Chanel n°5
Chanel n°5 may be the most iconic perfume in history, but it was not the first. Although a few other perfumes came before this one, it's arguably the one that has made the biggest impact on the luxury fragrance demand.
It all started in 1921, when Gabrielle "Coco" Chanel asked the French-Russian perfumer Ernest Beaux to create a fragrance "that smells like a woman, not a flower." He crafted a selection for her to choose from and she went with the fifth one – hence the "No. 5" name. Chanel said she showed her collection on the fifth day of the fifth month of the year and that number five was quite fitting for her first scent. A bottle of Chanel No. 5 is sold once every 30 seconds around the world, making it the most popular of the many Chanel perfumes.
Chanel No. 5 uses aldehydes, a synthetic element that had never been used in perfume before. It smells crisp and fresh and creates a harmonious scent when combined with floral aromas like rose, iris, and lily of the valley.
It's clear that this is one of the most iconic French perfumes you can buy. As Marilyn Monroe said in the 50s when asked what she wore to bed, "I only wear Chanel No. 5."
Today Chanel No. 5 has been represented by the face of stunning French actress Marion Cotillard, continuing the trend of this perfume as the crème de la crème.
You can buy Chanel No. 5 from Sephora or directly from Chanel.
Lancôme La Vie Est Belle
La Vie Est Belle is the best selling perfume by French brand Lancôme. Meaning "Life is Beautiful," this perfume is a reflection of Lancôme's storied heritage. The perfume has fresh notes of iris flowers patchouli, warm vanilla, and Arabian jasmine. Like a blooming orange bouquet, it will remind you of spring time floral scents.
The bottle of this perfume was nicknamed "The Crystal Smile" and it was designed back in 1949 by Georges Delhomme. The founder of Lancôme wanted to present an image of femininity, happiness, grace, and optimism.
For the fragrance's 2012 relaunch, a small chiffon scarf was added to the neck of the bottle for a touch of Parisian chic. Actress Julia Roberts has been the face of the fragrance for many years.
Guerlain Shalimar
The oldest French beauty house, Guerlain, was launched in 1828. Almost a century later, in 1925, the first oriental fragrance, Shalimar, was developed by Jacques Guerlain. He was inspired by the Indian love story of Emperor Shah Jahan who fell in love with Princess Mumtaz Mahal. The gardens of Shalimar were created for her and the Taj Mahal was dedicated to her. Shalimar means 'temple of love' in Sanskrit. The Shalimar fragrance represents eternal love and desire.
This perfume has sweet bergamot, vanilla, and iris notes. It is one of the most sought-after luxury perfumes in France. The bottle was designed by Raymond Guerlain and won the first place prize at the Paris Decorative Arts Exhibition. Its shape was influenced by the basins of the Indian Shalimar gardens. The bottle stopper has a blue tint, reminiscent of the flowing garden waters. This perfume is best for the woman who appreciates the worldly nature of perfume making.
Guerlain produces their fragrances entirely in Orphin, France in the Yvelines department. They use traditional French craftsmanship techniques like barbichage and baudruchage to apply wax seals and handmade touches to each bottle.
Chloé Eau de Parfum
Chloé's Eau de Parfum was the first fragrance released by 70s feminine brand, Chloé. The perfume was launched in 1975 and epitomized the romantic classic vibes of the Chloé brand.
Chloé was founded in 1952 by Gaby Aghion, but the decade of the 1970s really came to define her brand. The signature Chloé Eau de Parfum has notes of rose, peony, honey and cedarwood.
Chanel No. 19
Chanel No. 19 was the last fragrance launched and worn by Coco Chanel before her death. It was named after the day she was born: August 19.
The perfume is a floral and woody scent. The bottle was designed in 1921 and retains the simplicity and functionality that Chanel perfume bottles are known for. Apparently, the bottle stopper was meant to imitate the squared nature of Place Vendôme, which Gabrielle Chanel could see from her room at the Ritz hotel in Paris.
This perfume has many contrasting scents giving it a unique appeal. From soft notes of may rose and Italian iris, to Neroli from Grasse in southern France, this perfume is a wonderfully romantic scent for the modern woman.
This perfume was released in 1971 just one year before Gabrielle Chanel died, which means that it is the most modern fragrance that was approved of by Gabrielle Chanel herself. During the decades that followed, the house of Chanel described the perfume with phrases like "The Outspoken Chanel" and "Devastatingly Feminine" in a break from traditional ideals.
According to Chanel herself, perfume should be applied "wherever you would like to be kissed." The house advises women to leave a drop on their bodies wherever they can feel a heartbeat.
Dior Miss Dior
Miss Dior was the first Dior fragrance released in 1947, shortly after the fashion house Dior's famous "New Look" was unveiled. Its feminine and floral scents with green chypre and Grasse rose made it an instant hit. The original glass bottle featured a houndstooth print. It was named for the designer's sister, Catherine Dior who was actually a French resistance fighter, and known as "Miss Dior."
The fragrance continues to be one of Dior's best-selling perfumes. With a charming combination of bergamot, rose, jasmine, and rosewood, it's a scent that most people never forget. Keep in mind that there are two versions of this fragrance: the original and a contemporary Eau de Parfum, which comes in a pink bottle and is represented by Natalie Portman.
François Demachy, the Dior perfumer stated that he wanted this perfume to envelop the woman as if his "gowns were emerging, one by one, from the bottle." Dreamy!
Nina Ricci L'Air du Temps
L'Air du Temps by Nina Ricci is next on the list of the best French perfumes. Created in 1948 by Francis Fabron and Nina Ricci's son Robert, it was meant for married women rather than young girls. With notes of carnation, sandalwood, gardenia and rose, its subtle floral tones were pleasing to the post-war mature woman.
L'Air du Temps is one of the best-selling perfumes of all time. It is packaged in a bottle designed by René Lalique. It even has cultural references like in the 1991 movie Silence of the Lambs where Hannibal Lecter recognizes L'Air du Temps as the perfume worn by Clarice. In 2010, French interior designer Philippe Starck designed a new version of the bottle.
Yves Saint Laurent Opium
Yves Saint Laurent's Opium is one of the more controversial French perfumes ever created. The spicy oriental perfume was first created in 1977 by Jean Amic and Jean-Louis Sieuzac. While Chinese Americans complained about the glorification of drug abuse due to the fragrance's name, the controversy gave the perfume publicity that couldn't be paid for. It was released to the American market the following year and $3 million worth of Opium was sold in the first four months.
The fragrance symbolized controversy, mystery, and exoticism, traits that resonated with Europeans as well as Americans in the late 70s. At the American launch party, a ship called Peking was borrowed from the South Street Seaport Museum in Manhattan's East Harbor and writer Truman Capote was a guest.
Opium is an oriental fragrance, which blends florals, spices, and deep woody notes.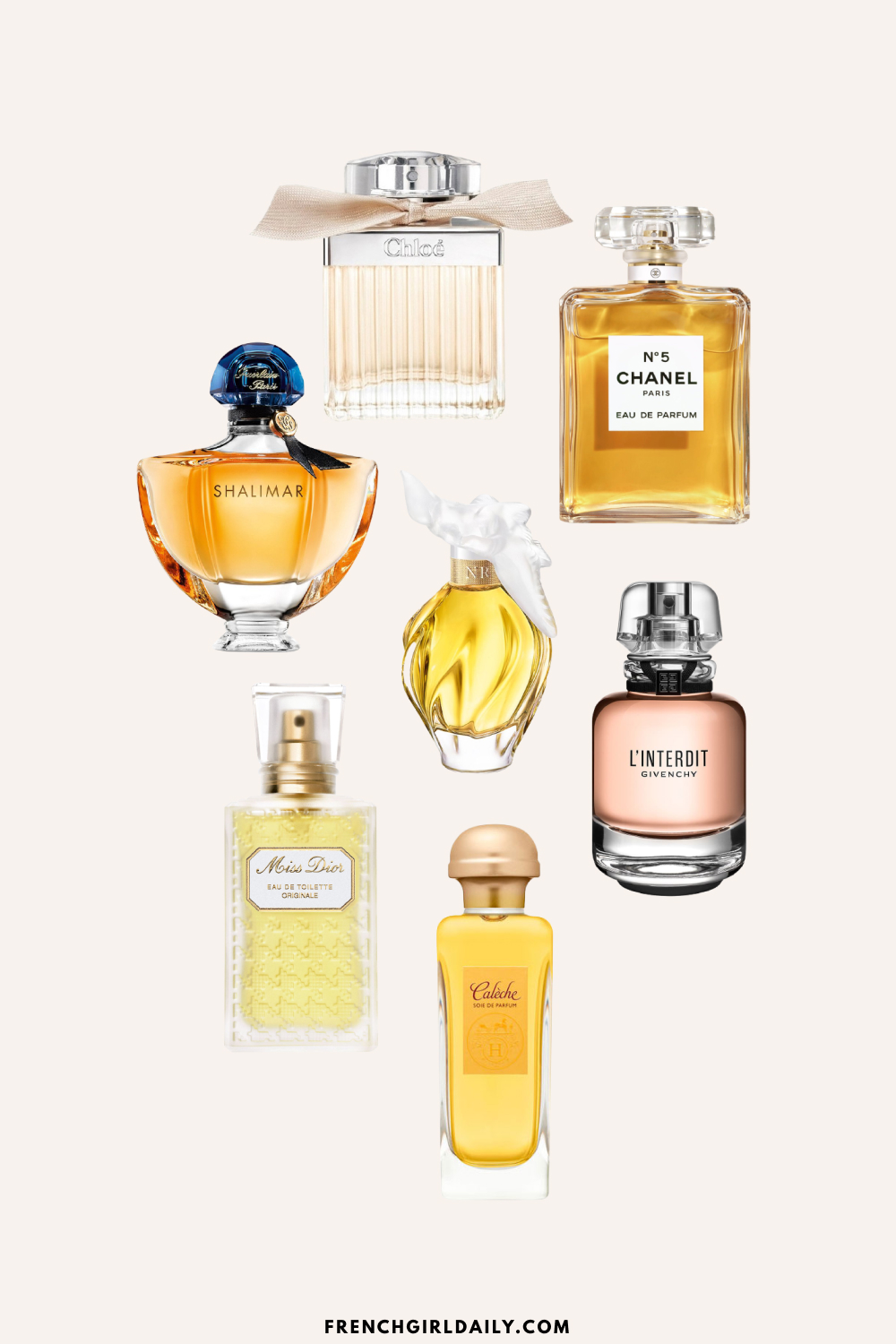 Dior Diorissimo
The wistful Diorissimo is a classic French perfume created by French fashion brand Christian Dior. It was first created in 1956 and was Dior's attempt to imitate lily of the valley in a perfume bottle. Dior was completely fascinated by this flower. He used it on his stationary, in his garden, and it even inspired his spring 1954 collection.
Ironically lily-of-the-valley is not actually included in Diorissimo. The plant has no essential oils to be used in the fragrance so instead molecules were created in a laboratory to replicate the scent of the flower. Diorissimo is written with notes of ylang-ylang, amaryllis, jamsine and boronia.
As one of the greatest fragrances of all time, Diana Princess of Wales named it one of her favorites. Although the formula has slightly changed over the years, this classic French fragrance remains one of the greatest creations in perfume history.
Chanel Coco Mademoiselle
In 2001, Chanel launched Coco Mademoiselle, a perfume that was intended to target a younger consumer market. Thinking about an adolescent Gabrielle Chanel, the fragrance was crafted by Jacques Polge, who served as the nose of Chanel from the late 70s to 2015.
This perfume is much more airy, floral and light than the other Chanel perfumes. Polge was inspired by the natural floral scents of his southern region of Avignon, France. Patchouli is infused with warm Amber notes. Tonka beans and vanilla from Madagascar complete this youthful scent for the contemporary young woman.
Sisley Eau du Soir
Sisley's Eau du Soir has one of the more romantic backstories. This French perfume was developed by Sisley founder Hubert d'Ornano for his wife in 1990. The fragrance was first crafted from a base note of seringa.
It was intended to be reminiscent of a stroll through the luxurious gardens of Alcazar in Seville, Spain. At dusk, the syringa flower lets out a hint of its intoxicating fragrance. With fresh citrus and sweet florals, this elegant perfume is recommended for evening wear with your lover.
The perfume has notes of chypre, mandarin orange, grapefruit, jasmine and rose. The base notes of amber and patchouli round out this bold and enticing fragrance.
Hermès Calèche
Hermès' Calèche Soie de Parfum is a timeless French perfume written by Guy Robert in 1961. It was the first fragrance for women developed by the luxury accessory brand Hermès. The perfume is impossibly feminine – woody and floral at the same time. Calèche means "carriage" in French, a nod to the horse-drawn carriage that serves as the icon of the Hermès brand. The perfume is composed of citrus fruit, aldehydes, floral hearts, ylang-ylang, rose, and jasmine. It is underscored by notes of woody chypre sillage and iris.
The Calèche fragrance is often described as more old-world classic and even vintage. It doesn't have any of the fresh floral scents that some contemporary fragrances that have mass-market appeal will offer. I would say this perfume is best for someone who appreciates maturity and vintage style.
Givenchy L'interdit
There's something about the forbidden that makes it all the more appealing. L'interdit, meaning "forbidden" in French, is a perfume that symbolizes the appeal of what is off-limits. Hubert de Givenchy created this perfume in 1957 in collaboration with celebrated French parfumeur Francis Fabron. The perfume is delicate yet floral.
With notes of jasmine, violet, rose, it was created for Givenchy's eternal muse, the Dutch-British actress Audrey Hepburn. Audrey was also the first actress to serve as the face of a perfume. Givenchy L'interdit is ideal for the woman who appreciates classic style, beauty, and grace à la Audrey Hepburn.
Dior J'adore
Dior strikes again with arguably their most iconic perfume ever produced. J'adore was only launched in 1999 but it is the brand's best-selling perfume. I guess most people prefer 21st-century perfumes to the old vintage scents! The J'adore perfume is shaped like a woman's curves, and the gold rings around the bottle neck mimic a gold necklace that a woman might wear. With keynotes of ylang-ylang, rose from Damascus, jasmine sambac, and jasmine from Grasse, this is one French fragrance you can't go wrong with.
Yves Saint Laurent Rive Gauche
The last iconic French perfume I want to share is one that I believe represents the contemporary Parisian woman. Rive Gauche refers to the left bank of Paris, south of the river Seine. This was historically the intellectual center of Paris where the writers, thought leaders, and artists hung out during Paris' golden age.
Saint Laurent's Rive Gauche perfume is a fragrance meant to capture the unpredictable nature of YSL ready-to-wear collections. Ahead of its time and unapologetically independent, this perfume is meant for Parisians (and women around the world) who break the mold.
With fresh scents of bergamot and rose, fresh scents of vetiver, oakmoss, and musk merge to create a dewy Parisian fragrance. Launched in 1970, it captures the bohemian spirit of the 70s in a bottle, created by Michel Hy. Meant for the woman who loves living in a busy metropolitan city, Rive Gauche is the perfect fragrance for a woman who is constantly evolving with the times.
---
There are many more amazing French perfumes that could appear on this list but I hope this gave you a good idea of the French fragrances that I've stood the test of time. The best French perfumes aren't always the most popular, but rather those that have been appreciated by women with good taste.
There are two perfumes that I would have loved to include on this list but sadly they have been discontinued. If you're into vintage perfumes then I recommend taking a look on eBay for these timeless iconic perfumes: Lanvin Arpège (1927) and Jean Patou Joy (1935).
Finding your signature scent is something that can take years. Don't hesitate to visit Sephora or your local beauty store and test out several perfumes to find which one you like the best. When researching this article, I noticed that once someone finds their signature scent, they tend to stick with it for a lifetime!