With a sea of French beauty products available, it's hard to know which ones are truly the best. Today I want to talk about the best French beauty products that nearly every French girl owns! They have stood the test of time and the brands have made a name for themselves. Some of these beauty and makeup products even have cult followings around the world.
From French skincare to Parisian makeup, women all around the world turn to the French for beauty advice. The effortless chic beauty ideals of the French appeal to women everywhere who want a low-maintenance yet high-impact beauty routine.
Nevertheless, buying beauty products can get expensive, so this list should help you narrow it down to the really good ones you can feel confident buying.
Best French Beauty Products
If you want to get the French girl beauty look but don't know where to start, then these products should give you a good idea of where to begin. As an American living in Paris, I share advice about French beauty, so I hope you'll enjoy it!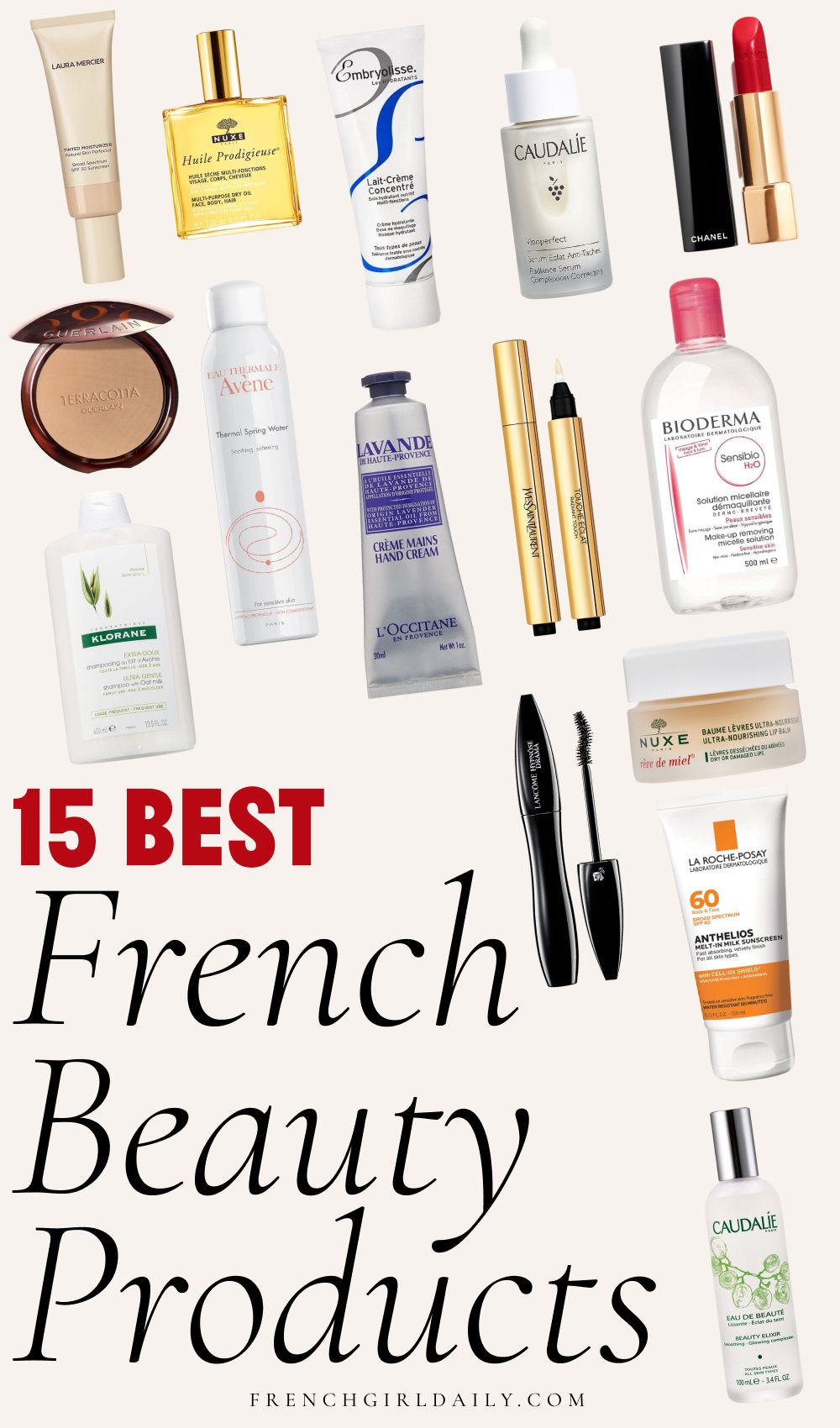 Here are the beauty products from France created by the best French beauty brands to try this year.
Embryolisse Lait-Crème Concentré
If there's one French face cream you need to try, it's the cult Embryolisse Lait-Crème Concentré, which dozens of French makeup artists swear by. A best-seller since 1950, you know this cream has stood the test of time! In fact, one is sold every minute around the world. It cleanses, hydrates, and moisturizes sensitive skin from the face to the body. It suits all skin types and combines shea butter, beeswax, soy proteins, and aloe vera to give your skin a silky smooth feeling.
YSL Touche-Eclat Concealer
The YSL Touche-Éclat Concealer has been a French girl beauty favorite for years. This miracle-working concealer gives you a light sheen anywhere you use it. It brightens the skin with a luminous finish to illuminate your features. Containing hyaluronic acid to increase hydration and plump your skin, this is a natural way to get the French girl glow. Plus, it's small enough to stash in your bag and reapply when you need to! YSL recommends using it under the eyes, on the nose, on frown lines, and around the lips. This is definitely one French makeup essential I wouldn't skip out on.
This is a product I heard of before moving to France, and let me say it's truly worth all the hype! This concealer pen is meant to be used sparingly. A swipe or two just above the cheekbones is enough to give you a natural highlight and effortless glow.
Bioderma Micellar Water
I first heard about Bioderma micellar water when watching a YouTube video of Jeanne Damas showing her favorite French pharmacy beauty products. Pretty soon I realized that just about every French woman raves about this miracle water that works to cleanse the facial skin while removing any makeup! The iconic formula removes dirt, debris, and pollution while being sensitive to delicate skin. It is unfragranced and doesn't leave a residue, so you don't need to rinse it off after use.
The micellar technology was created by the French laboratory Bioderma, inspired by the natural cellular lipids already found in our skin. The micellar water preserves the skin while gently purifying it with a pharmaceutical-grade, water-based formula that has a physiological pH of 5.5. Apply it with a cotton pad and gently pat it over your skin. The product will naturally evaporate off your skin and you can follow up with a good French facial moisturizer.
Laura Mercier Tinted Moisturizer
This French tinted moisturizer has become a favorite in recent years. Laura Mercier was founded in the US by a French make-up artist. Her success at bringing the fresh-faced French girl look to the U.S. paid off and numerous products have attained cult status. One such product is the Laura Mercier tinted moisturizer with SPF. Mercier describes it as the "secret to 'no makeup' makeup," which is ever so popular with French women!
This tinted moisturizer comes in two finishes and 20 shades to ensure that every woman can find her skin tone. Women with normal to oily skin should go with the oil-free version, while women with normal to dry skin should opt for the classic version. Both are natural skin perfectors!
Tinted moisturizer is the secret to French girl effortless skin. It's how they master that natural glow without the heavy, cakey foundation Americans are known for wearing. Tinted moisturizer gives the skin the lightest coverage possible to hide imperfections without the product itself remaining visible on the skin. It also hydrates and protects against UV rays for up to 24 hours. As a bonus, glycerin softens fine lines and vitamins C & E protect against pollution.
This is definitely a cult French makeup product you must have!
Caudalie Vinoperfect Radiance Serum
If you have dark spots, then you'll love this cult-favorite French serum by Caudalie. The Vinoperfect Radiance Serum is a natural way to treat dark spots the French way – using a patented ingredient called Viniferine which is supposed to be 62 times more effective than Vitamin C at evening the tone of your complexion and enhancing the skin's natural radiance. From stretch marks to acne scars, there's no blemish this serum can't treat. Suitable for all ages and skin types, this is one cult French beauty product you must try! It's formulated using 98% natural origin ingredients so you can rest easy knowing your face is free of chemicals.
Klorane Dry Shampoo with Oat Milk
French girls know that washing your hair every day is a big no-no. Instead, they spritz a few sprays of Klorane Dry Shampoo with oat milk to give their hair natural volume and a refreshed look. Made with plant-based ingredients, this non-sticky dry shampoo absorbs oil and dirt fast while getting rid of odors. It doesn't leave a residue, and any white powder left over can be brushed through the hair with your fingers. The best part is, it's one of the more affordable French beauty products on our list!
Lancôme Hypnôse Mascara
Lancome Hypnôse volumizing mascara is the go-to product for French girls who want stunning lashes without going overboard. This lightweight formula gives your lashes a girly, natural look. Since French beauty is all about enhancing your natural features, it's the perfect choice for everyday mascara. This is definitely one of the best French beauty products to have in your arsenal.
Nuxe Huile Prodigieuse Multi-Purpose Dry Oil
Keeping skin smooth and moisturized is something we all have to do on the daily. Nuxe's Huile Prodigieuse makes it super easy, as it's a multi-purpose oil that works on your face, body, and hair. French girls have used it for years and only recently have Americans got in on the action, too! Made with seven botanical oils and composed of 98% natural ingredients, this multi-purpose dry oil offers hydration for the hair and skin that lasts all day. It can be used all year round, but I especially love using it in the summer. I work the product into the ends of my hair whenever they feel a little dry.
Avène Thermal Spring Water Mist
For a refreshing facial mist, French women turn to Avène. This French pharmacy brand offers luxurious Thermal Spring Water which has been bottled directly at the source in the countryside of France and packaged in a clean and sterile environment for the utmost purity. It comes in a large spray can which you can keep in the fridge for a refreshing mist in the hot summer or a hydrating spritz in the dry Parisian winter.
Composed of minerals, this powerful facial mist will soothe and soften your skin. It has a neutral pH to suit sensitive skin and restore the skin's natural balance. If you ever wanted to know what it feels like to have the natural spring waters of the Cévennes Mountains in Avène, France on your face, this bottle is for you!
Chanel Rouge Velvet Lipstick
My Mom bought me my first Chanel lipstick for my birthday a few years back and ever since then I've been hooked on these luxurious French lipsticks. The Rouge Velvet lipstick line by Chanel keeps your lips locked with moisture while giving them a bold color. I always go with red, personally, but any shade you choose will make you happy! The creamy texture will leave your lips with a beautiful matte finish.
L'Occitane Lavender Hand Cream
Famous 'south of France' beauty brand L'Occitane has a best-selling hand cream that you must try. The L'Occitane Lavender Hand Cream is made with 20% shea butter to nourish rough and dry hands while locking in moisture. Infused with lavender essential oil, this lightweight hand cream will remind you of the rolling fields of Provence. I have been using this hand cream often since washing my hands all the time makes them super dry.
Nuxe Rêve de Miel Lip Balm
Ever since Jeanne Damas declared this lip balm her favorite, women across the world can't get enough of it. The Nuxe Rêve de Miel lip balm has a delightful combination of honey, botanical oils, and propolis to give your lips an all-day moisturizing treatment. It nourishes the lips and repairs any damaged skin. It contains 90% natural origin ingredients.
Guerlain Terracotta Sunkissed Natural Bronzer Powder
Luxury French beauty brand Guerlain makes a killer Terracotta Sunkissed Natural Bronzer Powder which gives you that sunkissed glow that French women love! This bestselling bronzer is made from 96% natural ingredients. It offers medium coverage and a natural finish. This pressed powder will make your skin naturally warmer. It's great for when you want to prolong your bronze glow after your summer vacation!
La Roche-Posay Anthelios Sunscreen
The most famous French sunscreen is something I take on all my trips to the Mediterranean.
There are several versions of La Roche-Posay Anthelios sunscreen. One is formulated for the face and one for the body. Each has a broad spectrum SPF 60 protection. The formulas are lightweight and have a matte finish, making them great for use under makeup.
This sunscreen absorbs quickly and doesn't leave a white finish. It is even water-resistant for up to 80 minutes.
Protecting your skin from the sun is so, so important! No temporary tan is worth the long-term effects of too much sun exposure. Protect your face accordingly.
Caudalie Beauty Elixir
I absolutely adore the smell of Caudalie Beauty Elixir – a facial mist that brightens my mood each morning. This mist immediately refreshes the face, sets makeup, and leaves a dewy glowing finish to the skin. It's truly a quick boost of happiness for me each morning!
There you have the top French beauty products I can't live without since moving to Paris!