France is well known for its high-quality, natural beauty products so I wanted to share the best French beauty brands you should know if you're a beauty addict like me! These French beauty brands use clean ingredients in their products for a natural approach to French girl beauty. They have developed time-tested solutions for makeup and skincare. Many of them have been around for decades, with each generation of French women passing on their tips to the next!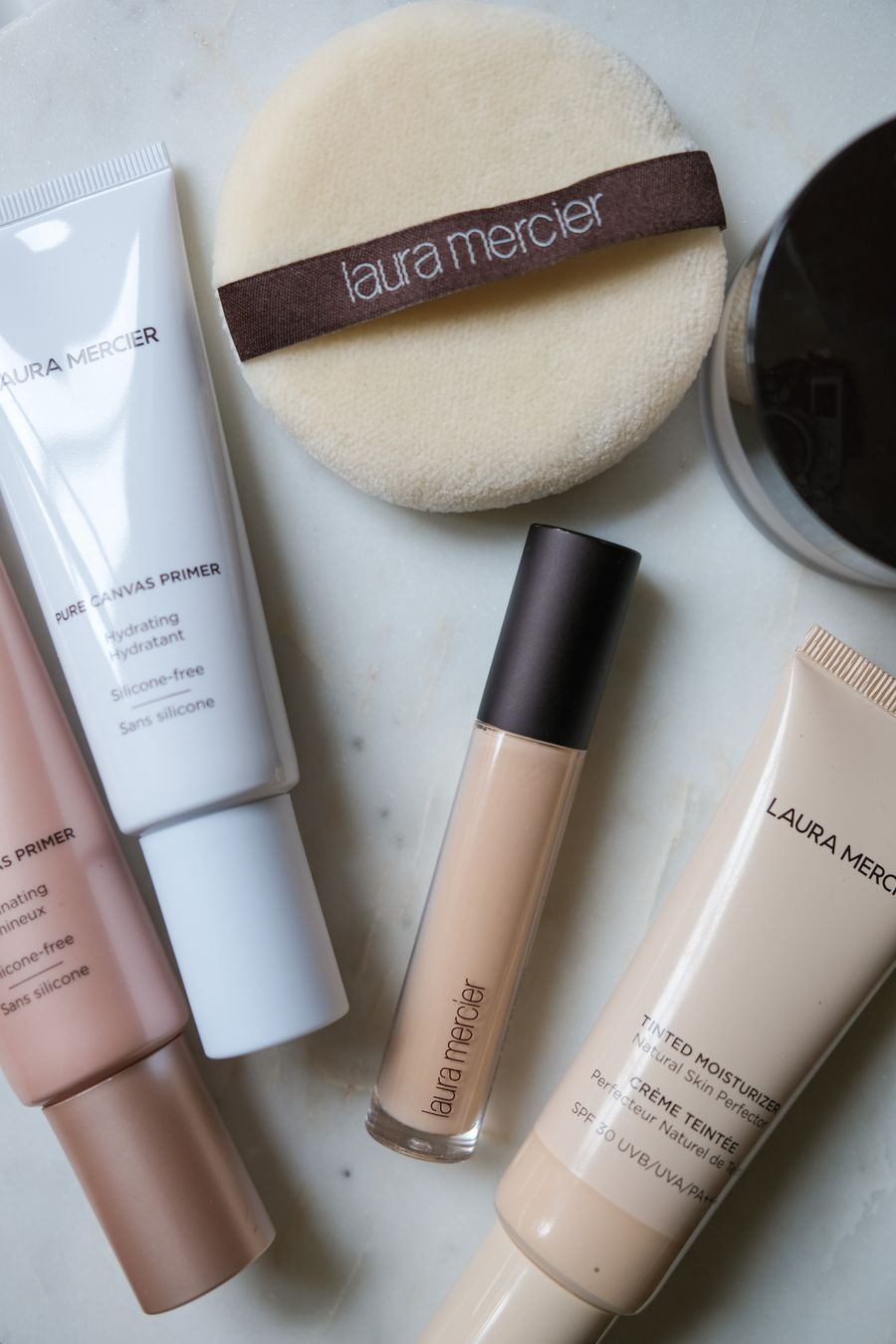 Here is a list of the best French beauty brands to know, grouped into various price points and shopping locations.
Luxury Beauty Brands
These are the most expensive luxury French beauty brands you can find on the market. Some of these beauty lines were launched by fashion houses and others were founded with beauty as their primary product line. Either way, they have created some of France's top beauty products.
Lancôme
Probably the most well-known French makeup brand, Lancôme has been the standard of French cosmetics since its founding in 1935. The Hypnôse mascara is a long-time French girl favorite.
Guerlain
Guerlain is a luxurious French perfume brand among the oldest in the world, having been founded in 1828. It also created the first French lipstick in the late 19th century. Try the cult Terracotta bronzing powder for a sunny French girl glow.
Buly 1803
L'Officine Universelle Buly 1803, a French apothecary brand, was one of the original cult brands of the 19th century thanks to its patented aromatic lotion. From soaps to skincare and perfumes, Buly 1803 is one of the most luxurious French brands that will delight your senses in every way.
Anne Semonin
Grace Kelly and Catherine Deneuve sought out the expertise of French skincare expert Anne Semonin for facials. Today the brand's products are known for the use of essential oils and minerals.
Biologique Recherche
Dubbed a facial in a bottle, the P50 lotion by Biologique Recherche has been a cult classic for years.
Clarins
Founded by Jacques Courtin-Clarins in Paris during the 1950s, this French skincare brand succeeded in creating dozens of products over the decades which spoke to their clients' needs. The Clarins anti-aging Double Serum is loved by women for its wrinkle-reducing and skin-tone evening properties.
Sisley
Sisley is a French family-owned beauty brand that was launched in 1976 by husband and wife duo Hubert and Isabelle d'Ornano. The entire line of Sisley beauty products is designed, developed, and manufactured in France. The Sisley Eye Contour Mask is highly rated and formulated to reduce eye puffiness and swelling fast.
Fashion Designer Beauty Brands
These luxury French fashion houses need no introduction so instead, I'll share some of the cult products from their beauty lines!
Mid-Range Beauty Brands
These are the mid-range French beauty brands that aren't investment brands per se, but cost a bit more than the cheapest options. They are generally a good balance of price and quality. Some of them are newer on the market, and others have been around for quite a while.
Laura Mercier
Laura Mercier, a French makeup artist turned fashion editor, partnered with an American businesswoman to launch the world's first 'no makeup' makeup line in the mid-90s – dubbed the "flawless face." The brand's minimalist 90s aesthetic caught on and its four main products – primer, concealer, foundation, and translucent powder – have remained the company's bestsellers today. Laura Mercier makes one of the best tinted moisturizers I have ever tried.
L'Occitane
L'Occitane en Provence is a French beauty brand that is well established in the United States. I remember walking through the mall as a kid and always being drawn to their lovely scents. Their lavender hand cream is an affordable must-have.
Chantecaille
Chantecaille is an established French cruelty-free beauty brand that is vegan-friendly. Founder Sylvie Chantecaille believes in the healing powers of flowers and plants. The botanical ingredients of Chantecaille products are one of many reasons to love this brand. Sylvie's experience in the beauty world goes back to 1979 when she created the Prescriptives brand for Estée Lauder! The Chantecaille Just Skin tinted moisturizer is an under-the-radar cult product.
Typology
A newcomer on the Paris skincare scene, French skincare brand Typology is poised for success with sleek minimal branding and a back to basics approach. Typology is an online beauty brand with a direct-to-customer business model, meaning they sell premium products with the same high-quality ingredients as the luxury beauty brands, at a fraction of the price.
Oh My Cream!
Oh My Cream is a multi-brand retailer that launched its own line of clean beauty products that have become cult favorites with in-the-know Parisians who want personalized, natural beauty recommendations. Walk inside one of their pastel pink shops and you'll see why this is the Parisian millennial woman's dream beauty brand!
Seasonly
Seasonly is a clean beauty brand with a studio in central Paris where they offer facial treatments using natural and vegan products to clients. The wellness brand offers skincare advice according to the seasons. It was founded by Fany Péchiodat, the creator of the cult website My Little Paris.
Les Huilettes
Another organic, clean French beauty brand to keep an eye on is Les Huilettes. This brand offers 100% organic natural cosmetics, vegan, made-in-France beauty products, many of which are made from essential oils.
Bastide
French haircare guru Frédéric Fekkai and his wife Shirin von Wulffen breathed new life into Bastide, a 25-year-old brand based in Aix-en-Provence. Bastide is known for its dreamy fragrances and hand and body lotions evoking the summer scents of southern France. The packaging design alone is a reason to buy!
Aime
Taking a holistic approach to beauty, French entrepreneur and influencer Mathilde Lacombe launched Aime – a skincare and supplement brand that helps bring about healthy skin from the inside out. Lacombe explains that she realized skincare is about more than just the right cream or serum – getting the right nutrients and vitamins is just as important. Aime puts everything you need into a tiny capsule to be taken daily for fresh, glowing skin.
French Pharmacy Brands
French pharmacies are world-famous for carrying some of the country's best beauty products. Shopping for beauty products at the pharmacy is a way of life for French women. The pharmacy is the place where you can find the nation's top laboratory-tested beauty products for your everyday beauty routine as well as for treating specific issues like acne, wrinkles, and sunburns.
Bioderma
Bioderma is one of the most respected French pharmaceutical companies specializing in dermatology. It was founded in 1977 in Aix en Provence, France. Their micellar water has become a cult beauty product around the world.
Caudalie
Caudalie is a cult French beauty brand known for its skincare products using vinotherapy techniques. It was founded in 1995 by Mathilde Thomas. Caudalie is known for its Vinoperfect Serum and its Beauty Elixir facial spray.
La Roche-Posay
La Roche-Posay is a French pharmacy brand founded in 1975 and currently owned by L'Oréal. Legend has it that a French horseman stopped at a spring in the town of La Roche-Posay in central France, where his horse was cured of eczema. The thermal spring water became famous and General Napoleon Bonaparte even had a hospital built in the town to treat his soldier's diseases.
Embryolisse
Known for its all-purpose cream Lait-Crème Concentré, the brand Embryolisse was founded in 1950 by a Parisian hospital dermatologist specializing in skin diseases.
Nuxe
Nuxe is well-known for its Huile Prodigieuse which is a multi-purpose botanical oil used to moisturize the hair, scalp, and body. This natural cosmetics brand is well-trusted in France, having been founded in a small Parisian research and development laboratory in 1990 by Aliza Jabès.
Avène
The key natural ingredient in Avène products is the natural spring water from Sainte-Odile, a water source in the south of France, which is rich in minerals but still softer than other waters. Avène's famous Eau Thermale spray should be used after cleansing, shaving, sun exposure, or during travel. I am a big fan of the Avène Cold Cream which I use on my feet at night.
Decléor
This French aromatherapy brand offers a range of essential oils for natural skincare. Since 1974, this brand has integrated the benefits of natural oils like neroli and damask rose into their products.
Vichy
The key ingredient of Vichy products is volcanic mineralizing water, rich in 15 minerals like calcium, potassium, and magnesium, which is found in the central French town of Vichy. Isolated from pollution, the thermal water naturally reinforces the skin's barrier. I recommend this daily hyaluronic acid serum.
Biotherm
Biotherm is a French skincare brand that uses thermal plankton and mineral water as the foundations of its product line. Thermal plankton is a type of microflora from the thermal springs of the French mountains. Several decades ago, Biotherm biologists discovered its soothing effects on the skin and created a range of thermal plankton cosmetic care products. Their body milk is a favorite.
Darphin
Pierre Darphin was a botanist and physiotherapist who created skincare products from the purest and most concentrated essences of plants. The Darphin Stimulskin Plus line is known for renewing the face and aggressively fighting the signs of aging.
Payot
Payot is a French skincare brand launched by one of the first female doctors, Nadia Payot in 1920. Payot's made in France Pâte Grise spot treatment works to cure blemishes overnight.
Filorga
Filorga is a French brand that prides itself on being the first French laboratory of aesthetic medicine. Their anti-aging products are an under-the-radar favorite, like this eye cream for dark circles.
Haircare Brands
These are the best French haircare brands that will work to make sure your hair looks as healthy and beautiful as possible!
Kérastase
Kérastase is a French luxury haircare line is known for creating top-quality haircare products based on personalized needs like nourishment, color-treated hair, hair loss, dry hair, and more. The Kérastase brand is part of the L'Oréal professional products division. Try the top-rated Elixir Ultime Oil Serum for silky smooth and hydrated French girl hair.
Leonor Greyl
This Parisian hair salon started offering natural hair care products and treatments long before organic beauty became a trend. The Masque Quintessence hair mask was quickly adopted by French celebrities and raved about as a premium at-home hair treatment.
Christophe Robin
Known for color-treated hair products, Christophe Robin has worked with French supermodels and actresses on perfecting their hair colors over the decades. Christophe Robin luxury hair products are well sought after and the purifying sea salt scalp scrub is a bestseller.
Klorane
In 1971, French haircare laboratory Klorane launched its first dry shampoo, now a cult favorite. At the time, it was meant for new mothers in hospitals who had just given birth to clean their hair by absorbing oil without using water! Klorane haircare products are made in France using an environmentally friendly approach.
Affordable Beauty Brands
These cheap French beauty brands are sort of like the equivalent of drugstore brands in the US. You can find them at nearly every grocery store in the beauty aisle. They aren't too expensive, but they aren't necessarily of superior quality either. Here are the best affordable French beauty brands to shop on a budget!
La Provençale Bio
Yves Rocher
Bourjois
L'Oréal
Garnier
I'll also note that there are many more French beauty brands available in grocery stores like Carrefour and Franprix. A few soap and body care brands you should try are Le Petit Marseillais and Le Petit Olivier.
Multi-Brand Beauty Shops
These are a few amazing multi-brand beauty shops you'll come across when visiting France – Sephora or Marionnaud are the ones with the most locations. You can find many of the brands listed in this article at these shops.
Oh My Cream also has several locations you can shop a wide range of clean French beauty products.
---
I hope this article on the best French beauty brands helped give you a better idea of the dozens of amazing French beauty companies on the market!