I'm always amused whenever I share a brand that isn't French on my Instagram account. I get a few messages saying, "That brand isn't French! Why did you share it? I thought this was about French style!"
Well, I'm here to let everyone know that, believe it or not – French girls don't only shop from French clothing brands!
I mean think about it – it would be pretty silly to think that American girls only buy and wear American brands. We live in a global economy and thanks to e-commerce, we can shop for international brands more easily than ever. French women obviously shop non-French, international brands too!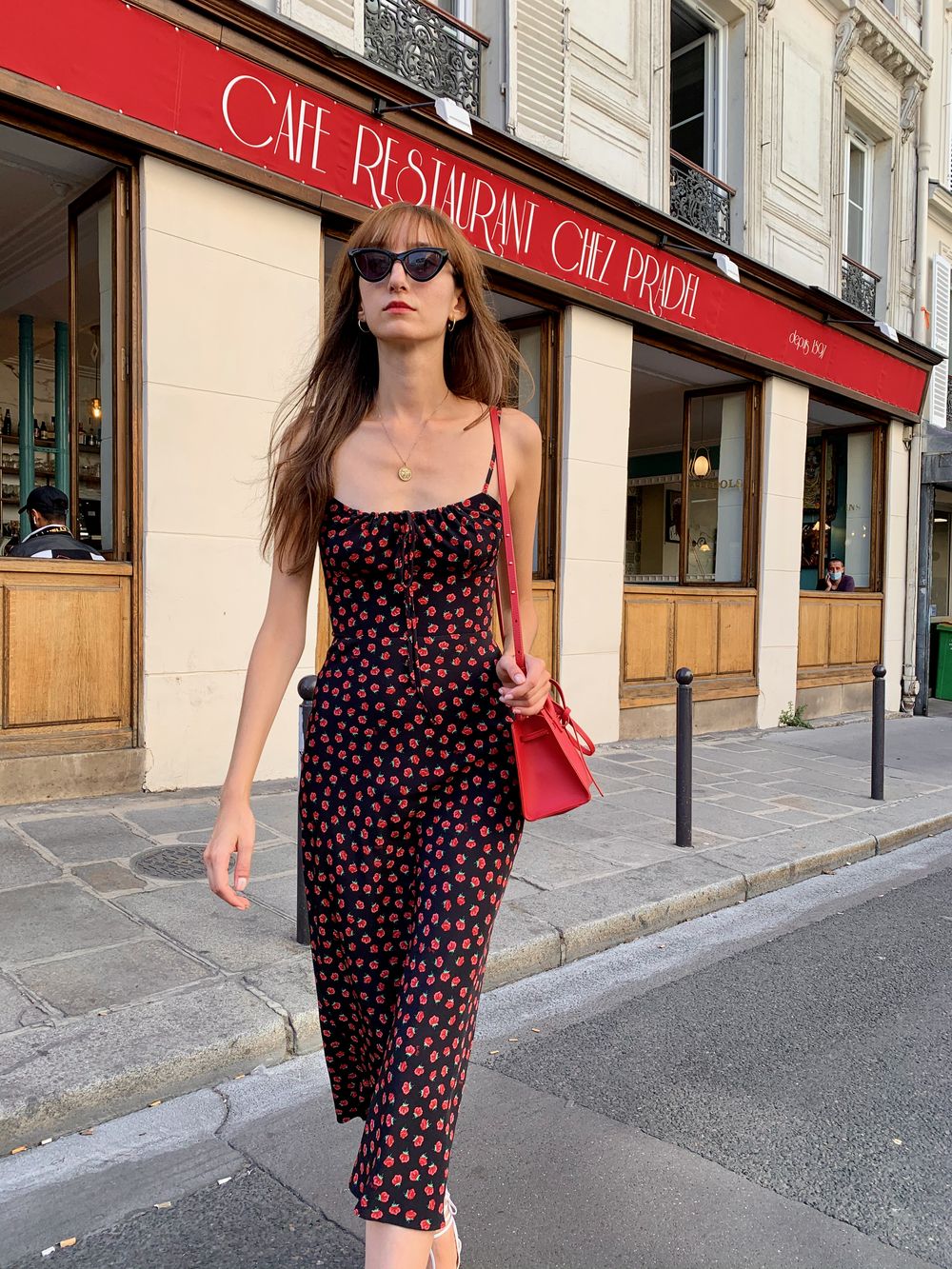 International Brands the French Love
Today I want to share a few of the international brands that French girls love. I see these brands on chic French women all the time, and for good reason. They have become some of my personal favorite brands for French girl style, too!
Re/Done Jeans
If there's one American brand that French girls love, it's Re/Done. The LA-based Re/Done Jeans brand has created a cult following around their recycled vintage Levi's jeans in all shapes, sizes, and cuts. I think it's safe to say that women around the world covet these retro-style jeans, too!
I own the classic high-rise stovepipe jeans and I wear them often. If there's one thing the French know that we Americans do better, it's a good pair of Levi's jeans!
By Far
By Far is the minimalist, 90s aesthetic accessories brand that Parisian girls especially adore. From the Rachel shoulder bag to the two-strap Becca heels, I see this Eastern European darling brand on the chicest French women in Paris.
Staud
I first discovered the minimalist-cool California brand Staud on the arms of Jeanne Damas. She toted around the small bordeaux-colored Bissett bucket bag at several fashion weeks and during her escapades in Paris. I immediately fell in love with this simple yet eye-catching bag and promptly got my own from Bergdorf's.
Reformation
Reformation has done a big European marketing push lately and it's definitely worked. I can't remember exactly how I discovered Reformation but it was probably on Instagram. French model Michaela Thomsen often shares her stories from her experiences as a model for the brand, and I've gotten so much inspiration from her style lately!
Reformation does jeans really well, in addition to flowing feminine dresses that everyone wants to wear. This is one brand that Parisians definitely love! The Liza straight jean has been the pair of jeans I wear most often for three years now!
Réalisaton Par
It's the brand that took over Instagram. Parisians have been sold on the feminine, flowing dresses that Réalisation Par churns out consistently. I own several of these dresses and I can say that I never feel so confident as when I'm wearing one! Despite being Australian, the brand has really encapsulated the breezy Parisian aesthetic we all crave in their clothing design. This is one brand I can't see slowing down on the streets of Paris.