The concept of French girl style is incredibly appealing to women around the world and it's no surprise why: The French have an uncanny ability to dress in a way that is practical yet undeniably chic from head to toe.
I love French girl style, obsessively stalk Instagram for the latest Parisian fashion trends, and share the looks that most inspire me the most on Instagram. Although I'm American, I spent time in France as a child and moved back to Paris a few years ago to become closer to the French fashion culture. That's why I decided to put together a comprehensive guide to French girl style.
Enjoy!
Why French Girl Style?
You may wonder why we always hear about French girl style, and not Spanish style, or some other country's style. Well, the answer to this question lies in France's rich history of fashion design.
Fashion and France have been synonymous for centuries.
In the 17th century, King Louis XIV sought to make France the epicenter of European fashion. His own wardrobe was colorful, ostentatious, and intricately decorative – a stark contrast to the austerity of the clothing design in many surrounding nations like Spain.
Marie Antoinette's extravagant taste for fashion in the 18th century further cemented France's role as the fashion capital of the world. She employed dressmaker Rose Bertin, dubbing her the "Minister of Fashion," who designed lavish dresses and flamboyant outfits. Soon, clothing became a symbol of wealth and status.
The 20th century ushered in a new crop of designers for the people. France is known for producing the most celebrated talents in the modern fashion industry than anywhere else in the world. Coco Chanel, Christian Dior, and Hubert de Givenchy are regarded as three of the most influential fashion designers in the world, and all of them hail from France.
Many of the basic wardrobe pieces we take for granted were first popularized in France. Bi-annual fashion weeks in Paris set the trends for designers around the world in the seasons to come each year.
French girls idolize icons of years past just like Americans do. While we look to Jackie Kennedy for style advice, the French look to Brigitte Bardot and Jane Birkin, two style icons who had an enormous influence on French style during the 1960s.
It's no surprise that a country with such an illustrious history in fashion still celebrates the idea of curating an elegant and classic wardrobe. From a very young age, French girls are taught how to dress. While not everyone is fashion-obsessed in France, it's extremely common for French women to have a strong sense of good style compared to other countries, without even realizing it.
These are a few reasons why so many people admire and seek out French girl style.
What is French Girl Style?
French girl style is hard to define, but most French women would say it's all about effortless elegance. French style is about looking put together, without looking like you tried too hard or spent hours in front of the mirror. French style is about confidence in what you wear and who you are.
What I love about French girl style is that it emphasizes comfort, but not too much the way we do in the United States. The French girl wants to be comfortable and at ease, but not to the point that she will go out in sweatpants and sneakers. For the French girl, jeans and ballet flats are comfortable enough to be chic without sacrificing style. It's all about finding a balance.
French girl style is about understated charm, too, and French girls typically highlight one statement piece per outfit, instead of mixing two or three flashy pieces each of which competes for attention. You can go bold with one item, no more!
You might see a French girl wearing a simple tailored button-up shirt, with casual black pants or blue jeans, solid-colored ballet flats, and a statement silk scarf by Hermès or a unique leather bag by a local French designer. Sometimes it's the shoes, sometimes it's the jacket or shirt, but each time a French girl wears a look-at-me piece, it's typically only once per outfit.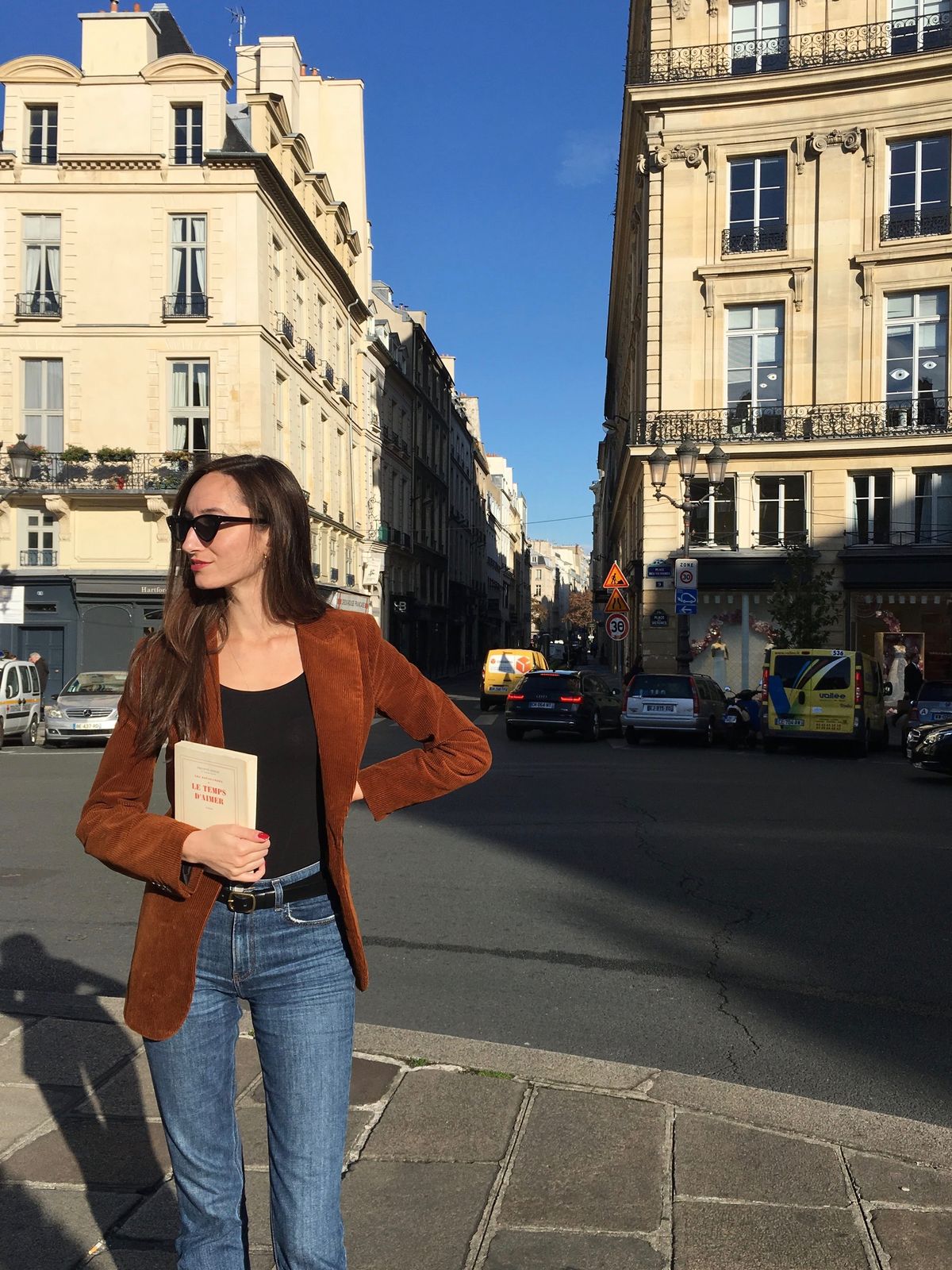 How to Get French Girl Style
French girl style is absolutely attainable – even for Americans. When I made the leap and moved to Paris full-time, I knew I had to redo my wardrobe for the occasion. I started making friends with local Parisians (some of whom came to Paris from different regions of France) and learning about their approach to dressing. I share everything I learn here in Paris on this blog!
Of course, you don't have to live in Paris like me to get French girl style.
A great way to get started with French girl style is by adopting the 5-Piece French Wardrobe philosophy.
Build a closet of reliable basics to create a solid foundation for each outfit. Avoid clothing or accessories with a brand's logo on them. Don't follow trends unless you really believe they will last and don't be scared to invest in quality pieces. These are just a few of the cardinal French style rules that Parisian women tend to follow.
In essence, French girl style is simply about enhancing the beautiful and confident woman you already are, without drawing a lot of attention to yourself!
French Girl Style Clothing Basics
So what are the wardrobe "basics" for a French girl?
Little Black Dress
Perfect for so many occasions, the French little black dress, or la petite robe noire in French, is a wardrobe staple in the French girl's closet. This is just one of the French girl dresses to have in your closet!
La Marinière
Stripes are a quintessential part of French style. Did you know that the Breton-style tops actually came from the shirts the sailors of Bretagne used to wear in the northwest of France? Marinière means sailor in French, and thus, the marinière top is a blue and white striped top – a basic that French girls love!
Saint James is the brand of choice for the Breton shirt.
A simple white button-up or Oxford shirt can be paired with everything from jeans to corduroy pants to linen pants working from season to season. Invest in a good quality oxford shirt that fits you well!
Figaret is a classic Parisian brand you can trust for a chic button-up chemise.
Silk Pussy-Bow Shirt
Slightly more dressy than the button-down shirt, the black silk pussy bow shirt adds a touch of elegance and class to your French girl outfit. This French girl top can be worn from work to drinks and then to dinner!
Black Pants
A pair of simple straight-leg black pants is a must-have for many different occasions from work to cocktails. Black pants are one of the key French girl pants to own!
Blue Jeans
French girls love their jeans! The American brand Levi's is a favorite, but not just any pair. French girls prefer vintage Levi's 501 jeans which tend to have a high waist, straight leg, and cut just above the ankle. When the perfect pair of 501s is just too hard to find, French girls go with a simple straight-leg jean.
Black Mini Skirt
A black mini skirt is a wardrobe essential that I use all year round! This is a chic French girl skirt you must own.
Cashmere Sweaters
French girls love cozy sweaters in the fall and winter, and France has some amazing cashmere brands like Eric Bompard, Not Shy, and Kujten which make high-quality sweaters in cashmere and wool.
Plaid Blazer
You can't walk down the street in Paris during autumn and not see a French girl in a plaid blazer! Whether it's fitted, oversized, or masculine, a French girl blazer is an essential part of any French girl's wardrobe.
Trench Coat
Paris, along with the northern part of France, is known for its continuous gray skies and frequent rainfalls! Parisians have taken to wearing a beige trench coat to keep dry, and surprisingly, their brand of choice for this wardrobe staple is the English brand, Burberry.
Wool Wrap Coat
French girls love wearing beige wool wrap coats in winter to stay warm. These French winter coats can be adjusted to your body making them smart choices for outerwear in France.
Of course, there are many more seasonal basics that French girls keep in their wardrobes, but these items will give you a great start to French girl style!
French Girl Lingerie & Swim
French girls love wearing lingerie, but it's important to know that they buy it for themselves, not their partner.
France has some of the most luxurious lingerie brands for French bras, panties, bodysuits, and more.
When it's time to go to the beach, there are several French girl swimsuit styles that Parisians love.
There are several French swim brands where you can find high-quality swimwear in France.
French Girl Shoes
When it comes to footwear, there are several French girl shoes that women in France rely on.
French shoe brands like Carel and Roger Vivier are amazing for getting the latest shoe styles.
If you're looking for long-term shoes, then these French investment shoes are where to look.
French Girl Handbags
There are a few key French girl handbags you must own to get French girl style right.
If you want to invest in a quality French handbag, then these are the best French investment bags to consider.
If you have a normal budget, then there are plenty of contemporary French handbag designers to shop for!
French Girl Accessories
The major French girl accessories to own include scarves, sunglasses, and jewelry.
If you have the budget to do so, I recommend considering these French investment accessories and French investment jewelry to build a robust wardrobe that lasts.
If you wear eyeglasses, then these French girl eyeglasses will help you look chic wearing glasses.
French Designers & Brands
What are the top French brands that French girls adore?
Designers
The iconic French fashion designers well-known around the world like Louis Vuitton and Givenchy aren't worn by your average French girl. These pieces are bought extremely selectively since they're quite expensive. A designer piece might be investment clothing in a French woman's closet but it certainly isn't something she'll buy every season! Instead, quality yet affordable clothing is preferred.
The French luxury designers that real Parisians shop include more laidback brands like Isabel Marant, Saint Laurent and Celine.
Isabel Marant is a popular fashion designer that casual-chic French girls adore. Marant popularized the blazers that so many French girls wear and her designs embody the effortless cool Parisian look. While Marant's main line may be out of reach for most people, the more affordable Étoile by Isabel Marant line really put the style in French girl wardrobes across the country!
Brands
A.P.C. is a favorite among the minimalist French style crowd. Known for its clean lines and androgynous silhouettes, the brand has gained a cult following since the 80s.
Contemporary French fashion brands such as Sézane have slowly made successful launches in the United States, bolstered by the widespread adoption of e-commerce.
Influencer brands like Rouje and Musier are rapidly growing, attracting an audience through Instagram and social media.
For everyday staples and fast fashion, French girls flock to & Other Stories and Mango. And yes, real French girls do shop at H&M and Zara even if they don't want to admit it publicly! Everyone goes through a fast fashion phase when they are young and have limited resources. Check out more affordable French style ideas for dressing like a French girl on a budget.
French Girl Style Trends
Sustainable fashion is becoming popular in France, with brands like Veja leading the way. I personally feel that the sustainable fashion scene in Paris is quite lacking in terms of good design, but there are options if you want to shop eco-responsible clothing from France.
Buying vintage is perhaps the chicest Parisian way to update your wardrobe without harming the environment! There are loads of French online vintage shops like Imparfaite and Petite Chineuse which source vintage clothing from all around France that you can buy with just a few clicks online. They ship internationally so this is one way to shop French clothing sustainably from abroad!
French girl vintage style is very much on-trend too, and just about every French girl I know owns a ton of vintage clothing.
A number of made in France fashion brands have also made their way onto the French fashion scene which is great for supporting local creators.
French Girl Style Outfits
If you want to know how to put together French girl outfits, then these seasonal guides may interest you:
French Girl Style Inspiration
French girls, along with the rest of the world, love Instagram and many use it for their daily outfit inspiration. My favorite French Instagram influencers with an effortless, chic look are:
If you're looking for a mix of different French girls with awesome style, then please follow my account, @FrenchGirlDaily!