I'm an American girl living in Paris (I got here before Emily, thanks) and today I'm going to share everything I've learned about Parisian style including how to dress like a Parisian no matter where you live!
For decades, women around the world have been obsessed with Parisian fashion. The majority of the world's high fashion brands have come from Paris, and France has upheld its reputation as an international fashion destination. Everyone knows that if you want to shop for the latest styles and buy high-quality clothing, Paris is the place to go!
Parisian Style Rules
First things first, you have to know about the Parisian style philosophy before you can start dressing like a Parisian. Once you know the ideas behind the French girl wardrobe, you'll be able to pick out items that are right for you. So, how do you dress like a Parisian?
Timeless Style: Parisian style dressing favors classic elegant style over short term trendy looks. Dressing like a Parisian means sticking to what's tried and true in fashion.
Know Your Body Type: It's true that most Parisians are quite thin, but they each have different proportions and seek out the pieces that look best on their body type. If they're tall, they might stick to wearing flats. If they have wide hips, they'll avoid palazzo pants.
Color Palette: Parisians stick to neutral colored clothing like black, white, beige, brown, navy blue and muted colors. They might add a pop of red or orange here and there, but most Parisian clothing doesn't have bright patterns on it.
Avoid Logos: Parisians avoid wearing clothing or handbags with a brand's logo on it like the plague. These items are purchased exclusively by foreign tourists. Parisians would never purchase something with a designer logo on it because in France, showing off your money is considered tacky and vulgar.
Voila, the major Parisian style guidelines to keep in mind.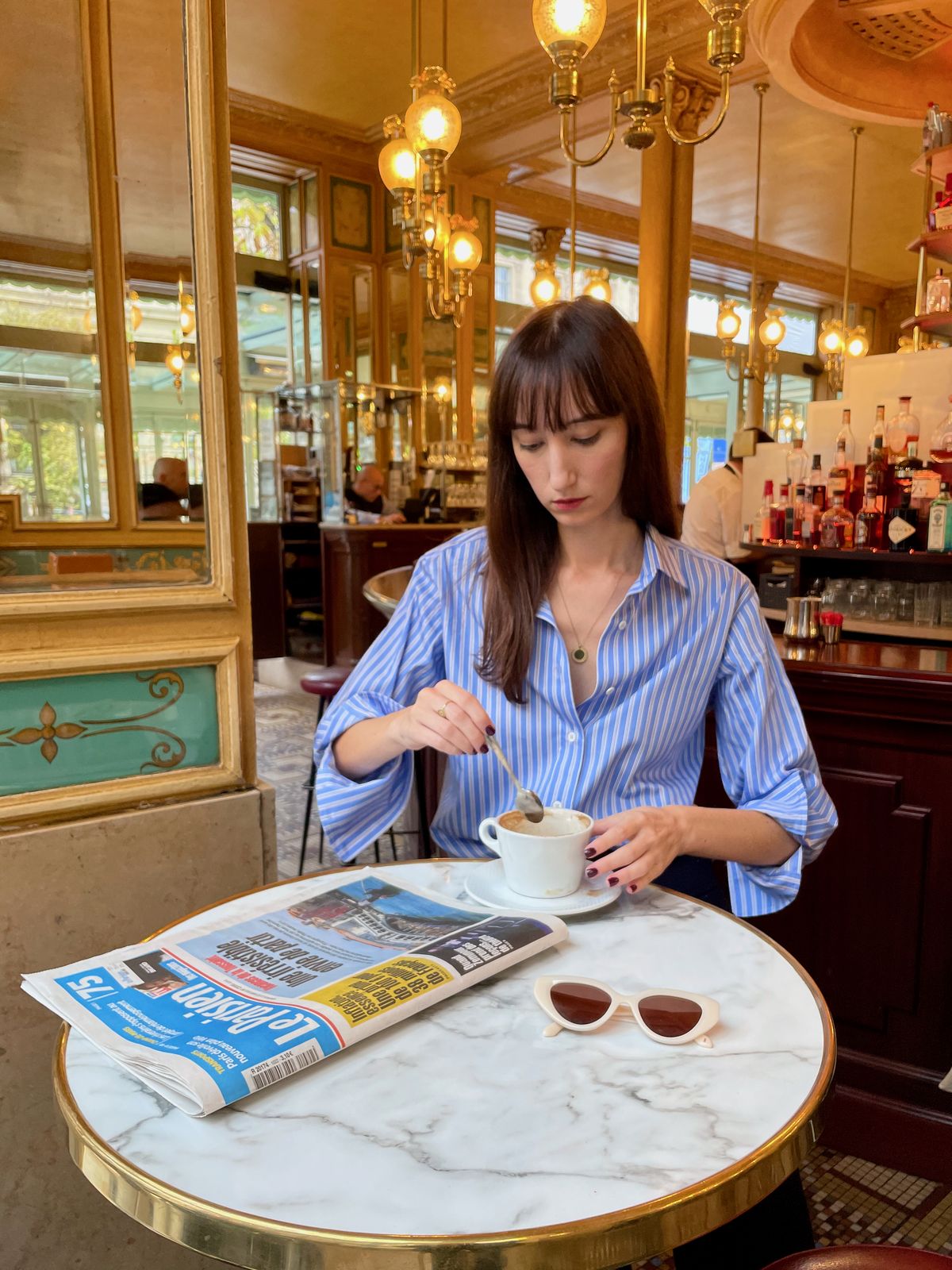 Dress Like a Parisian
Now that you know about the Parisian fashion mentality, here are several ways to dress like a Parisian from anywhere in the world.
Size Up
Parisians are known for wearing oversized tops and sweaters. When in doubt, size up! Unlike their American counterparts, Parisian women hate wearing clothing that is too tight-fitting. Of course, there are exceptions to this rule (like a good pair of skin-tight leather pants on Carla Bruni, for example), but you'll rarely see Parisians wearing form-fitting dresses and too-tight mini skirts.
Pick One Statement Piece Per Outfit
Parisians never draw too much attention to themselves. This is part of the 'effortless' vibe that so many people use to describe the Parisian style of dressing. Instead, they pick just one statement piece to highlight their outfit. It could be a pair of patent leather boots, a patterned sweater, or a colorful handbag. Whatever you do, don't have multiple competing wardrobe pieces on your body all at once!
Add a Vintage Touch
Parisians love to wear vintage. There are dozens of amazing French vintage clothing shops in Paris where you can snag a unique item from decades past. Not to mention, several cool French online vintage shops have appeared on Instagram recently too. Shopping vintage is great for the environment and ensures you'll have something that no one else is wearing right now.
Play with Masculinity
Parisians love to play with their masculine side when it comes to fashion. They might wear baggy boyfriend jeans, a masculine blazer, or even a women's suit. The key to masculine dressing is to never wear more than one masculine piece at a time and pair it with other neutral, basic clothing.
Black is Your Friend
Parisians love the color black for their wardrobe. They really can't get enough of this elegant color which looks good on everyone! After all, France is the birthplace of the little black dress.
To dress like a Parisian, you need to own at least one black dress, a good pair of black pants, and a good black blazer for nights out. Truth be told, Parisians probably own one of every wardrobe item in black, though! Black is definitely the safest bet when building your Parisian wardrobe.
---
Et voila! Dressing like a Parisian isn't too difficult once you know the basics. Don't miss my seasonal guides to Parisian dressing for more tips based on the time of year.
For more Parisian style tips, read these French style books as well.