Maybe you just finished watching Emily in Paris, or maybe you've dreamed about France your whole life. Whatever the case, today I want to talk about how to dress like a French girl – without looking like a total cliché of course.
I moved to Paris two years ago and I spent one year in France as a kid so I know a bit more than your average American about French girl style. I'm always watching what Parisians are wearing as I walk down the street in my fashionable neighborhood, Le Marais.
French style has certainly evolved over the years. The French style rules we all read about 10 years ago have stuck around but certainly evolved with the times.
For one thing, you'll see a lot more streetwear (caps, sneakers, hoodies) on Parisians, and less cliché polka dots and red berets!
Let's dive into how to dress like a French girl, no matter where you live!
Dress Like a French Girl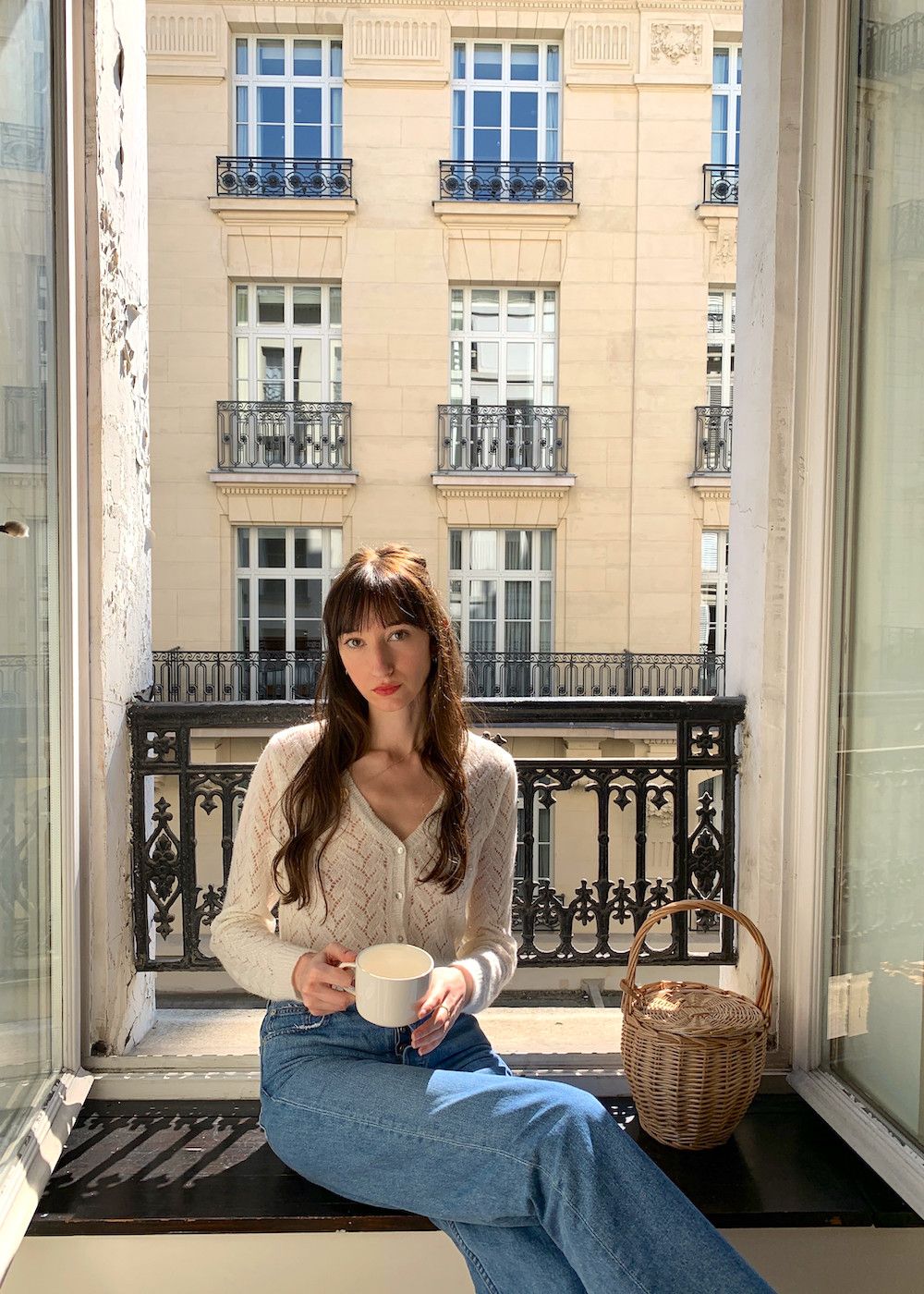 Keep it Simple
French girls never wear more than one statement piece per outfit – including accessories. If you're wearing a printed dress, keep your bag solid colored. If you're wearing a printed skirt, keep your top, shoes, and bag solid colored.
Start with the Basics
The first step in dressing like a French girl is to make sure you have a good closet of wardrobe basics. These foundational pieces will help you create the perfect look every day.
Ballet Flats Are Your Friend
Ballet flats are must-have French girl shoes. These classic flat shoes are standard in the French girls' closets.
Embrace Vintage
French girls love vintage clothing and they often wear it mixed in with contemporary pieces. There are loads of vintage shops in Paris where you can find amazing pieces from past decades. There are also several French online vintage stores where you can shop vintage from anywhere. The best part? You know no one else has what you've got!
Jeans are a Basic
Jeans are a French girl's best friend. If you want to dress like a French girl then be sure to have at least one great fitting pair of blue jeans.
Invest When You Can
French girls like to invest in their wardrobe. They prefer buying fewer high-quality pieces rather than many low-quality trendy items. These investment handbags are a great place to start when looking for your first luxury purchase.
On the flip side, French girls know what not to invest in when it comes to their wardrobe, too!
Ignore Trends
Trends are not important to French girls. They basically ignore them, unless a really good one comes along that they are sure will stand the test of time. Generally speaking though, most trends are short-lived, and French women know this.
Stripes Are Forever
The cliché is true – French girls really do love wearing stripes! The classic marinière shirt comes in many different styles, but be sure that you have at least one blue and white striped shirt in your wardrobe to dress like a French girl. I have a few great ones by the French brand Petit Bateau.
Size Up
French girls rarely wear form-fitting clothing, and they actually prefer to size up when possible. They love the oversized look, but they don't overdo it, instead opting for just one oversized piece at a time.
Voila, I hope you enjoyed my tips on how to dress like a French girl! For more French style advice, read these French style books.