Want to live and shop like a French girl? Here are seven tips for running your life à la française.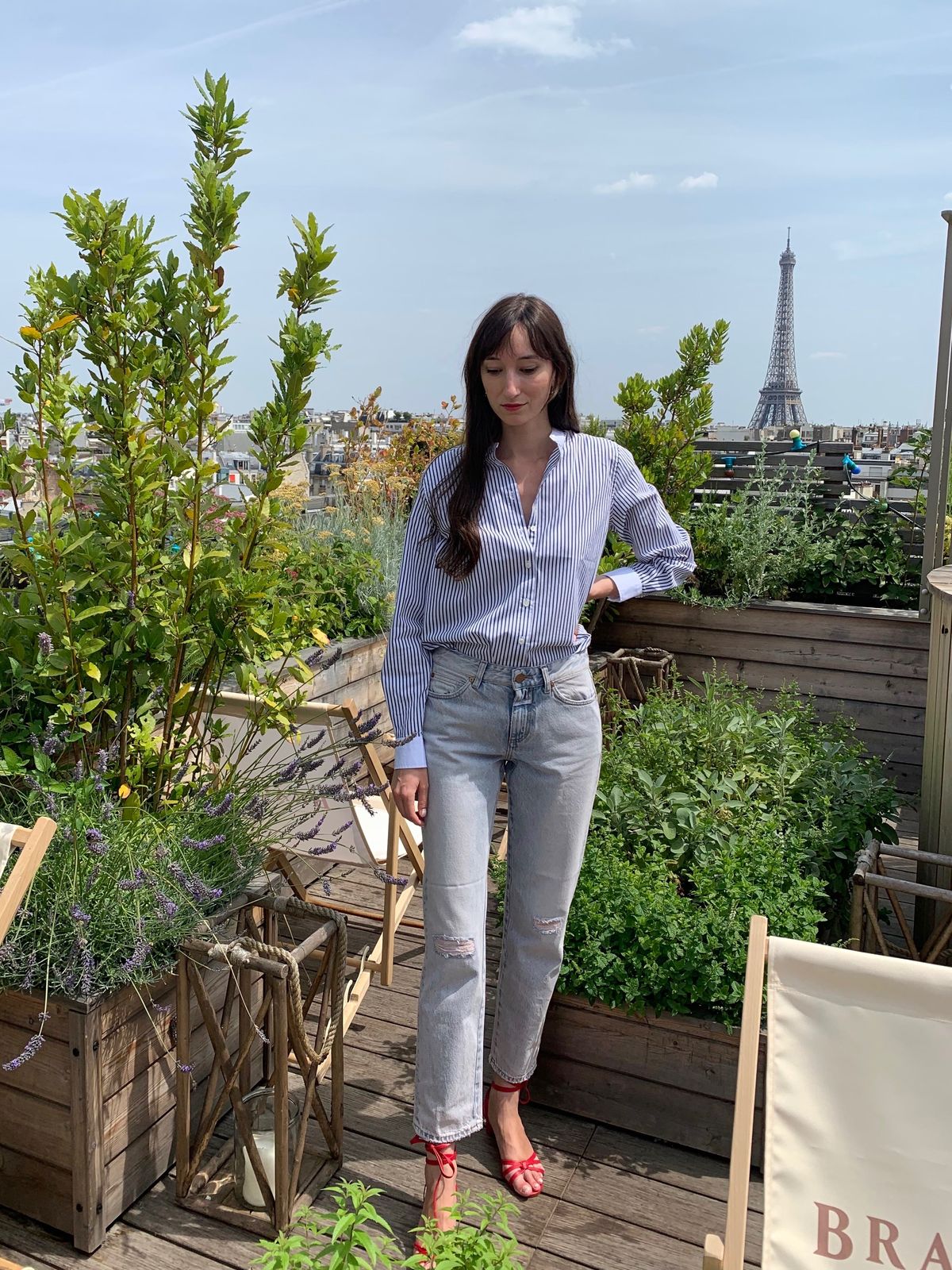 1. Don't Follow Trends
Trends come and go, but style never fades. The saying is cliché but true. A French girl can easily tell the difference between a classic piece and a trend that will fade in time. French girls don't follow the majority of fashion trends, and those they do support are generally vintage trends that have stood the test of time. The desire to be considered in the know simply isn't as concerning to French girls the way it is in the US.
2. Invest in Quality Pieces
French girls tend to invest in a limited number of quality pieces each season. Have you heard of the 5-Piece French Wardrobe? French women practice the philosophy of buying less each season but investing in quality pieces when they do make a purchase. Avoid impulse purchases and go for well-made pieces that will last longer than a few seasons. You'll end up with a wardrobe you're proud of and can pass on to your heirs.
If you find it hard to make everyday shopping decisions, read my guide on how to decide what's worth buying for your wardrobe.
I've also shared several lists of the best French investments for your wardrobe if you wish to acquire quality pieces:
3. Stick to Basics at Fast-Fashion Retailers
There's nothing wrong with shopping at fast-fashion retailers like Zara and H&M when you're on a budget, but French girls stick to the basics and opt for quality fabrics and solid colors when shopping at these stores. If you purchase a printed jacket from Zara, it's most likely a blatant knock-off of a real designer item, which is a big no-no. That being said, some pieces from these retailers are made well and can suffice. Be choosy and don't fall for trends when you walk into these types of stores.
4. No Huge Logos!
A French girl will rarely be seen with a giant logo or logo print anywhere on her body. Flaunting one's money is considered taboo, and the best designers create signature looks that can be recognized without plastering their logo all over the item. Forget Louis Vuitton and opt for a chic Céline Box Bag. Stay away from Gucci logo-printed loafers and try minimalist Repetto ballet flats.
5. It Isn't What You Buy, It's How It Fits
Buy things that fit you well and flatter your body. Try everything on! French girls never buy something that doesn't fit them right – no matter how in style it may be. When shopping online, don't be afraid to order two sizes and send the one back that doesn't fit you as well. French girls love oversized clothing, so size up if you're unsure. Skintight clothing is rarely worn as it can draw too much unwanted attention! That being said, a skintight sweater can be worn with loose-fitting pants, for example, which creates a nice balance.
6. Choose One Statement Piece per Outfit
It's rare to see a French girl with several flashy pieces on her outfit. A statement piece is almost always paired with basics to prevent looking like a hot mess! For example, a multi-color bag is often paired with a basic button-up shirt and straight-leg jeans. Conversely, a patterned sweater is worn with basic pants and a solid-colored handbag. The eye should never be confused as to where it should be looking on your outfit!
7. Fabric is Important
French girls stick to quality, natural fabrics. The summertime wardrobe is filled with pieces made of cotton and linen fabrics. The wintertime wardrobe consists of wool and cashmere. Everyday pieces are made of silk. Avoid viscose, rayon, and other man-made fabrics when shopping. The one exception to this rule is Reformation, which does use synthetic fabrics, but is environmentally conscious as they are recycled!