If you want to invest in better quality shoes, then these French investment shoes are totally worth the money.
I live in Paris and I religiously pay attention to street style here. There are certain shoes that I see more often than others. For this reason, I feel they are great investment pieces if you're looking to upgrade your wardrobe this year.
I've already written about the best French wardrobe investment pieces but today let's focus on investment shoes!
French Investment Shoes
These luxury French investment shoes are pieces that are high quality, durable, and will hopefully get passed down through your family. While it's good to have a reliable collection of everyday French girl shoes, sometimes you want to invest a bit more into a pair of French luxury shoes. This list will help you decide what to buy.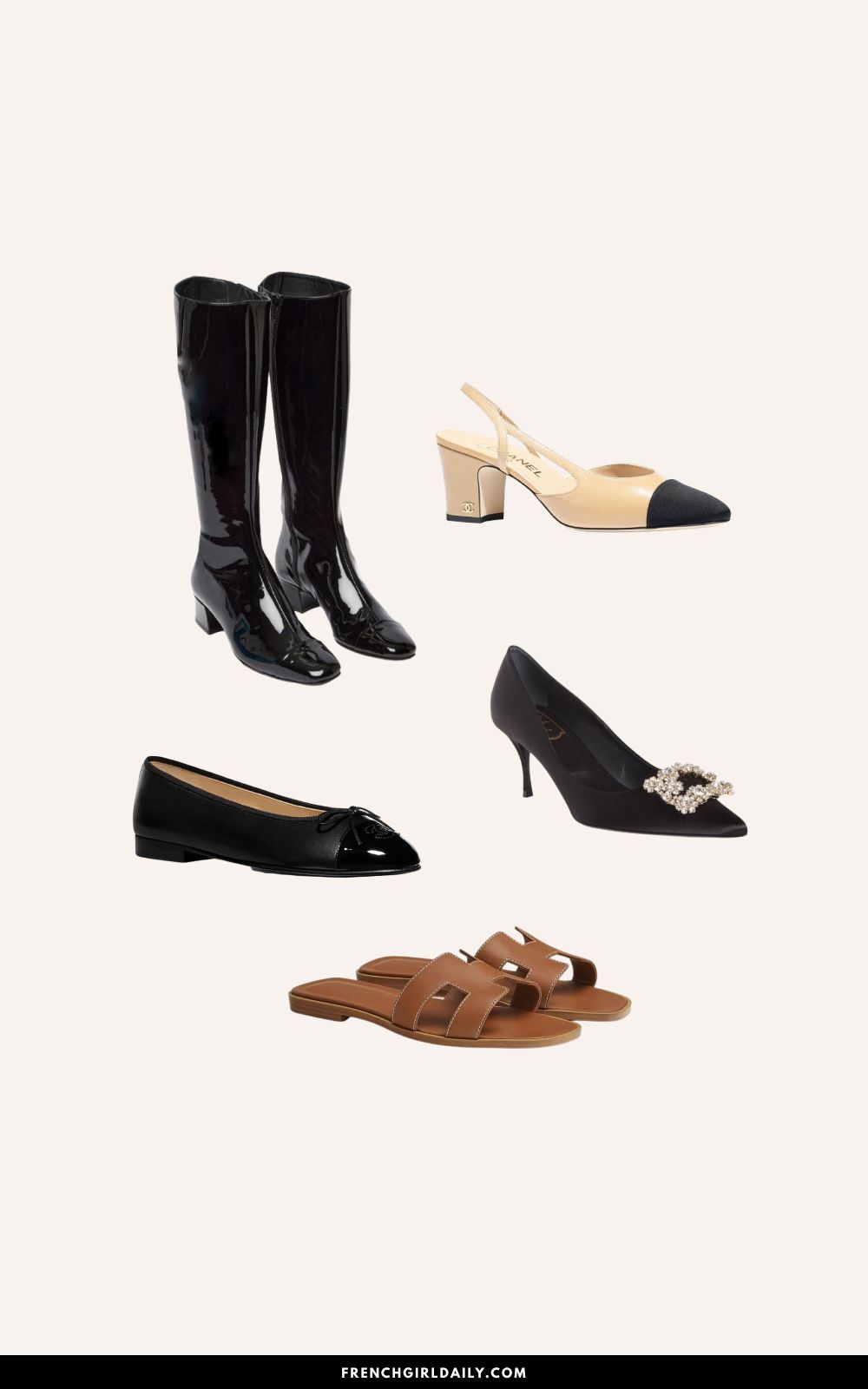 Chanel Slingbacks
Chanel slingbacks have become iconic French girl shoes so I think these are some of the best French investment shoes you can buy. The most popular color is the classic beige slingback with a black cap toe, but they come in many different styles and colors. This shoe was introduced in the 1950s.
Roger Vivier Black Pumps
I would absolutely invest in a pair of luxury black pumps. I currently have my eye on the Roger Vivier Crystal Buckle Pumps in Satin. These beautiful black evening shoes are made of a satin upper and have a Swarovski crystal buckle at the center.
Knee-High Boots
Knee-high boots are expensive, but these shoes are totally worth it. They give you such a good 60s vibe that no other shoe can compare! I have invested in a few pairs of French knee-high boots over the years and I've never regretted a single purchase.
Chanel Flats
Leather Chanel flats with a patent cap toe are the next shoe on my French investment shoes list. These chic everyday shoes are perfect for adding a touch of elegance to a basic outfit. I have seen them styled down with jeans and a white tank top or styled up with a French girl little black dress. This isn't one shoe I wouldn't hesitate to splurge on. 
Leather Sandals
Whether you go with the Hermès Oran sandals or the Saint Laurent Tribute Nu Pieds sandals, slip-on leather sandals are a great French shoe investment for summer.