Shoes are an essential part of anyone's wardrobe, and French girls really love their footwear! French girl shoes are comfortable yet stylish. You will rarely catch a casual chic French girl wearing ultra-high Christian Louboutin heels on the street unless she's on her way to a very fancy dinner, or special event, so I've left those kinds of shoes out.
These ten types of shoes are a great foundation for building a French capsule wardrobe. They're chic and practical, meaning you'll actually wear them!
This list focuses on your everyday collection of French girl shoes. If you're looking to invest in high-quality French shoes, read my French investment shoes guide!
1. Ballet Flats
Ballet flats are to France what Converse sneakers are to the United States. This classic and practical shoe is found in countless colors and fabrics in French girl closets. It's a shoe that I've personally relied on for everyday use since high school. Repetto and Chanel are the brands of choice for many Parisians, but the ballet flat is such a classic style that you can find it nearly anywhere.
2. Ankle Boots
Suede is a popular fabric for French girls in the fall – suede skirts, pants, and even jackets can be found everywhere. It's no surprise that suede ankle boots are a reigning trend, then. Suede boots with a chunky heel and round toe are a favorite of Jeanne Damas, who popularized the Isabel Marant Garett boot a couple of seasons ago. With a softly round toe and a boot height that comes just above the ankle, these comfortable shoes instantly charm any French girl outfit.
Jeanne Damas released the Rouje Brigitte boot, which is a very similar alternative to the Isabel Marant version she wore so often. Those stateside can try this Sam Edelman pair or this Barneys Warehouse pair.
3. Low Block-Heels
Similar to ballet flats, the low-heel shoe is great for everyday use. It gives you a bit of height while still being a walkable shoe. I see these on Jeanne Damas all the time on her Instagram! They're typically suede, feature a round or slightly square toe, and a thick block heel, which makes them so great for walking!
4. Low-Heel Boots
A fall staple, low heel leather French boots are found on the feet of so many French girls. Whether a faux croc texture, suede, or smooth leather surface, these heels are walkable and chic at the same time. You can't go wrong with the By Far Este Boots, as seen on Leia above. Here are some more ideas, including a beautiful lace-up suede boot:
5. Knee-High Boots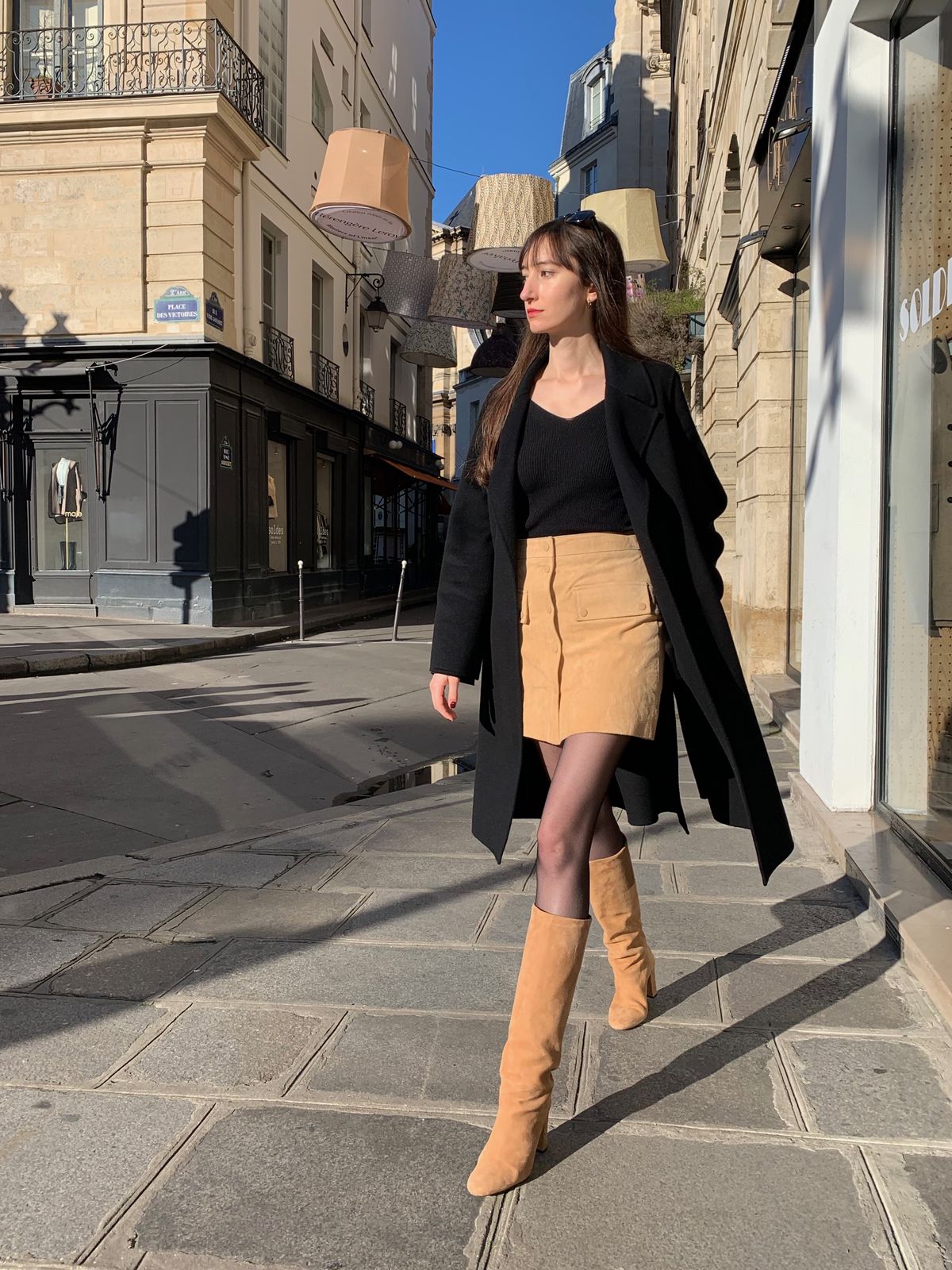 Knee-high boots are ever popular with French girls. These boots can be worn over a pair of jeans, or paired with a midi or mini skirt. I love the sixties vibe of knee-high boots. Here are a few ideas:
6. Low Heel Sandals
Sandals with a low heel is a shoe I saw on French girls all throughout summer. The style is typically very minimal in style, almost barely there at all. There are a couple versions I see trending mostly from the brands By Far and Michel Vivien. The Tanya patent leather sandal seems to be especially popular with French girls! It features two simple straps and a square toe base.
7. Brown Strappy Leather Sandles
Strappy brown leather sandals are a summertime favorite of the French. K.Jacques is the brand of choice, which dates back to 1933! Founded in Saint-Tropez by Armenian immigrant Jacques Kéklikian at the age of 24, the brand became world-famous after celebrities such as Princess Grace of Monaco and Brigitte Bardot began wearing them during the mid-century in the south of France. The shoes are still sold in Saint-Tropez today as well as a boutique in Paris.
The most popular model I see on French girls is the Epicure leather sandal in natural brown, but the Fusain and Loki models are similar.
You can buy K.jacques online at Shopbop, Net-a-Porter, Revolve, 6pm, Bergdorf Goodman and Barneys.
8. Espadrilles
I bought two pairs of espadrilles this past summer because they are on the feet of nearly every French it-girl every year! The one brand all French women love and trust is Castañer, specifically the Carina shoe.
I can see why espadrilles are so loved. The 2-inch heels give you a little extra leg length, while the flat, wedge sole makes walking across uneven cobblestones in Provence a breeze. The shoes are super walkable in general which is why I love them!
Castañer is sold by many US retailers, but if you can't find a pair, then try Soludos which are slightly less expensive.
Be sure to read my full guide to the Castañer Carina espadrilles sizing, colors, and comfort if you're considering making a purchase.
9. Gold Strappy Heels
These are one of the two French evening shoes that French girls have ready to wear for the holidays, special dinners, cocktail hours, and other parties.
To dress up a casual outfit, or to attend a cocktail, then look no further than the strappy gold heels found on the feet of so many Parisians. I love the Jonak Doliate.
10. Ankle Strap Pumps
Black patent leather ankle strap pumps are a must for your shoe collection. I first noticed this shoe trend on Anne-Laure of Adenorah, and instantly fell in love with how beautiful a simple ankle strap makes your legs look! Once I started paying attention, I quickly spotted this shoe style on women all over Paris.
I then purchased this pair of Jonak black leather ankle-strap pumps and never looked back!
There is something about the ankle strap highlighting the thinness of the ankle that just makes your legs look divine. From what I see in Paris, the color or fabric may vary (try burgundy or suede), but the round-toe and thin strap are consistent.
I have yet to see this trend as popular as it is in France, so you may have to look a bit harder to find this style of shoe stateside!
---
I hope you found this little guide to French girl shoes useful! Feel free to let me know of any French shoe trends you love in the comments.