The Carina espadrille by Castañer is probably the most quintessential spring/summer shoe you can find on the feet of a cool French girl.
Castañer is a Spanish shoemaker founded in 1927. Now, it may seem odd to be talking about a Spanish shoe brand on a French style blog, but hear me out. Castañer has produced espadrilles for many of the major luxury brands in Europe including Yves Saint Laurent. The jute-woven wedges were a hit and came to define French 70s fashion. That's how good they are.
Lucky for us, Castañer also sells directly to the public, at a fraction of the price.
Sizing
I ordered my first pair of Castañers from Net-a-Porter in order to see what all the hype was all about.
Castañers run true to size. I am a size 7/7.5 in the US, so I ordered the 37 and 38 in these shoes to see which one fit better. I ended up keeping the 37 and returning the 38, just because I prefer my shoes to be tighter rather than looser, but the 38 would have probably worked as well.
Half sizes aren't available, so if you're in between then I think you should size down. Castañer recommends sizing up, but the problem is that your heel could slip too much if you do that. So if you're worried, order two sizes like I did or try them on in-store.
Castañer espadrilles have a woven raffia wedge, a rubber sole, and a cotton canvas upper, so they will stretch a bit over time.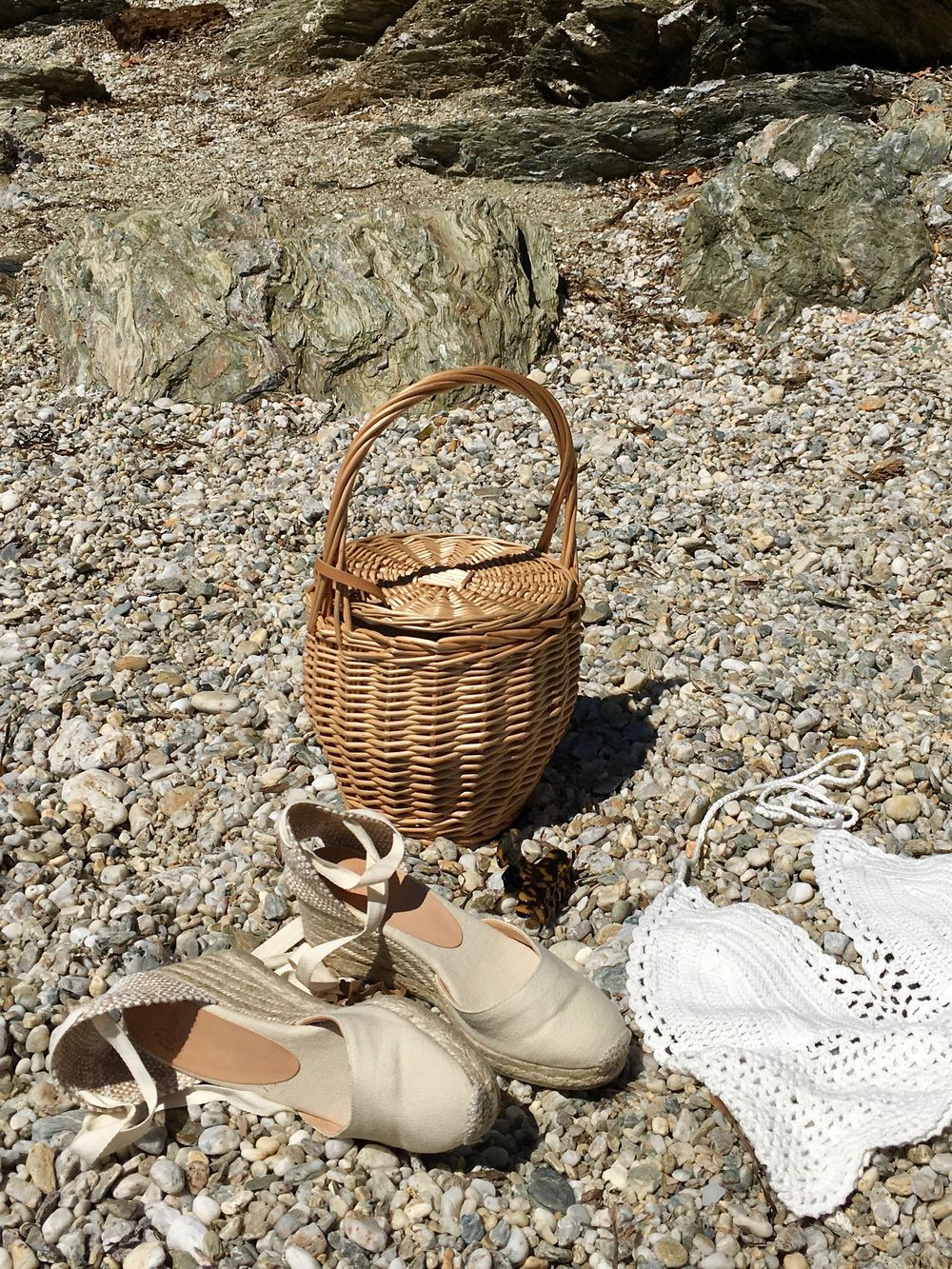 Color
I ordered these shoes in ivory as I wanted them to pair easily with most things in my wardrobe. The color is beautiful and I like that it's a nude beige hue, not too bright white at all. They come in a variety of colors from white, to beige (natural), to black, khaki, navy, and red. Those are the colors I would stick with if you're going for a classic French wardrobe. They also come in bright colors like pink, blue, and yellow but I think those cater to a different audience.
If you go for the navy or black, make sure to read the description because sometimes it's hard to tell the difference just by looking at the picture!
Heel Height
Castañer espadrilles come in three heel heights:
60mm: a 2.5 inch heel (plus a .5 inch platform), great for walking
80mm: a 3 inch heel (plus a .5 inch platform), for added height
100mm: a 4 inch heel (plus a 1-inch platform), best for petites
I ordered the smallest 60mm heel height as I'm already pretty tall, and plus I prefer shoes that are walkable. I have to say the heel height I ordered is absolutely perfect! I love that it gives me enough extra height to elongate my legs, yet I can still walk miles in these shoes without feeling too much discomfort.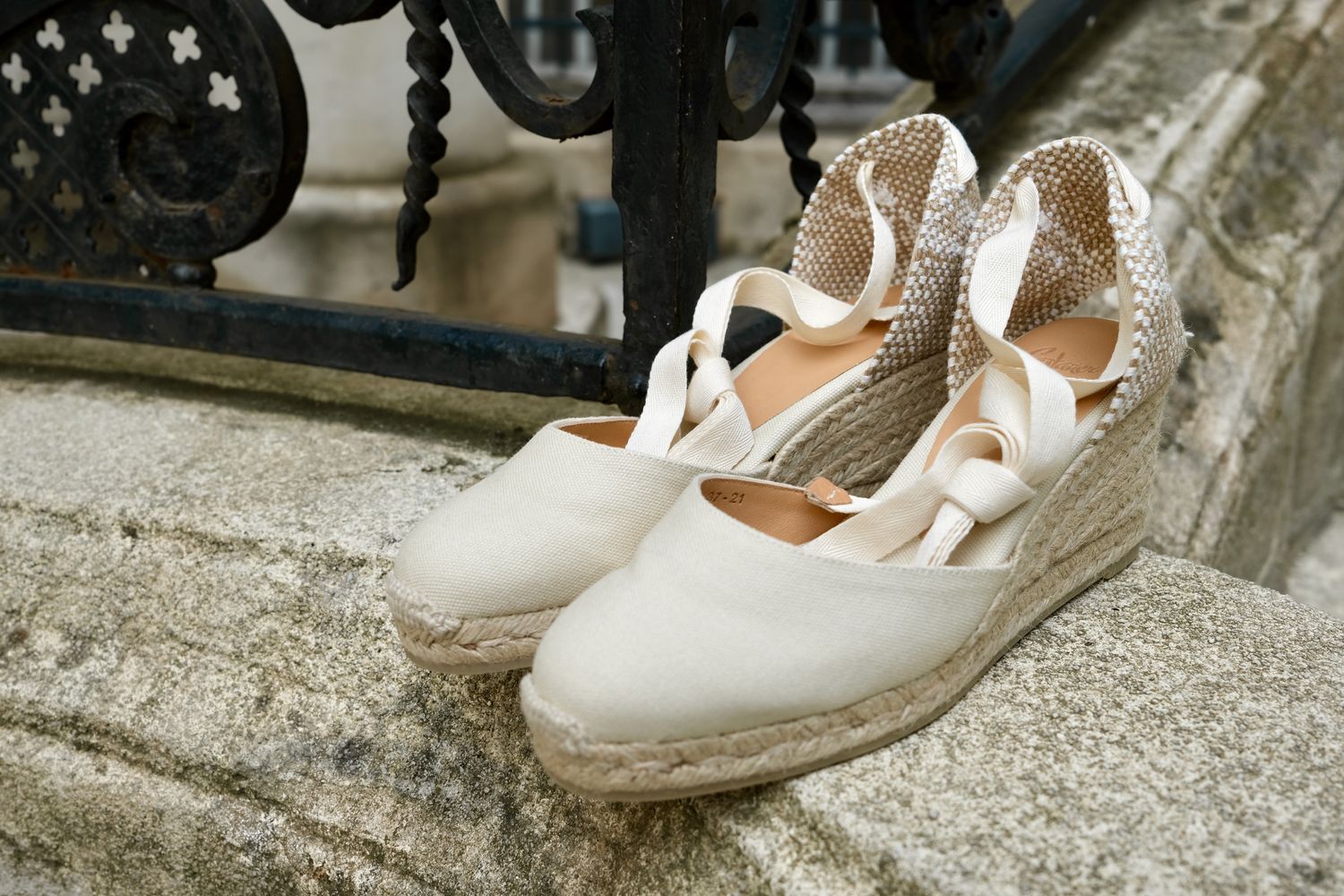 Review
My first impression about these espadrilles was just how narrow they are. My feet tend to be narrow anyway, but even I could feel my feet going over the edges just so slightly. When you look at the bottom of the shoe, you can see what I mean.
The wrap-around straps can rub against the ankle bone if you don't tie them properly, but this happens rarely and is not too bothersome. The tie does come loose once in a while, but honestly I maybe have to re-tie them just once throughout the day.
I later ordered the same pair in navy – which proved to be a great addition to my wardrobe. So if you ask me, these shoes are definitely worth it!
I've owned these espadrilles for over a year now, and although they have definitely gone through some wear and tear, they have held up pretty well. I definitely consider them a wardrobe staple and having them in beige and navy provides the perfect light/dark balance depending on my outfit or mood for the day.
Castañer espadrilles are definitely one of the most practical French girl shoe essentials in my summer wardrobe and I highly recommend them!
Where to Buy
You can purchase Castañer espadrilles at a number of online retailers. They have gone up in price since I first bought them, so if you do find them on sale at the end of the season, it's a good idea to get some for the future.
As you can see, they are sold at so many places! Definitely shop around for the best price in case one of these retailers is running a sale.
They are currently selling for about $135 (I bought mine for $120!) so grab them while you can. I did spot some for around $80 to $100 depending on the heel height and color.
Don't forget to factor in shipping costs, too. You shouldn't have to worry about customs fees as they have typically already been imported to the US. Farfetch sometimes adds customs fees, but they will tell you at checkout!