I have a confession to make: I've never felt fully comfortable with my wardrobe.
Over the years I've made several round-trips to Paris. Sometimes I had too many tops and not enough bottoms. Other times, it was the opposite. At least once during each trip, I would be missing a key item needed to complete the outfit I had in mind: sometimes it was a pair of shoes and other times it was a spring jacket.
Here's the thing about certain basics: You see them everywhere when you don't need them, but when you do, they're either not in your size or they're not in your budget!
I decided to take the French approach to curate my wardrobe about a year ago, and although it's taken some time and I'm still not finished, I'm very pleased with the results so far!
The French wardrobe philosophy involves curating a high-quality wardrobe with classic, timeless pieces. French women don't mind investing in clothing, shoes, and accessories as long as they are items that will not go out of style any time soon. If you'd like to learn more, then be sure to read my guide to getting started with the 5-Piece French Wardrobe.
Now, I've already written about the French wardrobe essentials in most French women's closets, and that's a great place to start building your French wardrobe, but if you've already got those essentials down, then it's time to ensure you've got all the other basics.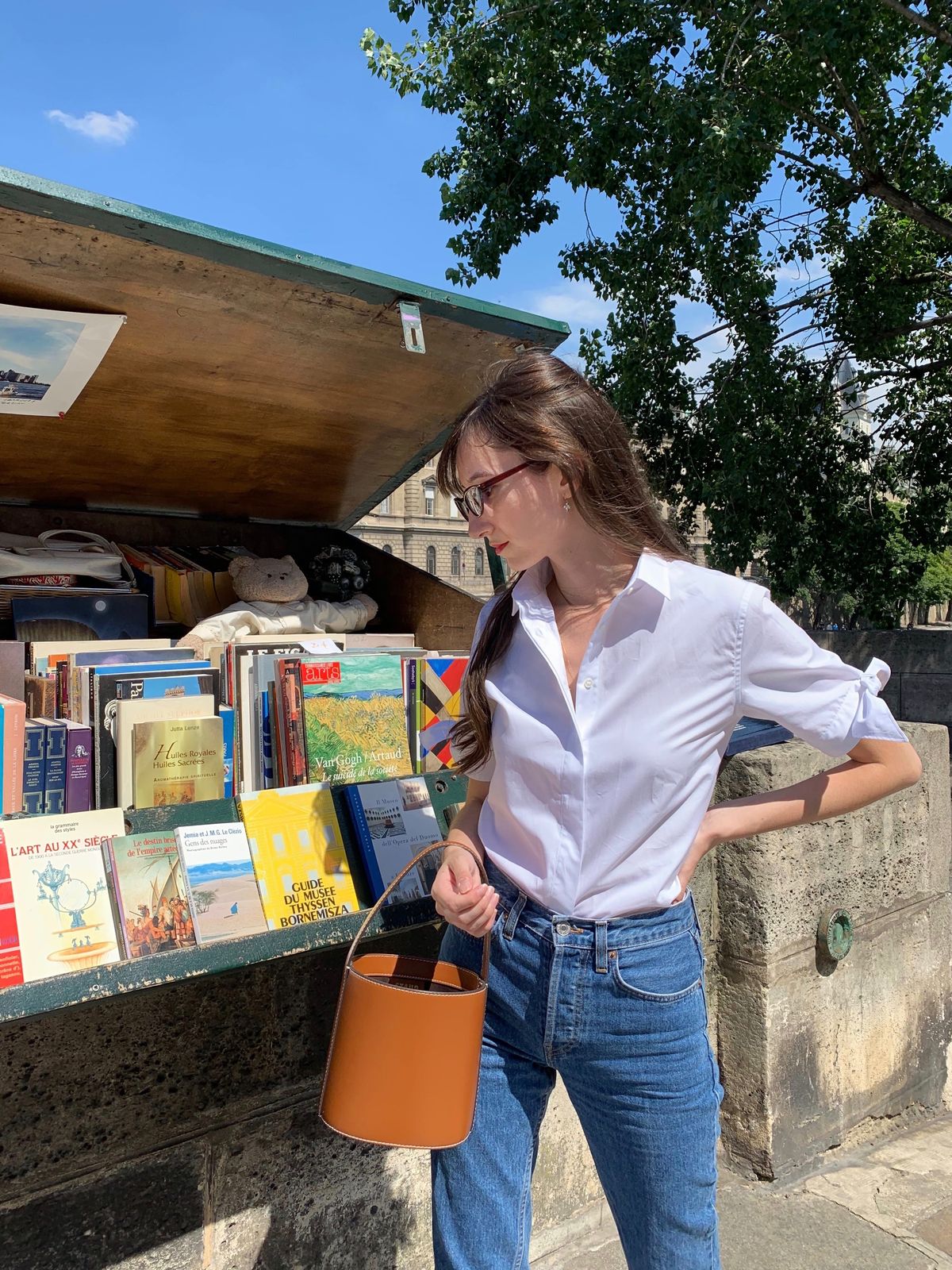 French Wardrobe Basics
Here is the list I am working off of to ensure my closet is ready for anything life throws at me. This list of French wardrobe basics will cover me in all seasons, year-round. It's been helpful in my search to design my wardrobe around the French girl style.
Now, I know that one of the cardinal French style rules is to invest in quality basics, but building a foundational wardrobe from scratch can get quite expensive so it's okay to save yourself some money and purchase what's within your budget for these basics. Hopefully, as time goes on, we'll both be able to replace them with the higher quality basics we really want!
Tops
Long sleeve cotton button-up shirts (1 white, 1 blue)
T-shirts (1 black, 1 white, 1 blue and white striped)
Silk button-up shirts (1 black, 1 white)
Silk Camis (1 black, 1 white, silver or off-white)
I used to get my long-sleeve button-up shirts from Gap, but recently I upgraded to high-quality ones from Figaret in Paris. The cotton is thicker and they have a more firmer look to them.
My basic cotton t-shirts are mostly from H&M and they have held up quite well.
The silk button-up shirts I got came from Banana Republic and have a beautiful silk tie around the collar to make into a 70s-style bow. You can opt for a simple button-up shirt or a chic silk pussy-bow shirt.
I got a black silk cami from Grana, a white one from Cami NYC, and a silver one from Fleur du Mal – definitely a splurge, but the silk is such high quality.
Silk camis can be worn with so many different outfits!
Bottoms
Straight-leg Jeans (1 dark wash, 1 light wash)
High-waisted Pants (1 black, 1 navy, green, or burgundy)
Jean Mini skirt
Suede Mini skirt (in burgundy, green, or navy)
Black Mini skirt
Jean Shorts
Beige Linen Shorts
White Linen Skirt
I have a bit of a jeans addiction but my favorite jeans all came from Reformation. The cut is phenomenal and the prices are perfect, especially the Liza High Straight jean. I have more jeans from Re/Done (pricey), Levi's (the classic 501 jeans), and & Other Stories.
My high-waisted pants came from Nathalie Dumeix, a Parisian designer. They are 185 euros each, and definitely worth it because you cannot find this style and quality elsewhere! The pants are made in France, too so they should last me a while.
I bought simple straight-leg black pants from Banana Republic.
My 2 jean mini skirts came from A.P.C. and Reformation. I found a good deal on solid-colored suede mini skirts from H&M last fall, and they have become essential to my wardrobe.
My jean shorts came from Levi's and I'm happy with them except for the sizing which is not at all standard – order two sizes if you're unsure. Lastly, I have a pair of beige linen shorts from Reformation. I'm currently on the lookout for a cute white linen skirt to round out my skirt wardrobe.
Read about the French girl pants, skirts, and shorts I recommend buying.
Dresses
Short sleeve midi wrap dress
Thin strap or short sleeve mini wrap dress
Cocktail or evening dresses
Black silk slip dress
I'm in love with Reformation's dresses so that's typically where I buy mine. The popular Rouje Gabin dress is also on my radar.
Two or three evening dresses are a must for your wardrobe basics. Ideally one is for spring/summer, and the other is for fall/winter.
Lastly, I bought a black silk slip dress online from an Australian brand called Chosen. If you're looking for quality silk at an affordable price, try Australian retailers – I've found them to be reasonably priced thanks to the exchange rate.
Read more about the French girl dresses to own.
Outerwear
Beige cashmere sweater
Navy wool sweater
Beige or off-white wool cardigan or button-up sweater
Trench coat
Plaid blazer
Black Smoking Jacket
Wool Wrap Coat (in beige, navy or black)
My beige cashmere sweater from Nordstrom has served me well so many times! It has started to pill, but that's nothing a fabric shaver can't fix. On the darker side, my COS navy wool sweater has come in handy just as often.
Outerwear is where I'm struggling the most with curating my French wardrobe basics.
I'm currently looking for a beige or off-white wool cardigan to wear in the spring. I'd like for it to be button-up so I can open and close it as needed.
A French girl trench coat is a must. I have my eye on the classic Burberry Kensington Trench Coat, but I'm currently super happy with the less expensive but high-quality A.P.C. version! Read my A.P.C. trench coat review for more information.
I've yet to find a plaid blazer for fall that I love.
The black evening jacket is another item on my to-find list; I'd just love to find a classic vintage YSL Smoking Jacket at a thrift shop in Paris.
Lastly, the wool wrap coat I should have gotten this past fall. COS made a beautiful wool wrap coat in navy and black and I was waiting for it to go on sale in either color but it never did! So by the time March rolled around, I figured there's no sense in paying full price now and I might as well wait to buy a new one in-season this fall.
My next splurge might even be a gorgeous beige Max Mara wrap coat, but unfortunately, all the coats I've tried on have sleeves that are too short!
Read my French girl outerwear checklist to compare your closet!
Shoes
Black flats
Neutral flats
Brown leather strappy sandals
Low-heel espadrilles (1 navy, 1 ivory)
White sneakers
Brown ankle boots
Gold strappy sandal heels
Black ankle-strap heels
Black patent leather boots
My black flats are essential to my wardrobe. Because I wear them so often, I usually buy a cheap pair at H&M every season.
You could arguably swap out the neutral flats for red flats or navy flats depending on your wardrobe and use the beige low-heel espadrille as a neutral-toned shoe if you needed to.
I'm thinking about doing this and investing in a red Repetto flat – pricey but because I won't be wearing them as often, they'll last longer.
Brown leather strappy sandals are great for vacation trips and Saint Tropez-based K.Jacques is the brand of choice for French girls.
Rounding out the summer shoe basics are classic French girl espadrilles.
I have Castañer Carina espadrilles in both ivory and navy and wear them very often!
Read my Castañer review for more information on this shoe.
Veja white sneakers are all the rage in France, ever since they were seen on actress Marion Cotillard. I have yet to invest in a pair of Vejas but they are on my list. You could obviously go with a simple pair of Supergas or Keds, too for your French girl sneakers.
Brown ankle boots are my go-to fall shoe and I have the Isabel Marant Garett Boot which are heeled, but walkable. Sadly they are no longer for sale, but you can shop a similar pair at Shopbop, La Redoute, or Barneys.
For special occasions, there are three ideal evening shoe basics.
The first is a gold strappy sandal for dressing up in spring or summer. The second is a black ankle strap heel. I purchased mine from Jonak in Paris.
Lastly, for winter I have a pair of black patent leather boots, perfect for holiday parties! The best place to shop Jonak styles in the USA is through Yoox.
Learn about the French girl shoes every Parisian owns.
Accessories
Leather Handbag (Brown or red)
French Straw Market Tote Bag
Black Tote Bag
Minaudière
Leather Belts (1 black, 1 brown)
Printed Silk Scarf
Thin Gold Jewelry (1-2 rings, 1 coin necklace, gold hoop earrings)
2 Sunglasses (Tortoiseshell, Black)
The basic handbags I own serve to complement the majority of my outfits. I have a warm brown leather bucket bag from Staud that I use often. I also have a rich red A.P.C. leather crossbody bag, which adds a nice pop of color to my neutral outfits.
My straw tote bag with brown leather handles was purchased in France (you can find them easily at most markets).
My everyday French tote bag is from Longchamp.
I'm still looking for a cute minaudière in either silver or gold for evenings out. A simple black evening bag would be great.
I have two very simple leather belts in brown and black, each with gold/brass buckles. One is from Sandro and the other is from a market in the south of France.
I have one beautiful printed French silk scarf from Frankie Shop in Paris.
I have a simple gold pendant necklace that I wear often. It helps to break up solid-colored sweaters and draw attention up to the face.
I also own several pairs of French girl sunglasses. The ones I wear most often are the black cat-eye sunglasses as well as tortoiseshell ones.
These are the main French girl accessories to ensure you have at home.
---
That was a long list of basics, but I hope it will help you start putting together your dream wardrobe!
Where to Shop for French Basics
Many of you guys asked me on Instagram what the best shops for French basics are. There are lots of places to shop for French wardrobe basics online and I'm going to share my favorite options with you. Most of these stores are affordable, too!
Let me know if you guys have any more questions on French wardrobe basics in the comments below!