When it comes to accessories, the French girl knows that less is more. Your French girl wardrobe should be the focus of your daily looks, and accessories are typically there to compliment your clothes. Most French girls won't wear gaudy or flashy accessories, but they do like to accessorize with minimal jewelry, classic handbags and simple leather belts. Gold is often the metal of choice when it comes to jewelry (and any handbag or belt hardware, really).
French Girl Accessories
Here are ten classic French girl accessories that will give you a great start to accessorizing your French girl wardrobe. This list isn't inclusive of all the accessories you should own when building a French Wardrobe, but they provide a strong foundation for complimenting your daily outfits.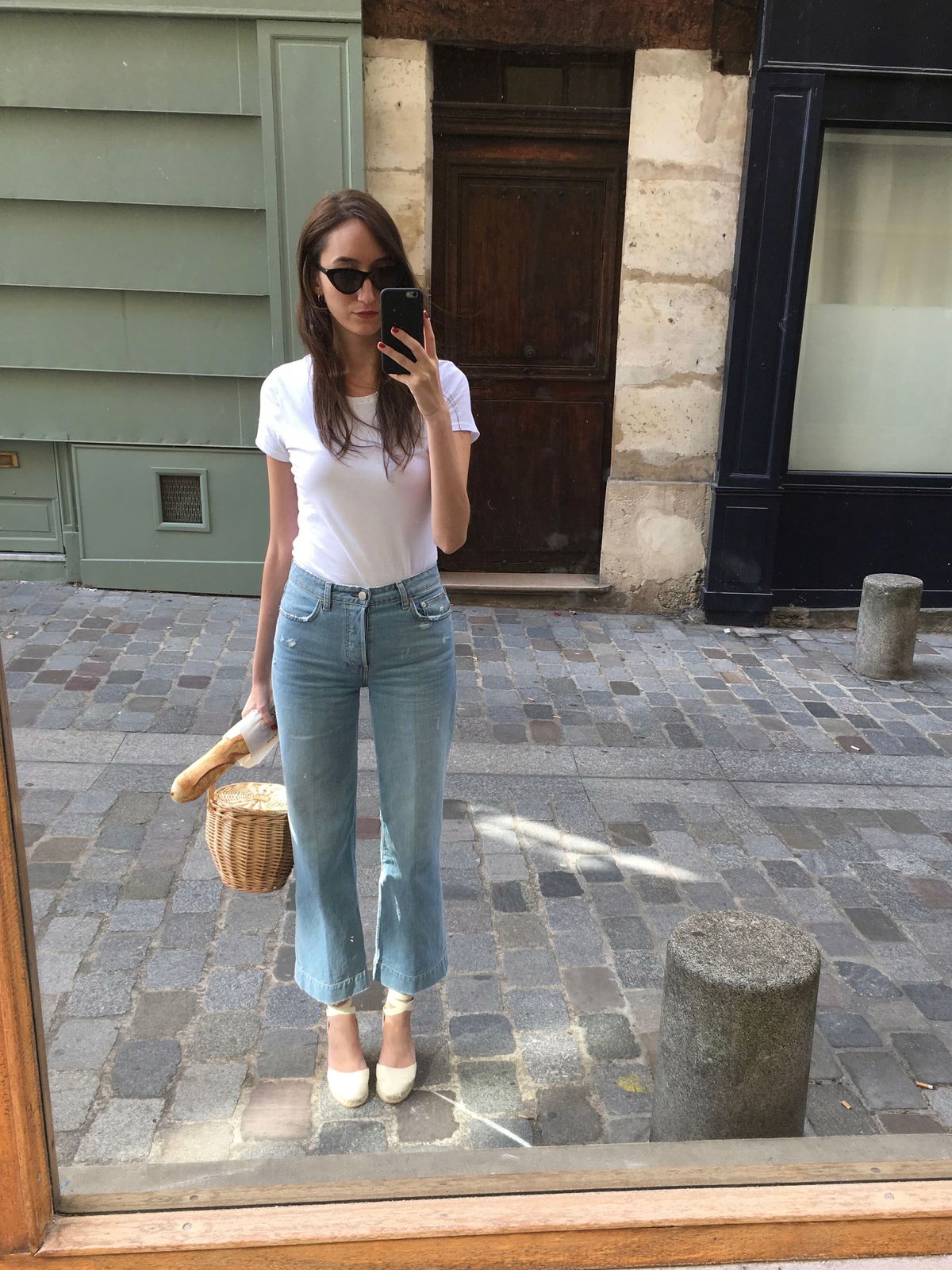 1. Gold Hoops
Small gold hoop earrings are the quintessential style found on nearly every French it-girl from Jeanne Damas to Louise Follian. Seriously, this is the first pair of earrings I bought when building my French girl wardrobe. Some are small and thin, perfect for everyday use, while others are thick, wavy or textured for a bolder look.
2. Diamond Stud Earrings
Simple diamond studded earrings are a versatile pick for the French girl's wardrobe. Best worn to a cocktail party or to a job interview, simple diamond stud earrings give you just enough sophistication without being too over the top. Of course, you should choose a pair of earrings that are on the small side. Remember: less is more!
3. Gold Pendant Necklace
The gold pendant necklace is a trend I've seen on countless French it girls. I've seen entire articles dedicated to this necklace but I'll keep it simple for you: A round, small gold pendant is a fabulous way to accessorize like a french girl! Look for a simple gold chain with a round pendant not larger than 1 inch wide. Don't be afraid to layer 2-3 of these necklaces – just make sure the pendants vary in size!
4. Thin Gold Rings
In keeping with the gold jewelry theme, French girls love wearing thin gold rings around their fingers. Bauble Bar sells an awesome 3-piece stackable gold ring set to get you started. If you have a bigger budget, then take a look at Jennifer Meyer who designs whimsical, delicate gold rings.
5. Leather Crossbody Bag
The leather crossbody bag is the perfect way to carry your wallet, phone, lipstick, and more like a French girl. Keep it simple and go with a classic French brand like APC or (old) Céline.
6. French Market Straw Tote Bag
With long brown leather handles, the French market straw basket bag is a classic accessory for the French girl who lives (or just vacations) in the south of France! These bags are often called "market bags" because they were originally used to transport fruits, vegetables, meats, and cheeses from local street markets in the south of Europe. Today, French girls use them for just about any everyday purchase, and even during the winter in Paris!
The best place to buy a straw market tote bag is directly in Europe. You can find them at various local markets in France (try the famous L'Isle-sur-la-Sorgue market), southern Spain, and Italy. If you can't make it to Europe any time soon, then try this bag on Amazon or this shop on Etsy which ships to the US at an affordable price!
7. Tote Bag
A large tote bag in leather or nylon for work or school is great when you have a lot to carry. A sufficient leather tote bag will be able to hold your laptop, iPad, notebook, wallet, water bottle, and more. This is a must-have in your handbag collection. I use the Longchamp Le Pliage bag.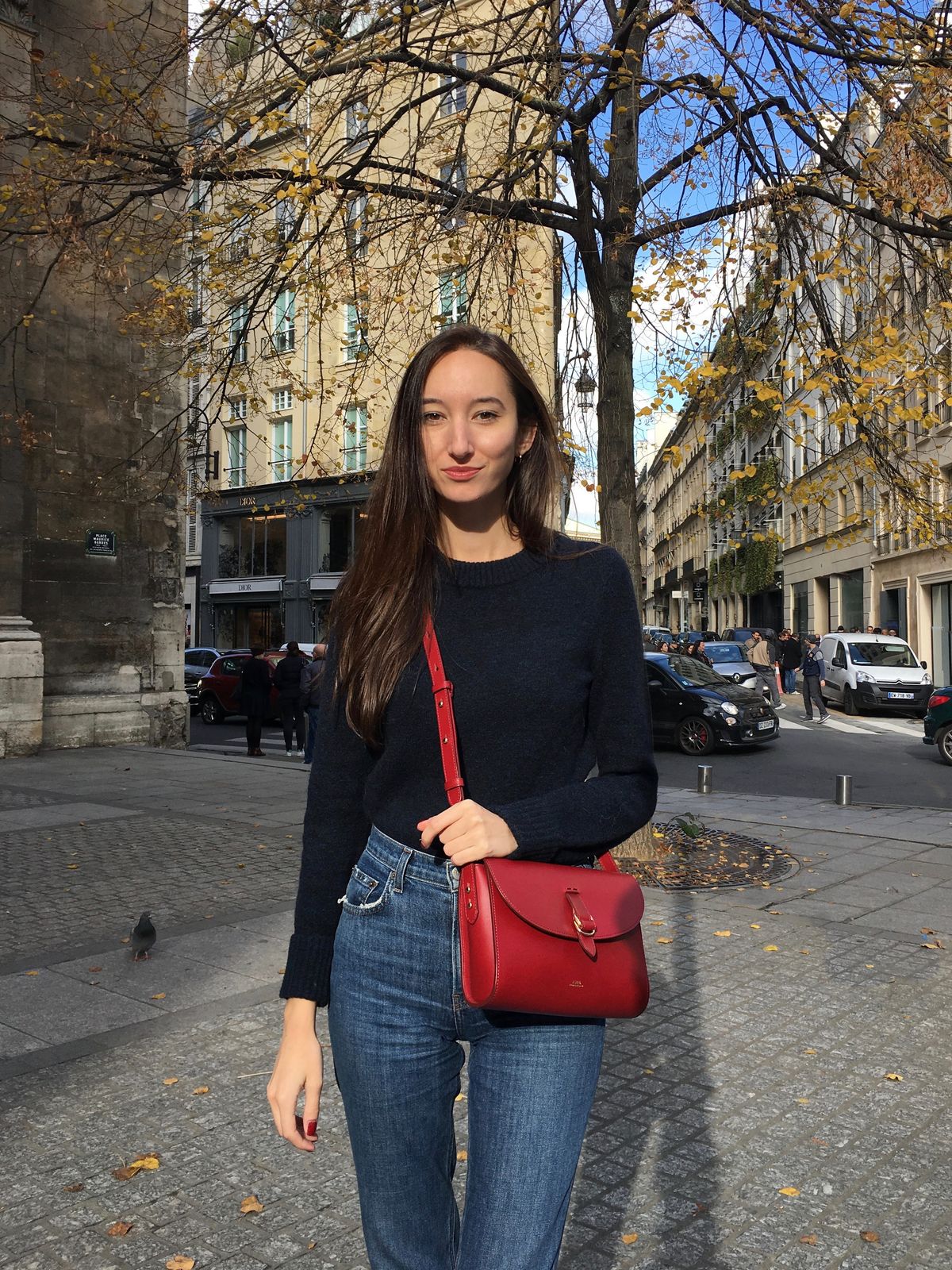 8. Basket Bag
Popularized by none other than French style icon Jane Birkin, the wicker basket bag has made a strong comeback with Parisian it-girls. Birkin originally purchased hers on the coast of Portugal, and it quickly became part of her signature style. She notably used a basket bag year-round – even during winter in Paris – and the trend lives on through chic women around the world today.
A few independent shops sell Birkin basket bag inspired wicker baskets that very closely resemble the original:
I would personally go with that first option because they are priced affordably in addition to being handmade in Portugal, where Jane Birkin originally purchased hers! Bonjour Coco has been featured by Vogue, but the price seems a bit high for a wicker basket.
9. Evening Bag
It's smart to have at least one black evening bag or minaudière, for evenings out or special occasions.
10. Bucket Bag
Whether it's a Simon Miller Bonsai bag on the arm of Leia Sfez, or a Staud Bissett bag attached to Jeanne Damas, French girls love their bucket bags. This is a trend I don't see going away any time soon – so find the bucket bag you love the most and get on it!
11. Leather Belts
A simple way to tie your outfit together like a French girl is to wrap your waist in a smooth leather French belt. Try to select one with an antique brass or distressed gold buckle. The less shiny the better. I picked up a handmade one from a local artisan at a market in the south of France, so be on the lookout if you find yourself there this summer.
If you'd prefer to buy a belt sooner, these are the options I recommend: these affordable Madewell belts and Gap belts come in both black and brown. They're under $50 each, and both feature a nice brassy buckle front and center. Black and brown are all you need to begin with – but if you'd like to expand your French girl accessories, then I'd opt for a red leather belt like this one to complete your collection.
12. Silk Scarf
The French silk scarf is a classic French fashion accessory. While Hermès is the most well-known retailer of these scarves, you can hop on the trend like a true French girl by buying a vintage silk scarf. Farfetch incidentally has an amazing selection of vintage Hermès scarves if you can't make it to your local vintage market!
13. Black Sunglasses
Walk by Café de Flore, and there's a good chance you'll spot a French girl with cat-eye sunglasses, most likely in black. Whatever your style, black sunglasses are universally flattering. I've seen them on countless women and can confidently say that compliment all face shapes and sizes!
While the original cat-eye pair that started the craze is these Le Specs x Adam Selman The Last Lolita cat-eye sunglasses, you can get the same look for much less on Amazon!
Check out more French girl sunglasses to own.
14. Tortoiseshell Sunglasses
For a softer look, French girls will opt for an oval-framed pair of tortoiseshell sunglasses. You could also for a cat-eye shape in tortoiseshell plastic, as well. Both are equally chic. I love the look of tortoiseshell sunglasses which compliment brown hair best.
While the below options offer premium quality, if you're looking to get the look for as little as possible, then this Amazon pair is your best bet.
15. Wallet
Everyone needs a French wallet to hold their credit cards and cash. Whether you go with a long, envelope-style wallet or a simple cardholder, make sure you have a beautifully made leather wallet to hold what you need.
What are your favorite french girl accessories?