If there's one French bag that I have relied on the longest, it's the Longchamp Le Pliage Tote Bag.
This French tote bag has been a classic in my wardrobe for as long as I can remember. I grew up in Connecticut and pretty much every girl in high school carried one of these chic French bags to class.
I even remember my very first Longchamp tote bag! It was a pink one with a turquoise stripe down the middle – very preppy of me! At the time, you could customize your Longchamp tote bag with two different colors, an opportunity I jumped on!
Later on, I got a solid red Lonchamp Pliage bag with brown leather handles and flap – that served me well through my college years.
Most recently, I kept it classic with a solid black Pliage tote bag with black leather handles and flap, which I am currently still using.
Even though the colors of my Pliage bags have evolved, my love for this French tote bag has not faded!
If you're thinking about purchasing this quintessential French girl tote bag, then I hope this Le Pliage bag review will help you decide!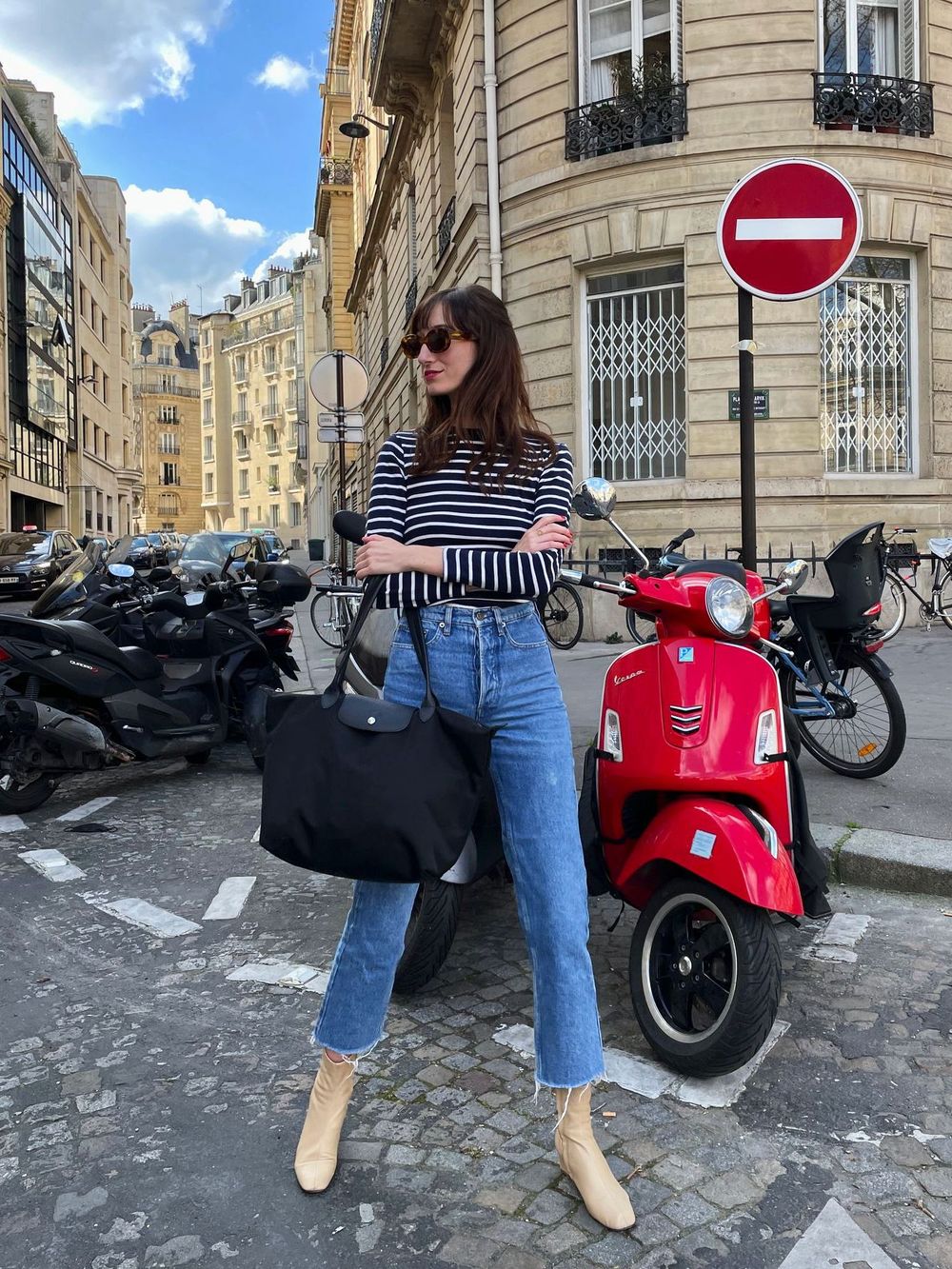 Longchamp Brand
Longchamp is a respected, luxury French designer brand from Paris. It was founded in 1948 by Jean Cassegrain as a leather goods maker. In 1971, Longchamp launched its first women's handbag.
Longchamp is a family-owned brand, continuously operated by the Cassegrain family such as Sophie Delafontaine, its artistic director.
Longchamp Le Pliage Bag History
The famous Le Pliage bag was designed by Longchamp's CEO Philippe Cassegrain in 1993. Pliage means 'folding' in French, a reference to how easily the bag's nylon material can be folded up when not in use. The Pliage bag remains the most popular bag sold by the Longchamp brand today.
The Le Pliage Bag
The Longchamp Le Pliage bag is rectangular in shape with two long shoulder straps. It is not structured which means it adapts to fit whatever you have inside it.
It has a zippered top closure which prevents any spilling of contents if the bag tips over. A leather flap that can be buttoned folds over the zipper providing extra security.
The bag has one small interior pouch which falls flat against the front part of the interior.
The bag's body is primarily made of nylon which gives it its flexibility. The shoulder handles and foldover flap are made of Russian leather.
What fits inside the Longchamp Le Pliage bag?
If you go with the standard 'Large' size tote bag, you can fit everything you need for your work or school day inside it. That's why I love this bag! You could easily hold a MacBook laptop with a case, a large book, an iPad, a pouch with makeup, a small sweater, water, and a wallet inside it at once.
Longchamp Le Pliage Sizes
Due to its success, this bestselling Longchamp bag comes in several different sizes and numerous colors. I've picked different colors to showcase the bags below, but feel free to click through to see the different colors available for each bag!
Special Editions
Longchamp releases special edition designs of the Le Pliage bag which are typically available for a limited time. Keep an eye out for these unique designs that will give your bag a more distinctive look!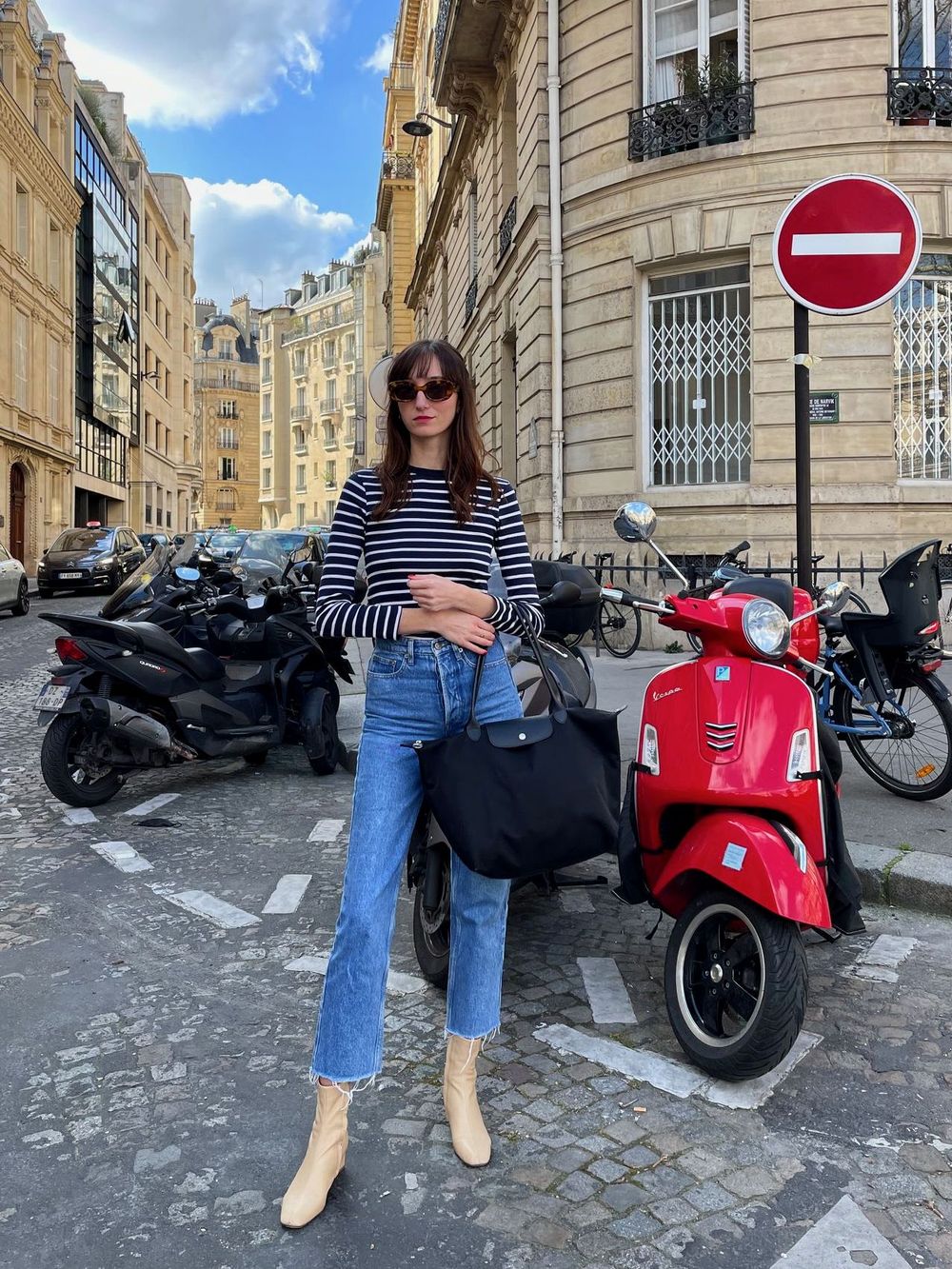 How long does the Longchamp Le Pliage bag last?
The Longchamp Le Pliage bags will last you a really long time if you care for them. If I had to estimate I'd say this bag could last for up to 10 years.
My tote bags from high school are holding up well and they were purchased over 10 years ago. The only sign of wear and tear is on the corners where a super small hole has formed at the fold. Obviously, the bag is still usable but I prefer to carry a bag without small holes at the edges.
Longchamp Le Pliage Price
The Pliage bag is one of the lowest-priced handbags sold by the brand. The large Pliage tote bag comes in at a very reasonable $145.
The medium, small, and mini bags cost even less. The largest travel tote costs $170.
Longchamp is sold at American retailers like Nordstrom, Farfetch, Neiman Marcus, Bloomingdale's, and Saks.
You can occasionally find deals on sites like Rue La La or Gilt.
Is Longchamp cheaper in France?
Yes, if you're able to travel to France to purchase the Longchamp Le Pliage bag, you'll save some money. The bag is priced at 95€ (currently $105 USD) from Longchamp in France, a savings of around $40.
Is the Longchamp Le Pliage worth it?
Yes, if you need a spacious tote bag, the Longchamp Le Pliage bag is a fantastic option especially if you're shopping on a budget. It easily holds all your daily essentials with room to spare. The design is French girl chic. As of now, 95% of Nordstrom customers gave this handbag a 4 or 5-star rating (out of 5 stars).
I hope you found this Longchamp Le Pliage tote bag review insightful!