French tote bags are the handbag equivalent of the best friend who always has your back, no matter what problem you throw at them. Work or play, tote bags can handle everything you need to go about your (very long) day. These French style tote bags are perfect for your busiest days in Paris.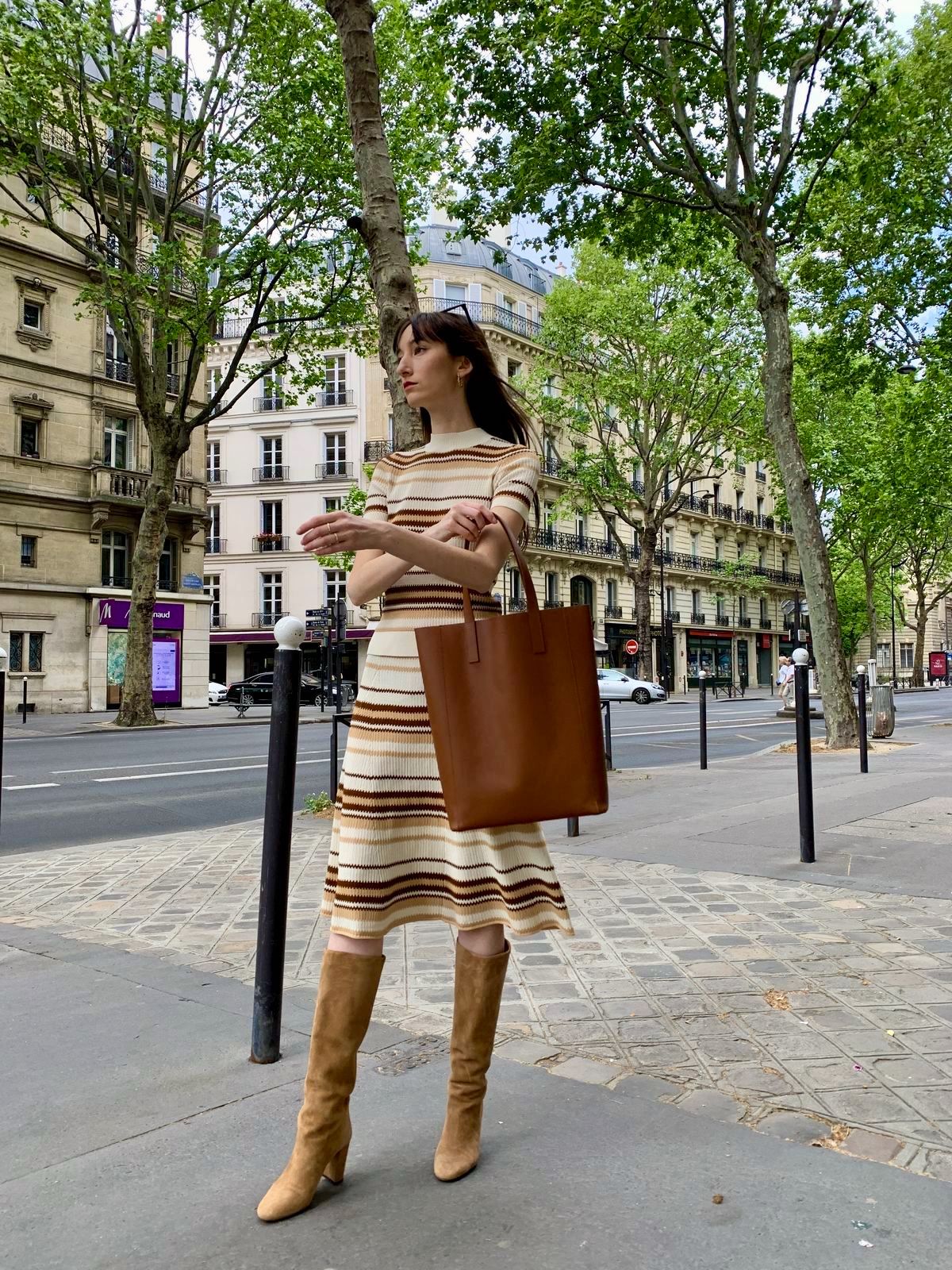 French Tote Bags
These French girl tote bags are just one of the essential French girl handbags you need in your closet.
Longchamp Le Pliage Bag
This is one of the first French tote bags I ever owned. The Longchamp Le Pliage Bag has been a best-selling French girl tote bag for years. It comes in a variety of colors and has a simple design of an unstructured body, a full zipper closure, a small leather flap, and two long leather shoulder straps. This is a great first tote bag to buy because it's chic, affordable, and incredibly practical. The tote bag adjusts to what you put in it. It falls flat and stays close to your body if you don't put much in it. Conversely, it expands as you need it to when you're carrying a lot. I love using it at the airport because of the zipper top closure.
Read my full Longchamp Le Pliage bag review to get all the details on why I love this bag!
Polène Numéro 12 Bag
I recently received the contemporary French handbag brand Polène's latest leather tote bag – the Numéro 12 Cyme bag. This chic minimalist tote bag has a unique shape that makes it slightly round on each side. The four lower corners are pulled inwards on the bag, giving it a bubble shape effect. What I love about this tote bag is the practicality of holding it – it has both short handles for carrying the tote with my hands or hanging it on my forearm, and it has longer straps for tossing over my shoulder. It also comes with a matching leather zipper pouch for organizing smaller items like my face masks, keys, and lipstick. It has a single magnetic snap closure at the center.
Goyard Saint Louis Tote
I always see the Goyard Saint Louis Tote when I walk around Paris' chic 16th arrondissement. It was named after King Louis IX of France, formerly known as "Saint" Louis. This unlined tote bag is very lightweight and incredibly spacious. It's reversible so you can switch up your look as you please. It can easily hold a laptop and plenty of other daily essentials. It comes with a removable pouch for carrying small items. The Goyard tote measures 40 cm long. It comes in 11 color combinations.
Saint Laurent Shopping Bag
The sleek Saint Laurent Shopping Bag Tote measures 14 ½ inches wide, 11 ½ inches tall, and has a 6-inch depth. It's quite minimal in appearance making it perfect for getting understated chic French girl style. The structured tote bag has a single centered snap closure so I wouldn't recommend taking it to the airport. It also comes with an interior zip pouch. It comfortably fits a 13-inch Macbook making it great for work!
Chanel Large Shopping Bag
The glamorous beige Chanel tote bag has both short handles and long shoulder straps. The cream color makes it great for use in the spring and summer. The Chanel logo is lightly embossed on the surface of the bag. The shoulder straps are made of the signature silver chains that Chanel is known for. This French tote bag measures 19.5 inches wide, 11.7 inches tall, and has a depth of 8.6 inches.