One of my favorite everyday handbags is the Polène Numero Douze Mini Bag. Also called the "Cyme" bag, this French girl handbag is a mini version of a tote bag that is perfect for carrying your everyday essentials, and a little bit more!
If you're looking for a medium-sized leather handbag, then the Numéro 12 mini bag could be perfect for you. It has two sets of straps – one small set of short handles for your hands, and one set of long straps for tossing the bag over your shoulder.
Even though the bag is open at the top, save for a small magnetic snap closure, I don't feel unsafe wearing the Cyme mini bag in Paris because it can be worn on the shoulder, so the fact that it's under my arm keeps it protected.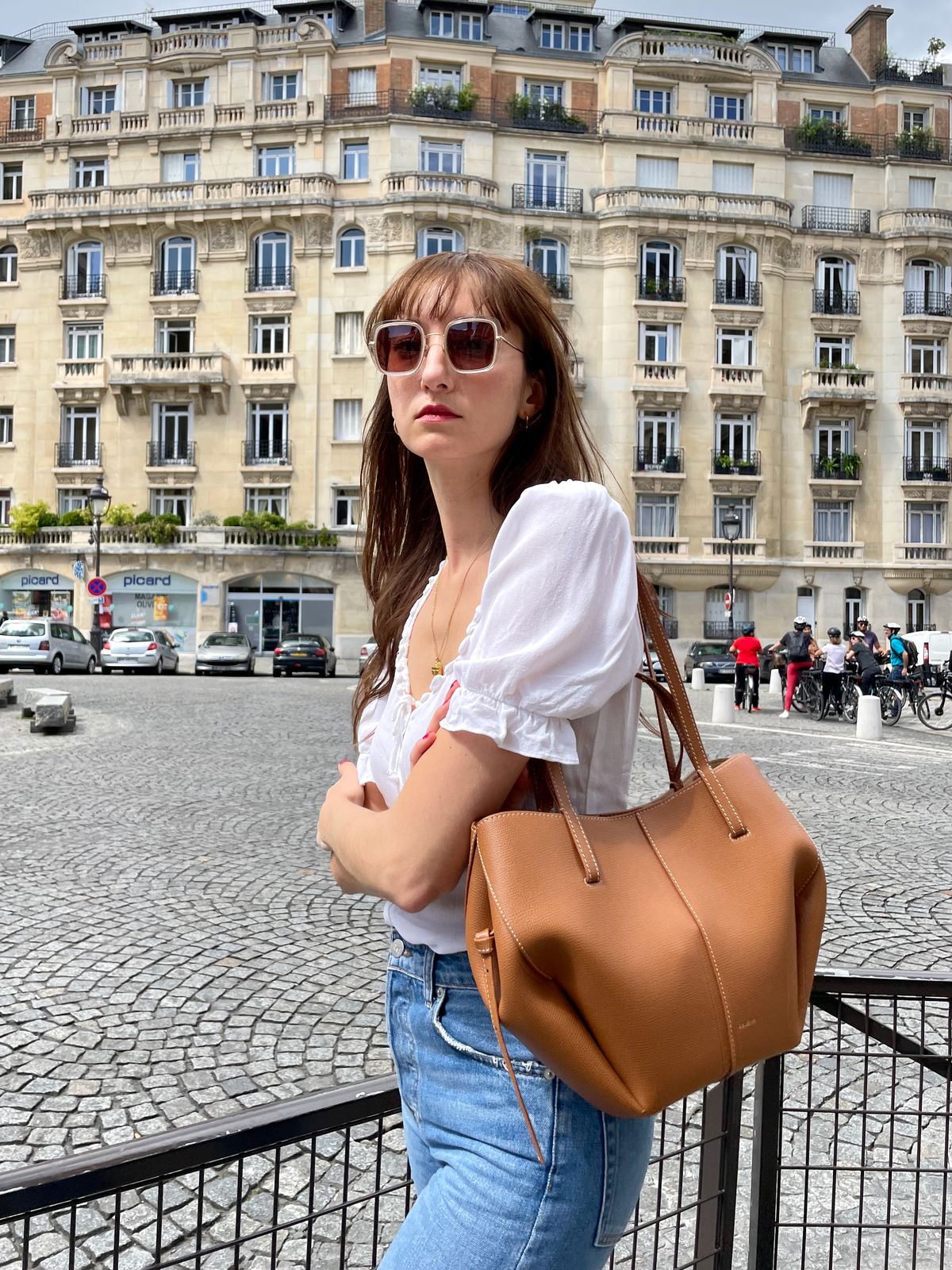 Colors and Leather
I chose the camel color for the Numéro Douze Mini bag which I love. It's a medium warm brown hue that matches so many of my everyday outfits. The camel bag has cream stitching around the edges. The bag currently comes in five other colors: gray, black, Bordeaux, gray, and dusty rose. The bag is only available in a grained leather texture.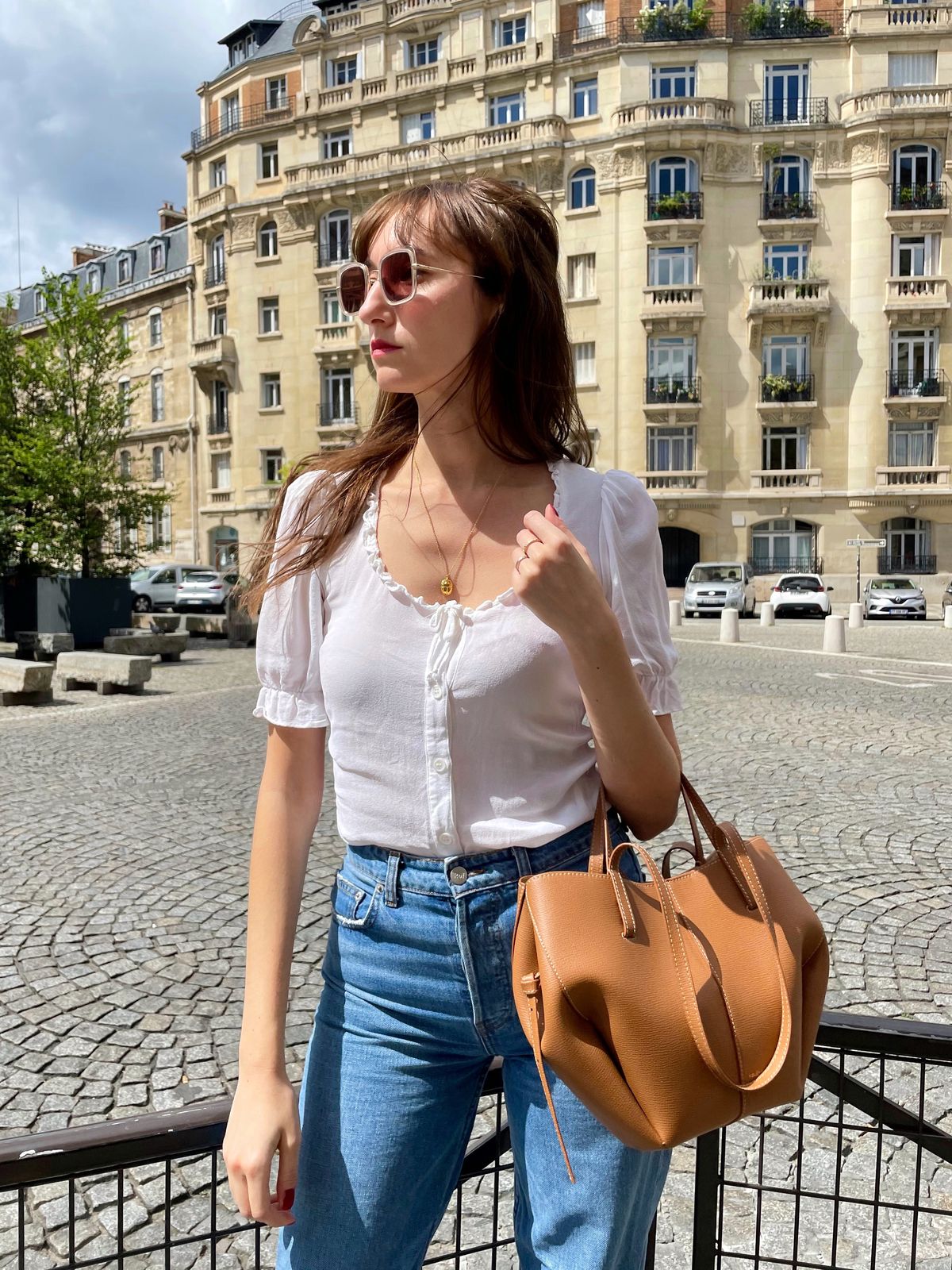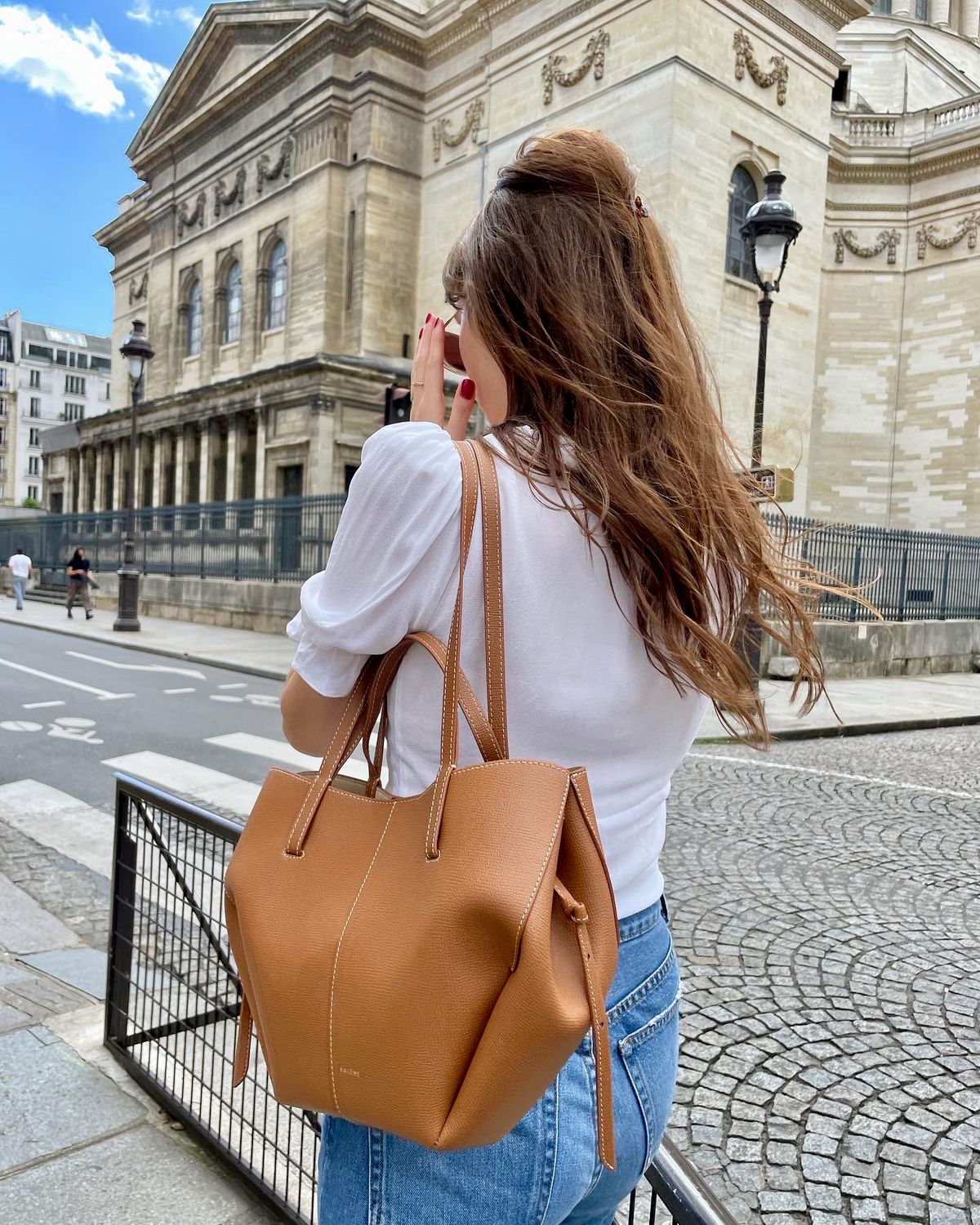 What Can the Polène Numéro Douze Mini Bag Hold?
The Polène Numéro Douze Mini bag can hold a lot! I can easily hold a book, my wallet, my phone, my keys, a small makeup bag, and even a thin cardigan or silk scarf. It's great for having room for your everyday essentials plus a bit more for unexpected errands.
Furthermore, this bag can be expanded at the upper corners if needed, but otherwise, the edges remain folded in and held together by small magnets.
Inside, a small removable leather pouch is included which zips shut.
The only downside to this expandable bag is the way it's cut inside; the interior corners jut into the bag, taking up more space than I would have liked.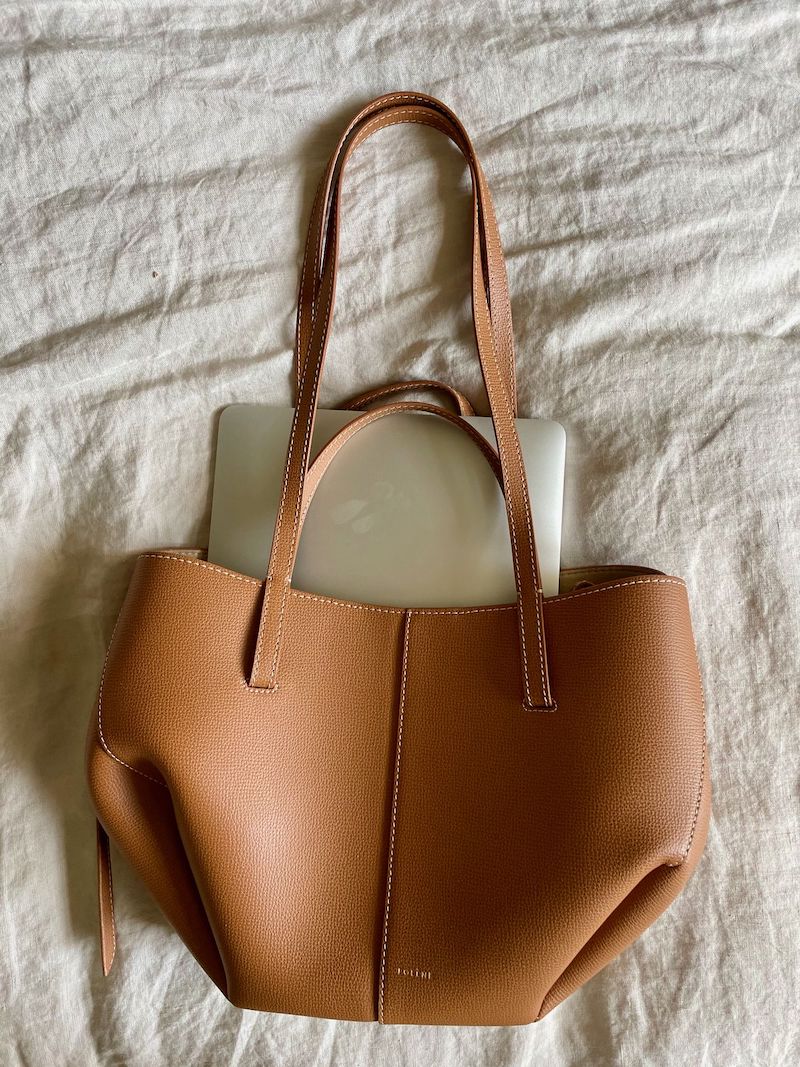 Can the Polène Numéro Douze Mini bag hold a laptop? Technically, you could put a 13-inch Macbook Air in this tote bag, however, it only fits sideways and it would stick out over the top. So it's not the most practical way to carry a laptop at all, but you could do it if you wanted. 
This mini tote bag measures 42 cm wide by 25 cm tall by 8.5 cm depth. The small leather pouch is quite flat and measures 20.5 cm long and 12 cm high.
Shop the Polène Number 12 Cyme Mini Bag
About Polène
Polène has been my go-to French leather goods brand for the past few years. The brand's products are designed in Paris and made in Spain of high-quality leather. Polène is a contemporary French handbag brand that is actually worn by real French women. The French brand has exploded in popularity in France due to its high-quality handbag production at affordable prices. It's like you're getting a luxury leather handbag for 75% off.
Polène was founded by three French siblings Mathieu, Antoine, and Elsa Mothay who named the company after their Normandy country house. The brand ships to the United States or you can shop in-person at the Paris boutique.
Polène Reviews
Read all my Polène handbag reviews so far:
Let me know your thoughts or questions about this Polène bag in the comments!