The Polène Numéro Douze bag is my new favorite tote bag.
Ahead of my trip to Miami, I needed a chic French tote bag to carry my travel essentials like a laptop and makeup. I wanted a spacious bag that wasn't too bulky or heavy. The Polène Number 12 bag fits the bill perfectly; it has a minimalist design that can be expanded at the upper edges if necessary.
There are two ways to hold the "Cyme" tote bag. The Polène Numéro Douze tote bag has short handles for holding it in your hands as well as long straps for carrying it over the shoulder. A magnetic snap closure keeps the bag's contents securely inside, though the bag does not close completely.
Colors
I originally wanted the white leather version of this bag, but upon seeing the gray version, I fell in love! This bag currently comes in five colors: white (craie), cognac, camel, black, and taupe. All of these bags are made of a grained leather texture.
The Polène Number 12 tote bag was recently featured in season 2 of the hit Netflix TV show, Emily in Paris. The camel bag was carried by Madeleine, Emily's boss, during her work trip to Paris! It just goes to show that this bag is perfect for all you working girls!
What can the Polène Numéro Douze "Cyme" bag hold?
Just like the Number 12 mini bag, this larger tote bag is expandable. The upper corners have small magnets that keep them securely closed by default but can be pulled apart for extra space as needed.
Inside, the Number 12 bag has nothing but a small leather pouch with a zipper that can be easily removed.
Can the Polène Numéro Douze tote bag hold a laptop? Yes! This bag can easily keep your laptop safely tucked inside, including the case. I have a 13" Macbook Air and it fits perfectly inside the Polène Numéro Douze tote with plenty of room to spare.
This large Polène tote bag measures 53 cm long by 32 cm high and has a depth of 10.5 cm. The interior flat leather pouch measures 22.5 cm long by 13 cm high.
This bag, like all Polène bags, was designed in Paris and made in Spain of high-quality leather. Its interior has a suede inner lining.
Shop the Polène Numéro Douze "Cyme" Tote Bag.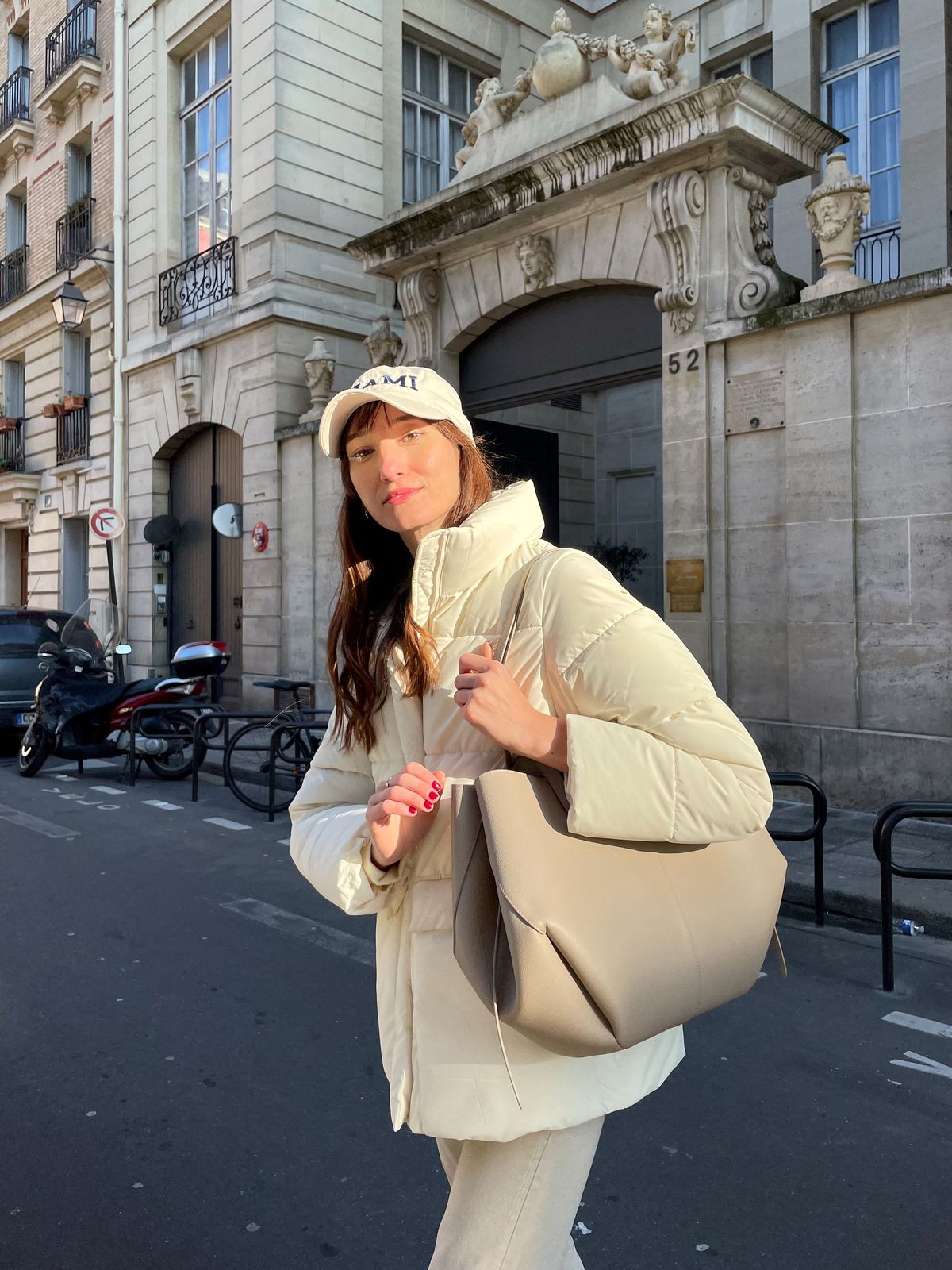 About Polène
Polène is a hot new French handbag designer which is actually worn by French women. The French brand exploded in popularity in Europe due to its top-quality handbag production at affordable prices. It's like you're getting a luxury leather handbag for far less than what you'd pay at a high fashion brand. Polène was founded by three French siblings Mathieu, Antoine, and Elsa Mothay who named the brand after their Normandy country house. Polène ships to the United States or you can shop from their Paris boutique in the 2nd arrondissement.
Polène Reviews
Read all my Polène handbag reviews:
I hope you found this post on the new Polène Cyme tote bag useful! Let me know your thoughts on this bag or any questions you have in the comments below!
Bisous!