The older I get the more I realize how important it is to choose what I buy wisely. I'm also less scared of investing in quality pieces as I trust my sense of style much more than when I was younger. That's why I've been thinking about what timeless French jewelry pieces I think are worth investing in.
I've already shared my French investment wardrobe pieces, the investment French handbags I dream of, and the investment French accessories I have on my wish list, but today I want to talk about jewelry!
After much research and thought, here are my final picks for classic French investment jewelry!
Investment French Jewelry
These are the best investment French jewelry pieces for a classic French girl jewelry collection. When selecting jewelry to invest in, it's important to go for classic designs that will always remain in style. I personally love investing in pieces that have a bit of history behind them – perhaps a fascinating story of its creation, or the fact that it was worn by a prominent person like a First Lady.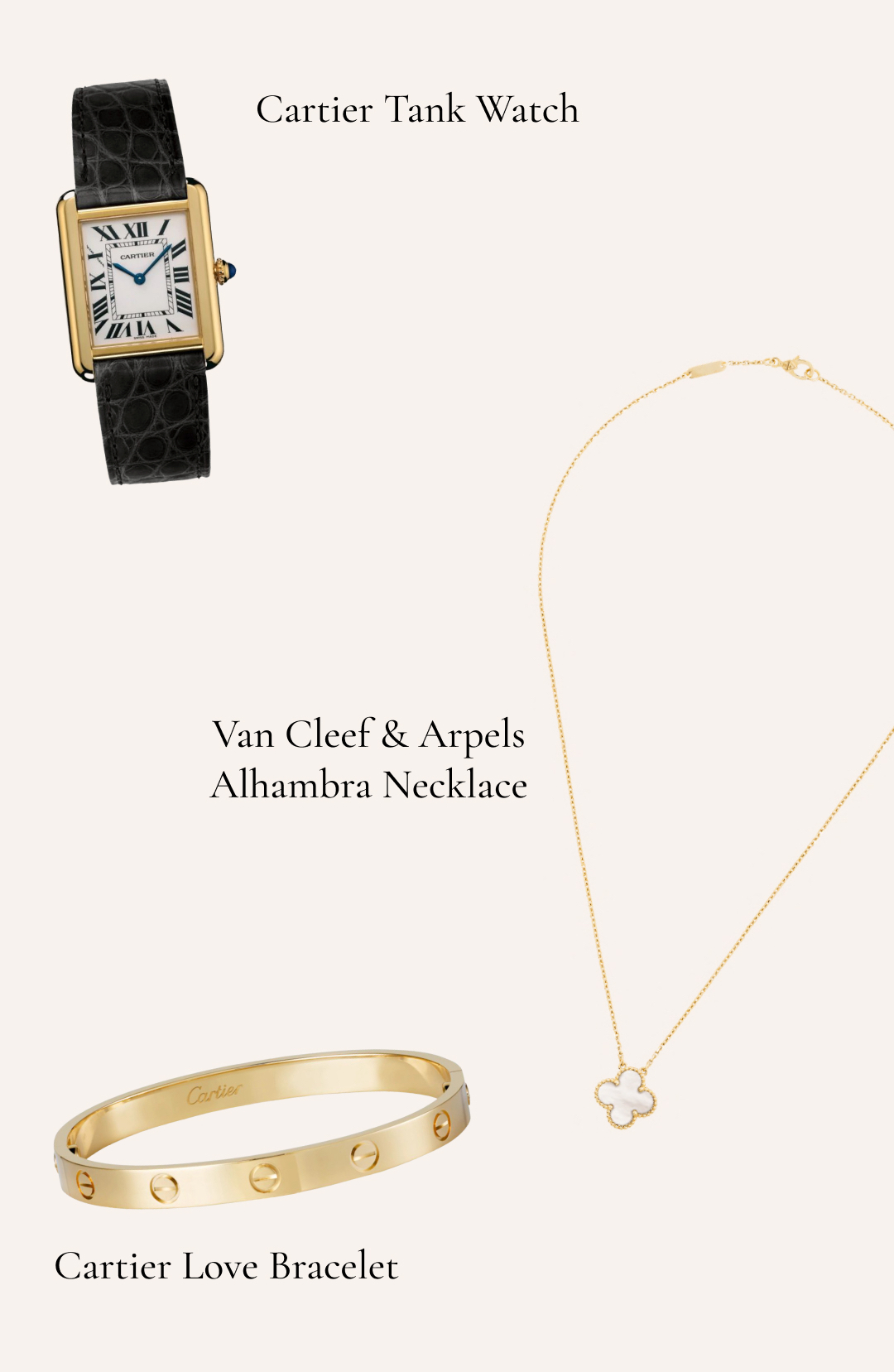 Cartier Tank Watch
Designed by Louis Cartier in 1917, the Cartier Tank Watch is the most iconic watch ever made. Worn by Jackie Kennedy Onassis, Catherine Deneuve, and Princess Diana, this watch is a solid investment.
Van Cleef & Arpels Alhambra Necklace
Created by this French jewelry house in 1968, the Alhambra collection has become a timeless symbol of French jewelry. Grace Kelly was known for layering Alhambra necklaces with their four-leaf clover motif.
Cartier Love Bracelet
A symbol of everlasting love created in 1969, the Cartier Love bracelet can only be attached and removed with a little screwdriver that comes with each bracelet. At the time of its release the bracelet was gifted to high-profile couples like Elizabeth Taylor and Richard Burton, and Ali McGraw and Steve McQueen.
Lastly, a gold pendant necklace is one of the French girl jewelry essentials, so why not invest in a solid gold Zodiac Pendant Necklace by luxury French jeweler Van Cleef & Arpels? It's one of the less expensive items on this list and would make a wonderful investment.
Gold hoop earrings, diamond studs, and pearls are also timeless, great jewelry investments.
Remember, classic and timeless is what we're going for!