Despite being a British invention, the trench coat is often associated with French girl style.
Trench coats are a versatile staple in any French girl's closet. Lightweight with buttons and a flattering belt to accent the waist, they're the perfect outerwear piece and transition your closet seamlessly across seasons, from fall to spring. They can be dressed up with heels, or worn with sneakers for a more casual look. Although most popular in neutrals like tan, beige, or black, they can also be found in accent colors to add a bright statement to any outfit you may wear.
Since its inception, the trench coat was well-loved and became popular for its practicality. Trench coats were praised by soldiers during World War I as an alternative to heavy wool or rubberized coats that became weighed down while in the trenches.
Today, they're loved by French women as the perfect elegant accent to any outfit. Trench coats are perfect for keeping you warm during crisp spring mornings or chilly evenings in the fall, and transition well from season to season.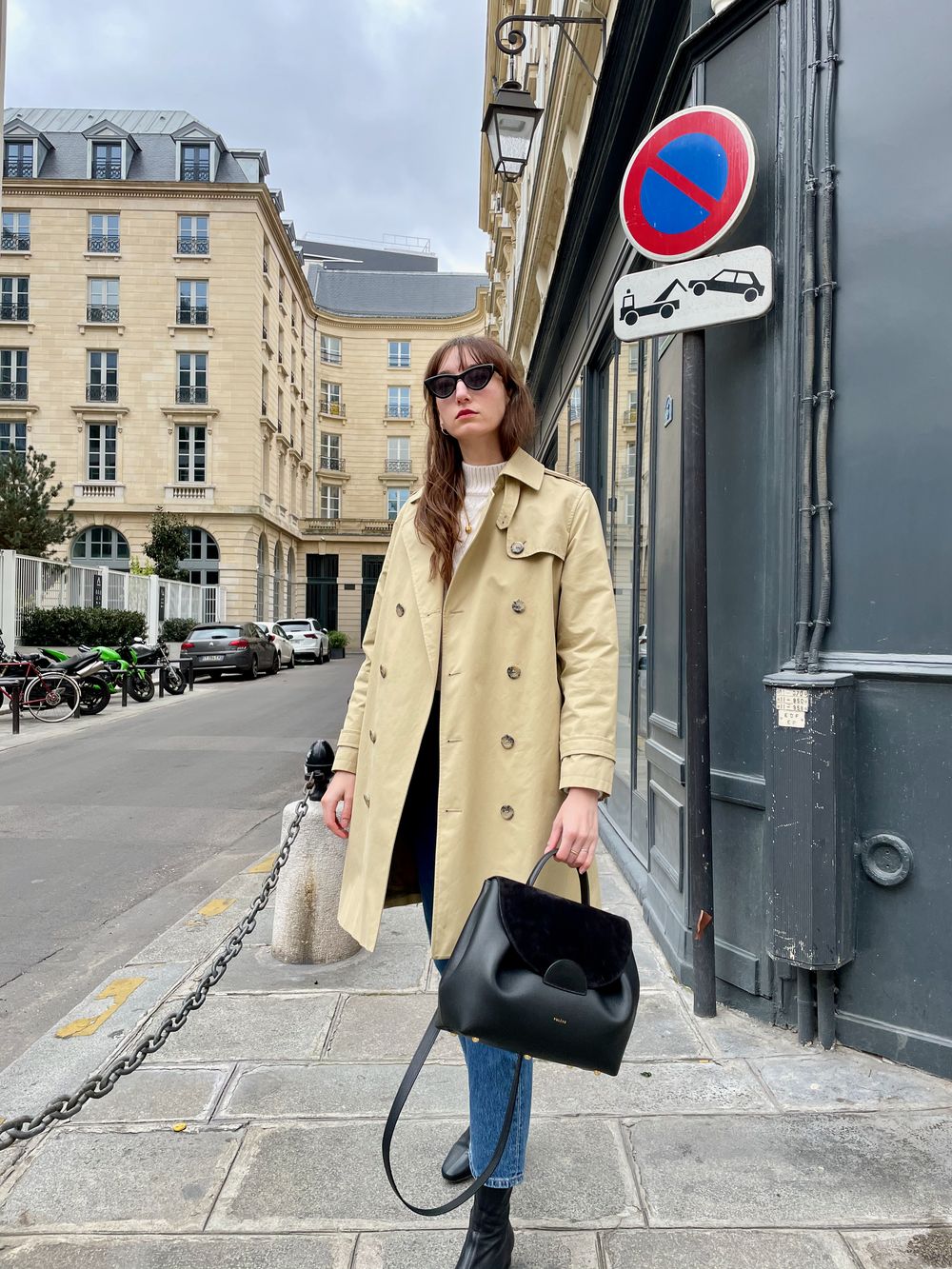 Popular French Trench Coats
The most popular French style trench coats in Paris include:
Let's talk a little bit about the history of trench coats.
Who Invented the Trench Coat?
Although the name "trench coat" became popular during World War I by soldiers' use of the garment, the beginnings were seen decades earlier.
Both Aquascutum and Burberry claim to have created what's become known as the "classic" trench coat – so there's some debate as to where the true beginnings lie.
Trench coats are seen as being derived from "coachmen" coats in the 1700s. The following century, this influenced "greatcoats" – which were essentially gentrification of the "coachmen" coats. As the first waterproof coats emerged in the early 1800s, that was seen as a major improvement in practicality. Although a game-changer, early waterproof "Mackintosh" coats – created by Charles Macintosh and dubbed "macks" – had a few problems.
The coats were heavy and trapped in heat as they were made with a rubberized material. They also became stiff in cold weather and clung to things in the warm weather. While waterproof, the coats were cumbersome and became hot and uncomfortable to wear.
In 1853, John Emary created the first waterproof wool – which led to the creation of the Aquascutum brand. This innovation led to the development of what would become known as a classic "trench coat" in the following century.
Burberry founder Thomas Burberry also claims to have invented the classic "Burberry Trench coat" over 100 years ago. He created a weatherproof cotton fabric – known as gabardine – in 1879 – which also grew into a popularized style during the First World War.
When Did Trench Coats Become Popular?
As World War I raged on in Europe, a need arose for a more practical option that men could wear while down in the trenches. Lightweight, easy to move around in, and waterproof, the coats became practical for soldiers who were literally down in the trenches. They were long and went below the knee, often hitting around mid-calf, to shield from the rain and dirt as much as possible.
Practicality in World War I Translates to Civilian Style
In the early 1900s, Aquascutum began designing coats for women and they began to gain popularity. During the First World War, coat designs evolved with purpose and practicality in mind. A raglan sleeve – which is diagonal and reaches the neckline – was loved for the ease with which it could be taken on and off. The coats also featured a lapel that could be buttoned in inclement weather and a collar that could cover the chin. Shoulder straps and D-rings were also practical, as they could be used to attach war gear including binoculars, grenades, gas masks, maps, and swords.
Burberry patented a "Tielocken coat" in 1912 – which is said to have evolved into the classic trench that became popular with soldiers in World War I. The design featured a belt with metal D-rings – again, where equipment could be attached as a practical style design.
Throughout the war, trench coats became popular with both soldiers and civilians – and they became a patriotic style staple.
Rise Of Trench Coats in the Mid-20th Century in Hollywood
Although the coats became popular as a patriotic style statement during World War I, in the mid-1900s, the coats began to become more aesthetic as they shed the military look. The "Golden Era" of Hollywood brought new life to the coats, giving them a more romantic, everyday look.
Actors including Sylvia Sidney in You Only Live Once (1937), Humphrey Bogart in The Maltese Falcon (1941), Katherine Hepburn in Keeper of the Flame (1943), and Kim Novak in Pal Joey (1957) all wore trench coats, making them popular off-screen as people took fashion inspiration from the films.
This continued through the 1960s. Marilyn Monroe in Let's Make Love (1960) and Audrey Hepburn in Breakfast At Tiffany's (1961) both wore trench coats and the look became iconic.
As trench coats were worn by Hollywood film stars both on and off-screen, they became increasingly popular as a fashion statement and a closet staple. After alleviating the military-brute look, they gained a softer, more refined style, remaining a popular lightweight closet staple that transitions seamlessly from season to season.
Trench Coats as a Staple of French & Parisian Fashion Today
French actresses Bridget Bardot and Catherine Deneuve wore shorter-style trench coats that hit just around or above the knee, further popularizing them in the country in the 1960s.
Over recent decades, the style has remained popular. From high-fashion designers like Jean Paul Gaultier, Pierre Cardin, Hubert de Givenchy, and Yves Saint Laurent, the classic coat has been re-created in a diverse range of colors, prints, and lengths.
The trench coat is now a staple of many French and Parisian women's closets. There are many ways to style these versatile coats.
Trench coats are commonly styled with the buckle belt tied in a knot and cinched around the waist, rather than with the prong through the holes as you'd wear a pants belt.
Sometimes, the coats are left open to show off the outfit underneath, or with the belt tied in the back instead of around the front.
Neutral colors including tan, beige, and black are the most common colors for trench coats in fashion. However, other colors including olive green, navy, and gray are also popular. Trench coats may also occasionally be worn in a bold color or print, although this is less common as French fashion tends to favor a more neutral palette.
Coats are seen over a range of seasons from crisp fall evenings to cool spring mornings and are a go-to for rainy days as they're typically waterproof. French fashion bloggers and style icons like Jeanne Damas, Anne Laure Mais Moreau, Caroline de Maigret, and Leia Sfez all sport trench coats. They are seen frequently in the street style of Paris Fashion Week, and as people casually enjoy coffee cafes and go about their daily lives.
Whether dressed up with heels and a dress or styled more casually with sneakers and straight-leg pants, trench coats are a fashion staple that is sure to stay in style for years to come – more than a century after the style first became popular during the First World War.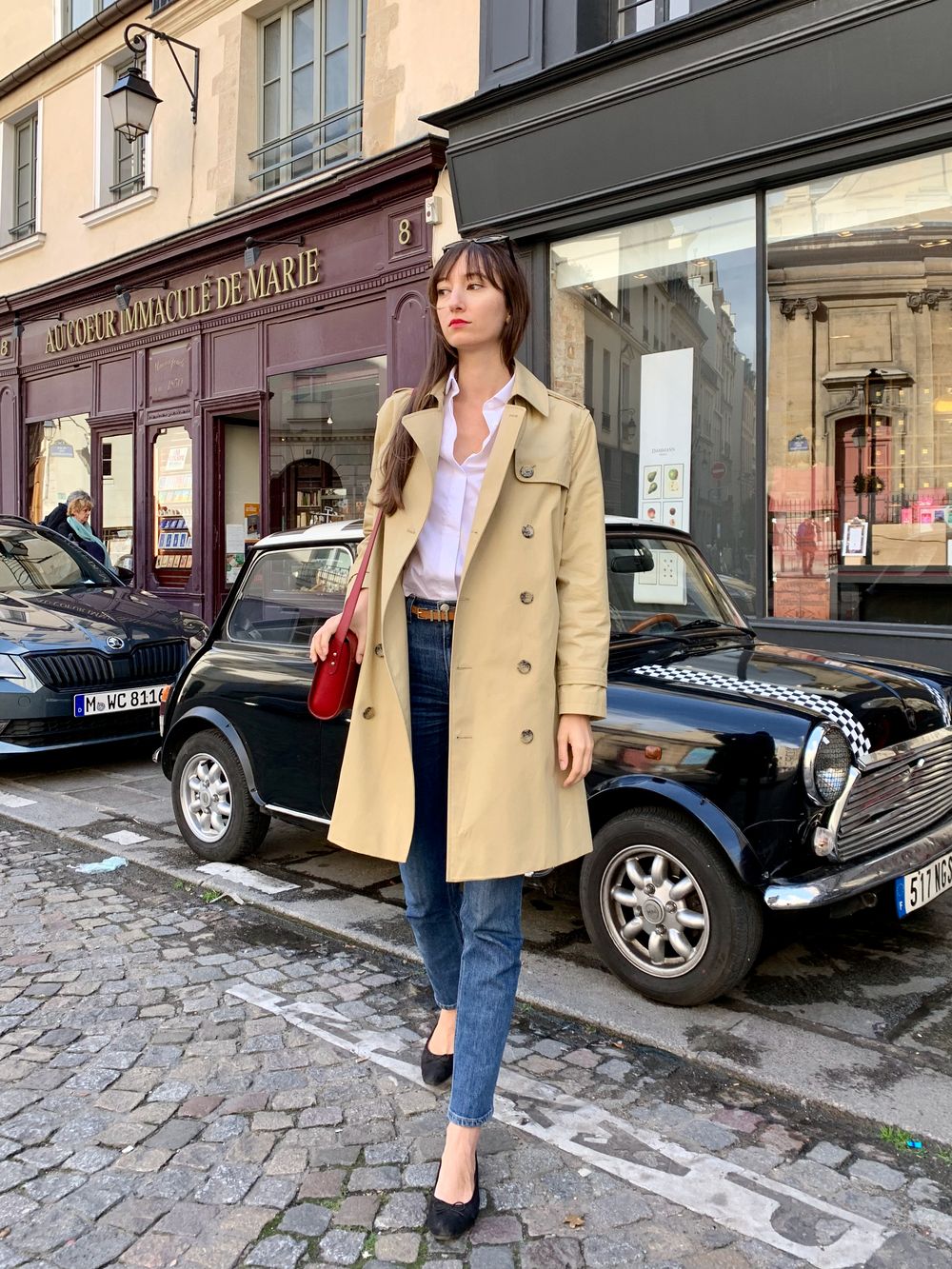 What do you love most about trench coats?