Paris is the fashion capital of the world and France is well-known as a historic home to some of the world's most famous designers. From Coco Chanel to Jean Paul Gaultier, French fashion designers have pioneered trends you likely wear every day – and permanently changed the way people dress.
Although some of the most famous French fashion designers' names began rising to popularity over 100 years ago, their craft forever changed the way the world dressed, and their legacy and artistic style live on today.
French Fashion Designers
These are the top French fashion designers that put France on the map as the world's premier destination for fashion. They're the reason why so many women want to emulate French girl style around the world today.
Gabrielle Coco Chanel
Gabrielle Bonheur Chanel, colloquially known as "Coco" Chanel, was born in 1883 in Saumur, France. Although Chanel grew up in poverty, she established herself as a legacy and her brand today remains one of the most luxurious names in the fashion design world.
Chanel forever changed the way women dress. She single-handedly made pants a popular choice among women, for example. Chanel popularized jersey fabric, a less expensive and more comfortable alternative to other heavier fabrics that were used during her time.
She also transformed the perfume industry, encouraging the mass adoption of fragrances. The signature Chanel No. 5 perfume was marketed as a way for people who could not afford designer garments to be able to own something luxurious by the Chanel brand.
Chanel closed her fashion house during World War II in 1939, later reopening in 1954. Soon after, she designed a handbag with shoulder straps that would become iconic, the 2.55 bag. This black quilted leather handbag is one of the best French investment handbags owned by elegant women around the world.
As her career progressed, Chanel became known for creating the classic French little black dress. She's also well-known for her classic tweed suits, which remain a classic Chanel staple still seen on runways today. Chanel kept designing until her death in 1971.
Christian Dior
Christian Dior was born in 1901 in Granville, France. Although he'd always loved art and hoped to become an architect, his father pushed him to enroll in a university where he studied political science. After graduating, he opened an art gallery but was forced to close it after his brother and mother died, and his father's business began to suffer financially.
Dior began selling fashion sketches to make ends meet and later worked as an assistant for the Swiss fashion designer Robert Piguet in Paris. After serving two years in the military in 1940, he worked alongside Pierre Balmain for designer Lucien Long.
In 1946, Dior finally launched his namesake fashion brand.
Dior became most famous for changing women's fashion with The New Look, an ultra-feminine collection. The silhouettes of these pieces included a tight waist and full skirt that fell below the calf and created an hourglass figure. The New Look became popular during the 1950s.
Dior was known for creating numerous other feminine silhouettes including a more fitted "H-line" dress that had a boxy neckline, the classic "A-line" silhouette that was sleek around the body and gradually got fuller, and a "Y-line" that was fuller around the shoulders and fitted down the body.
Dior died in October 1957 from a heart attack, but his designs remain influential today.
Hubert de Givenchy
Hubert James Taffin de Givenchy was born in Beauvais, France in 1927. At the age of 17, he left his home in Paris to begin a fashion apprenticeship. He worked under designers including Robert Piguet, Lucien Lelong, and Elsa Schiaparelli, where he later served as artistic director.
Givenchy launched his own fashion house in 1952. He introduced the "Bettina blouse," named after model Bettina Graziani. The design included high-buttoned sleeve cuffs and large ruffles that billowed down from the elbows. He was also known for creating the "sack silhouette," a shapeless dress which he debuted in the same year as Cristóbal Balenciaga, another of his friends.
Givenchy was also known for designing many of actress Audrey Hepburn's outfits worn in her films. The duo met in 1953, and she wore several of his looks for the movie Sabrina (1954). Givenchy and Hepburn became close friends, and he often designed pieces for her both on and off-screen over the coming decades. One of Givenchy's most iconic designs includes Hepburn's black gown from the opening scene of Breakfast at Tiffany's (1961).
Givenchy passed away in Paris on March 10, 2018, but his fashion house legacy of elegance, femininity, couture, and ready-to-wear designs lives on.
Jeanne Lanvin
One of the first French fashion designers was Jeanne Lanvin. The oldest of 11 children, Lanvin was born on January 1, 1867.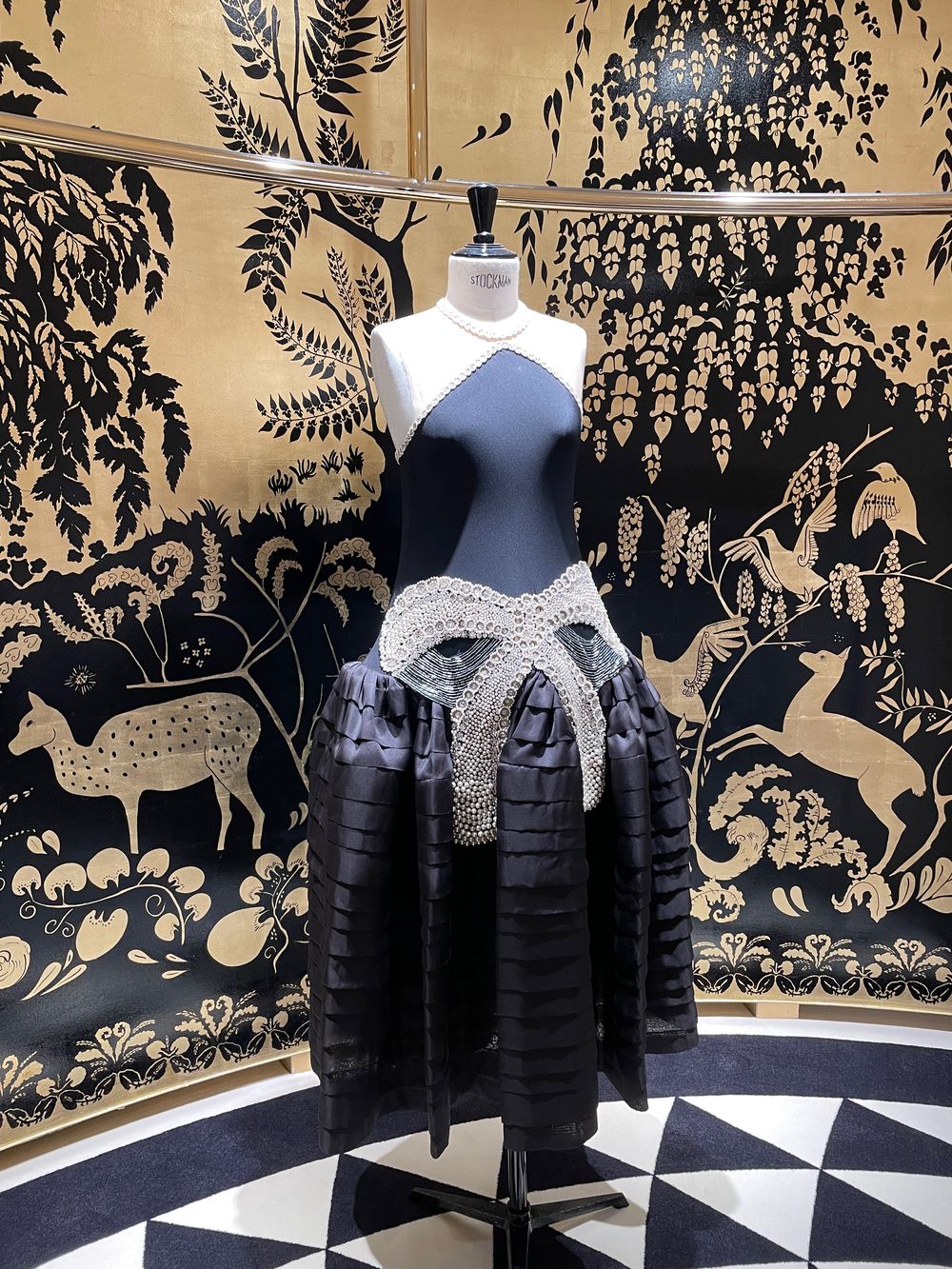 Lanvin began working for a hatmaker at the age of 13, and she began an apprenticeship there a few years later. Fashionable Parisians began wearing her designs, and after the birth of her daughter, Marguerite, in 1897, Lanvin started designing children's clothing. She launched the first children's fashion line in 1908.
Although she began designing hats, her designs expanded over the years to everything from wedding gowns to lingerie to menswear, perfume, and sports attire. She was known for the intricate handiwork in her fashion designs. Many of her designs included embellishments, embroidery, sequins, detailed beading, and trimming.
She died at the age of 79 in July 1946 but the legacy of her elegant, bold and detailed designs has lived on for the decades that followed.
Louis Vuitton
French fashion designer Louis Vuitton began with humble beginnings over 150 years ago. Born in 1821 in Jura, France, Louis Vuitton began his design career when he apprenticed for trunk master Monsieur Maréchal at the age of 16.
He remained there for 17 years before opening his own workshop that developed into the French luxury brand it is today. Vuitton revolutionized locks on luggage. With the help of his son, Georges, Vuitton created a system that used two springs with a single lock to prevent robberies.
Instead of making luggage with leather, Vuitton used canvas which made them not only more durable but also waterproof. Louis Vuitton trunks first appeared with the infamous interlocking LV monogram pattern in 1896, as the founder's son Georges, began the branding design.
Vuitton died in February 1892 but his brand grew exponentially over the next century, expanding into handbags and becoming well-known for luxury clothing today.
Today, Louis Vuitton bags and luggage are one of the most recognizable designs in the world.
Pierre Balmain
Pierre Alexandre Claudius Balmain was born May 18, 1914 in Saint-Jean-de-Maurienne, France. Like Dior and Givenchy, Balmain worked at the house of Lucien Lelong.
Balmain founded his namesake fashion house in 1945, establishing a lasting legacy of elegance. He was known for refined designs with a silhouette that had tight, fitted waists and long, full skirts.
European royalty including the Duchess of Windsor and the Queen of Belgium wore his designs, elevating his name as one of the highest luxuries. Actresses including Katharine Hepburn, Bridget Bardot, and Sophia Loren all also wore his designs, further popularizing the Balmain name.
Balmain died in Paris in 1982, but the brand's name lives on in its legacy of elegant, embroidered, and edgy designs.
Thierry Hermès
Thierry Hermès was born in 1801 in Krefeld, Germany but his fashion house was founded in France. The Hermès namesake is regarded as one of the biggest French fashion designers today.
Hermès founded his workshop in Paris in 1837 as a horse harness-maker. Hermès designs were popular because they were lightweight and simple. The designer died in January 1878, but over the coming decades, the Hermès family name would become synonymous with luxury.
Hermès' son, Charles took over the design house in 1880, continuing to make harnesses and saddles. In the coming century, Émile Hermès expanded the business into handbags. Émile then moved the business into men's ready-to-wear in 1925, followed by jewelry, watches, silk scarves, and ties in the coming years. Over the following decades, the brand expanded into all different categories of fashion design, including women's fashion in the 1960s.
The Hermès Kelly bag was designed for American actress Grace Kelly and quickly became a sensation around the world.
The Hermès Birkin bag created in 1984 under Jean-Louis Dumas for British actress and model Jane Birkin is also one of the most coveted luxury handbags in the world, and the hardest to come by.
Yves Saint Laurent
Born in Algeria in 1936 to French parents, Yves Saint Laurent moved to Paris in his late teens after winning a sketch contest, despite having no training. He enrolled at the prestigious Chambre Syndicale de la Haute Couture, a Parisian fashion school.
Once in France, Saint Laurent met Christian Dior through a Vogue editor and began working as an apprentice at the Dior fashion house at the age of 19. Following Dior's death in 1957, Saint Laurent took over as the chief designer at the young age of 21.
Saint Laurent was forced to step away from his role as the creative director in 1960 as he was obliged to join the military during France's Algerian War. Due to a nervous breakdown a few months into his service, he was hospitalized, but the House of Dior refused to return him to his post as chief designer. Saint Laurent sued the brand and won.
He also secured funds from American businessman J. Mack Robinson, and in 1962, Saint Laurent launched his first collection under his own name.
Saint Laurent designed several iconic French fashion pieces. He became known for his safari jackets, popularizing the sleek black Le Smoking tuxedo for women, and designing clothing inspired by artists including Piet Mondrian, Vincent Van Gough, and his friend Andy Warhol. He also brought pussy-bow shirts back into style in the 70s.
Saint Laurent was a pioneer for diversity in the fashion industry and was known for pushing boundaries with his designs. Saint Laurent died in June 2008, but his name remains one of the most popular in the fashion world today.
Pierre Cardin
Born in Italy in 1922, Pierre Cardin moved to France at the age of 2. In his early 20s, he moved to Paris, where he worked for designers including Jeanne Paquin and Elsa Schiaparelli. In 1946, he began working as a tailor for Christian Dior, who had just opened his fashion house.
In 1950, Cardin opened his own namesake fashion house and created masks and costumes for theater productions. Cardin is well known for his "bubble dress," which has a full skirt at the bottom as it's folded under itself. Cardin expanded his designs into ready-to-wear, and in 1960 launched his first men's collection.
Actress Lauren Bacall wore one of Cardin's most famous dresses, a pink shift dress with 3-D printed shapes on the bottom.
Cardin died in December 2020 but is remembered for his use of bold geometric shapes and avant-garde designs.
Jean Paul Gaultier
Born April 24, 1952, in Arcueil, France, Jean Paul Gaultier is known as one of the most famous French fashion designers of the late 20th and early 21st centuries. He began drawing at a young age and created fashion design collections for his mother and grandmother by the age of 13. At age 16, he began working as an apprentice for Pierre Cardin.
In 1976, Gaultier debuted his own fashion collection. He established himself as a legacy in the world of design, and from 2003 to 2011, served as the designer of Hermès.
Gaultier is known for reframing how people viewed corsets and waist cinchers, taking them from an uncomfortable garment meant to make women smaller, to a symbol of female empowerment.
Gaultier is also known for his androgynous designs, creating pieces that were gender-fluid. Although he announced his official retirement from couture in January 2020, he's continued designing clothing since.
---
French fashion designers have served as pioneers in the world of style, forever changing the way people dress. Through creativity and an artistic eye, designers over the centuries have used innovation and art as inspiration to improve practicality and bring people joy and access to trends loved across the globe. Even decades after their deaths, the lasting impact of these designers can be seen everywhere from the streets of Paris and beyond.