One of the most common questions I get from readers is: What are the best French fashion and clothing brands that Parisian women love?
Everybody knows about iconic French fashion designers like Chanel, Dior, and Louis Vuitton, but what are the contemporary French clothing brands to know about in France? What are the designers that real Parisians are wearing now?
I will share with you the best small to medium-sized French fashion brands to know about if you love French style. From brand new to already established, there are so many cool ready-to-wear brands based in France to discover.
I've been living in Paris for several years so I've gotten to know the French fashion scene pretty closely. I'll share my favorite contemporary French fashion designers with you here today.
ps. You can follow me on Instagram @victoriaptrsn for more French fashion.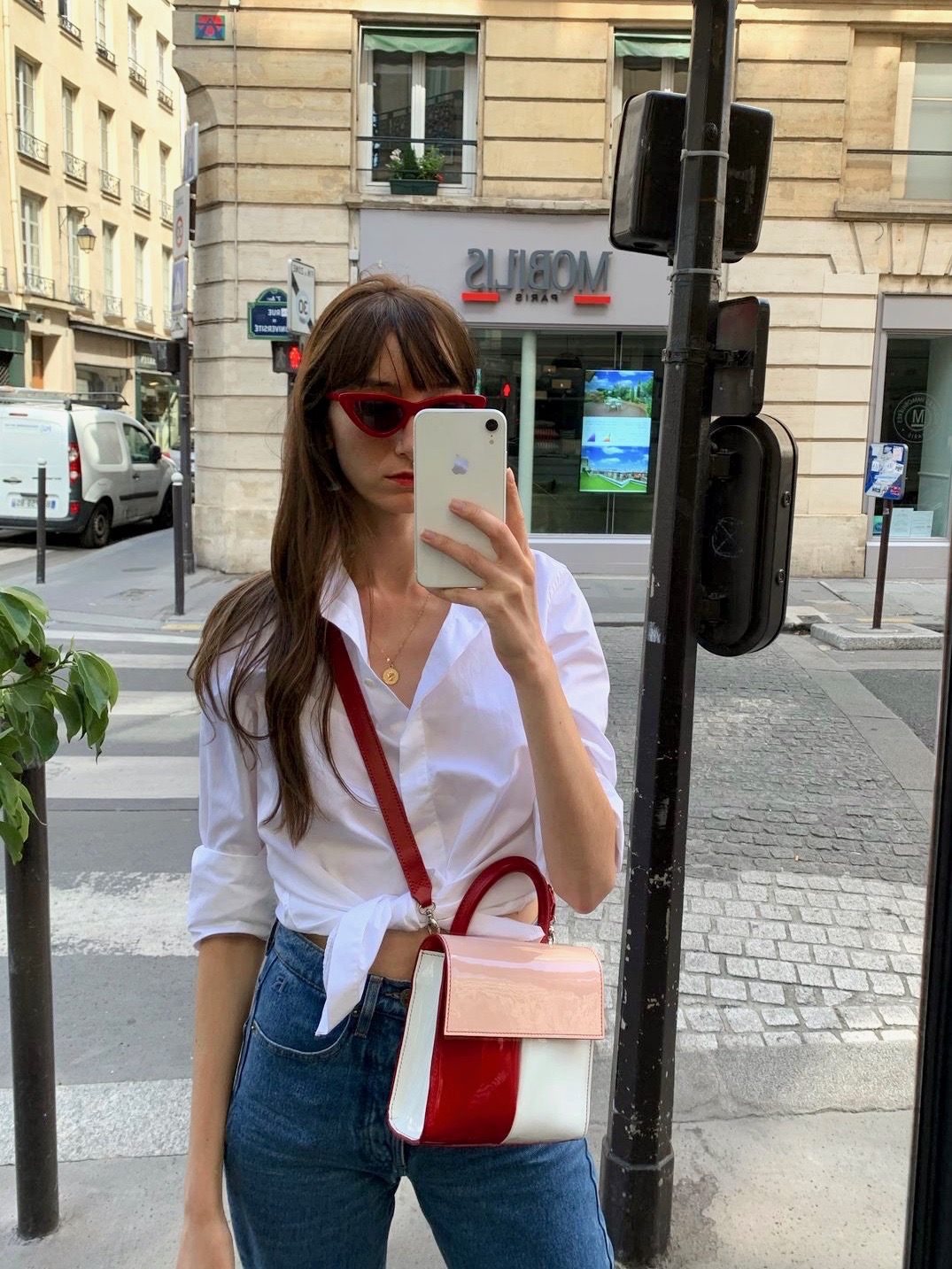 The Tried-and-True French Fashion Brands
These French clothing brands have stood the test of time when it comes to being in style. At the same time, they're young enough to still feel fresh and chic. It's hard to create a brand that evolves with the times and still remains relevant despite changing generations of customers. These brands have managed to succeed at this difficult task.
agnès b. – agnès b. is a former fashion editor from Versailles who realized she liked designing far more than writing. In 1973 she launched her own label in Paris, and just two years later she opened her first boutique on Rue du Jour not far from Les Halles in central Paris. agnès b. is an avid supporter of the young arts and her most iconic piece is the Snap Cardigan, which I was lucky enough to photograph for its 40-year anniversary last year.
Figaret – Figaret is a high-end French tailored shirt brand founded by Frenchman Alain Figaret in 1968. One of the few brands that has retained independent control over design, sourcing, and production, this French brand is one of my favorites for buying well-made button-up shirts.
A.P.C. – A.P.C. stands for Atelier de Production et de Création. The brand was founded in 1987 by Jean Touitou and quickly became known for its raw denim jeans and minimalist style. The minimalist and practical design appealed to a French customer base, who were tired of the extravagance of haute couture and luxury brands. Today it's known as the French brand which French people actually wear. I have the Ella bag in two colors.
Nathalie Dumeix – One of the most Parisian women I know, Nathalie Dumeix is a French fashion designer who has rejected the mass production philosophy that so many brands have succumbed to. Instead, she makes limited quantities of her clothing each season. I know firsthand, I've had to wait months before being able to purchase several of her pants that I've had my eye on! But the wait is well worth it, as her clothing is handmade by an atelier in Paris. It's not often you can buy from a chic, made in Paris brand like hers.
The French Classics
For classic French style, here are three French clothing brands that are great for basics and sportswear.
Petit Bateau – I had always thought of Petit Bateau as being a kids' store. That was until the day I read that Camille Rowe buys all her underwear there! I realized that yes, Petit Bateau actually has a womenswear line and it's great for basics like t-shirts (and undies).
Saint James – Saint James is the go-to French brand for the classic marinière – the striped blue and white long-sleeve shirt that became emblematic of French style over the years. Saint James is one of the oldest French brands on this list, having been founded in Bretagne in 1889 for French sailors. Read more about the history of la marinière.
Lacoste – Strongly associated with tennis since its founding by a French tennis player in 1933, the French sportswear brand Lacoste has steadily evolved into a contemporary clothing brand for casual-chic ready-to-wear.
Rodier – This French knitwear brand was founded in 1852, making it one of the older brands on our list! I think they're one of the few older French fashion brands that have succeeded in making vintage style cool for contemporary dressing. Rodier has retained its chic 60s vibe while creating modern pieces that any French girl would love to wear!
Éric Bompard – This luxury French cashmere brand was launched in 1984 and remains the most popular choice for high-quality winter knits in France. Eric Bompard makes beautiful sweaters, skirts, scarves, and more.
The Feminine, Boho Brands
These French clothing brands launched more recently with a digital-first approach. They took the feminine, boho-inspired approach to design clothing that a modern French girl wanted.
Sézane – You can't talk about French fashion brands without mentioning the wildly successful Sézane brand, one of the very first digital-only ready-to-wear brands in France. Founder Morgane Sézalory has cultivated a Parisian aesthetic like few others that feels fresh, practical, and exciting at the same time. With stores in London and New York, the brand has become an international sensation and often defines the "French girl" look internationally.
Petite Mendigote – With feminine dresses and vintage prints, Sybille Roger-Vasselin dreamed up the feminine French clothing brand Petite Mendigote, meaning "little beggar" in old French, a nod to the capital city's Bohemian past. Affordability was at the forefront of this brand's ethos and today it's one of my favorite places to shop for feminine dresses.
Balzac – Balzac, named after the famous French writer, takes classic French silhouettes and adds a touch of femininity to their designs. Sustainability is at the forefront of their production and they are transparent about the ethical workshops that create their products.
Mes Demoiselles – For intricate patterns and fun prints, look no further than the bohemian chic designs from Mes Demoiselles, a Parisian fashion label with a distinct boho flair.
The Mid-Range Brands
These French clothing brands are mid-range in price, and often have several locations you can shop from.
Gérard Darel – Probably my favorite of the French fashion chain brands, Gérard Darel offers high-quality, flattering clothing and accessories for the modern French woman. I love that Gérard Darel doesn't really follow trends, but prefers to put their own touch on classic designs. Shop them in the US at Bloomingdale's.
Sandro – I love Sandro and own several of their ribbed long-sleeve shirts which are great for layering in the winter. They tend to take classic French designs and put small embellishments on them to give the piece a fresh look – something I'm not a huge fan of but it works well for them. I love shopping at their stock store for heavy discounts on previous seasons located at 26 Rue de Sévigné in Paris!
Maje – Maje is the most feminine of the Groupe SMCP which encompasses the above and below brands. Maje puts a feminine touch on classic French pieces. I have bought a few blazers which I really love from them.
Claudie Pierlot – Claudie Pierlot is one of the more preppy French brands. Using lots of red, blue, and other bright colors, they tend to have a girly, collegiate twist on their designs. Sometimes they use textured fabrics like tweed and create jumpsuits reminiscent of Chanel designs.
Comptoir des Cotonniers – Great for clean cuts and simple basics, Comptoir des Cotonniers is a French brand with many locations all over France. I bought a beige linen blazer from here which has become a staple in my closet.
The Kooples – The Kooples is a clothing brand for the rocker chic French girl. With silver studs on their leather jackets and flowing dresses made to be paired with leather boots, this edgy French brand is for badasses only. It's no surprise that the brand did a successful collaboration with American provocateur Emily Ratajkowski in 2017.
Zadig & Voltaire – Also great for edge rocker style, Zadig & Voltaire is a brand founded in France in 1997 by Thierry Gillier. In 2019, the brand launched a collaboration of 70s inspired handbags with English model Kate Moss, known for her English rock band boyfriends.
ba&sh – ba&sh is a French brand born in the 2000s by two best friends in France who wanted to bring their dream wardrobe to life. The brand became known for its effortless elegance and is now found in over 400 stores around the world.
Sessùn – Founded by an anthropology student from Montpellier, Sessùn was born after becoming inspired by the weaving, embroidery, and sewing techniques discovered during a trip to South America. You can certainly see the South American influence in Sessùn's designs from the woven patterns to the saturated colors.
Soeur – Meaning 'sister' in French, Soeur is a young French brand founded by two sisters with a classic French style. I really love Soeur designs but I'm always a little disappointed that their pieces are mostly made of synthetic materials, even if the cuts are so beautiful and flattering.
Kitsuné – This French fashion label has music at the heart of its ethos. More than just a fashion brand, Kitsuné has become a lifestyle encompassing the worlds of music, clothing, and lifestyle. Founded by Gildas Loaëc in 2002, I even had the pleasure of attending several of the brand's New York concerts when I was in college at Parsons. You can always spot a Kitsuné piece by its little fox logo!
IRO – One of the more edgy luxury French brands, IRO has a cool, rocker chic vibe and was unsurprisingly founded by two French musicians. "May the Rock live in each and every one of you" as the founders say!
Bel Air – I discovered the Parisian brand Bel Air, founded in the 80s, while walking through the Marais several years ago and I ended up buying a navy blue velvet off-the-shoulder long sleeve top from the brand to wear on a date I had that evening. Ever since then, I always made a point to see the brand's latest creations!
Pablo – Pablo is the little, more affordable sister brand of Gérard Darel. With younger, fun pieces, Pablo is great for the French girl-next-door look. They recently did a collaboration with French model Camille Rowe.
Marie Sixtine – Known for affordable knitwear and cardigans, Marie Sixtine has succeeded in creating a little French world with several boutiques in Paris. The brand is a reliable choice for affordable French basics.
Officine Générale – Perfect for elevated basics, Officine Générale is a French men's and women's clothing brand founded by Pierre Mahéo. The brand is sold at Farfetch and Net-a-Porter.
The Independent Female Fashion Designers
These French fashion brands were founded by women with a vision. Most of these French clothing brands were founded in the fashion capital of Paris.
Vanessa Bruno – A Parisian bohemian designer, Vanessa Bruno launched her eponymous brand in the 90s when she wanted to bring a casual chic look to the rigid Parisian wardrobe. She is known for her plaid blazers, long boho dresses, and smart leather bags.
Valentine Gauthier – Valentine Gauthier is a small, independent French designer who aims to create a "slow luxury" wardrobe. From working directly with factories to indicating the origins of the materials used in her clothing, Gauthier is all about slow fashion and transparency.
Marie Marot – For a fresh take on the classic button-up shirt, head to Marie Marot, who has succeeded in turning this wardrobe staple into a sexy must-have.
Vanessa Seward – Vanessa Seward is an Argentinian designer who moved to Paris at the age of 12. She later studied at the famous French fashion design school Studio Berçot and worked on the design for Chanel and Yves Saint Laurent in her early career. She began working closely with Jean Touitou of A.P.C., producing several collaborations for the brand before launching her own line in 2014. Seward's pieces are reminiscent of the 1970s and she currently designs for La Redoute.
Stella Pardo – Stella Pardo is a knitwear brand creating pieces designed in Paris and knitted by hand in their Peruvian workshops. The brand is committed to ethical production and using natural and local materials in its knits. Cinthya Guerrero, the founder, is from Peru but grew up in France.
The French Influencer Brands
These fashion brands were launched by popular French influencers who decided to create their own designs, inspired by the looks they are known for.
Rouje – Founded by Parisian influencer Jeanne Damas, Rouje is the epitome of the vintage-loving, casual-chic French girl. I own several of the brand's dresses, each of which I cherish dearly. The Gabin dress is Rouje's iconic best-seller.
Musier – Known for her minimalist 90s girl style, Anne Laure Mais Moreau launched Musier, a brand inspired by edgy French minimalism.
Loulou Studio – Loulou was founded by Parisian fashion influencer and consultant Chloé Harrouche. The essence of the brand centers around cozy knitwear and relaxed garments. As a testament to its success, the brand is sold by many e-commerce retailers like Nordstrom and Net-a-Porter.
The New-Comers
From sustainability to affordability, each of these French fashion brands was launched in the last decade with a specific goal to differentiate themselves. Some of my favorite French clothing brands are in this section! They have such a fresh approach to clothing design.
Mirae – A lesser-known but super cool brand is Mirae, founded by two cool French girls with a passion for vintage design that's a bit more sexy and relevant to today's modern woman. I was lucky enough to shoot the Victoria dress – one of my favorite going-out dresses for this brand as well as visit their inspiring studio in Paris. Mirae's use of polka dots and colorful floral prints always draws my eyes in!
Kujten – Kujten is a contemporary French cashmere brand founded by two friends Carole Benaroya and Stéphanie Eriksson in 2012. The pair were both big fans of cashmere and chose Mongolia to source this cozy fabric. With stores all over France, the brand has been a hit with the French!
Fête Impériale – Inspired by art and nature, the French brand Fête Impériale creates the most dreamy articles of clothing. Each piece feels like you're wearing artwork! I have the Alice shirt, which was inspired by Matisse's famous blue nudes.
Maison Cléo – The mother-daughter team at Maison Cléo has quickly become a cult brand in France since its launch in 2015. Dropping new items in limited production only once a week, their pieces are known to sell out almost instantly. While freely sharing their costs (see this post) and only using deadstock fabric to make their clothing, Maison Cléo is bringing radical transparency and sustainability to the mainstream. This brand is 100% made in France.
Rosaé – Rosaé calls themselves the Parisian "quiet luxury" brand. Their aesthetic certainly shows it with luxurious fabrics, clean-cut clothing, and perfectly casual chic outfits.
Marcia – Another cult Made in France brand, Marcia makes all of their clothing out of Econyl, a recycled Nylon made entirely from ocean and landfill waste. From polka dots to side slits, this brand makes unforgettable pieces with a sexy French twist.
Soi – Soi is a silk clothing brand I discovered in my neighborhood Le Marais. I was immediately drawn to their colorful branding and creative prints! Soi produced a dress that was made from a fabric print of tiny red bottles of wine which created the most abstract look from far away. It was only up close that I discovered the little bottles of wine!
Maison Standards – Maison Standards is a very cool minimalist French design brand that offers tons of great basics for your wardrobe, all ethically made and produced. They operate on a model of transparency, reasonable consumption, and fair pricing.
Holiday Boileau – Named after the American travel magazine Holiday which ceased publication in 1977, Holiday Boileau is a French ready-to-wear brand that has reimagined the classic wardrobe. This French brand has an understated vintage American vibe to it.
JOUR/NÉ – Jour/né is a play on words with reference to the word "day" in French. Their goal was to create a day-to-day wardrobe that worked from morning to evening. I think their look has a distinctly Mediterranean vibe to it as they use lots of blue wavy patterns, blue and white stripes, and gingham, albeit with more modern, contemporary cuts.
From Future – Affordable cashmere, cotton, and silk are at the heart of this French brand with a colorful store in Saint-Germain-dès-Près.
Tricot Paris – Specialized in recycled knitwear, Tricot produces sustainable sweaters partially made from discarded cashmere.
The Seasonal & Specialty Brands
These French fashion brands design clothing for the modern-day French woman can wear for specific occasions like working out, skiing the slopes, or taking a summer swim.
Ernest Leoty – Ernest Leoty is the French activewear brand to know if you are looking for workout clothing. The brand was founded in 2018 by a former classical ballet dancer who turned to a yoga and saw a need in the market for smart athleisure from France. Shop via Matches.
Eres – Eres is a high-end French swimwear brand, the first to sell swimwear year-round. It was founded in 1968 by Irène Leroux who wanted to modernize the way swimsuits were sold in her family's boutique in Place de la Madeleine. In 1996, Chanel bought Eres. Start with the brand's classic "Les Essentiels Aquarelle" one-piece swimsuit.
Rossignol – Founded in 1907 by Abel Rossignol in the French Alops, Rossignol is the brand you must try if you need ski clothing in Europe. Its signature is two stripes, referencing the two tracks made by skiers as they ski down the slopes. Shop the brand's cozy winter sportswear from Farfetch.
The High-End French Fashion Brands
These high-end French clothing brands are redefining accessible French luxury.
Courrèges – Relaunched in 2011 after hiatus, this iconic 60s French brand has made a successful comeback into style. From vinyl jackets to mod turtlenecks, Courrèges takes us back to the decade that changed fashion forever.
Coperni – This Parisian brand was launched in 2013 by former Courrèges designers Sébastien Meyer and Arnaud Vaillant. Inspired by modernism, the duo has created a collection of modernist French clothing with sharp cuts, zippers, and dramatic diagonals. Their oval Swipe bag has become a street-style favorite.
Patou – Patou is another legacy French brand that has been relaunched. In 2019, LVMH set out to breathe new life into this century-old fashion house responsible for creating one of the best-selling fragrances in France, Joy. Originally founded in 1914 by Jean Patou, described as the most fashionable man in Europe, today Guillaume Henry is at the reigns overseeing Patou's revival.
Christophe Lemaire – Known for his minimalist style, French designer Christophe Lemaire is a fashion label to watch. With a bevy of experience as the former artistic director for Hermès, it will be exciting to see where Lemaire goes.
Jacquemus – Simon Porte Jacquemus is a French designer from the south of France who has exploded in popularity these last few years. Known for his bright colors, minimalist designs, and references to summer in the south of France culture, Jacquemus is the ultimate contemporary French luxury brand to know. As a close friend of Jeanne Damas, he is poised for continued success. His mini bag, Le Chiquito is one of the most iconic pieces, along with the oversized Le Grand Baci woven straw bag.
Marine Serre – The 27-year-old winner of the LVMH Prize for Young Fashion Designers has taken the Parisian fashion world by storm with her contemporary designs. Her self-described "futurewear" collections are often crafted from old fabrics and transformed into modern pieces. This signature moon-print turtleneck is made from 88% recycled polyamide.
Alexandre Vauthier – A French haute couture designer, Alexandre Vauthier studied under Thierry Mugler before launching his own collection in 2009. I love the way he drapes silk to create beautiful tops like this one.
Kenzo – This LVMH-owned fashion brand has come a long way since its founding in 1970 by Kenzo Takada. With streetwear, the core of its aesthetic, expect to see bright colors and mixed patterns in its womenswear.
Inès & Maréchal – Specialized in fur coats, Inès & Maréchal create timeless coats made from luxurious materials that are sure to keep you warm throughout the long Parisian winter.
---
Next up, read about the best French shoe brands and the best French handbag brands!
What are your favorite French clothing brands and labels?