I always recognized the agnès b. brand by its handwritten, cursive logo. The subtle, chic aesthetic of her clothing was, to me, beautifully complemented by this seemingly effortless handwritten logo. It was a perfect fit.
Since the beginning, agnès b. has contributed to the reputation of the Parisienne as a world fashion icon. A young Agnès Troublé launched her brand in 1973, after having worked as a stylist for Elle magazine in the 1960s. The name came from when one of her publications had to be signed. She decided to go by "agnès b." leaving out her full name, and then she made the logo with her handwriting.
The Snap Cardigan
It wasn't until 1979 that she designed a cardigan that would become emblematic of her brand: a solid colored sweatshirt that can be buttoned or unbuttoned as you like.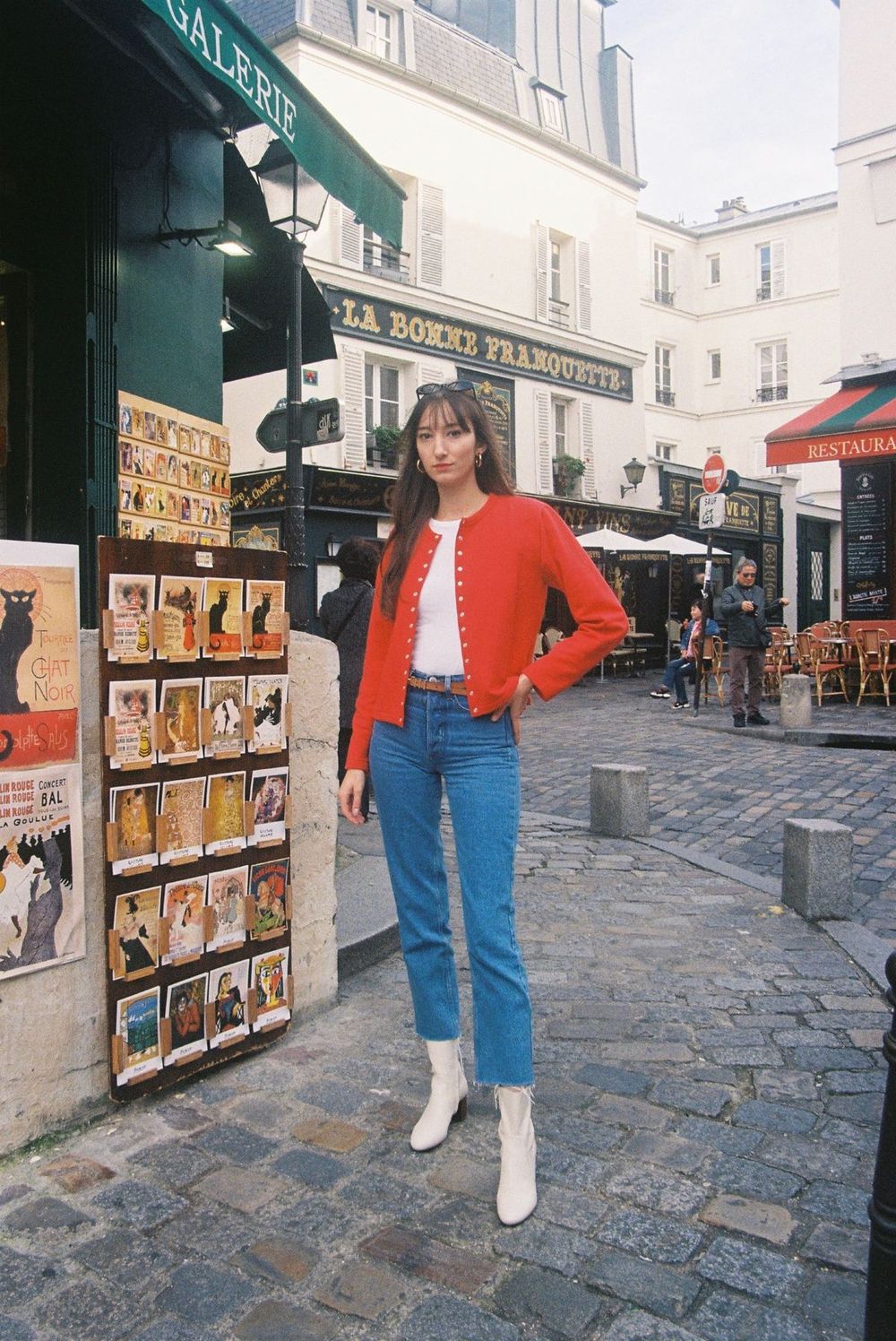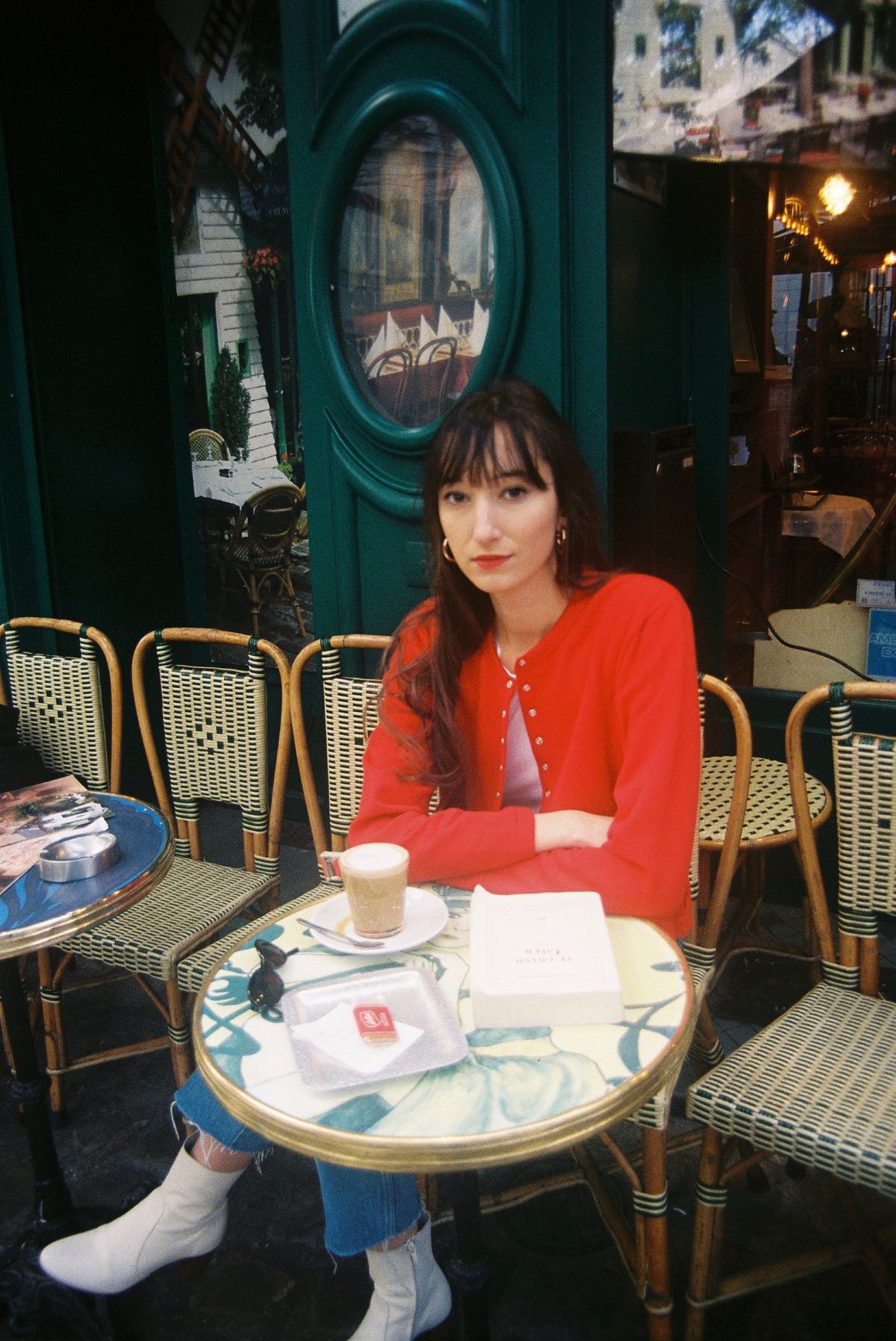 Agnès notes that she wore sweatshirts often and one day she thought to herself it would be good if they could open, remembering the cardigans that she buttoned up while running to school as a child. She imagined a series of snap buttons very close to each other so that they resembled a piece of Renaissance clothing. And that's how the "snap cardigan" came about!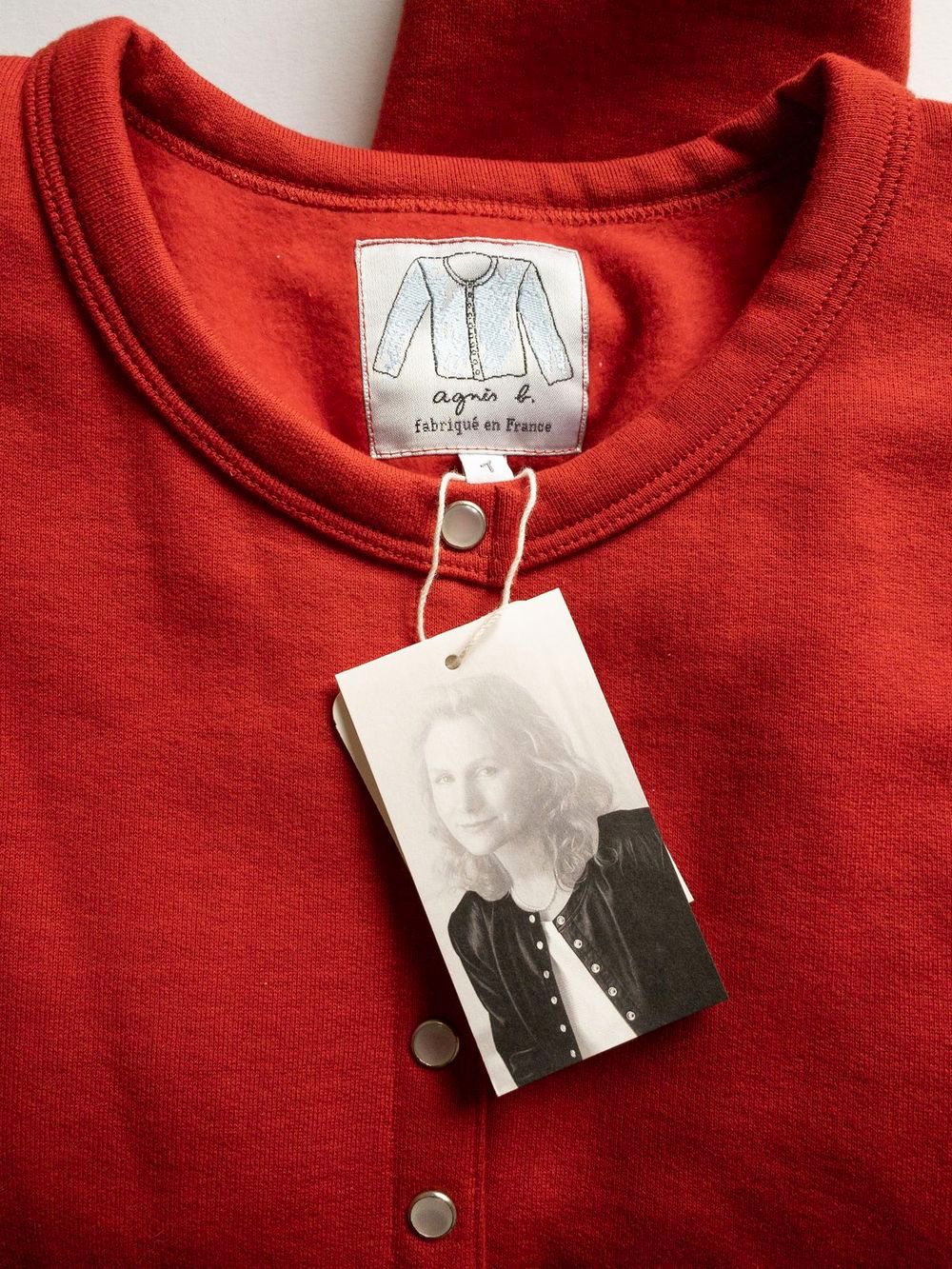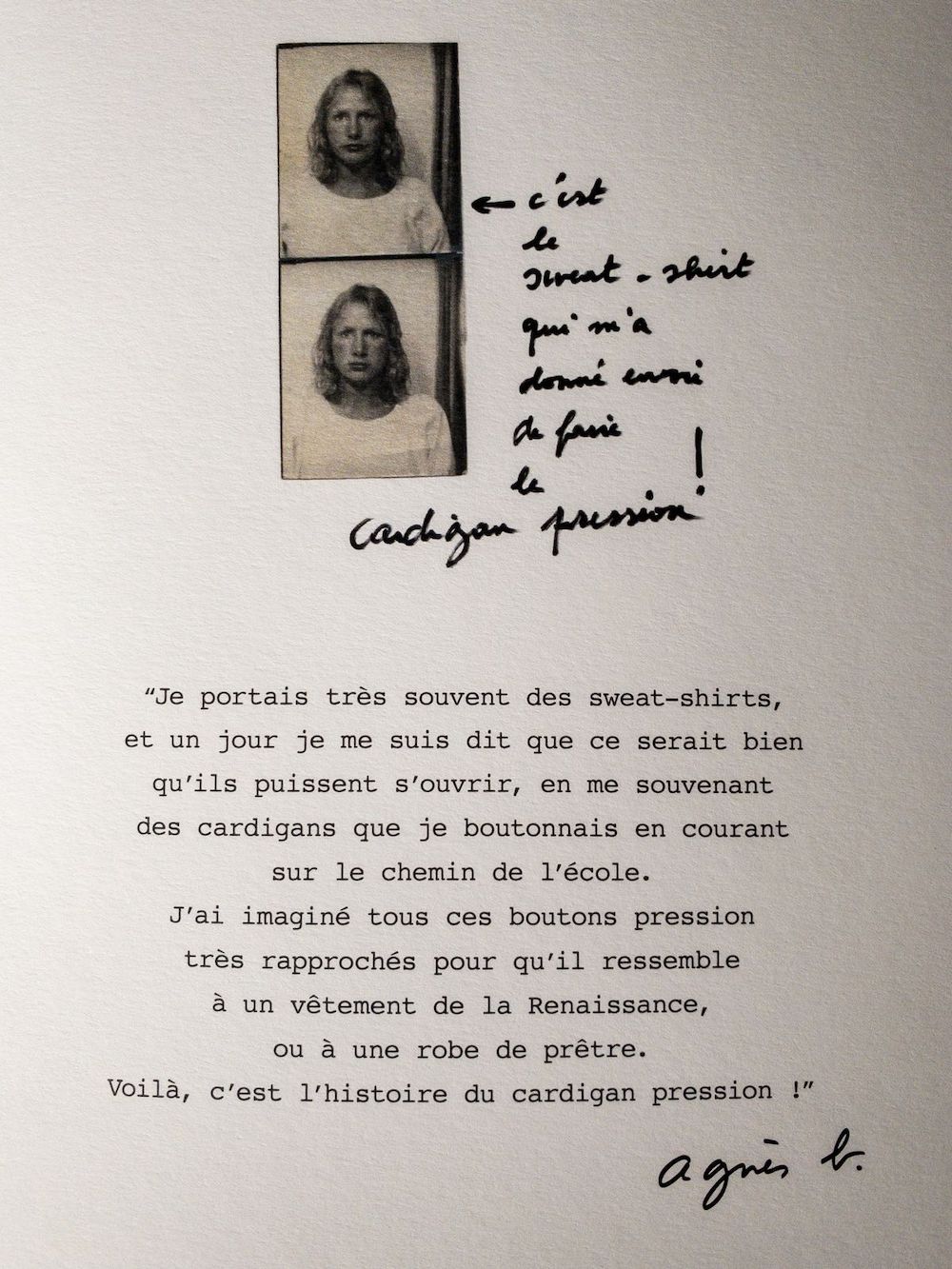 Agnès describes this cardigan as "a piece of children's clothing for big people, or the opposite." With 13 snap buttons, the piece is offered for women, men and yes, children, too! Lined with a smooth fleece and shaped by a straight body and round collar, this classic piece is meant to last a lifetime.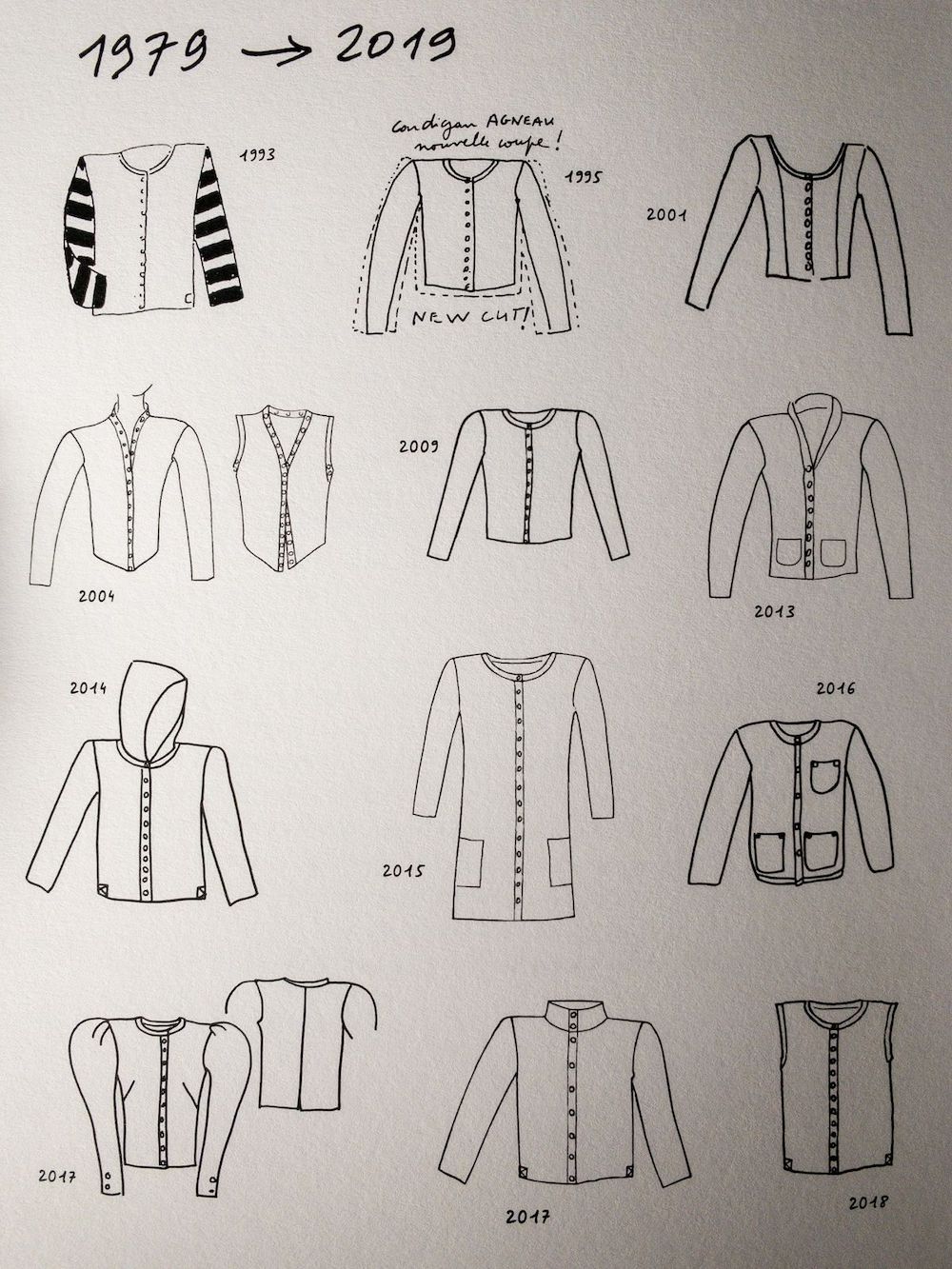 It's now been 40 years since Agnès designed the cardigan, during which it was reinvented and rewritten many times over! Over 40 variations have been created in 148 different colors. From leather, to short sleeves, to a bustier cut, or lightly cinched at the waist, the designs have never stopped evolving.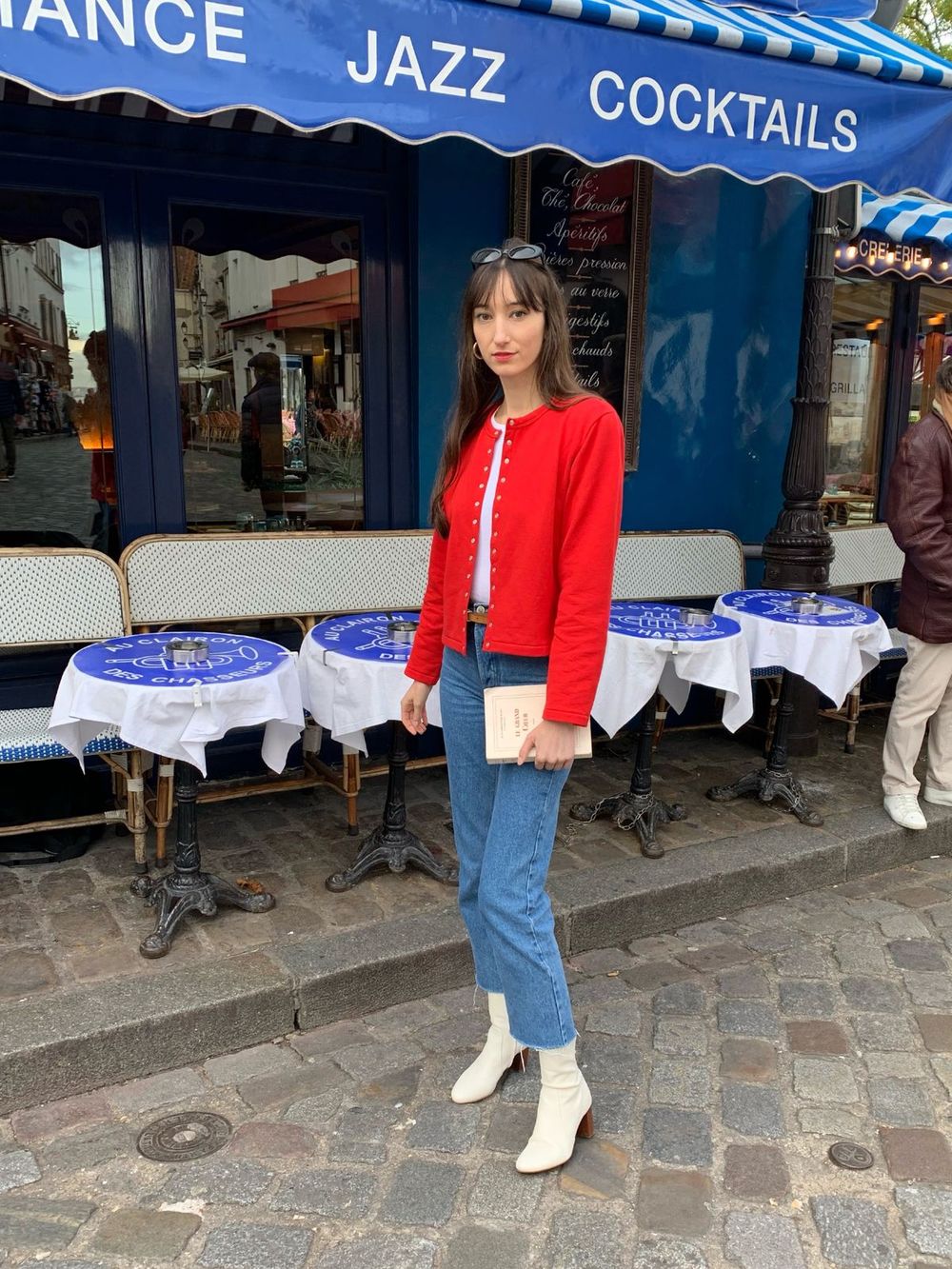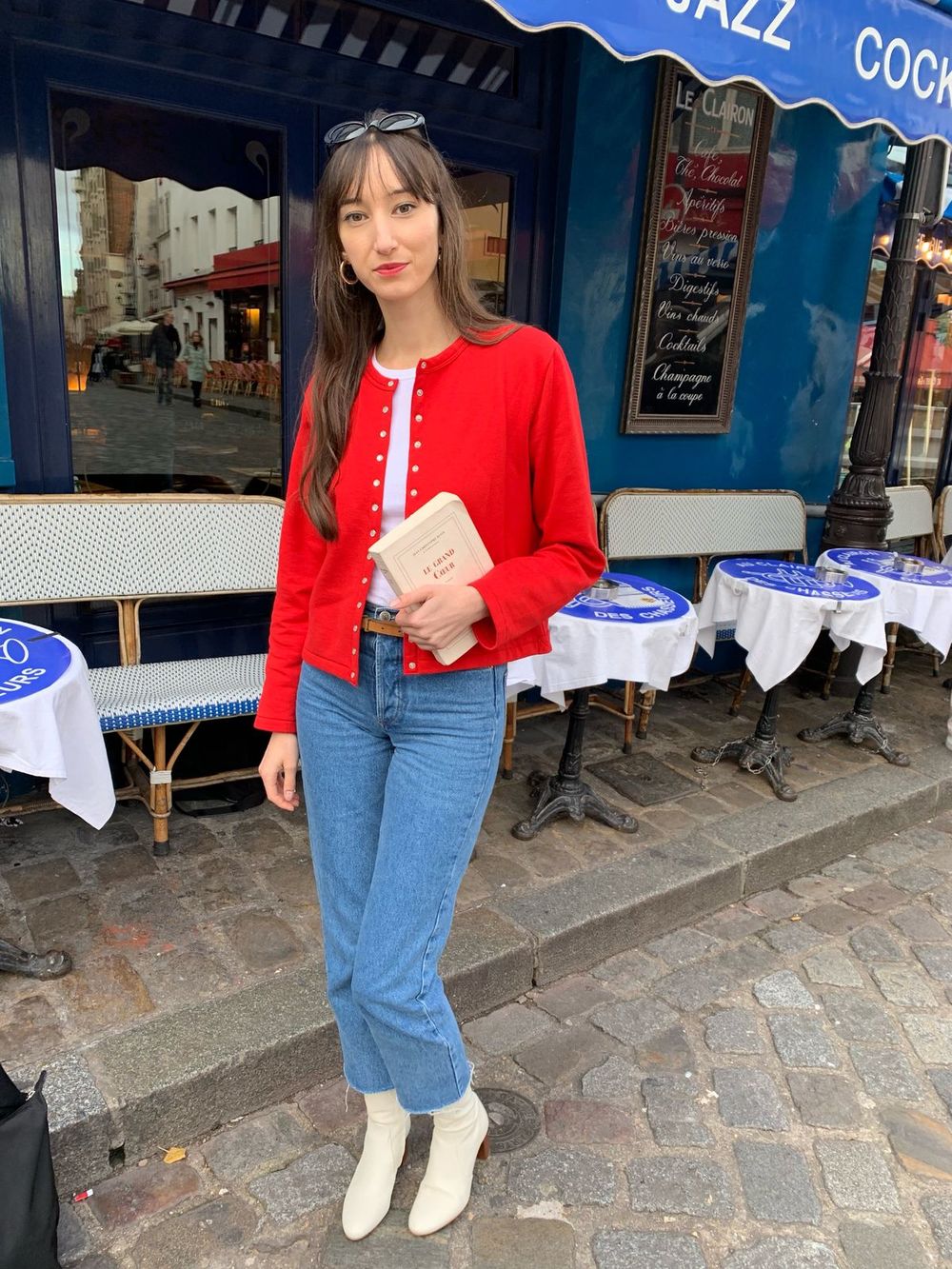 Made in France
What's even more impressive than how this little cardigan made its way into the French woman's wardrobe basics is how it continues to be produced in France. It is manufactured by the very same factory in Troyes, France that originally produced it 40 years ago! Over 2 million snap cardigans have been produced in France and it's clear that agnès b. is committed to supporting the talents of local creators.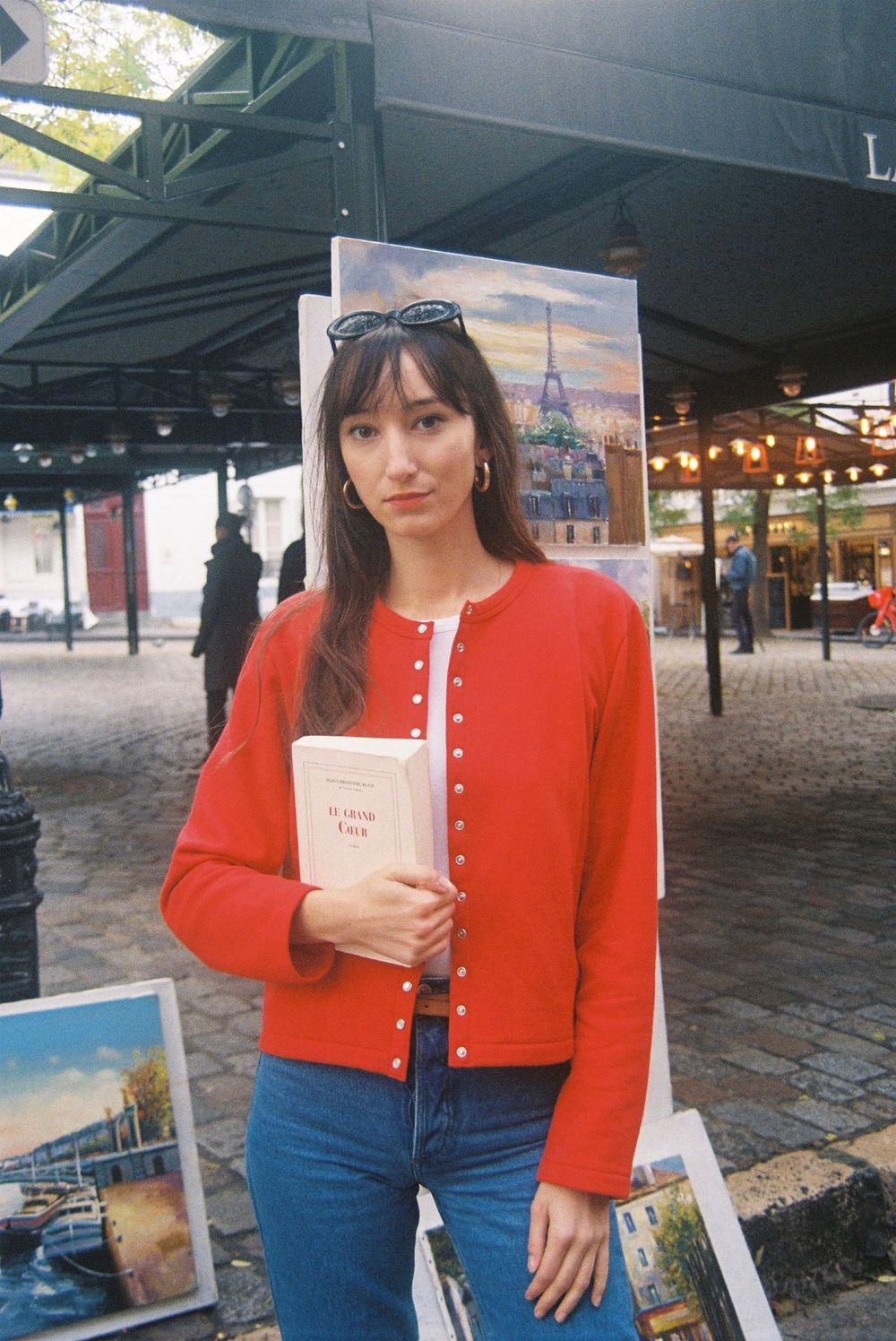 Wearing the Snap Cardigan in Montmartre
I wore the snap cardigan in a bright red color one afternoon in Montmartre, Paris and felt very cozy despite the chilly fall wind. The interior of the cardigan is lined in a soft, fleece which makes it warm to the touch! Its red hue gave a very French feel to my outfit.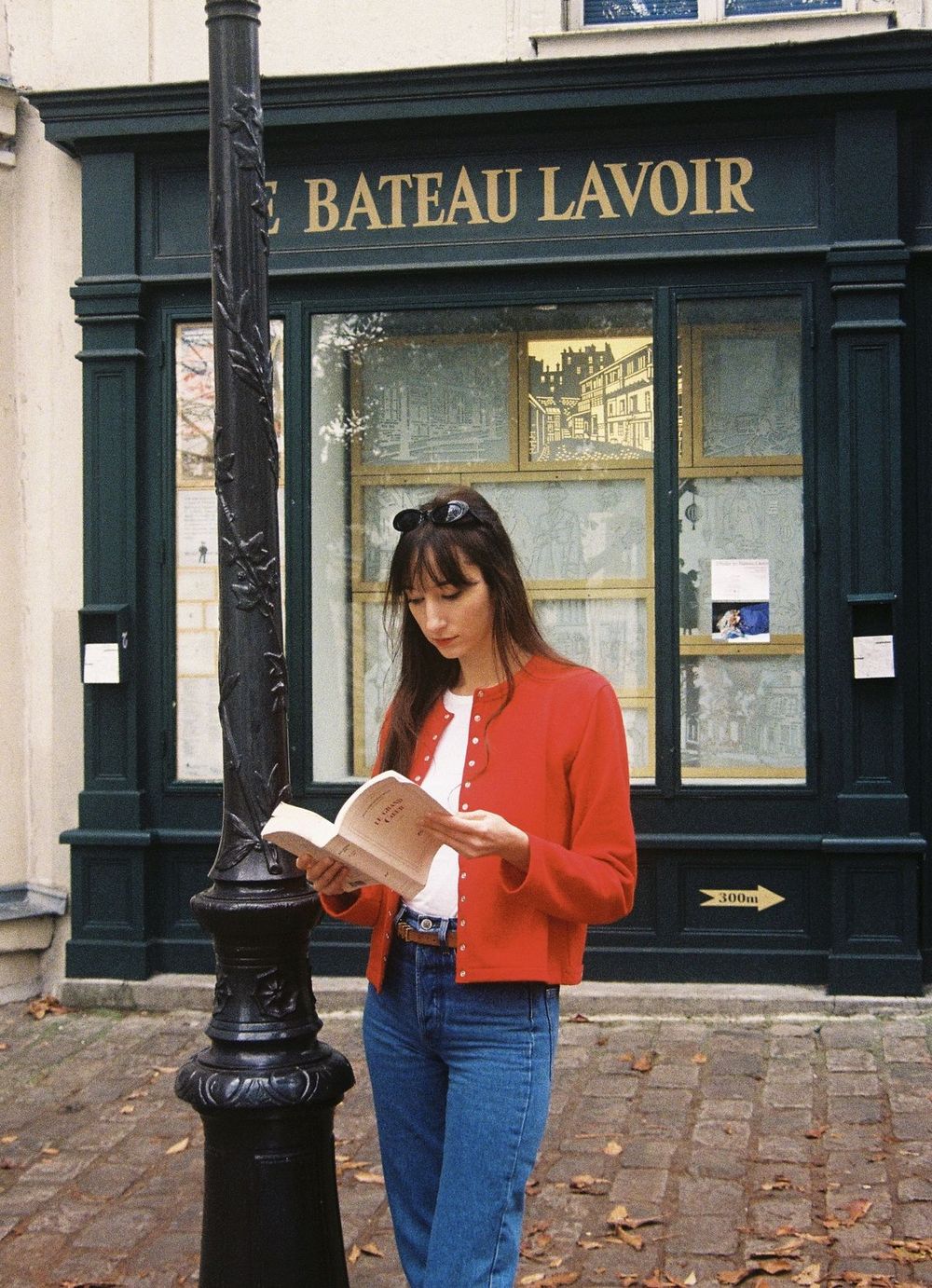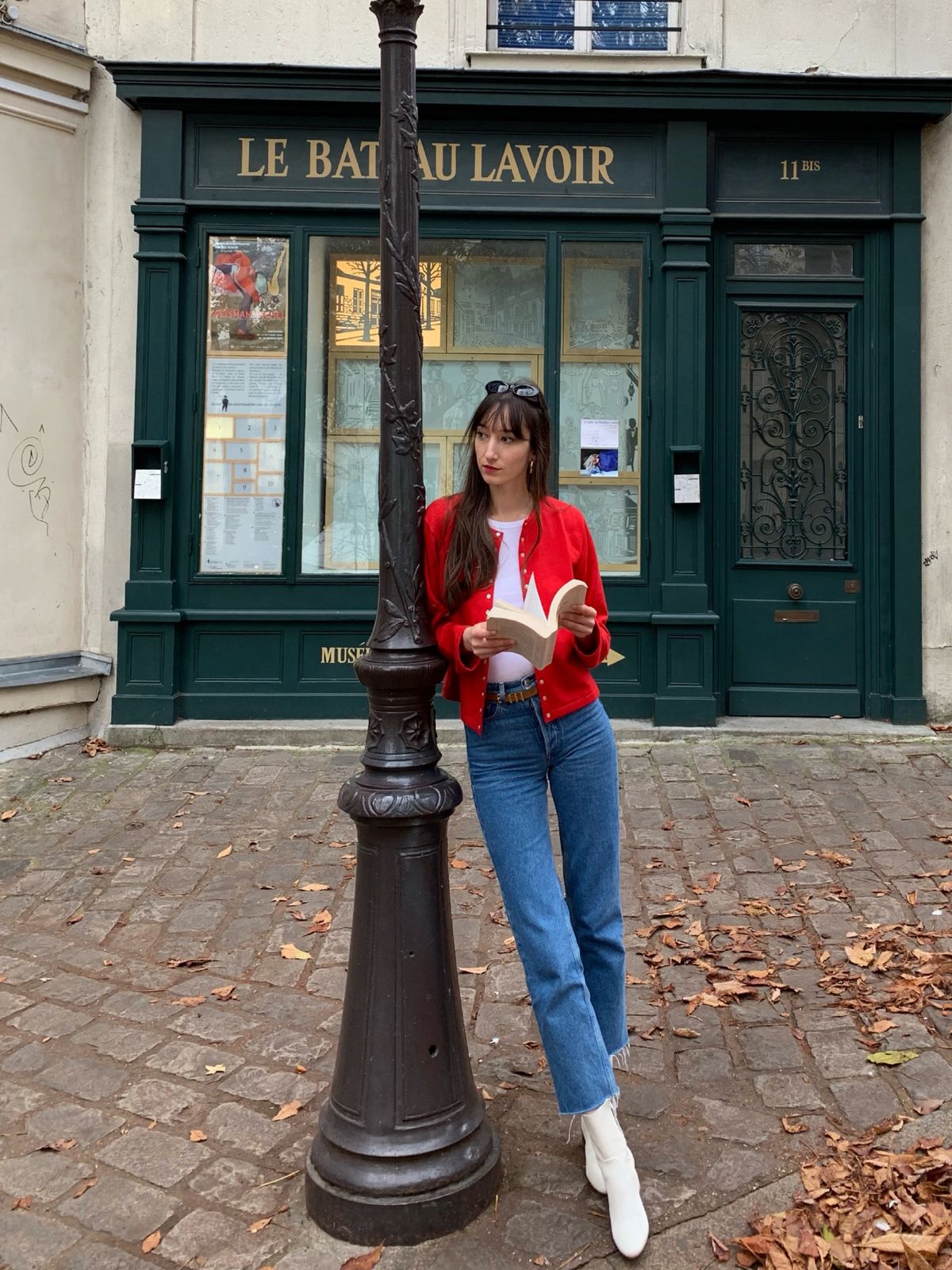 More than Fashion
Of course, if you look closer, agnès b. is so much more than a fashion brand, too, which is why I love to support her. The agnès b. universe is filled with so many mediums of art from film to music to painting. Agnès is a true supporter of the arts and creative minds. You can often find little-known musicians performing at her events or a young photographer creating images inspired by her brand. She loves supporting young artists in different ways – whether through her art gallery Galerie du Jour, or her brand's foundation for the arts, to open soon in the 13th arrondissement of Paris.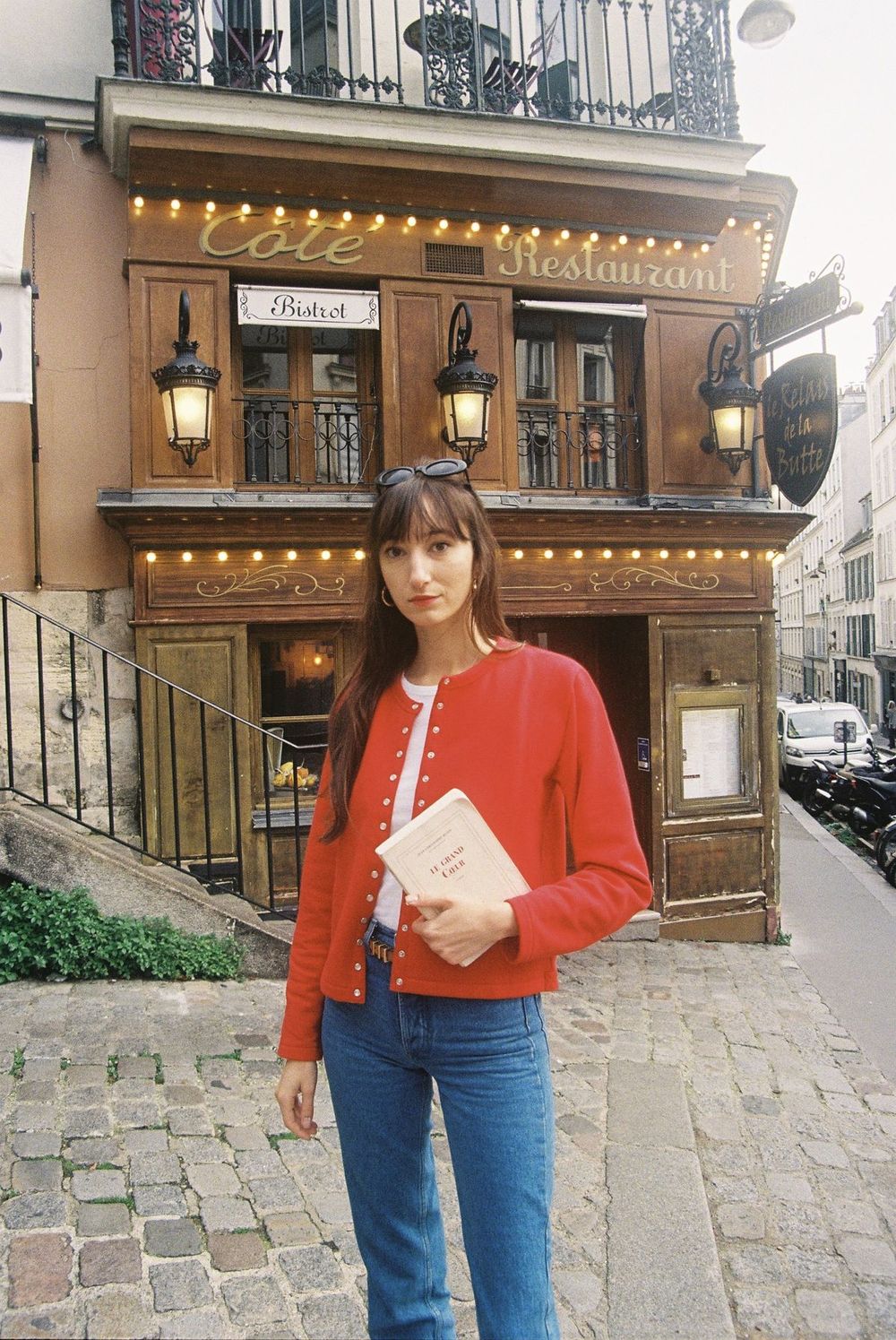 All photos were shot by my friend, Valentine Martin Duchêne.