French girls love their blazers. In fact, they basically consider them a wardrobe staple! Whether it is a corduroy blazer, a plaid blazer or a well-tailored black blazer, you can't walk down the streets of Paris without seeing at least one French girl wearing one.
French Blazers
Here are five essential blazers in the French girl's closet. Each of these are great for French girl fall style.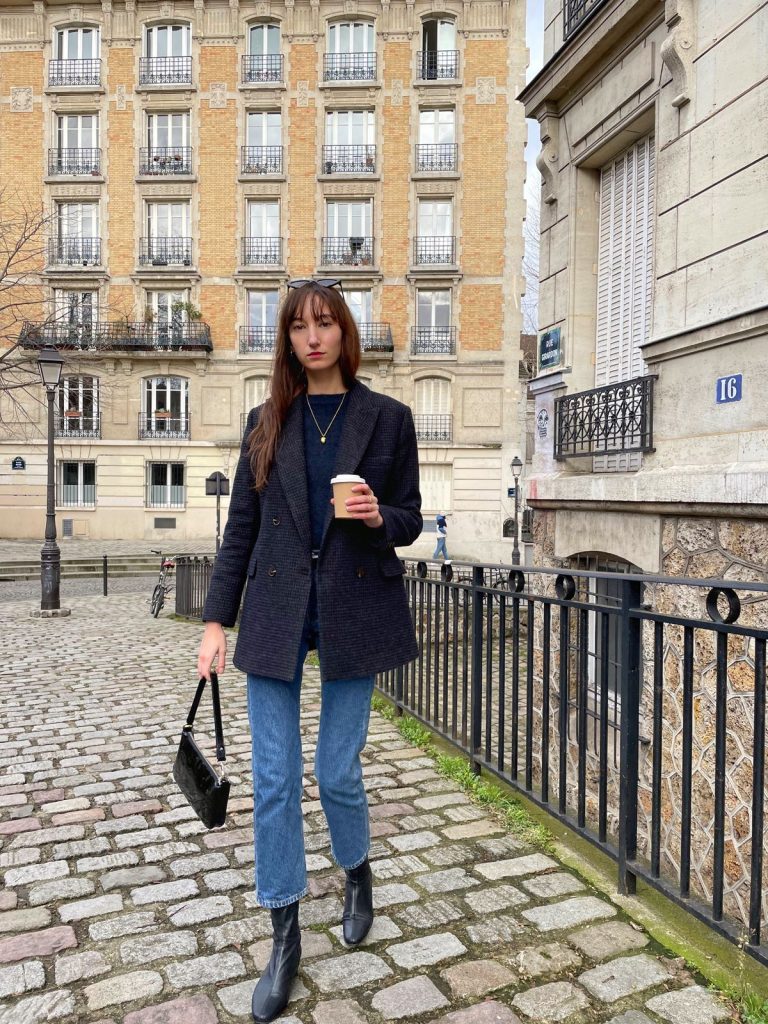 The Plaid Wool Blazer
The plaid blazer is the most common type of blazer you'll see French girls wearing. It's often made of brown or navy tones. This is the first type of blazer I would seek out as you build your French wardrobe.
The Corduroy Blazer
The corduroy is another French fall staple. This type of blazer is often bought in brown or dark orange to bring out those fall vibes. This is a classic French girl fall blazer!
The Light Beige Wool Blazer
A neutral-colored wool blazer is great for those early spring days when it's too chilly for a lighter jacket but too cold to leave home without some sort of outerwear.
I have a Rouje Jacques blazer in beige wool that I love wearing in early spring!
The White or Beige Linen Blazer
This is the French girl full-on summertime blazer for cool summer evenings where you want to cover up a bit, or summer days when you know there will be air conditioning!
The Black Smoking Jacket
The black smoking jacket is a must-have for evenings out in Paris. This is on my to-buy list as I'm saving up for a good, iconic Saint Laurent Le Smoking jacket!
Blazer Sizing
You have to consider blazer sizing before buying, too. French girls tend to wear their blazers slightly oversized, but I would be careful with this trend. A friend and I were discussing it and she pointed out that right now the 'oversized' look is in style, but who knows if that will be the case in a few years? Keep this in mind and perhaps order two sizes of one blazer if you cannot try it on in-store and see which one you feel better in.
It's funny because the majority of French retailers will show blazers as fitting quite loosely while American retailers will almost always show women wearing blazers that are tightly fitted.
When I tried on the Isabel Marant blazers in-store, I noticed that they were already oversized by default. So you essentially take your true size and still get the roomy feel. With American brands, this is definitely not the case!
I love online shopping but unless I'm certain of my size in a designer, I almost always prefer to try-on in store!