Fall is one of my favorite seasons for dressing in Paris – cardigans, leather boots, and cozy scarves reappear in my wardrobe and my French girl fall style gets to shine!
The period at the very beginning of September is known as la rentrée in France – it's when kids go back to school and adults go back to work. It's a time to get back into the swing of things and start new good habits. This period is kind of like a new year in itself – there's a feeling of renewal in the air. It's also a great time to refresh your wardrobe and upgrade your closet.
This is the ultimate guide to dressing like a French girl in the fall.
How Do French Women Dress in Fall?
I am an American girl living in Paris, France for two years now (I moved here before Emily, FYI) and I've always admired the effortless chic elegance of French women.
I've learned a lot since moving to Paris but what I love most about French culture is the fashion. French girl style is what speaks to me and I recreated my own wardrobe several years back using the style rules that so many French women follow. Today I want to talk about the fall season specifically. How do French girls dress in fall? How do they create fall outfits in Paris?
First, keep in mind the basic French style rules for dressing:
Timeless Style: French fall style is all about dressing with timeless, classic silhouettes in mind. Choose fall wardrobe pieces that you know will stand the test of time. You might even pass them down to your daughter one day.
Colors: The standard French fall wardrobe colors include dark brown, beige, burnt orange, cranberry red, forest green, and mustard yellow.
Patterns: French fall fashion patterns include houndstooth, plaid, checkered, and tweed.
Fabrics: The French girl fall style includes warm fall fabrics like wool, cashmere, corduroy and velvet.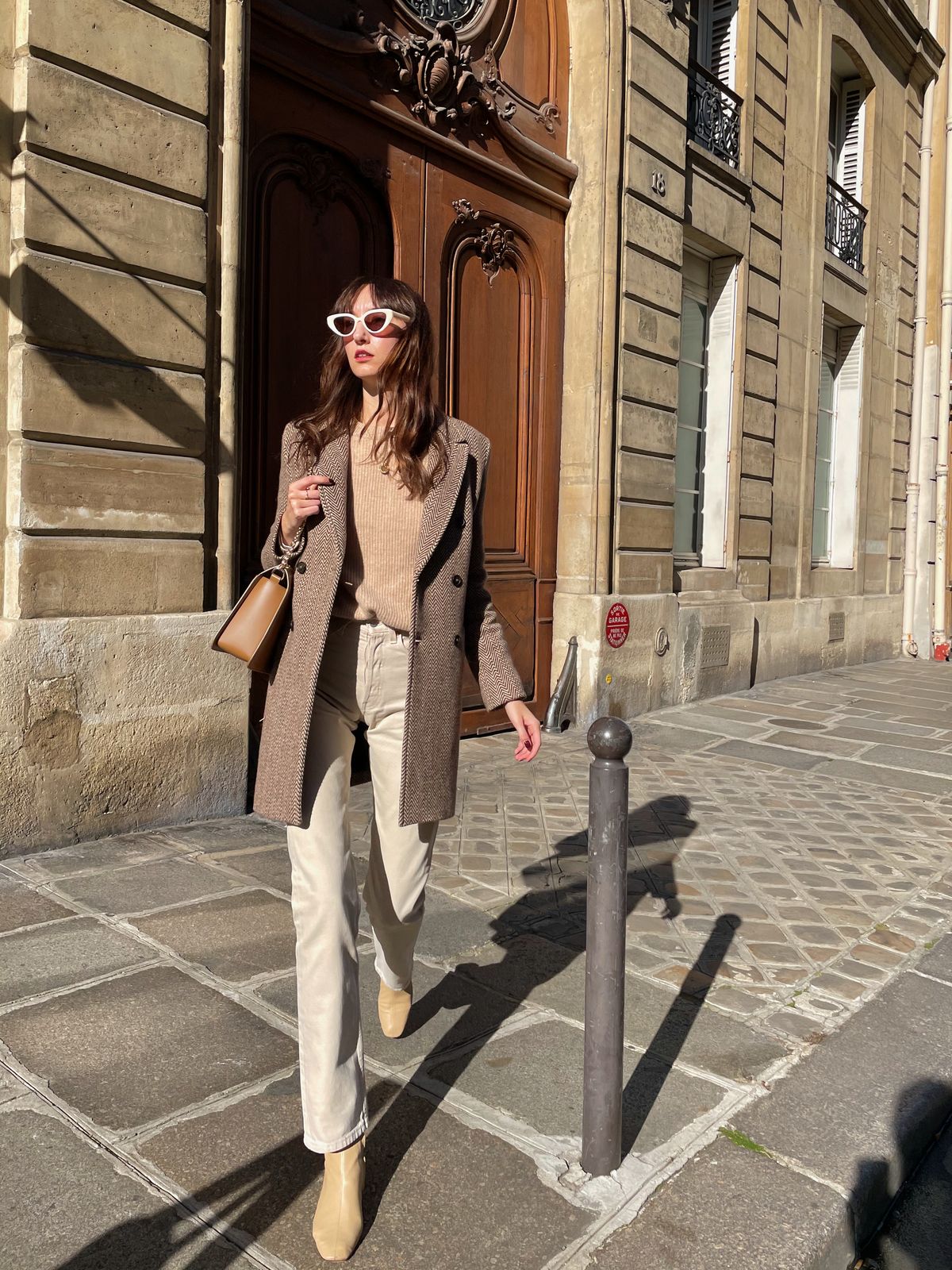 French Fall Style
Ok, let's talk about some tips for getting French fall style just right! These are the basics you should have in your French girl fall wardrobe.
Wool Blazer
A wool blazer is a must-have for every French girl in the fall. Whether you go with a plaid Isabel Marant blazer or a more affordable pick, the French girl fall blazer is one piece you must own. Throw it over a brown t-shirt and a pair of jeans and you're good to go!
Read more about the essential French girl blazers.
Vegan Leather
I notice more and more vegan leather coats during fall in Paris each year!
Shearling Coats
Shearling coats are the ultimate it-girl fall coat to have.
Trench Coat
A simple beige French trench coat is worn on rainy fall days in Paris.
Striped Sweater
Everyone in France owns at least one thick striped sweater. It's like the marinière shirt but for cooler weather!
Knitwear
Come autumn, it's time to break out the coziest French knitwear I own! Knitwear is great for staying warm while looking chic. From cardigans to cozy sweaters, French girls always have a few knitwear options for fall.
Corduroy Pants
French girls love wearing corduroy pants in the fall. My favorite pair is by the French designer Nathalie Dumeix.
French Fall Shoes
Here are the major French girl fall shoes to own.
Leather Boots
At least two pairs of leather French ankle boots are a must for your fall shoe collection. I have one pair of black leather boots and another pair of warm brown leather boots that I wear depending on my fall outfit that day.
There are a few other styles of French girl boots to own as well if you have the budget.
French Fall Bags & Accessories
These are the French girl fall accessories you should have in your wardrobe!
Fall Scarves
Fall scarves made of silk or wool are a must-have for keeping your neck warm during chilly fall days.
Leather Belts
Leather French girl belts for fall in brown and black, made of suede or smooth leather, will complete your look!
French Fall Outfits
Here are five ideas for creating French style outfits this fall. These French fall outfits are looks that any Parisian would wear during the months of September, October, and November!