Wondering what the top French fall wardrobe essentials are? Fall is one of my favorite seasons for dressing here in Paris. I love the warm fall color palette and feeling cozy in the softest cashmere sweaters as I sit on my neighborhood terrasse sipping a café crème and nibbling on a croissant.
If you didn't know, I live in Le Marais, one of the most fashionable districts in Paris, France. Every day I get a front-row seat to Paris street style right from my neighborhood cafés. Let's talk about how the French dress for autumn. This post will help you get the perfect French girl fall style.
French Fall Wardrobe
A couple of years ago, I redid my entire wardrobe following the 5-Piece French Wardrobe philosophy.
Fall is a particular season as it's often cold in the morning and warm in the afternoon, before getting chilly again at night. For this reason, you need a versatile fall wardrobe to survive autumn in France!
These are the French fall wardrobe items I've seen most often in Paris. They are perfect for getting French girl style during the fall months of September, October, and November!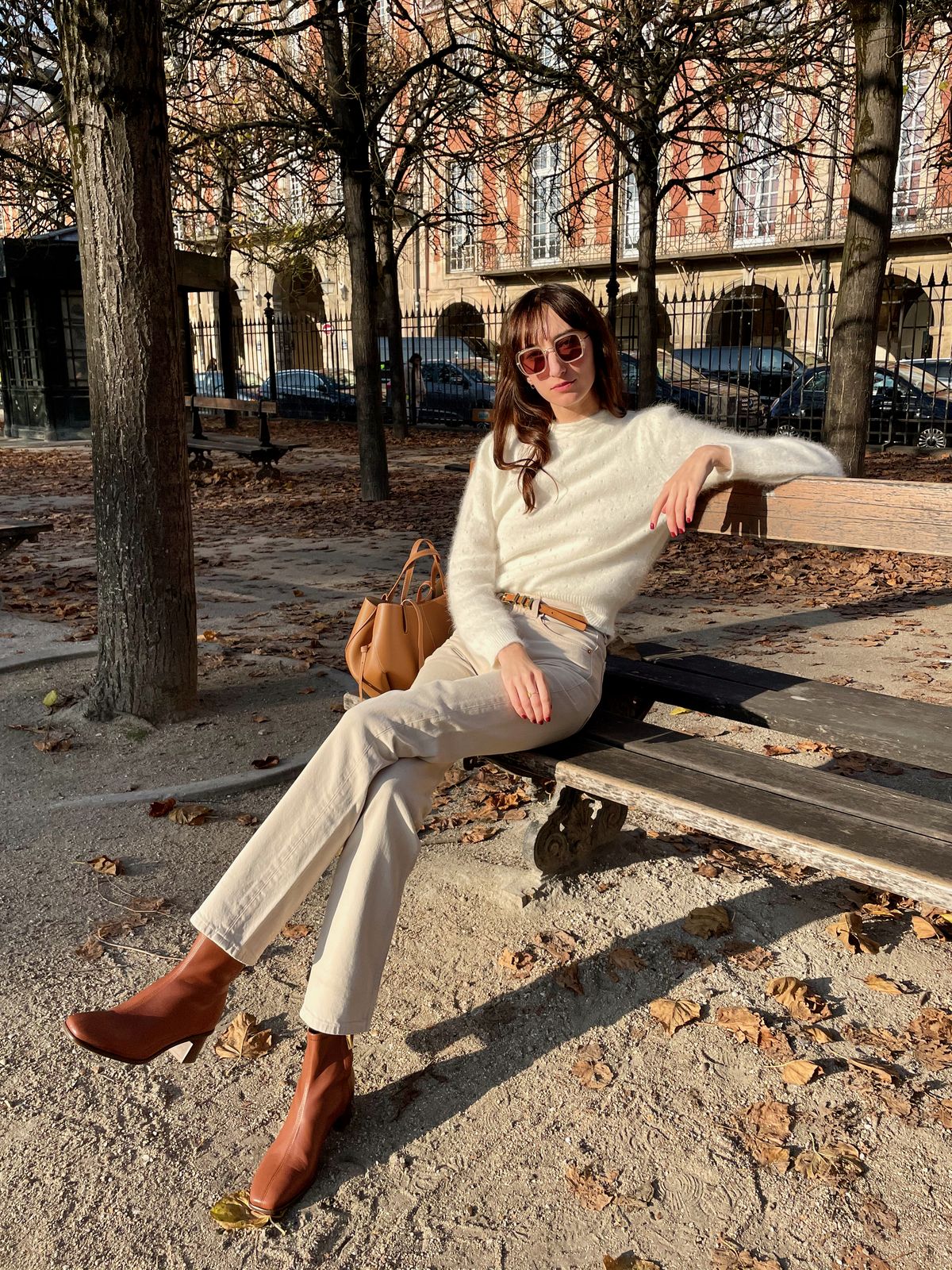 Corduroy Blazers
Corduroy is one fall material you can't miss in France during autumn. A chic corduroy blazer is the perfect wardrobe item to pull your fall look together. I have a burnt orange corduroy blazer from Maje I love wearing in autumn! I pair it with black jeans or dark blue jeans and voilà, the perfect French fall outfit. The French wardrobe philosophy involves buying high-quality pieces so don't be afraid to invest in this fall wardrobe clothing item.
Plaid Blazers
Isabel Marant has popularized the wool plaid blazer in recent years. A good beige or brown plaid blazer can give you an ultra-chic French look during autumn. Wear one with a belt around your waist to give your look a Parisian twist and highlight your figure.
Shearling Coats
Shearling coats are an easy way to get French girl fall style when it's cold out. I started seeing shearling coats pretty much every day when I moved to Paris right before the start of fall. You can buy these vintage or new, just make sure you get your hands on one! They can be paired with straight-leg jeans and ankle boots for an easygoing French outfit.
Wool Wrap Coat
A simple, minimalist wool wrap coat is a French girl fall wardrobe favorite. These chic coats help you stay warm and cute at the same time. They can be worn over jeans, skirts, and dresses. Style them up or down depending on your day! This is a great piece to add to your closet for a chic French minimalist wardrobe.
Sweaters
Wool and cashmere sweaters are the most obvious fall closet essential for getting French girl fall style right. Throw cozy fall sweaters on with a pair of jeans and you're instantly Parisian. This is definitely a classic french style clothing piece!
Knit Dresses
Knit dresses are the unexpected French girl fall staple if you ask me. They keep you warm while showing off your legs!  If you're wondering how to wear a dress in fall or autumn, then knit dresses with knee-high boots are the way to go. Dresses are the perfect way to achieve the French feminine style, so having at least one knitted dress for fall and winter is a must if you like this style.
Corduroy Pants
Corduroy pants are a must-have for the fall season. They keep you extra warm and look super chic. I have several pairs of corduroy pants from French designer Nathalie Dumeix in a variety of fall colors.
Straight Leg Jeans
French girls adore jeans and the one style I see on almost everyone during fall is a pair of blue straight-leg jeans. For fall, a dark wash or medium wash is most appropriate. This style of jeans is such a key foundational piece for your wardrobe. You can use jeans as a base for creating so many cute fall outfits!
Leather Ankle Boots
A good pair of brown leather ankle boots can be used to create dozens of chic French girl fall outfits! These are just one of the key French boots to own. I own brown leather and black leather ankle boots which I use most often in autumn. I also have a pair of cream leather ankle boots which I use less often but occasionally in fall.
Brown Leather Handbag
A medium-sized brown leather handbag is my go-to fall purse for everyday living in Paris. It holds all my daily essentials such as my wallet, phone, hand sanitizer, lipstick, lip balm, and keys. Brown leather is definitely the ideal material for a French girl fall handbag. It's a warm neutral tone and can be paired with many different clothing colors. It's also a good idea to buy a black leather handbag for more black-featured outfits.
I hope you enjoyed this list of French fall wardrobe essentials!