These French summer wardrobe basics should be staples in your closet. Summer is my favorite season to go shopping for and every year I make sure to have the basics down before buying anything frivolous. After living in Paris for a few years now, I've come to rely on these French girl summer wardrobe items to make sure I fit in with the locals!
French Summer Wardrobe Essentials
If you're as obsessed with French girl style as I am, then make sure you have these French summer wardrobe basics in your closet this year. Each piece has been carefully selected by me after traveling through France during summer many times now. These are the summer must-haves!
They are the foundational pieces you'll need to get perfect French girl summer style.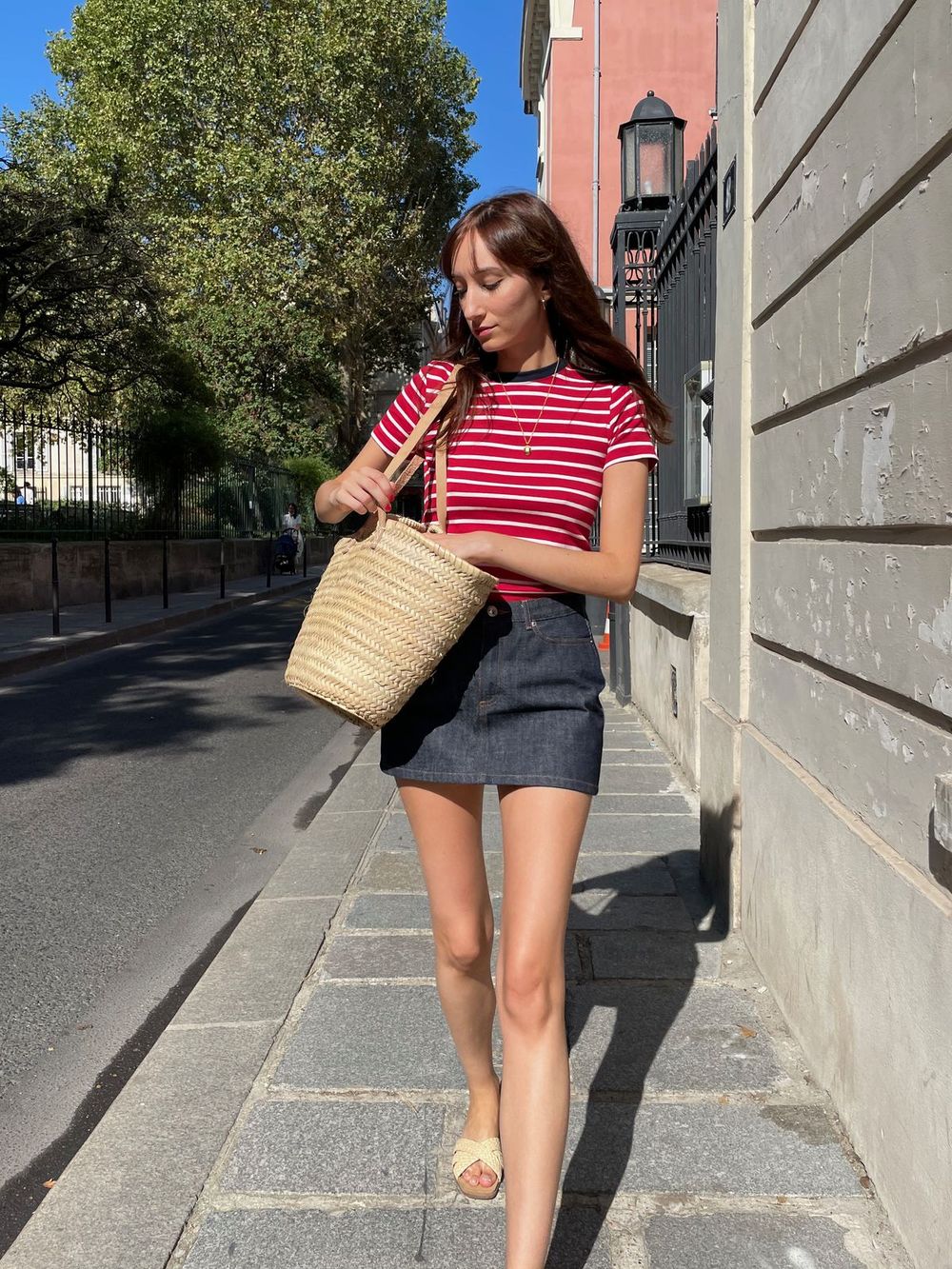 Striped T-Shirts
Every summer in France, I see so many women wearing striped t-shirts. From colorful stripes to the more traditional navy blue and white stripes, these ubiquitous French girl t-shirts are found just about everywhere. If you want to know the history behind these quintessentially French t-shirts, read my article on La Marinière.
White Linen Dress
A white linen dress is a key French girl summer wardrobe staple. French girls own lots of dresses, but the white linen dress is a summer classic. I have a midi-length white linen dress with brown buttons up the center from Reformation which I wear to markets in the south of France every year. The linen keeps me cool as I walk around in the heat!
Floral Mini Dress
Florals are the one print you see everywhere in France all summer long. Thanks to brands like Rouje reviving the vintage style, you can spot beautiful floral mini dresses on women all summer long. Floral dresses are great French girl summer dresses to own!
Jean Mini Skirt
The jean mini skirt is a classic wardrobe piece that can be worn in the city or on the beach. Even though French girls love their straight-leg blue jeans in the cooler seasons, the jean mini skirt makes its appearance in summer only! I love wearing mini skirts to the beach in France as they are easy to slip on and off over a bikini.
White Mini Skirt
A white mini skirt is another must-have in the French girl's summer closet. Whether it's made of cotton or linen, a white skirt for summer pairs well with so many different items. You can throw on a colorful top to go with it or keep it casual with a white t-shirt.
Beige Linen Shorts
Beige linen shorts are the perfect summer shorts if you're staying in Paris. Parisians don't wear jean shorts very much in summer (they make you look like a tourist), but they do wear shorts made of other materials like linen or cotton. Beige is the perfect neutral color to own a pair of shorts in while dressing French.
Neutral Pants
White, off-white, or cream jeans or pants are great to have for the cooler summer days. Especially in the north of France, it doesn't get super hot out and during the morning you prefer to wear pants to stay warm. A pair of neutral-colored pants or jeans is the perfect solution.
Summer Jeans
Light blue jeans are also great for staying warm while looking chic in summer. You can pair light wash straight-leg blue jeans with any number of cute summer tops. White jeans are another great summer clothing essential.
Beige Jacket
A good beige cotton or linen jacket is found in every French summer wardrobe. Often in cream or white, these jackets are perfect for wearing over a cocktail dress or a casual outfit. At night in France, it can get chilly so a light summer jacket is an ideal solution.
Brown Leather Sandals
Lastly, you must have a pair of brown leather strappy sandals to complete your French summer wardrobe essentials. K. Jacques is the brand of choice for French girls, but you can find less expensive brown leather sandals from other brands. These are the go-to everyday footwear for most French women. They're easy to walk in and go well with a variety of outfits.
Swimsuit
No summer wardrobe is complete without a chic swimsuit to wear on the French Riviera. I am partial to my Eres Aquarelle one-piece in black.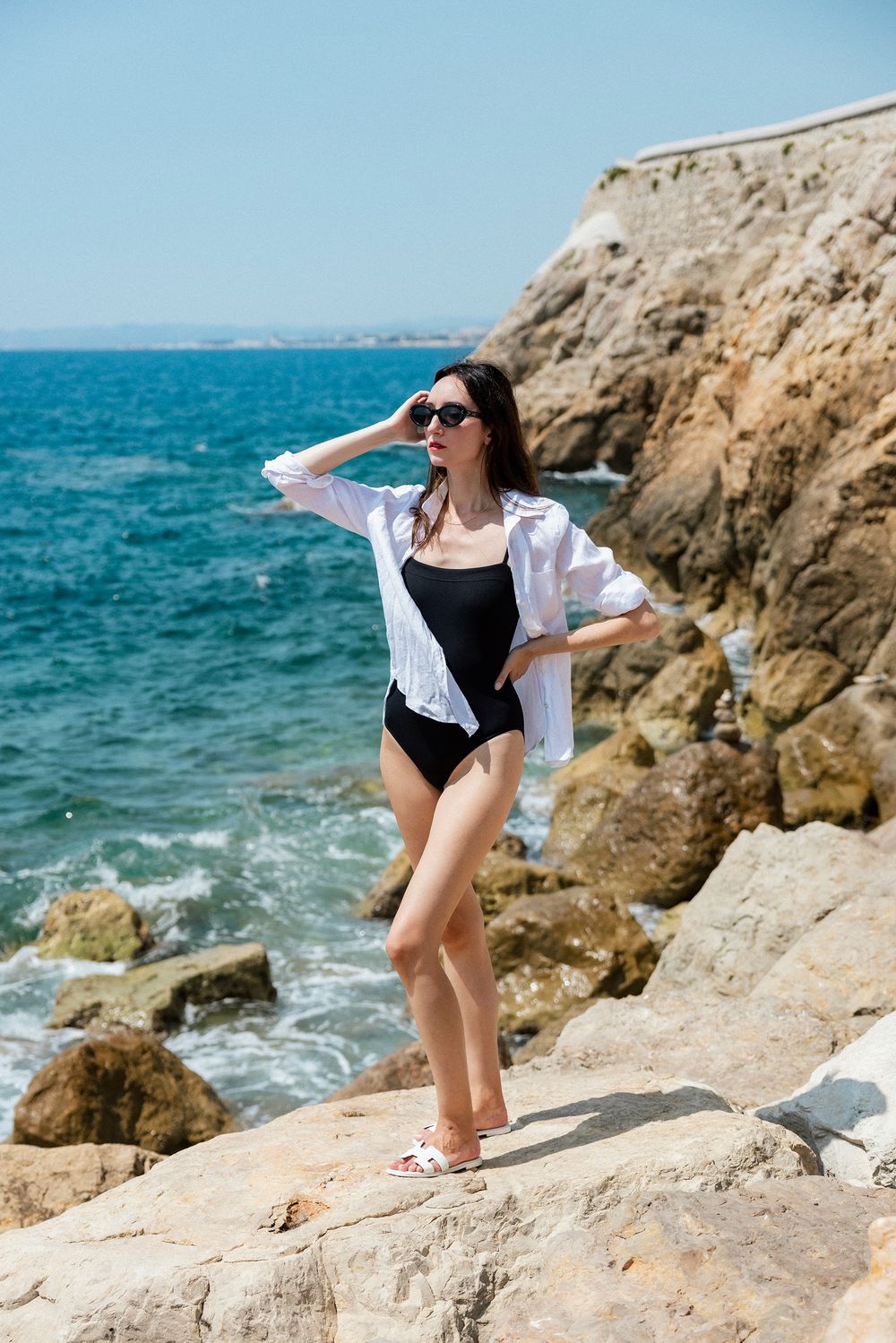 Each of these pieces will help you create the most beautiful French summer outfits this year!
If you're going on vacation in France this summer, be sure to pick up the French beachwear essentials to ensure you have a great trip!