Want to get French girl summer style this year?
Whether you're heading to Paris or vacationing in the south of France, this article will show you how to dress like a French girl. I am American but I've lived in Paris for the last two years after spending time in France as a child. I adore French girl style and on this blog, I share my best tips for getting chic Parisian girl style, no matter where you live!
Here is my ultimate guide to dressing like a French girl this summer.
How Do French Women Dress in Summer?
Before we get into the essence of French girl summer style, it's important to understand the basic French style rules when it comes to putting together your perfect French summer wardrobe. Here are a few key French summer style guidelines.
Timeless Style: French women strongly prefer to acquire high quality, timeless pieces for their wardrobe. They ignore fashion trends and instead opt for a foundation of well-fitting wardrobe basics to create their outfits.
Colors: French girls are well known for sticking to a neutral color palette when it comes to their wardrobe, but summer is the one season where they integrate colors into their wardrobe more often. Pastel colors are the most popular.
Patterns: French girls love wearing floral patterns and gingham in the summer.
Fabrics: Since it can get quite warm in the south of France, French girls stick to clothing made from breathable fabrics in summer like linen and cotton.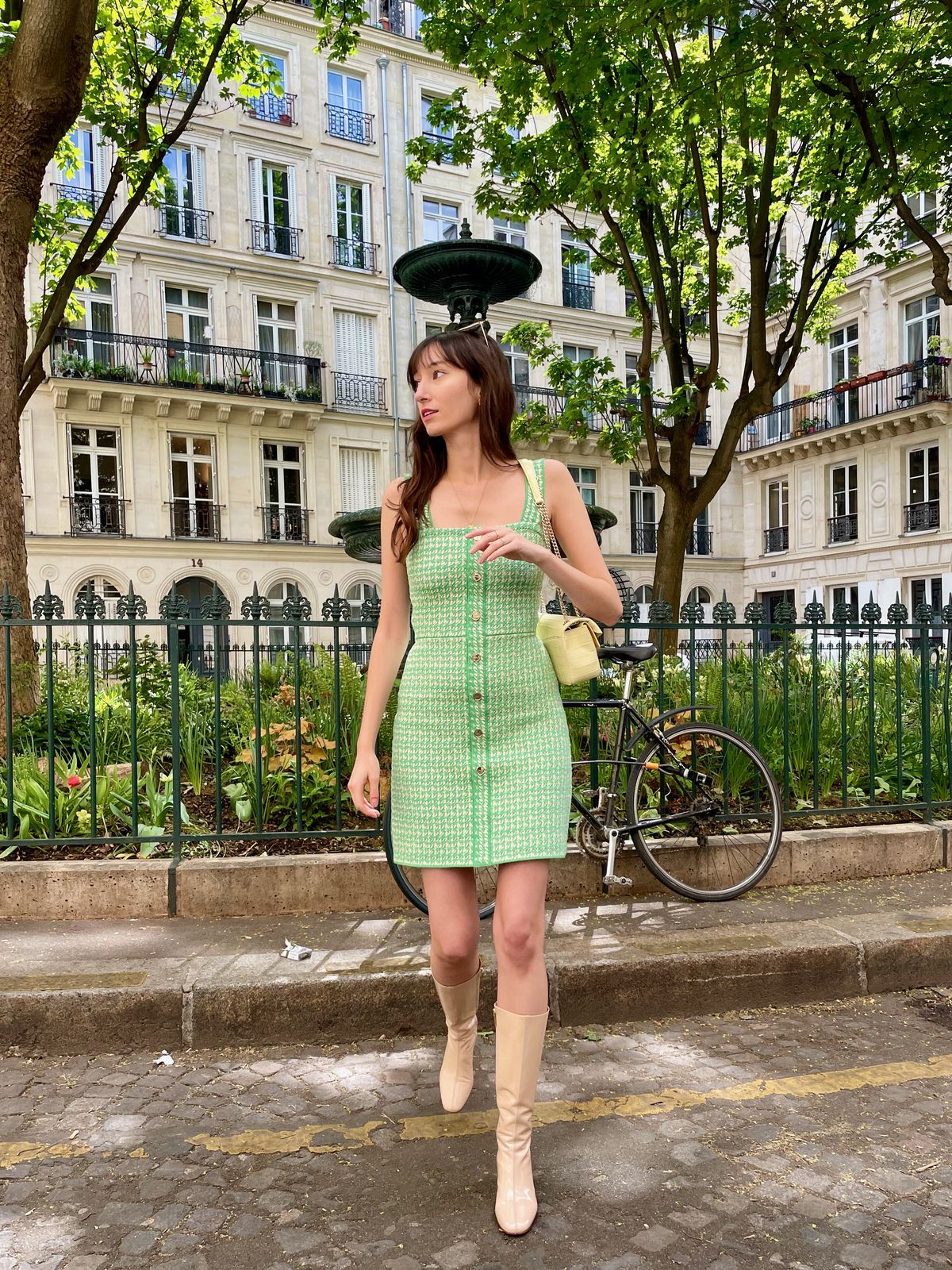 French Girl Summer Style
Here is a list of French summer wardrobe essentials to have in your closet when dressing for warmer days.
Lots of Linen
Linen dresses, linen button-up shirts, and linen shorts are all must-haves if you want to dress like a French girl this summer.
White Dresses
I always have a few white summer dresses on hand for my summer vacations in France. White dresses pair well with any handbag and keep the sun's heat away from my body.
Pastel Colors
French girls love wearing colors, too. They tend to go with pastel colors rather than bright colors and pair them with neutral shoes and accessories.
Floral Prints
Florals start appearing in spring, but they also make great summer style prints!
Mini and Midi Skirts
I have a good collection of both mini and midi-length skirts for when it's hot or cool out in summer. Believe it or not, Paris can actually be quite mild in the summer, so that's when I wear my midi skirts!
French Swimwear
French girls wear lots of different swimsuit styles. Both one-piece swimsuits, as well as bikinis (they were invented in France, after all!), are popular so be sure to have a few of each on hand! 
French Summer Shoes
Here are the French girl summer shoes you should have in your wardrobe.
French Summer Bags & Accessories
These are the French girl summer handbags and accessories to own.
That's my guide to French girl summer style. Be sure to read my French girl summer outfit ideas for inspiration on how to use these pieces!