It's finally spring and today I want to share my French girl spring style guide. I have lived in Paris since 2019 and I've been obsessed with French girl style for much longer!
Paris provides so much street style inspiration for cool and interesting outfits that you can wear no matter where you live. Spring is one of my favorite seasons because it allows us to drop a few of the heavy layers we've been wearing all winter and introduce some fun colors to our wardrobe!
If you're curious about how to dress like a French girl in spring, what the French spring wardrobe basics are, and some French spring outfit ideas, you're in luck because that's what I'm sharing today.
How Do French Girls Dress in Spring?
First, before we get into the French spring style, it's important to understand the philosophy behind how French women dress. Here are a few guidelines to the French way of dressing for spring:
Timeless Style: French girls opt for timeless wardrobe items and pieces that won't go out of style anytime soon. They rarely follow the latest trends and instead prefer to build a solid closet of wardrobe basics from which to create their outfits.
Colors: The French girl spring wardrobe consists of mostly warm neutrals like white, beige, cream, and brown. Pastel colors start to make their way into the French girl spring wardrobe too when the weather permits.
Patterns: The cliché is true – florals are everywhere come spring!
Materials: Since the seasons are changing, spring clothing tends to be mixed between airy fabrics like linen or cotton and thicker outerwear pieces made of wool or cashmere. A balance of each is key to getting spring style right.
French Girl Spring Style Essentials
Let's talk about some of the French spring wardrobe basics to own. These will help you put together outfits as you stroll the Jardin du Palais Royal admiring all the budding roses. Here are the key French girl spring wardrobe essentials to make sure you have on hand.
Trench Coat
You probably know this by now if you're into the French aesthetic, but a beige trench coat is an absolute must-have when it comes to French spring style!
Beige Blazer
A good spring blazer in beige or cream is the second spring wardrobe must. Button them up when it's chilly and leave them open when it's sunny. Wear a cute silk cami beneath and you're good to go!
Off-White Jeans
Off-white is the perfect jean wash for spring when you want to start lightening up your wardrobe without going full-on stark white. I love cream and ivory jeans for their versatility. Just be careful where you sit down and what you eat while wearing them!
La Marinière
The Breton striped shirt finally comes out of hiding and makes its way back into the French girl's closet come spring. This classic blue and white striped shirt is an easy piece to throw on with a pair of well-fitting jeans.
Oversized Button-up Shirt
The oversized button-up shirt is ideal for a casual look. Steal one from your boyfriend or snag the latest design from French shirtmaker brand Figaret. Pro tip: go 2 sizes up for an oversized look.
Light Blue Jeans
You can never have too many jeans right? A good pair of straight-leg light blue jeans will definitely come in handy this spring. I'm guilty of wearing the same pair I love several times a week. This piece is just too good!
Spring Dresses
From midi-dresses to long-sleeve dresses, the main idea behind French spring dresses is to cover up a little more than you normally would in order to keep warm when it's not yet summer!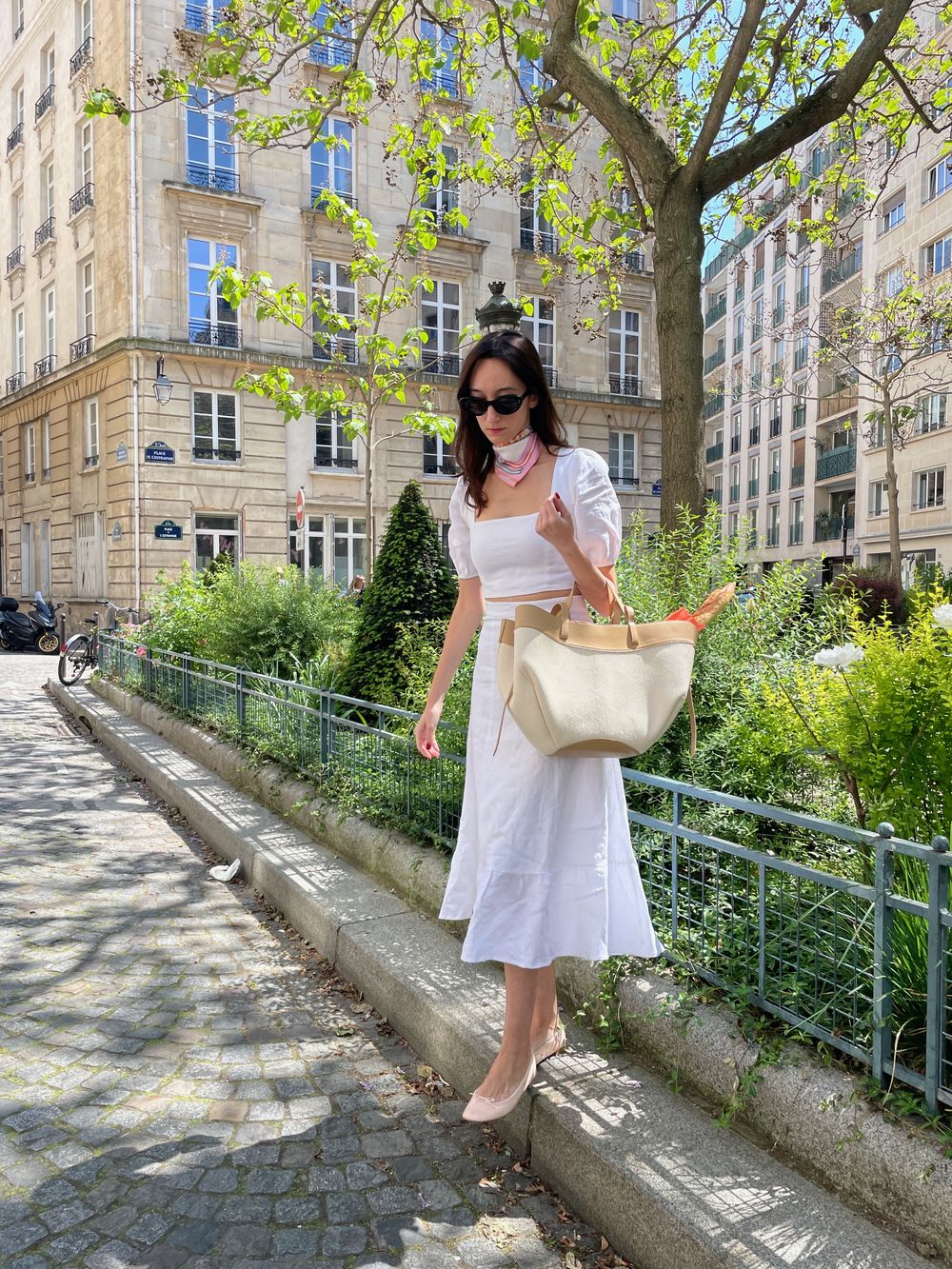 French Girl Spring Style Accessories
Here are some of the French spring accessories you'll want to have to add a finishing touch to your outfits.
Silk Scarf
Silk scarves are definitely one of the more 'classic' pieces in a French woman's wardrobe. While they can easily make you look older and more sophisticated, I like to dress them down with blue jeans, an oversized button-up shirt, or a pair of casual sneakers.
Pro tip: If you wear a silk scarf with a very fancy dress, you might look like you're trying a bit too hard. Keep it casual and this piece is a winner!
Straw Tote Bag
The French market straw tote bag is great for throwing all your daily essentials inside. If you can't make it to the south of France to buy one locally at a farmer's market, then you can shop for one on Etsy.
Nude Leather Bags
A nude leather handbag is great for holding my everyday essentials. Beige is the perfect color as it goes with pretty much every outfit!
Pastel Bags
At least one pastel-colored leather bag is good to have on hand in the spring. It can add a bit of color to an otherwise basic spring outfit.
French Girl Spring Shoes
Here are the French girl style spring shoes I like to own at a minimum.
Beige Flats
Beige flats are my go-to everyday shoe for when the weather permits!
Beige Leather Boots
Beige leather boots are great for spring days when it's still a little cold out!
Slingbacks
I adore the Chanel beige slingbacks with a black cap toe! The Roger Vivier slingbacks are a slightly less expensive alternative.
Gold Sandals
Strappy gold sandals are great for evenings out to dinner and springtime special occasions!
French Girl Spring Outfits
Taking the pieces I wrote about above, here are a few of my go-to French spring outfits.
Oversized Button-Up + Light Blue Jeans + Leather Handbag
Floral Midi Dress + Cardigan + Straw Basket Tote Bag
La Marinière + Off White Jeans + Trench Coat
Voila! I hope you enjoyed this post on how to get French girl spring style. Subscribe to my email newsletter below for more French style tips!