Are you a 'color' fan?
I am. Sometimes I stop on the street because I notice the color of paint on a door I pass by. For some reason, I can get so inspired by colors.
A question I get every so often is: what are the French wardrobe colors?
Today I want to share the main colors you should focus on when acquiring the basics of your 5-Piece French Wardrobe.
Here is the basic French capsule wardrobe color palette.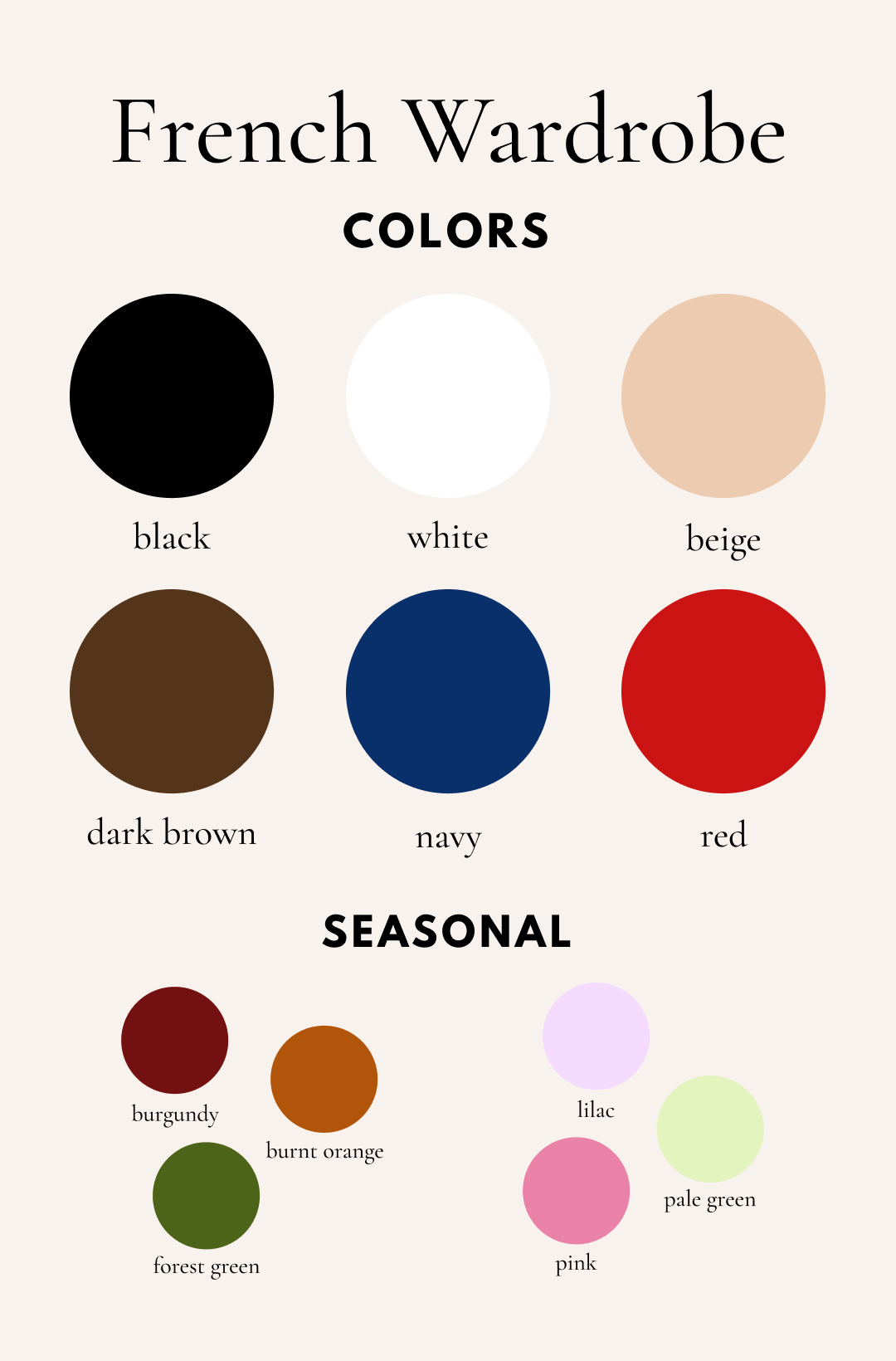 French Wardrobe Colors
Let's explore a few major colors that are found most often in a basic French wardrobe. Keep in mind, this wardrobe color list is just a guideline and it's always best to go with what looks pleasing on your skin.
Whether you have gray hair, a warm skin tone, a cooler skin tone, etc. will all determine the best wardrobe color palette for you!
Black
Black is a standard color found in all French girl wardrobes. From the little black dress to tailored black pants, to a chic evening jacket, French women own at least one piece of pretty much every piece of clothing in this color.
White
White is a very standard color in the French wardrobe. White brightens up any outfit and you can even wear it in winter. White is incredibly versatile but the color is strongly associated with plain white t-shirts, a wardrobe basic. It's also a fantastic color for a silk pussy-bow blouse.
Beige
Beige is the warm color that French girls love to wear year-round. From beige sweaters for fall to beige jeans in spring, this is the perfect neutral color to add to your wardrobe.
Dark Brown
Dark brown is most often used in fall. It's the perfect shade for a smart leather tote bag to take to work, and it warms up any outfit. I have beautiful brown corduroy pants I love wearing often as a basic during autumn.
Navy Blue
Navy is the first real color we have in the French girl wardrobe. Navy has long been associated with French style, most often on the marinière shirts that French women are famous for wearing. Of course, you can wear navy on many more items, too. Navy sweaters, navy wool pants, and navy t-shirts are a few ideas.
Red
Red is a color that French women adore. It's easy to see why. This beautiful color really makes your outfit pop. However, it should be used sparingly! A red t-shirt, a red cocktail dress, or a red mini skirt are a few ideas for using red in your wardrobe. However, be sure to style a red piece of clothing with white or black everywhere else.
---
In addition to these standard French wardrobe colors, you can also shop for seasonal colors here and there. For example, I see lots of burgundy, burnt orange, and forest green during fall. I notice clothing in pastels like lilac, pale green, and soft pink during spring.
Voila – I hope you learned more about the most common and popular French girl wardrobe colors.
Subscribe to my email list below for more French girl style tips!