Let's talk about the ideal fall/winter French capsule wardrobe.
La rentrée is a French term that signifies the return to normal after the summer vacation period at the beginning of September. It's another way of saying "back to school" I guess but it applies to pretty much everyone. People start going back to work, students start taking their classes again, and everyone settles back into their normal daily life. It's hard to say goodbye to vacation but the good news is that you can say bonjour to your French fall/winter capsule wardrobe.
A capsule wardrobe is a step up from the wardrobe basics you've already learned about. It's a list of pieces that will give you a strong foundation for creating outfits quickly.
French Fall/Winter Capsule Wardrobe
I'm an American living in Paris, France, and here are the pieces in my ideal French fall/winter capsule wardrobe!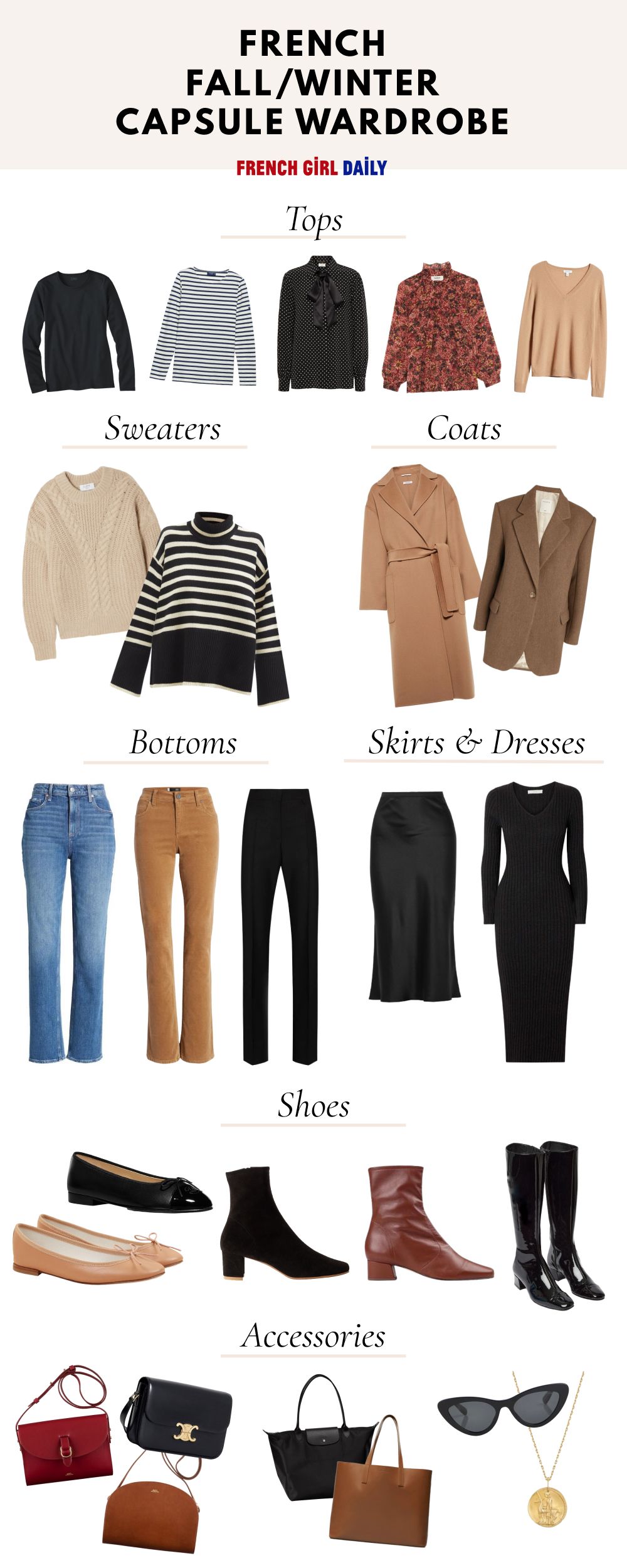 Tops
For the fall/winter seasons I like to have a good selection of tops available for layering. In fall I might wear them under a blazer and in winter, I might wear them under a thick crew neck sweater.
Black long sleeve t-shirts by L.L.Bean and a long-sleeve Saint James minquidame t-shirt in dark navy are amazing basic fall tops to own.
A black silk tie top by Saint Laurent is great for fall and winter workdays.
A fall floral or fall printed top is great to have in autumn, such as this one by ba&sh.
II always have a few ribbed tops or sweater tops for fall. These are like normal tops but made with thicker material for keeping warm. This is a camel sweater top for example.
Sweaters
A neutral-colored cable knit sweater like this one by La Ligne is a must-have for your fall/winter capsule wardrobe.
A striped sweater like this one from Totême is a must for French girl fall style.
Coats
A few jackets are great to have for fall and winter. Having a solid French girl coat collection will keep you warm throughout fall and winter.
I love this beige wool wrap coat by Max Mara. I also adore this dark brown wool blazer for fall by Sandro.
Bottoms
My ideal French fall/winter capsule wardrobe includes a collection of pants and skirts in thick materials that will keep me warm.
A good pair of blue straight-leg jeans are the first pants to have. These are by Paige.
A pair of brown corduroy pants can be useful for many different fall outfits. These are from Nordstrom.
You also need a pair of simple black pants like these by Givenchy.
Skirts & Dresses
You can definitely wear skirts and dresses in fall and winter as long as they are made of a warm material! 
I advise buying a simple black silk midi skirt for special events during fall and winter like this one by Anine Bing.
A good knit dress is also a chic way to dress in winter. This one is from Net-a-Porter.
Shoes
The fall/winter shoes in my wardrobe have been chosen for everyday use.
Ballet flats are a French wardrobe staple. A pair of brown leather flats, as well as black flats, are ideal.
Leather ankle boots are a fall and winter must-have. These are also great to have in brown and black.
A pair of black patent leather knee-high boots are great for winter special occasions. These are by Carel.
Accessories
Three medium-sized handbags are great to have in your closet.
A brown leather handbag by A.P.C. is great for everyday use. A red crossbody bag like this one by A.P.C. is great for making any outfit pop. Finally, a sleek black leather handbag like this one by Celine is a must.
When it comes to tote bags, I like to have one black and one brown. These are by Longchamp and Everlane.
Black cat-eye sunglasses are great for fall and winter. These are by Miu Miu.
A gold pendant necklace is a year-round French girl jewelry piece! I love the Zodiac collection by Van Cleef & Arpels.
---
Next up, read my French spring/summer capsule wardrobe post!