Let's talk about the perfect spring/summer French capsule wardrobe.
As part of my closet refresh, I knew that I needed to snag some key basics as I put together my dream French wardrobe. However, depending on the season, I sometimes need a few extras to make sure that I have something to wear no matter what the weather is outside. Spring is one of those seasons where you never know if it's going to be warm or cool – and it often switches rapidly between the two! So even though the flowers have started to bloom in my backyard in Paris, a cold spell could be just around the corner.
Let's go over how to build a spring/summer French capsule wardrobe that fits your needs. No matter where you live or what the temperatures feel like, I hope this French girl style collection of spring and summer clothing will suit you!
The French girl spring/summer capsule wardrobe I've created includes 28 items: tops, sweaters, coats, dresses, shorts, pants, shoes, and accessories which will allow you to create a ton of different looks. When it comes to colors, I always go with neutrals – beige, black, brown, and sometimes white or cream. I mix in navy or red sparingly.
If you only want to invest in the key pieces of a spring wardrobe, then check out my French spring wardrobe staples in that case!
Spring/Summer French Capsule Wardrobe
All of these items are what I would wear in Paris and I often see French women on the street wearing them too! I hope this French spring/summer capsule wardrobe is helpful in building out your own closet.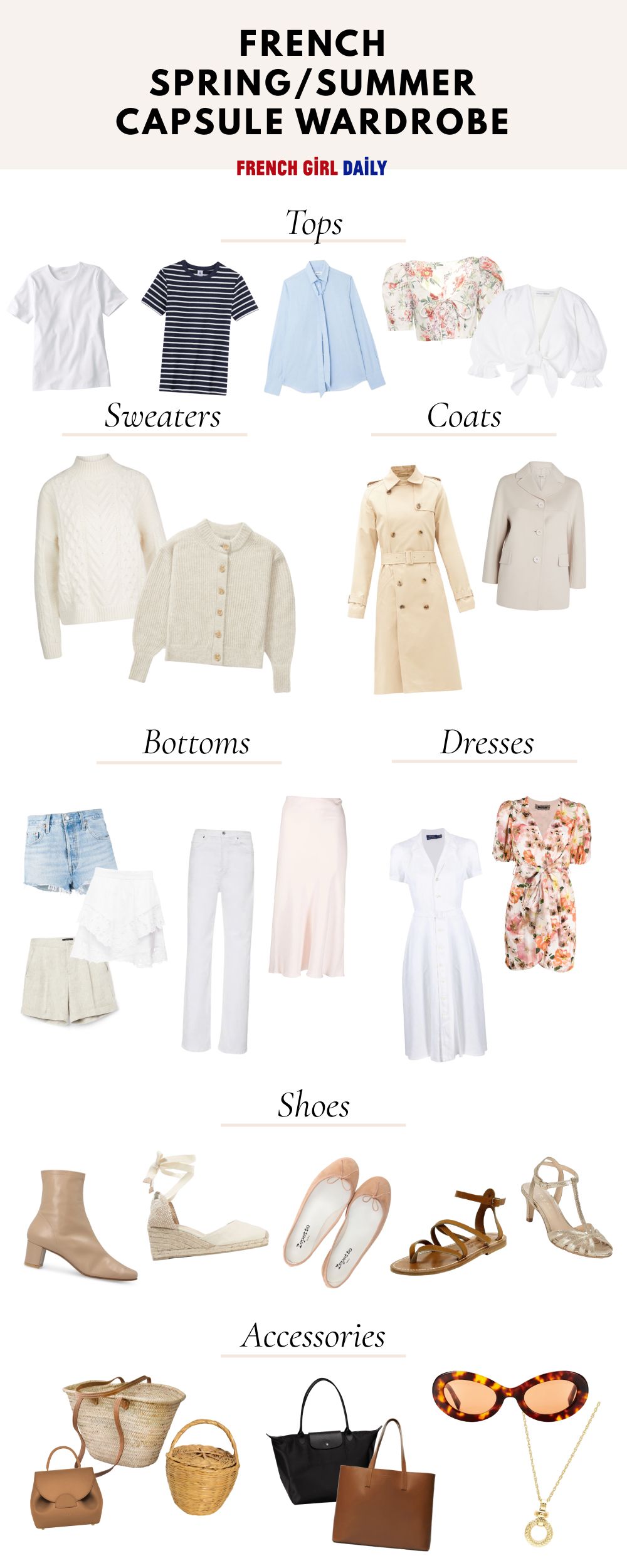 Tops
A classic cotton white t-shirt is a must-have for the warmer months.
You need at least one navy blue Breton striped t-shirt. It could be white stripes on a navy t-shirt or navy stripes on a white t-shirt, but definitely get one! My go-to Breton shirt is by Petit Bateau!
I love wearing slightly oversized button-up shirts from Figaret in spring/summer.
A feminine floral top is always present in my spring wardrobe.
For hot summer days on vacation, a white linen crop top helps me feel at ease.
Sweaters
I wrote about my luck in finding this cozy white wool sweater last year and it has become a year-round staple in my wardrobe, but I especially love wearing it on those first days of early spring when you can finally go coatless…
I spotted this beige alpaca cardigan recently and it looks so cozy. I love cardigans because you can open them up easily if you get too warm. They also don't mess up your hair when you take them off!
Coats
I always have a short beige wool coat handy once spring rolls around.
My A.P.C. trench coat is also a must-have spring coat essential!
Bottoms
I absolutely love my blue Levi's 501 high-rise jean shorts and I wear them every summer without fail!
A classic white linen mini skirt is a truly versatile wardrobe piece. You can pair it with anything!
A good midi slip skirt is a great piece that can work in the chilly days of spring or the hot summer days, too. Pair it with a thick wool sweater in the early spring, or with a tank top in the middle of summer.
Dresses
A feminine floral wrap dress is the perfect French girl springtime attire.
Noticing a linen theme here, yet? A white linen dress is another fabulous must-have. Seriously, this fabric is one of my favorites for spring and summer!
Shoes
When temperatures start to rise but it's still chilly out, a pair of beige ankle boots saves the day.
These classic white espadrilles by Castañer are made for walking the cobblestone streets of the south of France!
For trips to the grocery store and dashing around Paris, a good pair of beige flats is my go-to everyday Parisian shoe for the spring and summer seasons!
You can't go wrong with leather strappy sandals made by the iconic K. Jacques, whose shoes have graced the feet of everyone from Brigitte Bardot to Picasso himself!
For nights out, I throw on a pair of gold strappy heels.
Accessories
When it comes to my daily life, I've begun to rely on a small leather bag by Polène for my everyday essentials!
A spacious French straw market tote bag by Etsy is awesome for going grocery shopping.
The Birkin style basket bag is a French girl favorite.
For workdays, my sleek black Longchamp Le Pliage tote does the job well.
To warm up an outfit, I turn to my minimalist milk chocolate Everlane leather tote bag.
I always have a good pair of tortoiseshell sunglasses to shield my eyes from the sun.
Around my neck is a beautiful gold pendant necklace!
---
Next up, read my French fall/winter capsule wardrobe post!