The signs of spring are finally starting to appear in Paris which means I get to go through my wardrobe and make sure I'm ready for those sporadic, unusually warm days! I visited a friend today and sure enough, I was chilly on my way there, hot during our afternoon walk, and chilly again on my way back home.
If you want to get French girl spring style, but don't know where to begin, these wardrobe essentials will guide you.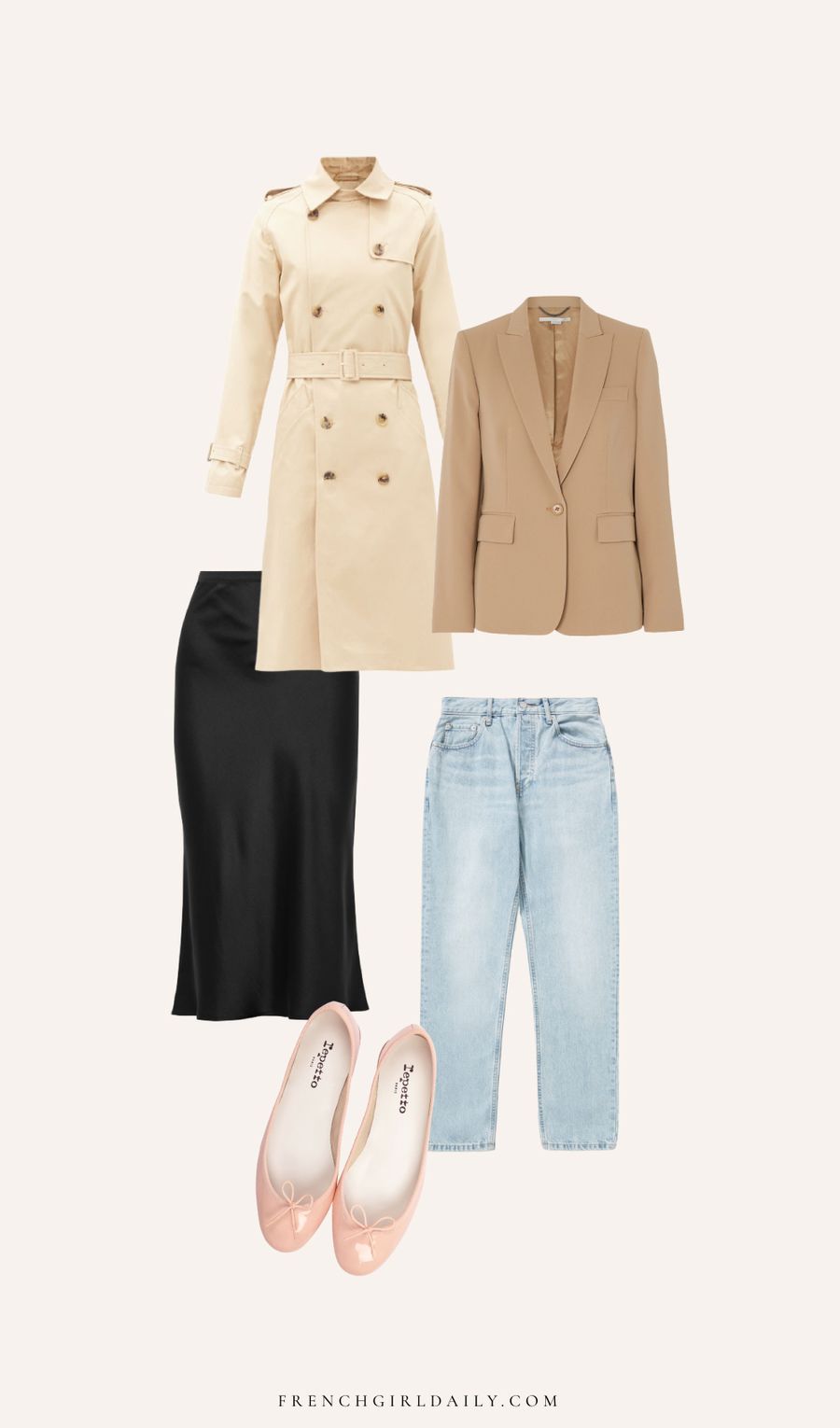 French Girl Spring Wardrobe
For Parisian hot and cold days, there are a few French spring wardrobe staples that I like to keep on hand. Since it can take a while to build a full spring/summer capsule wardrobe collection, I recommend starting with these basic essentials for spring.
Trench Coat
A trench coat is always a very useful piece for a spring wardrobe. If you don't own one, I recommend starting out by buying the classic beige-colored one. They also come in black and green but the beige one matches well with more outfits. Most trench coats are waterproof making them great go-to coats when there's a chance of some light spring rain.
Beige Wool Jacket
Another great spring staple is a short, beige wool jacket, which could be a blazer or a more structured coat. Once March rolls around, I grab my light beige wool coat to keep myself warm during those early spring chilly days. I typically layer it over a long sleeve blouse or a sweater if it's still cold out.
A Great Knit Sweater
That brings me to my next spring wardrobe staple – the knit sweater! A cozy knit sweater is a must-have for the Parisian spring season. I typically pair mine with a great pair of jeans, or sometimes corduroys if it's still a bit cold out. I wear mine slightly oversized and I always feel so chic and warm in them! I recently shared with you guys that I got two wool sweaters in Paris at a great price.
Cardigan
The cardigan is a great spring sweater for those days when you want the option of easily removing it. Sweaters are great but they do feel a bit stuffy, and taking them off is always a pain without messing up my hair! Cardigans are amazing pieces of clothing because you can unbutton them as needed.
Midi Dress
A midi dress for spring is a fantastic idea. Midi length cuts come down to the knee or just below it, making them warm and stylish at the same time. Having bare legs in the spring is a rarity for me as in Paris it doesn't often warm up enough for that until the summer months. I always layer my midi dresses in spring with a great cardigan, blazer, or jacket. In any case, this is a great French girl dress to own.
Midi Skirt
Similar to the midi dress, the French girl midi skirt is the perfect length for spring days! I love to wear a midi skirt with a thick and cozy wool sweater. I prefer silk for my midi skirts and I recently got one from Anine Bing which I can't wait to share with you guys! Refine is another brand that I would love to try for silk midi skirts.
Light Wash Blue Jeans
Jeans are always a great staple to have. I have so many jeans it's actually excessive (and not 5-piece compliant at all!). I have an awkward body type so I ended up trying a bunch of different cuts before I realized that the 501 cut is the one to rule them all! Of course, finding vintage Levi's 501 jeans in your size is actually pretty tough. When I can't find what I'm looking for vintage, I turn to other brands for jeans!
White Jeans
White jeans are another great spring staple. My first pair of white jeans was the J Brand Joan jean which I still wear but sadly they got a stain on them while I kept them in storage for the winter! Meh. So now I'm on the hunt for a new pair of great spring-friendly white jeans. Oh, and that's the only downside to these versatile pants – they stain easily! Wear with caution. 😉
Beige Leather Boots
I am really obsessed with the color beige. It just works so well with so many outfits! I picked up a pair of beige leather boots last season from Rouje and I couldn't be happier. They have a 2 or 3-centimeter heel, so they're very walkable. They are crafted in smooth leather, not textured, and they are just so beautiful. Of course, these kinds of ankle boots don't come cheap, but you can find affordable ones that are near dupes of the famous By Far model.
Flats
Lastly, a good pair of flats is a must for spring in France. For me, these are the traditional French ballet flats, but I know lots of people can't walk in flats – so you can substitute this one for French sneakers if you must! I have never had a problem walking hours in flats – ok, maybe after like, 6 hours my feet hurt – so this is my go-to shoe style for not only spring but summer and fall, too! I typically get them in a nude beige color and another pair in black.
What do you think about these French spring wardrobe essentials?