If there's one item of clothing that French girls are obsessed with, it's a pair of vintage Levi's 501 jeans. These elusive jeans are constantly noted as the one must-have piece in your closet by chic French women.
501 jeans are universally flattering. They have a high waist, hug tightly around the hips, and feature a straight leg that might taper out a bit near the ankles. They aren't skinny jeans but they aren't wide-leg jeans either. 501s are the perfect medium.
These jeans are considered a French wardrobe staple because they can be dressed up or down and pair well with so many different other pieces.
The worst part about vintage Levi's 501 jeans is that they're a bit hard to find and you need to know your size!
If you want to expand your French girl jeans collection, then you've got to get your hand on a pair of these jeans!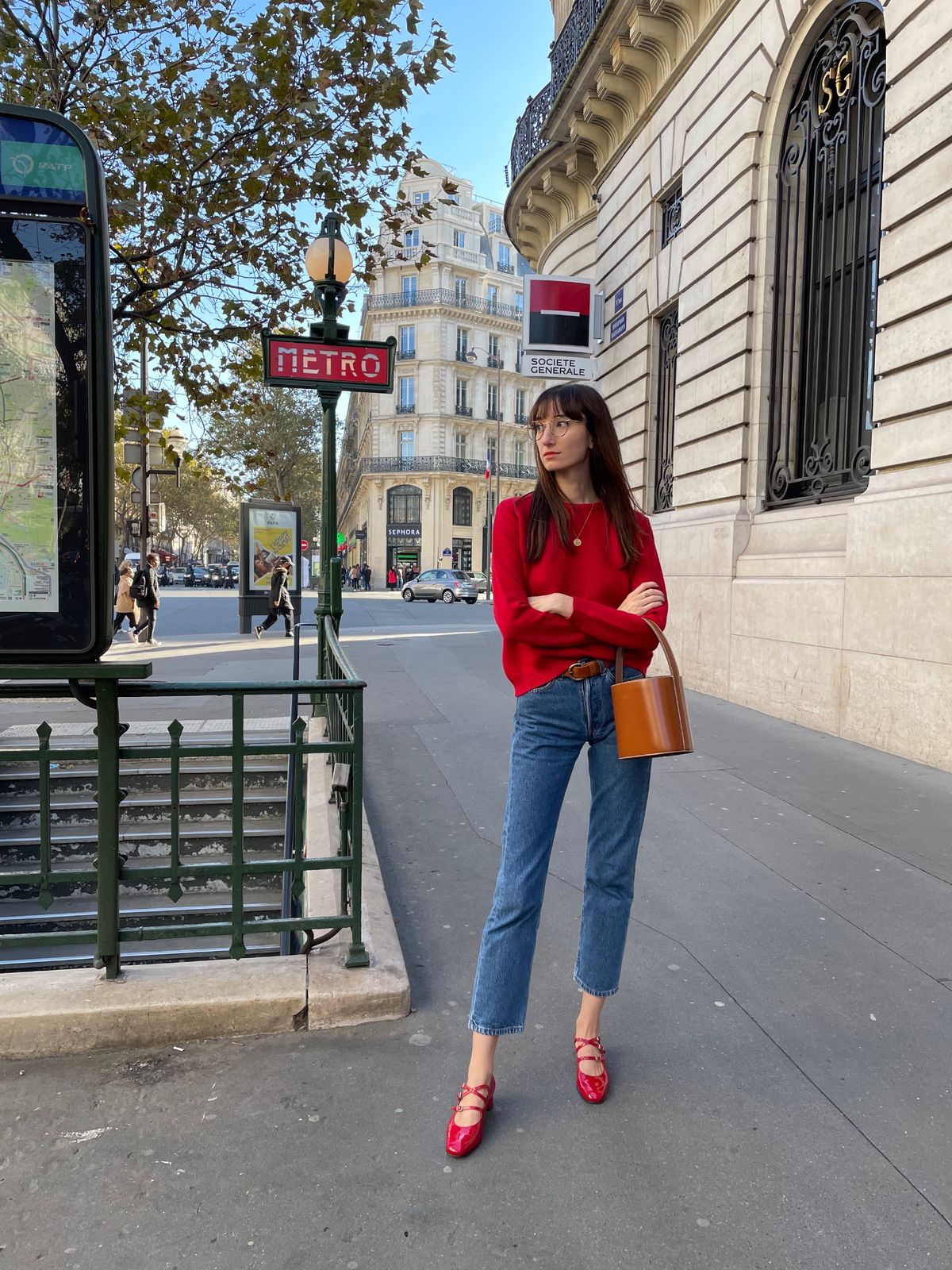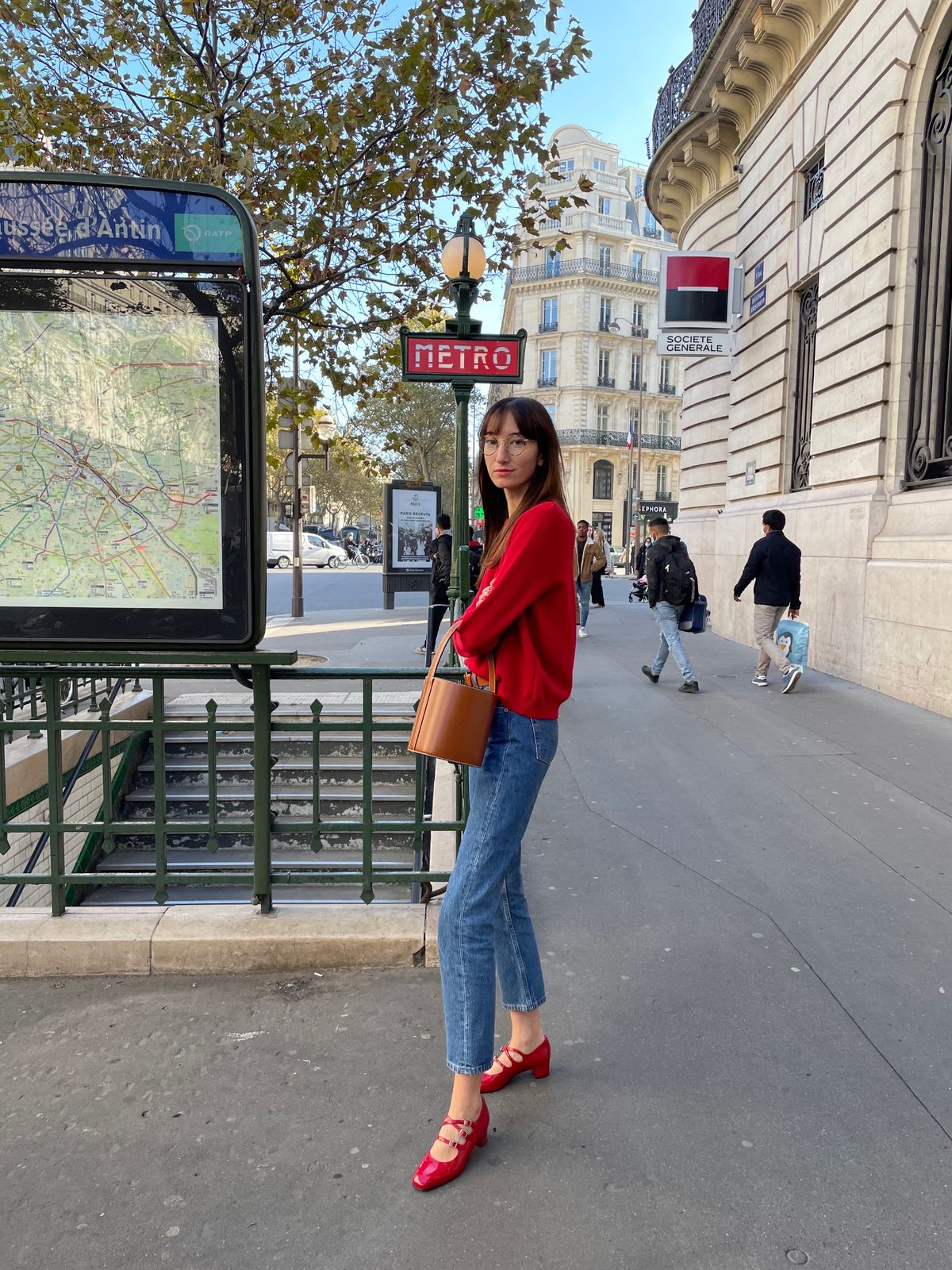 How I Acquired Each of my Levi's 501 Jeans
The first pair of blue Levi's 501 jeans I bought I found in Paris by chance. I was visiting the new Sézane store in the 17th arrondissement of Paris and I came across a beautiful pair of black vintage Levi's 501s.
They weren't my size but I figured I would try them on anyway. It turns out that vintage Levi's jeans run very big and you need to take 2 sizes larger than you normally would for them to fit properly!
I snagged those jeans for 65€ which, depending on who you ask, was a normal to high price to pay.
When trying on the jeans, I completely understood why they became so cult. They really flatter every part of your legs. They lift and hug your butt while the straight leg makes your legs look slim.
The next pair of Levi's I bought were the classic blue color.
I had just had lunch with my friend Camille and she had told me there was a great vintage shop nearby in the 9th arrondissement of Paris.
Afterward, I decided to stop by. The store was called Le Coffre Shop and inside there were loads of vintage clothing from different decades.
The shopkeeper said she had the perfect pair of jeans for me! I told her how hard it was for me to find pants that fit me properly and she understood. While I didn't buy the exact pair she recommended, I came across another pair of vintage jeans that was just my style.
They did have a stain on them but it was barely noticeable from a distance. The jeans were tight but they hugged me in all the right places. They cost me about 45€. Sold!
My third pair of vintage Levi's jeans was a solid beige color. I found those last fall at an Imparfaite Paris pop-up shop in central Paris.
Imparfait is one of the largest French online vintage shops. They work with vintage stores from across the country and occasionally host pop-ups where you can try on their vintage goods in person. 
I got lucky at one of them and scored a beautiful pair of beige vintage Levi's jeans with a straight leg for around 70€.
As you can see, finding vintage Levi's jeans isn't impossible, but I always end up finding them when I'm not looking for them!
Vintage Jeans Sizing
You can buy vintage Levi's jeans online but I would only do so if you're able to return them because the sizing can be tough to get right. I typically buy a 26 or 27 which are super tight around the crotch and loose along the legs. They stretch a bit over time, but not much since vintage jeans have already been worn and therefore have already shrunk.
I am a size 2 US or 25 in jeans normally. So I size up 1-2 sizes in vintage Levi's jeans.
You'll also need to pay attention to the inseam length of the jeans. My black and blue jeans were shorter than I would have preferred. The previous owner did not cut them, they were hemmed at to have about a 30-inch inseam. My beige jeans were longer at 32 inches, and I might even cut an inch off the bottom to make them shorter.
If you are on the tall side like me, you may need to pay extra attention to the jean inseam as you obviously can't make short jeans longer!
Where to Buy Vintage Levi's Jeans
My best tip for finding your perfect pair of vintage Levi's jeans is to keep your eyes and ears open for the next vintage clothing fair in your town.
I highly recommend buying your first pair of vintage Levi's in person so you can try on different sizes and make sure you're getting the right one.
If you know your size, you can buy a pair online. You can search through Etsy and eBay where some people sell vintage jeans.
You can also look at French specialty vintage dealers like Imparfaite.
Styling Vintage Jeans
I love styling my vintage Levi's jeans with leather boots that have a high shaft. The classic French way to style these jeans is with a beautiful oversized blazer and a t-shirt underneath. However you style them, I'm sure they'll look lovely on you!