I was on the hunt for the perfect French minimalist trench coat for a while before deciding on the classic A.P.C. Josephine trench coat. It's quite similar to the poplar Greta model, but I found this one for less.
Beige trench coats have become a French wardrobe essential and there are countless different versions of them you can buy. From silk to cotton to pleated to basic, there are endless styles of trench coat design these days. Women's trench coats date all the way back to the early 20th century so this is one piece of clothing that has stood the test of time. Personally, I was looking for a basic, minimalist beige French trench coat to serve as a year-round wardrobe staple in my closet.
First I started to think about what brand I wanted to buy. I would have loved to have splurged for the classic Burberry Kensington trench, but realistically it's quite expensive for what it is. If you ask me, A.P.C. is a nice happy medium between affordability and quality, so I decided to look there.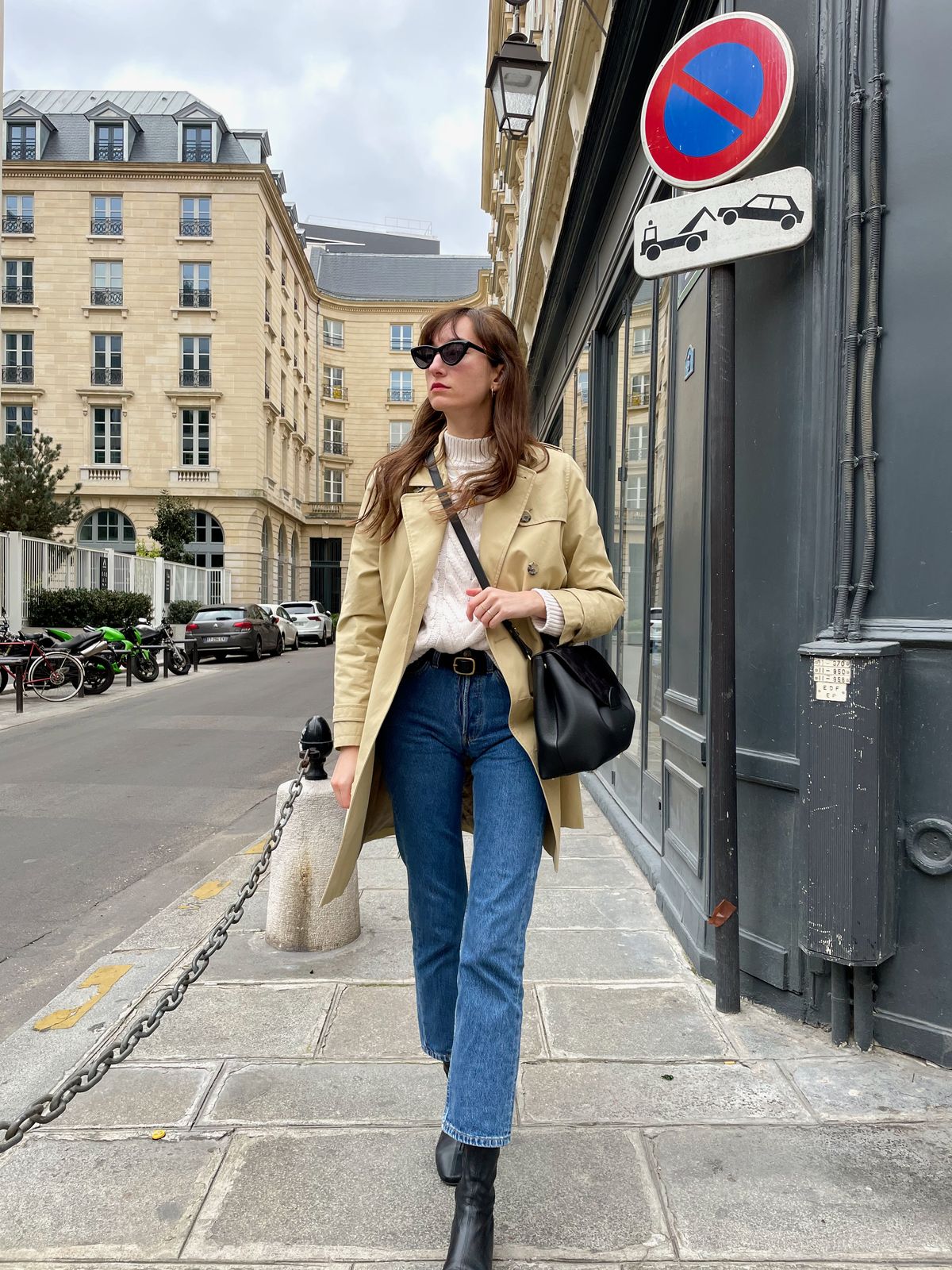 A.P.C. Trench Coats
In case you aren't familiar with them, A.P.C. is a French brand from the 80s, known for its minimalist, chic design. It's reached cult status and is very often recommended in guides about French girl style. What I like about A.P.C. is that its design is minimal but not in a boring way – there's always a touch of character on each piece that gives it a little charm in a way that's very French (as opposed to Scandinavian or Korean design which is strictly minimal with no added uniqueness).
You can see an example of this on my A.P.C. Ella bag review, where the design of the bag is quite minimal, but the gold chain gives it that extra charm. See what I mean? 🙂
A.P.C. is not cheap by any means, but it's less expensive than a true luxury brand. What's more is that they have several "surplus" stores around the world where you can shop last season's collection at around 50% off its original price.
So when it came time to buy my trench coat, I headed up to Montmartre in Paris to visit the women's surplus store. At the time, the location at 20 Rue André del Sarte in the 18th was the only surplus store in Paris, but they have since opened up a new surplus store in the 7th in Rive Gauche.
A.P.C. usually has a good selection of stock in their surplus stores. The smaller sizes sell out the quickest, but if you get lucky you can find a great piece in your size.
A.P.C. had just one style of a beige trench coat in stock – the Josephine – and it was perfect. I tried it on in my size (36) and even though it was a bit large, I loved the slightly oversized look of it. Plus, this would allow me to wear thick sweaters underneath and still feel comfortable.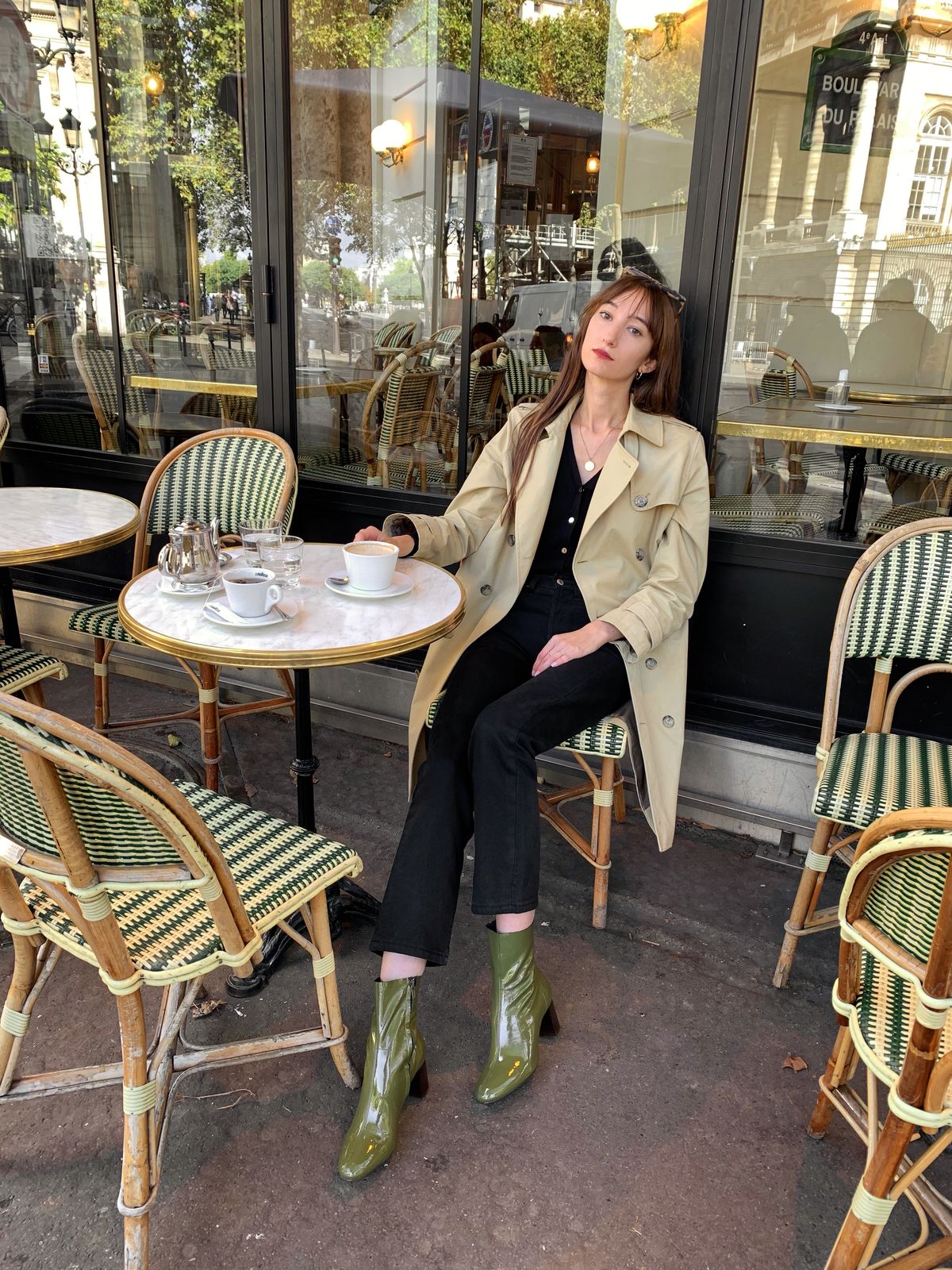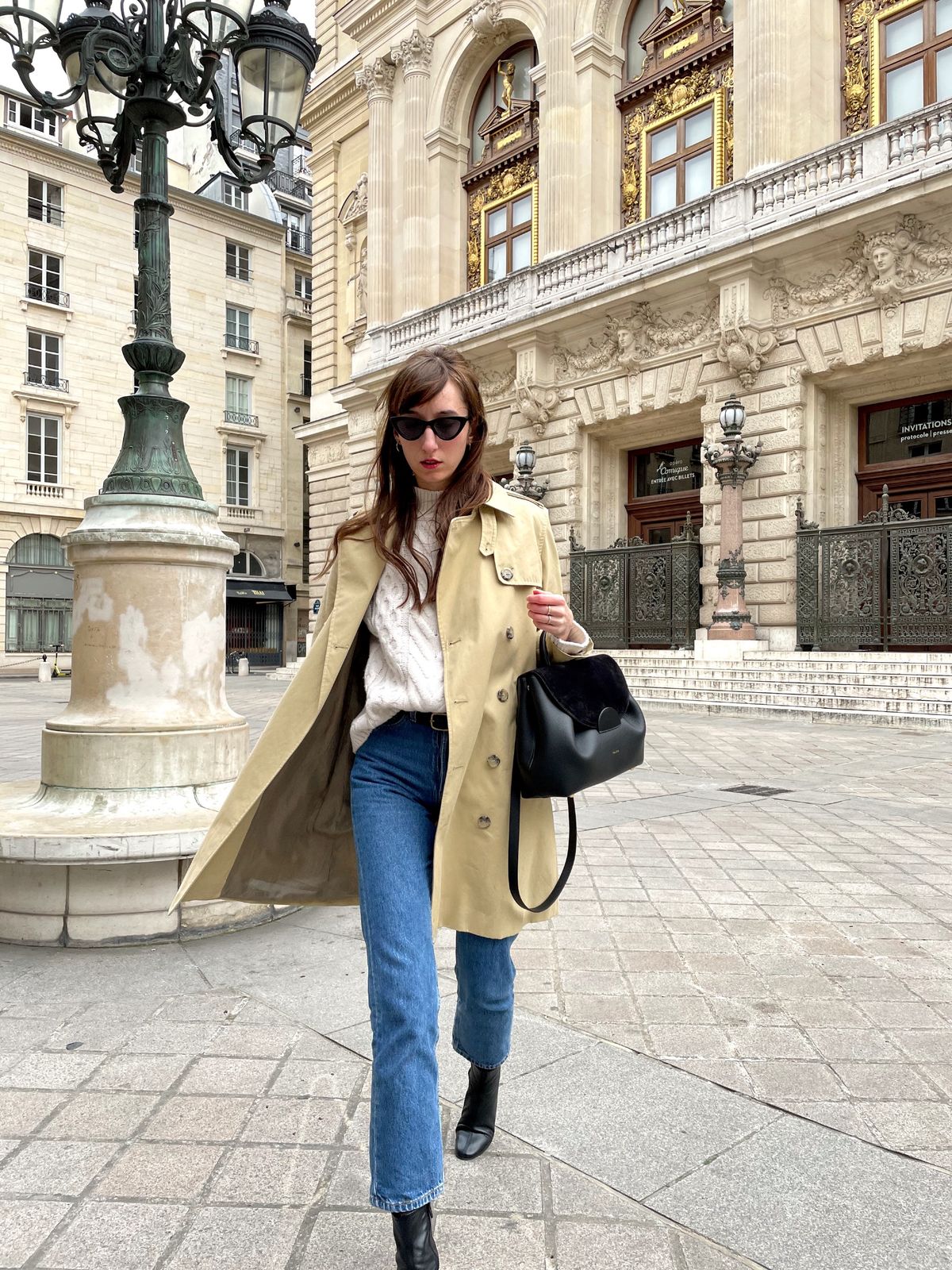 The trench comes down to my knees and the design is quite basic with all the essentials and nothing more. It's waterproof, thick, but not too much (I wouldn't wear it in winter), and made of a cotton blend.
My only complaint is that I wish the belt was a little longer so I could tie it in a bow around my waist instead of always buckling it closed. Then again, if it was longer, there would be excess belt when it was buckled so I understand that design decision!
So that's the story of how I got my classic beige trench coat! It's certainly become a wardrobe staple and something that is so easy to pair with many outfits in my closet. It goes well with jeans, skirts, and so much more.
My A.P.C. trench coat has become my go-to jacket in spring, summer, and fall!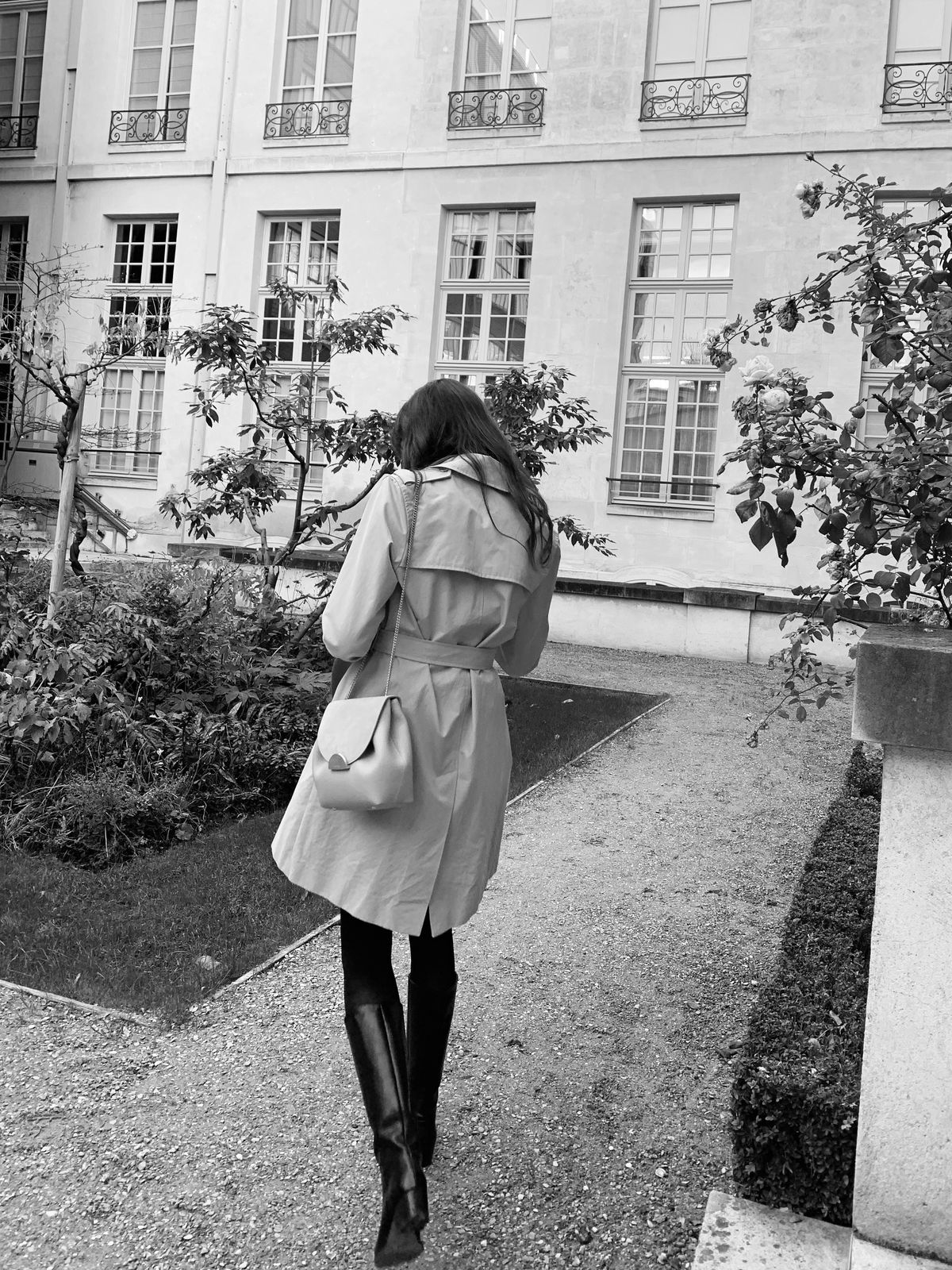 I hope this was helpful in deciding which trench coat is right for you! Trench coats are a great addition to your French outerwear collection!