The first time I saw the Ella bag was on a French woman at the Jardin d'Acclimatation. She was wearing a camel coat and wore a black Ella bag crossbody. I loved the design – a thick gold chain strap that was shorter than a full crossbody bag, but longer than a shoulder baguette bag.
I could tell by the little gold logo that this was an A.P.C. bag.
I found the bag online, but I waited to purchase it until I was 100% sure that I wanted it as I always do. This is my new purchasing philosophy. Don't make impulse purchases! Reflect first.
A few months later I saw the bag again at a press day for André shoes. It was also worn over a winter wool coat. I fell a little bit more in love with this gorgeous, unique handbag!
Once the semi-annual soldes (sales) came around in France, I headed to the A.P.C. store to check out the bag and see if it was on sale. It was on sale in two colors – and I loved them both! The first color was sable, a dark beige. This bag was made of smooth leather with a slight sheen. The second bag was a Bordeaux color with a front pocket panel made of suede and a body made of smooth leather. Both bags had the classic gold chain for a handle.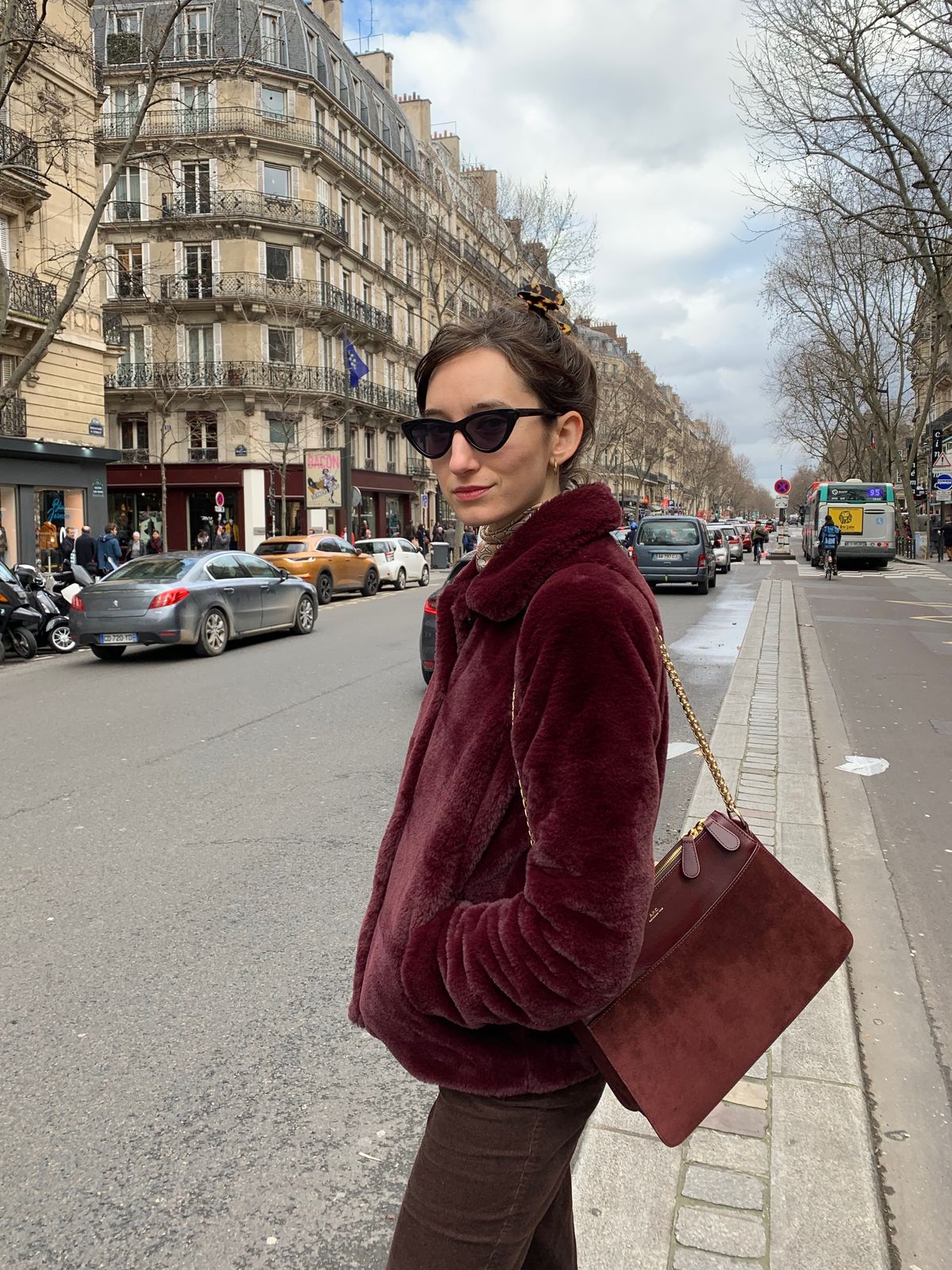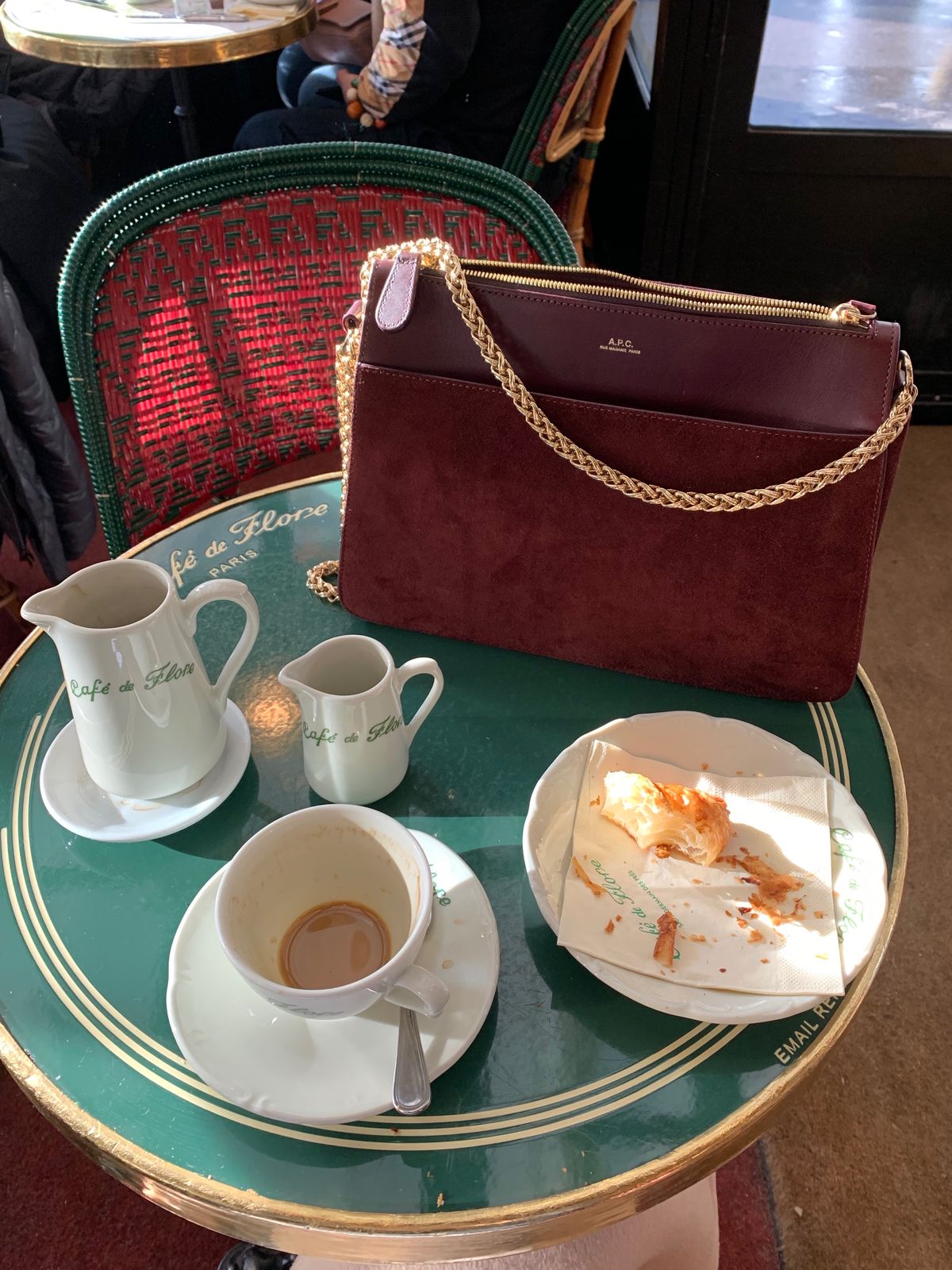 I had originally wanted the "sand" color because it looked like a light beige color when I saw it on the A.P.C. website. When I got to the store I was a little disappointed that the beige was not as light as I thought it was. I had hoped to use this as a spring/summer bag so I needed a lighter beige. I still totally fell in love with the color, it was just clear that this was a dark fall/winter beige!
I often buy the same style in both light and dark colors. I did that with the Nathalie Dumeix Jeanne pant (in both beige and navy) so I thought I would do the same here.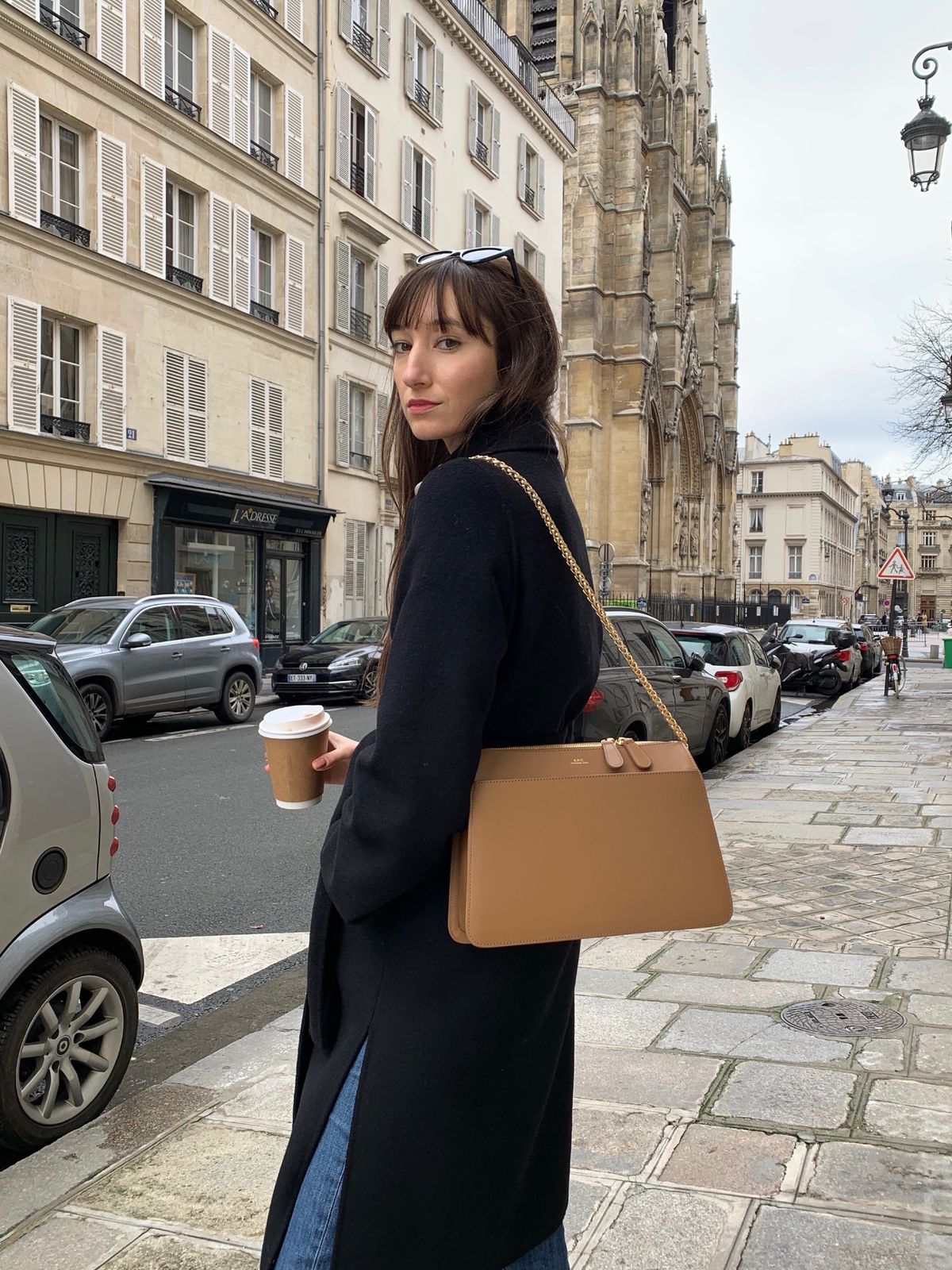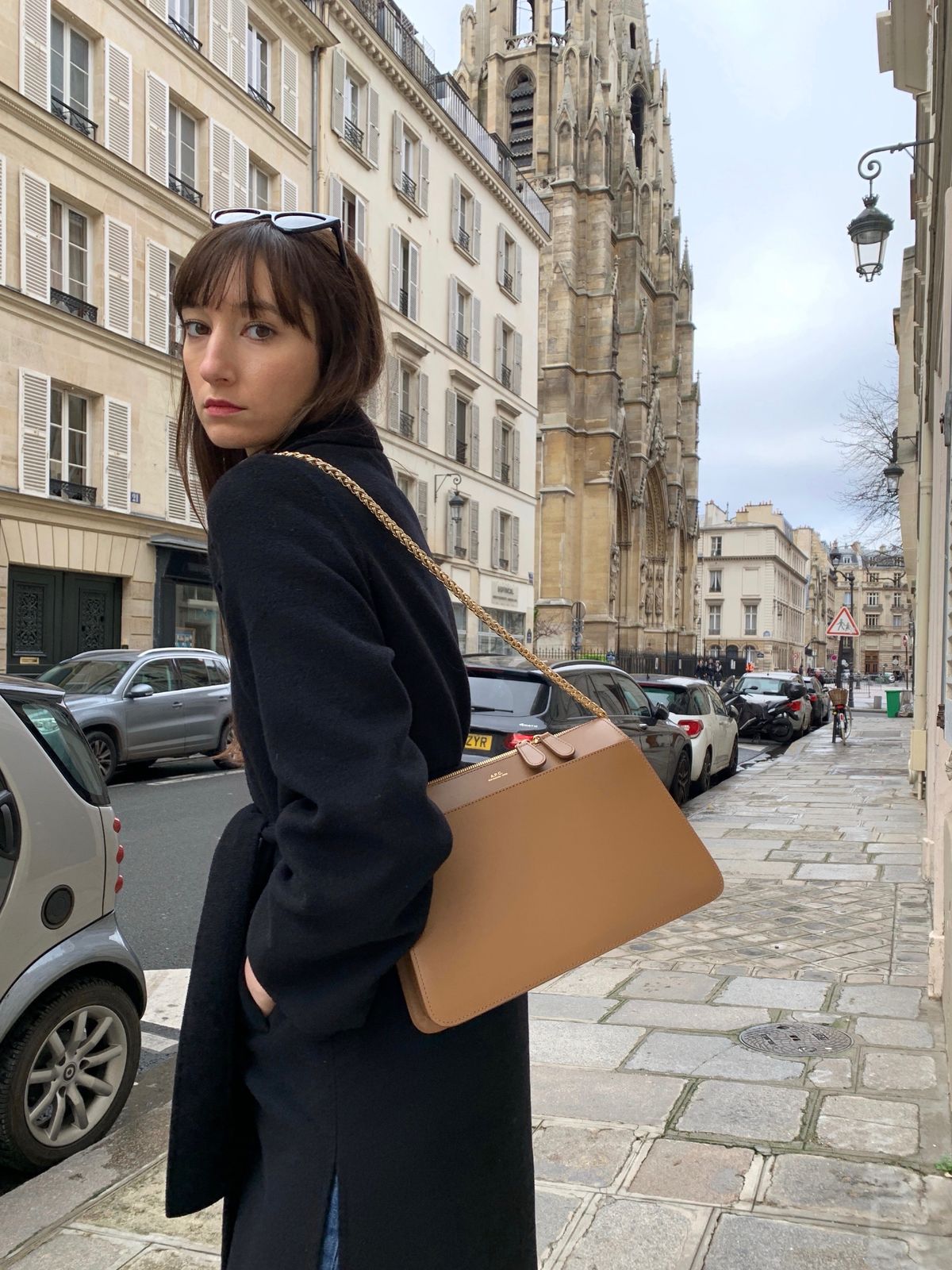 I ended up purchasing both bags since they were both on sale and told myself I would mull it over at home.
PS. I won't make that mistake again because let's be real – when we take stuff home with us to "think it over," it rarely goes back to the store again! Am I right?
Sure enough I ended up keeping both bags. I do love the bags but I wish I had been strong enough to return one! Oh well…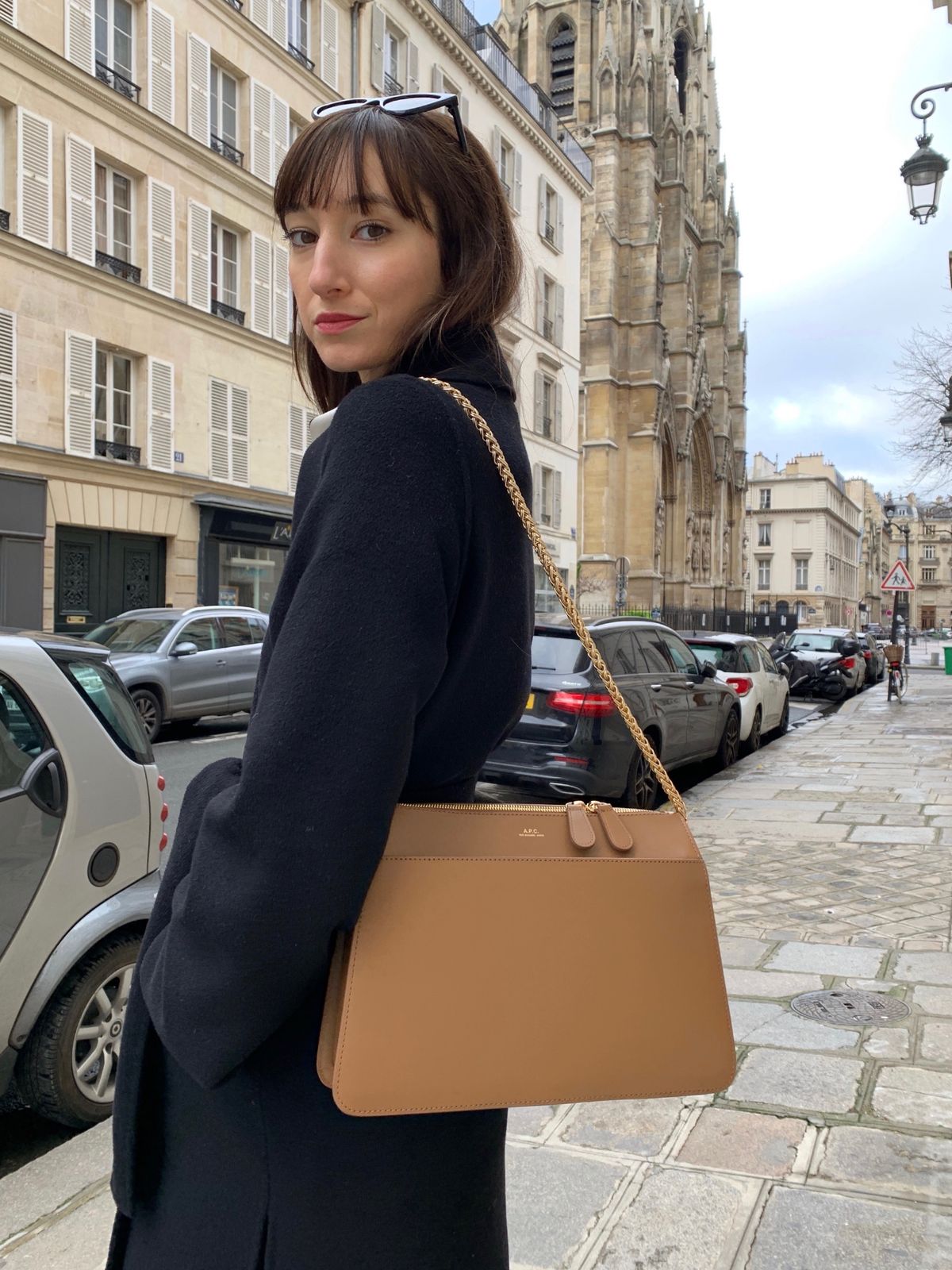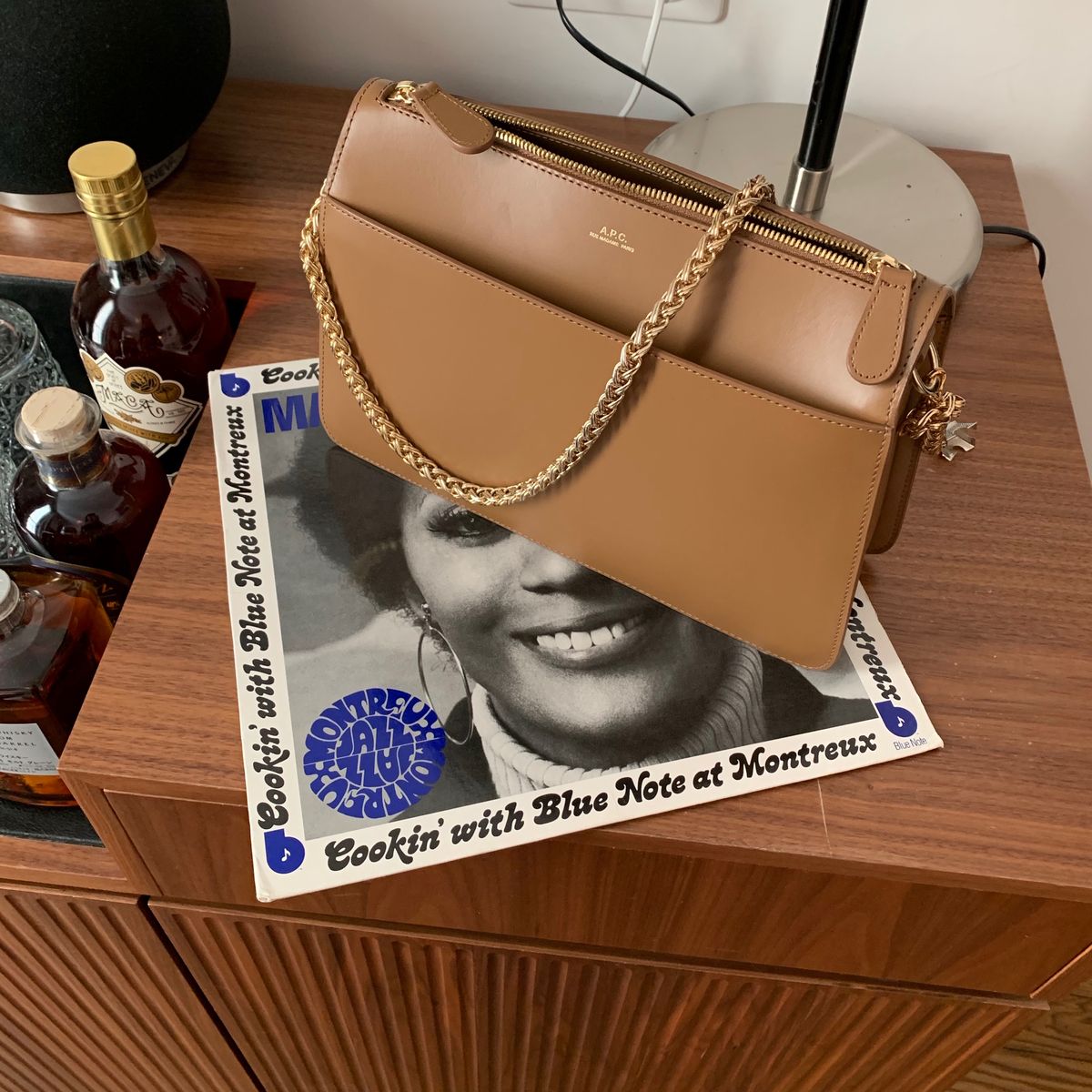 So what do I think about the bags?
Here are my thoughts:
I love the design. I'm so happy with the beauty of this bag. It's rare to find a larger bag that is meant to be worn on the shoulder, and drops low enough that it isn't annoying. Even though you can wear this bag crossbody, I think you have to be a thin person to do so, especially if you're wearing a winter coat with it.
The bag holds quite a few things as any medium sized handbag would. I can keep a small book, my wallet, sunglasses, and more inside this bag comfortably.
Now for the bad.
No bag is perfect and I'm someone who can sacrifice a little functionality for a beautiful form. My gripes with this bag are few, but worth noting.
First of all, the Ella bag is not lightweight. Between the thick leather and the gold chain, this is a relatively heavy bag.
Second of all, the zipper isn't exactly practical. The bag itself is actually wider than the zipper allows you to open without stretching the leather. The zipper doesn't go beyond the length of the bag (a good visual decision), but the downside is that it scrapes your hand as you reach in to get something. It's not a huge deal, and I haven't been injured by the zipper or anything but it's something to be aware of. I don't mind sacrificing a little hand comfort for the beauty of this bag!
A week after buying this bag, I noticed the side panels actually extend beyond the bottom body piece. This is great for keeping the bottom off of surfaces, but if you leave it standing up for a long time, the side panels will start to fold under due to the weight coming from above. For this reason, I started to store this bag only in a hanging position. I never let it rest on its bottom "feet." This doesn't bother me but if you're used to storing your bags upright, it could be annoying to you.
That's it! I definitely recommend the A.P.C. Ella bag, despite its flaws. It's a gorgeous, timeless bag that will last you many years to come. I can't wait to use mine all fall and winter long!