As you guys know, Nathalie Dumeix is one of my favorite designers to shop from. She creates beautiful 70s-inspired clothing in her Parisian atelier. Yes, that's right, you can shop for clothing not just made in France, but Paris itself. Dumeix makes many different pieces of clothing from blazers to sweaters to skirts, but I personally love her Joplin and Jeanne pants.
The Joplin Pant
The Joplin pant is probably my favorite fall / winter pant. I have it in just about all the colors it's made in – burnt red, brown, green, and navy. (Black is the only color I don't own). It's become my go-to pant when temperatures start to drop.
The Joplin pant is made of corduroy and has a button-up fly design. The large round buttons and oversized square pockets of this pant give it a super cool 70s vibe. I went with a size 36 (I'm a US size 2) as the pant is not meant to be skin tight around the thighs or the knee. It is meant to be worn tight around the hips and waist. The bottom part of this pant flares out, which is so flattering to the legs.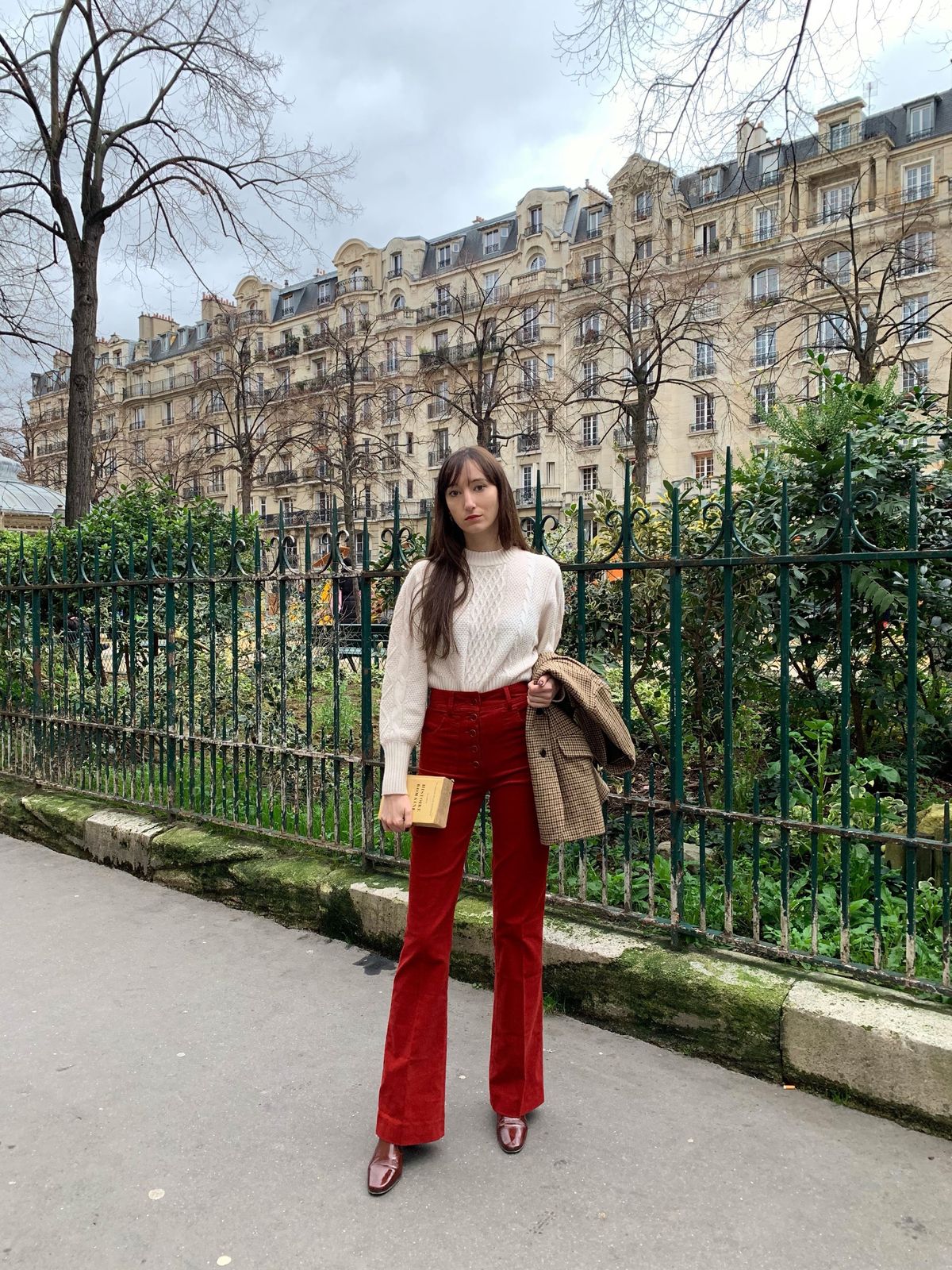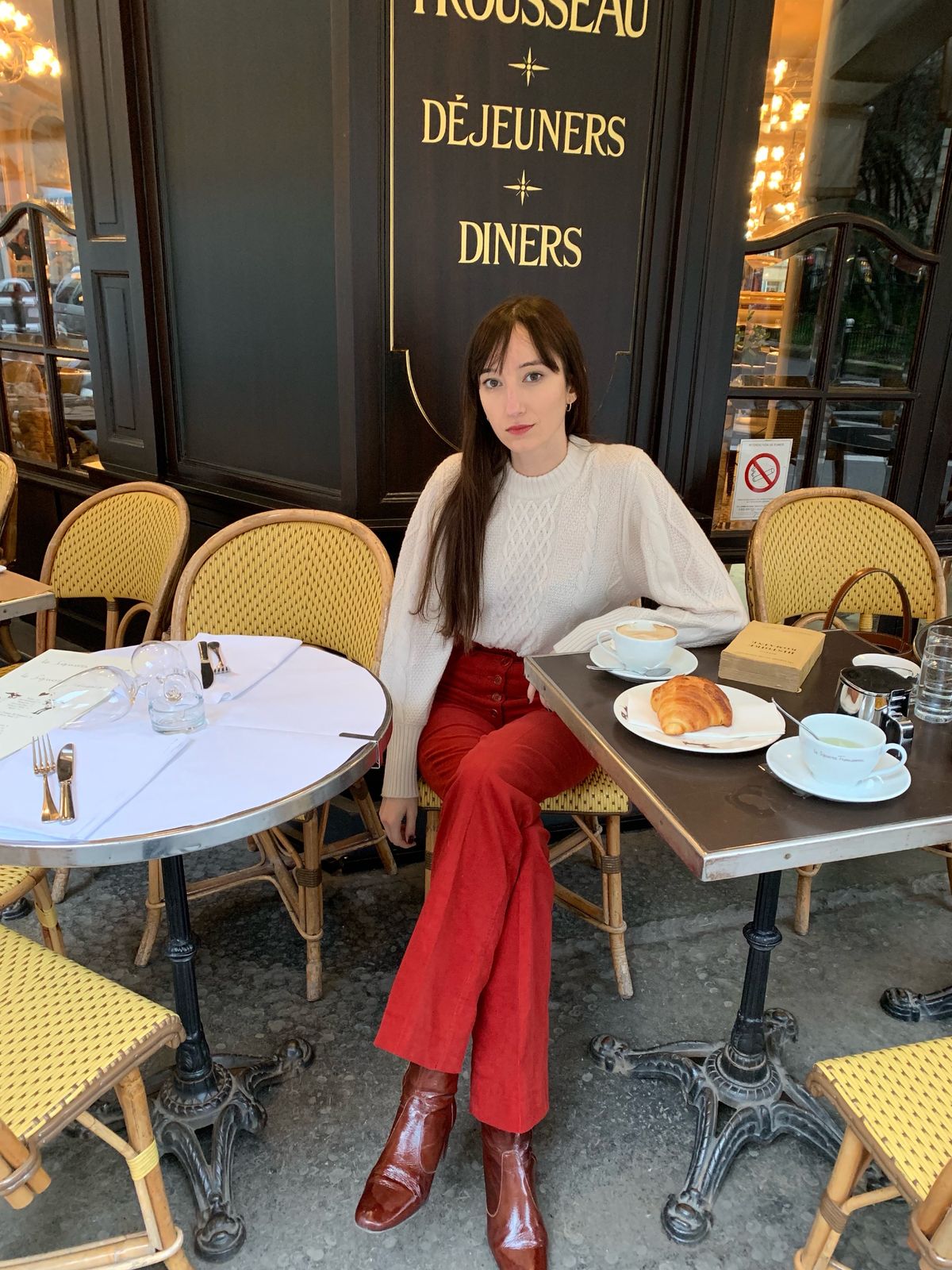 The Jeanne Pant
The Jeanne pant is my second favorite style by Dumeix. This pant is a high-waisted straight leg pant with one large button and a zipper that keeps the pant tight around your hips. It falls straight down from the thigh downwards, so I prefer to wear it with tighter tops to create a balance. The shape of the legs is not visible when wearing this pant so it's great for work. I have this pant in beige and navy and it's truly indispensable! I went with a size 36 but I could have sized down to a 34 if I preferred a tighter look.
The Jimmy Pant
Lastly, I discovered the new Jimmy style during a recent visit to the store. This is a dark brown velvet pant with a wider flared leg than the Joplin. The side pockets are less noticeable and the pant opens with a zipper fly and one small waist button. This is another great pant that I could totally see myself wearing to work because it's such a minimal and chic design!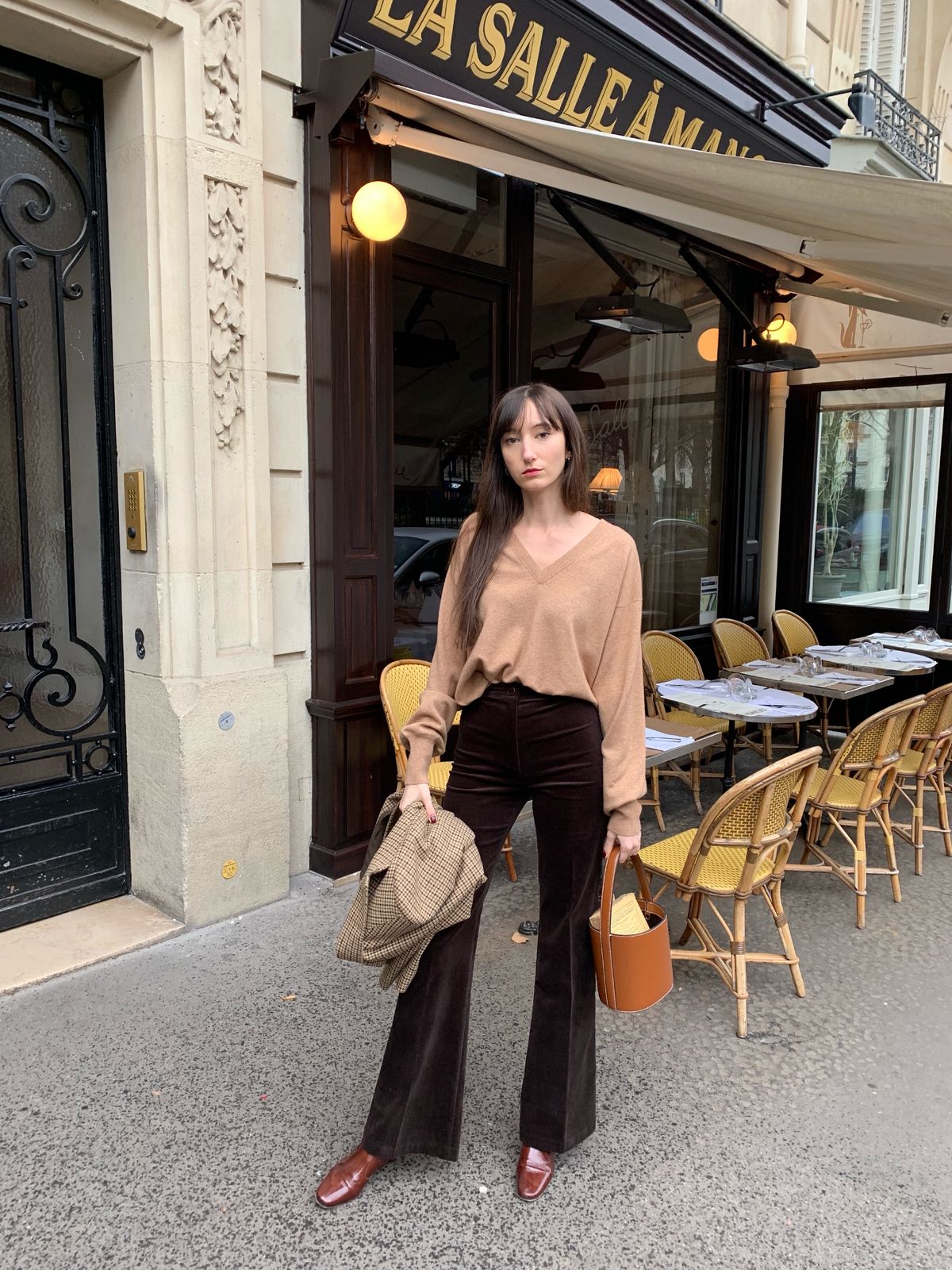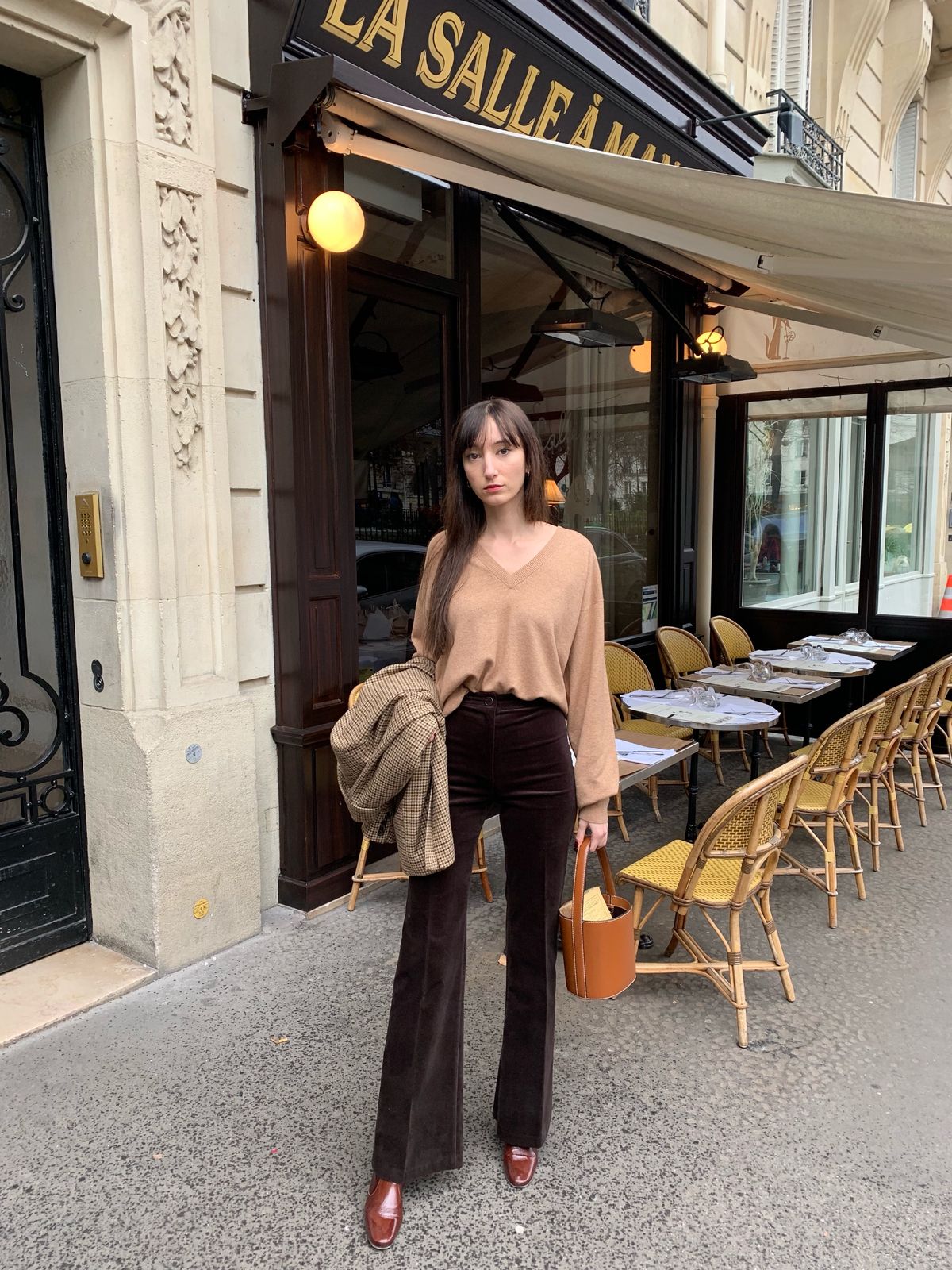 The Jeanne Skirt
The Jeanne skirt is also a beautiful piece worth considering from Nathalie Dumeix. It is a high-waisted corduroy skirt with large buttons working their way up the center of the skirt.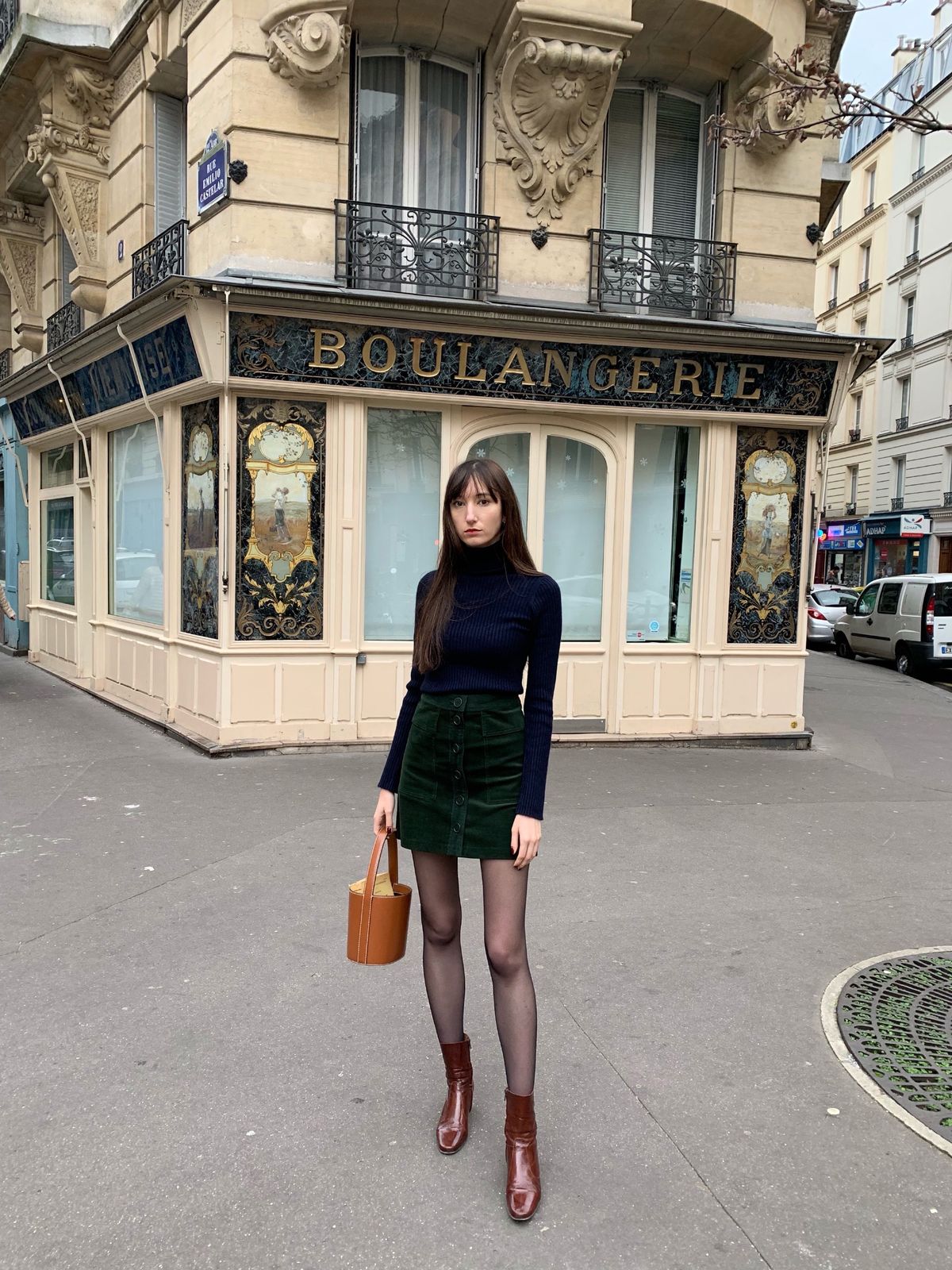 Visit Nathalie Dumeix at her Paris store:
10 Rue Théophile Roussel
75012 Paris, France
Open Tuesday to Saturday from 11AM–7:30PM