Espadrilles are a classic French girl shoe, perfect for a range of situations from spring to summer. With canvas fabric and woven rope-style trim, they can be worn with a variety of different outfits for a number of occasions. Whether styled casually with jeans or denim shorts or dressed up with a floral dress, espadrilles are the ideal Parisian shoe to have in your wardrobe.
If you love shoes with a little bit of height that is still walkable, espadrilles are perfect for you. They commonly come in a medium wedge style with ankle straps and a closed toe. If you do a lot of walking, a loafer-style shoe is comfortable and ideal for when you're on the go.
Let's chat about the history of this classic French girl shoe and where to buy the best espadrilles!
Choosing the Best Pair of Espadrilles
So, you want to add espadrilles to your French girl shoe collection? Here are some buying tips.
Espadrilles have a flat wedge heel which makes them super walkable. I love the fact that I can walk around Paris without watching where I step or casually tipping over!
Since the toe cover is made of canvas, they will stretch over time and shape themselves to your feet the more you walk in them. So, unfortunately, they aren't going to be shoes you can keep for a lifetime. But they aren't too expensive, so replacing them every two years shouldn't be a huge deal.
Colors
In sticking with the standard French wardrobe colors, I have espadrilles in two colors: navy and ivory, but I see them in many different shades like red and black, too.
Sizing
I personally sized down with my espadrilles because I knew they would slowly stretch over time. I also wanted to make sure I could tie the ankle straps tightly around my feet so there wouldn't be too much loose space around the heel which might cause me to trip.
I was in between sizes so I ordered both and returned the larger pair. I recommend you do the same to ensure you get the right fit!
These are honestly some of the most comfortable shoes I've ever worn and I hope you'll enjoy them as much as I do!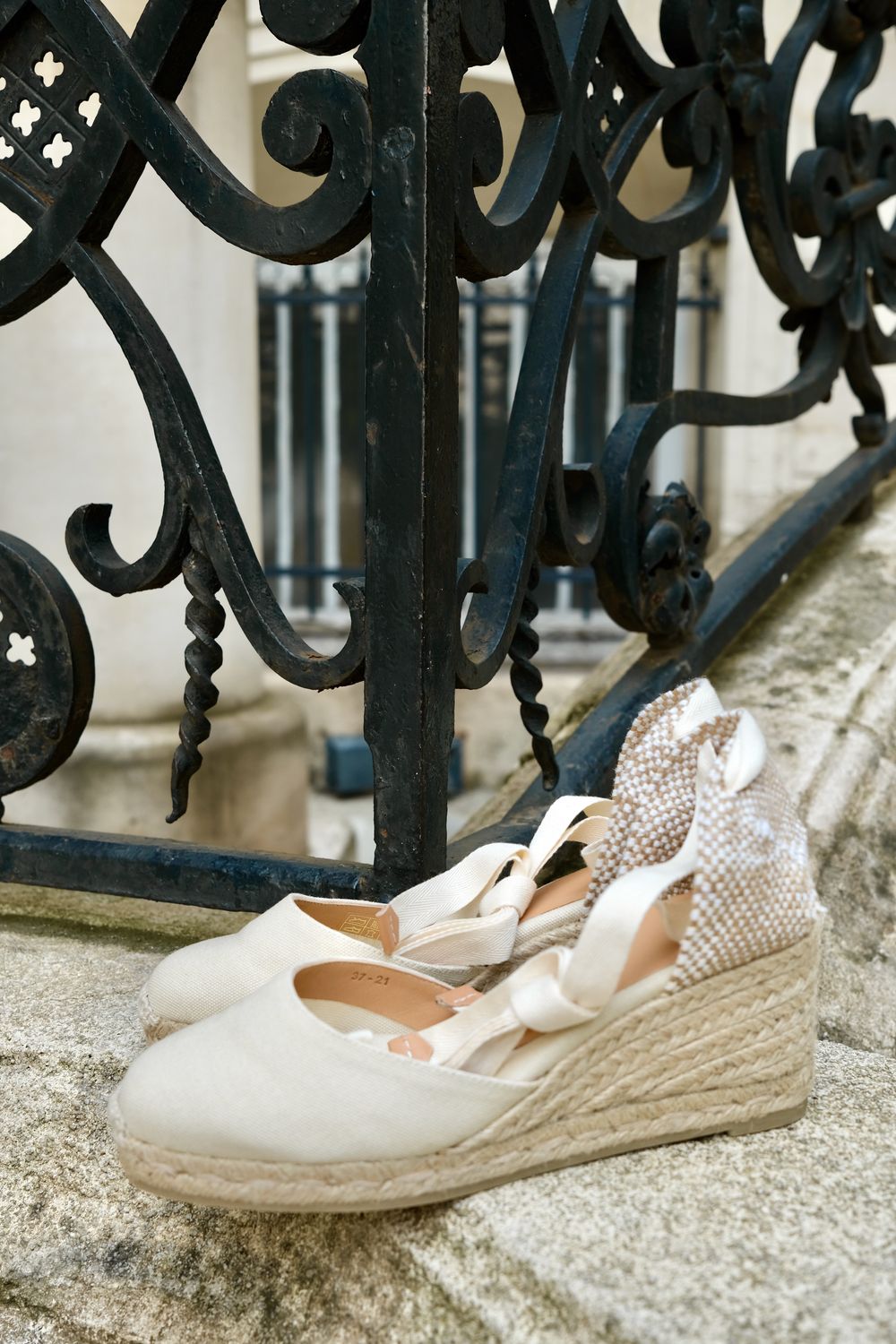 Best Espadrilles Brands
Whether you're looking for a flat pair to wear for every day, or you want a classy heeled wedge to wear for summer occasions, there's an espadrille style for every occasion.
You can grab a colored pair for a pop to your wardrobe, or choose a more neutral canvas to pair with any outfit. No matter what you choose, there's a perfect pair of espadrilles for you. These are the top espadrilles brands to consider!
Castañer
Let's start with the espadrille brand you must know about – Castañer. Castañer is a Spanish shoemaker that was founded almost a century ago.
The company is well known for making some of the best espadrilles around and their shoes even come in several different heel heights. I personally love a low heel, so for me the 60mm heel height is perfect.
Founded in 1927, Castañer has been making espadrilles for nearly 100 years so you know they're experts. The company even worked with Yves Saint Laurent in the 1970s to create the first wedge espadrille.
The shoes have been sported by a variety of famous figures, and remain a popular brand around the world today.
Castañer offers espadrilles in a wide variety of styles and colors including flats and wedges.
The brand has been popular with French fashion influencers, including Anne Laure Mais Moreau, Jeanne Damas, and Sabina Socol to name just a few!
Soludos
Soho NYC company Soludos has been making shoes since 2010 and the company's espadrilles have quickly gained popularity.
While Soludos offers classic espadrilles styles, both in flats and heels, they're loved for their colorful designs. Many of the flats are donned with fun prints or designs like an aperitif, lemons, sun, and moon, or phrases like Ciao Bella.
The company also has multiple heeled platform styles, meaning there's an espadrille for everyone.
Manebi
Established in 2013, Milan-based brand Manebi is known for its espadrilles and swimwear.
The brand offers all the loved classic espadrilles styles but has also taken a creative twist with espadrille sneakers, sandals, and mules.
Manebi also partnered with "Pink as F**k," New York City restaurant Pietro Nolita's concept store, to create a pink pair with the name.
The shoes can be found in nearly every color and a mix of prints like pastels, gold, a bandana print, florals, and more.
Andre Assous
Since establishing his brand in the 1970s, Andre Assous has been using European influence to create espadrilles. Today, his brand offers these shoes in a wide range of creative styles.
The styles today feature many heeled wedges with a modern twist. Some styles are open-back, and the straps come in a variety of materials like clear vinyl, suede, and leather.
Assous espadrilles are perfect if you're looking for a more modern take on the classic beloved style.
History of Espadrilles
Where did espadrilles originate, and how did different famous women in history influence the rise of these shoes into the French spring/summer shoe essential that they are today? Taking a look into the shoe's beginnings, you can see why the espadrille became the beloved style it is today.
Although they may seem like a modern French shoe, espadrilles' conception began hundreds of years ago.
Spanish Beginnings
Espadrilles can be traced back to the Pyrenean region of Occitania and Catalonia in Spain.
The first mention of the shoe in written history came in 1322 in a Catalan text that referred to espardenyas. They were worn by peasants, often poor farmers, and infantry, mainly soldiers.
Espadrilles Over the Centuries
Espadrilles were slowly adopted by more and more people over the centuries.
They can be seen worn in paintings throughout history, including artist Eduardo Zamacois' 1863 depiction of children playing bullfighting.
They were famously worn by Catalan soldiers during the Spanish Civil War in the 1930s. Because they were cheaper to make than military boots, espadrilles were a more logical choice as shoes wore out quickly when soldiers marched on foot.
When Spaniards were forced to flee the country as General Francisco Franco targeted Basques and became head of state in 1939, the shoe style also circulated.
Espadrilles in Modern Fashion
As the shoe style spread across the world, espadrilles gained popularity. Everyone from President John F. Kennedy, Pablo Picasso, Salvador Dalí, and more wore the shoes, helping establish their ubiquity.
From their beginnings of practicality to their evolution as a symbol of oppression under Franco, espadrilles became iconic, particularly with Catalan people.
Much like other fashion garments such as the trench coat, the shoe gained popularity in nearby European cultures including France. Over time, espadrilles evolved into an item that's recognized as a closet staple all over the world today.
French fashion designer Yves Saint Laurent gave espadrilles their height when he styled them as a wedge in the early 1970s. Altuzarra made the style into a full-on stiletto heel, as seen in his Spring 2016 Ready-to-Wear collection.
Whether worn as a classic flat or as a wedge or high heel, espadrilles have come a long way and remain incredibly popular since the shoe's practical beginnings.
Famous Women Who Wore Espadrilles
Many famous women throughout history have worn espadrilles, further popularizing them as people look toward the fashion icons for inspiration in their own closets.
Lauren Bacall
American actress Lauren Bacall was photographed wearing espadrilles, setting the stage for them to gain popularity among other actresses in Hollywood.
She was seen wearing the shoe alongside Humphrey Bogart in the 1948 film Key Largo, as it was paired with a white shirt and tea-length skirt.
Grace Kelly
Hollywood actress turned Princess of Monaco, Grace Kelly wore the popular shoe both on and off-screen. She could be seen sporting the shoe in her 1955 film, To Catch a Thief.
Heidi Klum
Supermodel Heidi Klum has been seen sporting espadrilles on a number of occasions. She often wears a platform sandal-style espadrille with a dress. She's also been spotted wearing a wedge version of the heel with a pair of jeans and a black tank, for a more laid-back look.
---
Espadrilles are one of the must-have summer shoes if you ask me. Often worn in coastal towns along the Mediterranean sea, these comfortable yet chic shoes are ubiquitous in the spring and summer seasons in Europe.