If you've ever felt lost in terms of what outfit to wear on a daily basis, regretted the purchases you made, and can't seem to be happy with your clothing, then you probably need to create a French capsule wardrobe.
Why 'French' you ask? Well, because France is the fashion capital of the world and the country is well-known for its chic citizens.
Trust me, I live in Paris and every day I'm amazed at the number of elegant women walking down the streets here. There are a number of French style rules that French women adhere to in order to achieve that effortless je ne sais quoi vibe we all admire so much.
You see, French girl style is classic, simple, and very chic. French style clothing is minimalist in nature, not too sexy, and very well-tailored. French women only buy timeless pieces that never go out of style. They avoid logos like the plague. Showing off one's wealth isn't considered classy in France at all. Lastly, they pick clothes that fit them well and flatter their particular body type.
If you want to create a functional wardrobe that exudes charm, then let's get started with creating your perfect French girl capsule wardrobe.
What is a Capsule Wardrobe?
What is a capsule wardrobe anyway? A capsule wardrobe is a collection of standard wardrobe items you can use to create any outfit you need. Think of it as a group of your basics. You can add a statement jacket or handbag as needed, but these pieces will form the foundation of all your outfits.
If you're following my 5-Piece French Wardrobe guide, then this capsule wardrobe is a great place to start when building out your closet basics.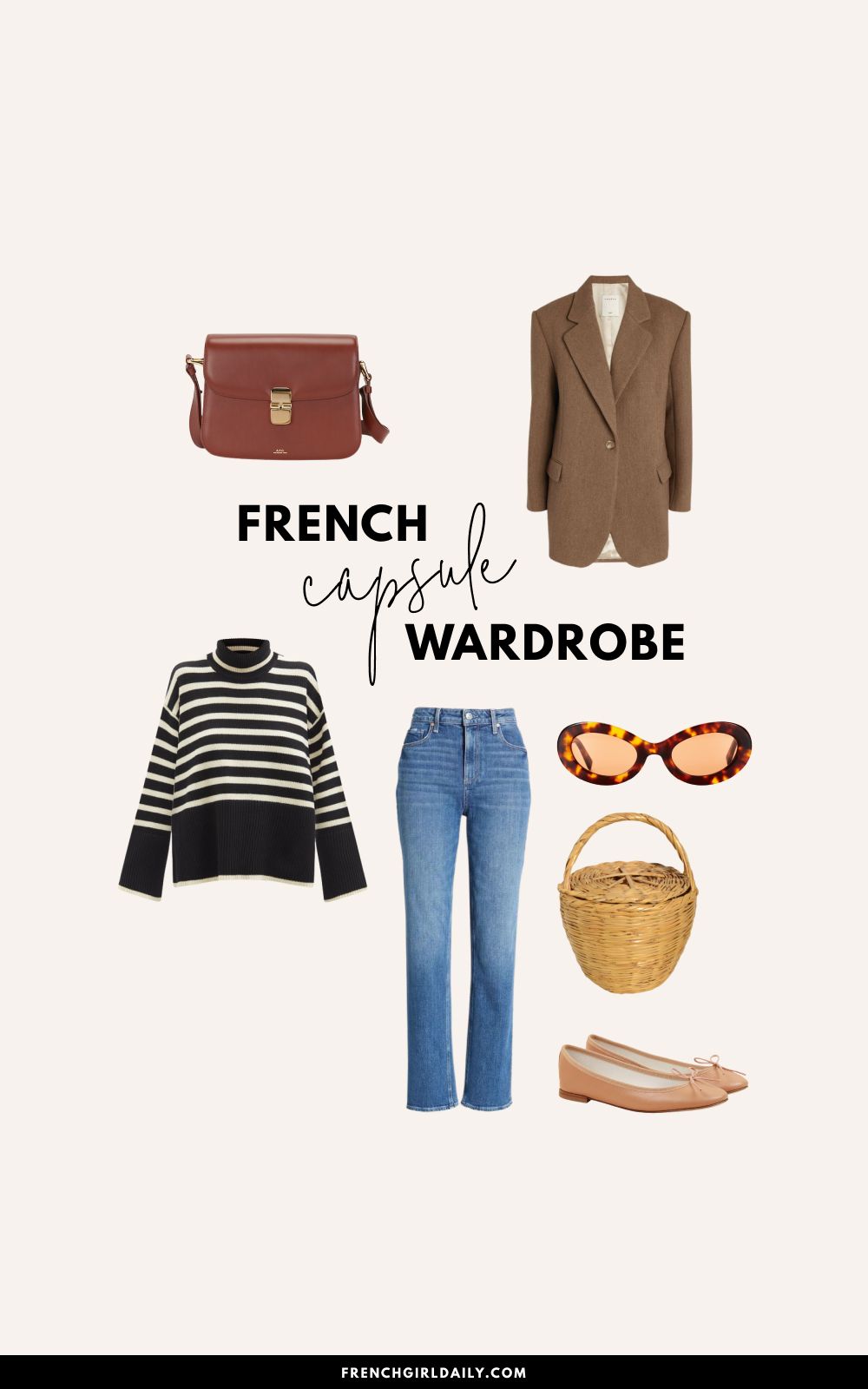 French Capsule Wardrobe Essentials
Here are the French capsule wardrobe essentials. I kept it to a neutral color palette of black, white, beige, and navy. The occasional pop of red is a great choice to incorporate into your French wardrobe but otherwise stick to neutrals.
Clothing
Short Sleeve T-Shirts
Short sleeve t-shirts in black, navy, and white are a must for your French capsule wardrobe. They're easy to wear with jeans in the summer, or layer under a sweater in the fall. There are lots of pricing options for basic t-shirts, but I personally don't go with the premium quality t-shirts out there. I prefer to spend my money on more visible pieces in my wardrobe. For that reason, I opt for buying t-shirts at H&M, Gap Factory, or Banana Republic Factory.
Long Sleeve T-Shirts
Long sleeve T-shirts are perfect for wearing underneath a thick sweater in the winter. They are versatile layering pieces for my wardrobe! I always make sure to have at least 5 white long-sleeve t-shirts in my closet. I also get these from the retailers mentioned above, but I particularly love H&M as they have a rewards program. Be sure to look at the fabric up close and make sure it is not ribbed as this can leave marks on your skin.
Silk Camis
I love silk camis as they can really add a touch of elegance to any outfit. I wear them alone in the summer or let them peek out under a cozy cashmere cardigan in winter. Quince sells affordable washable silk camis for women.
A slightly oversized Oxford-style button-up shirt is a Parisian wardrobe essential. Figaret is a great French brand to buy one from. I love the "Marion" and "Je t'aime" models. I have two of these shirts: one in light blue and one in white. I don't mind spending more for these shirts as you can really feel the difference in the fabric. It's much stiffer and holds its shape better while you wear it than a cheap shirt does.
Beige Cashmere Sweater
I have a very simple beige cashmere sweater in my closet which comes in handy when creating a simple chic outfit. When my budget was lower, I went with the cheap cashmere sweater you can get from Nordstrom or Quince, but now that my budget is higher and I'm older, I'm ok with investing in the premium quality cashmere offered by high-end brands. These sweaters tend to be thicker.
Cardigans
Several cozy cardigans are integral to a complete wardrobe. I have a simple black cashmere cardigan from Kujten in Paris that I love to wear for evenings out.
Black Evening Jacket
A simple black blazer or stylish black evening jacket is great for evenings out to dinner or cocktail hours. I have yet to find the perfect one, but this is definitely a piece I would like to invest in and go with a premium option like a Celine jacket.
White Linen Dress
A simple white linen dress is perfect for hot summer days when you need a breathable fabric like linen to keep you cool. I love Reformation linen dresses and have several of them in my closet. The design is feminine and as long as the fabric is 100% linen, they last.
Little Black Dress
The little black dress is a must-have in all French women's closets! Personally, I don't think one black dress is enough. I have a summer and a winter black dress so I can wear the correct one depending on the weather. The summer dress should be made of cotton and the winter dress should be knitted, ribbed, or made of a thick material like wool.
White Mini Skirt
A simple white mini skirt will serve you well on so many occasions in spring and summer. You can go with a linen skirt if you live in a hot climate, or opt for a thicker fabric like cotton to give you more coverage. The style should be basic and without any frills.
Black Mini Skirt
A black mini skirt can be a great wardrobe staple for creating many outfits for both day and nighttime. You can dress these mini skirts up or down depending on the day. This is another piece that you could own in both a summer and a winter version and get two skirts made in different fabrics for different times of the year.
Jeans
A pair of straight-leg jeans are a must-have if you want to look chic in Paris right now. That said, if another cut looks more flattering on you, go with that cut instead. Skinny or wide-leg jeans are beautiful too. Just make sure you have at least one good pair of each color of jeans – black, blue, and cream/white! I personally own a pair of straight-leg cream jeans, straight-leg blue jeans, and a pair of black skinny jeans that I tuck into my knee-length boots in winter.
Linen Pants
White or beige linen pants are fantastic for hot summer days. These airy pants will keep your legs covered which is useful for more formal events when the weather is warm.
Black Pants
Tailored black pants are another great basic for your French girl capsule wardrobe. These are great for wearing to special events, work functions, and funerals. I have a pair of thick black wool pants I wear in winter, and a pair of black cotton pants I wear during the rest of the year as needed.
Trench Coat
The beige trench coat has become a French girl wardrobe staple, despite originating in Britain! You need to have at least one knee-length standard trench coat to keep you dry during the rain.
Where to buy trench coats? Mine is from APC but you can buy them more affordably from Banana Republic or Gap. The Sézane trench coat is particularly popular in Paris. If you want to splurge on an investment piece that you can pass down to your daughter, go with the iconic Burberry Kensington Trench.
Wool Wrap Coat
When it starts getting chilly in Paris in the fall, a black, beige, or camel wool wrap coat is the most stylish way to stay warm.
Puffer Coat
Temperatures can drop very low in France, so a cozy puffer coat is necessary for creating the perfect capsule wardrobe. You can get these for cheap from Mango and still have a chic, minimalist design.
Shoes
Beige Flats
Beige suede or leather flats are a year-round French girl shoe staple. These basic ballerina shoes can be paired with endless outfits. They're honestly my favorite shoe style. The Repetto Cendrillon flat is a classic French shoe style.
Black Flats
Black ballet flats are another wardrobe staple. Some French women prefer black patent leather while others prefer smooth matte leather. Both look elegant.
Red Flats
Red flats are great for adding a pop of color to an otherwise basic outfit. French women typically opt for either a cherry red color in the summer or a dark red in the fall.
White Sandals
For spring and summertime, a pair of white or beige sandals that go with everything in your closet is a must-have shoe style.
Brown Strappy Sandals
Most French girls pack a pair of brown strappy leather sandals in their bag for a summer trip to the south of France. The most popular brand for these types of shoes is the K.Jacques brand based in St. Tropez, or the Rodini brand.
Brown Leather Boots
Brown leather ankle boots are a fall wardrobe essential. I wear this shoe style every day during the fall typically!
Black Knee-High Boots
Black knee-high boots are a must for cold Parisian winters. I see these boots all around town once the weather turns frigid. You can wear these with thick, winter leggings, over black tights with a dress, or under a pair of black skinny jeans.
Black Pumps
A chic pair of black pumps are always good to have on hand. I got mine from Roger Vivier and only wear them on very special occasions!
Accessories
Brown Leather Bag
For everyday use, a brown leather bag is all you need for your first French capsule wardrobe. This bag is typically worn crossbody, but you could also go with a brown leather shoulder bag if you prefer this style. Whatever you are most comfortable with!
Black Tote Bag
For work days, a minimalist black tote bag is a smart solution. I have the Longchamp black Pliage bag for this purpose. It has a zip top and serves me well for so many activities like going to meetings with a laptop, traveling on a plane, and packing my daily essentials for shoots around Paris!
Silk Scarf
A silk scarf is the perfect accessory to complement an otherwise basic outfit.
---
I hope you found this French capsule wardrobe guide useful in building your ideal wardrobe!