If you've ever felt lost in terms of what outfit to wear on a daily basis, regret the purchases you make, and can't seem to be happy with your clothing, then you probably need to create a French capsule wardrobe. Why 'French' you ask? Well, because France is the fashion capital of the world and the country is well-known for its chic citizens.
Trust me, I live in Paris and every day I'm amazed at the number of elegant women walking down the streets here. There are a number of French style rules that French women adhere to in order to achieve that effortless je ne sais quoi vibe we all admire so much.
You see, French girl style is classic, simple, and very chic. French style clothing is minimalist in nature, not too sexy, and very well-tailored. French women only buy timeless pieces that won't ever go out of style. They avoid logos like the plague. Showing off one's wealth isn't considered classy in France at all. Lastly, they pick clothes that fit them well and flatter their particular body type.
If you want to create a functional wardrobe that exudes charm, then let's get started with creating your perfect French girl capsule wardrobe.
What Is A Capsule Wardrobe?
A capsule wardrobe is a collection of standard wardrobe items you can use to create any outfit you need. Think of it as a group of your basics. You can add a statement jacket or handbag as needed, but these pieces will form the foundation of all your outfits.
If you're following my 5-Piece French Wardrobe guide, then this capsule wardrobe is a great place to start when building out your closet basics.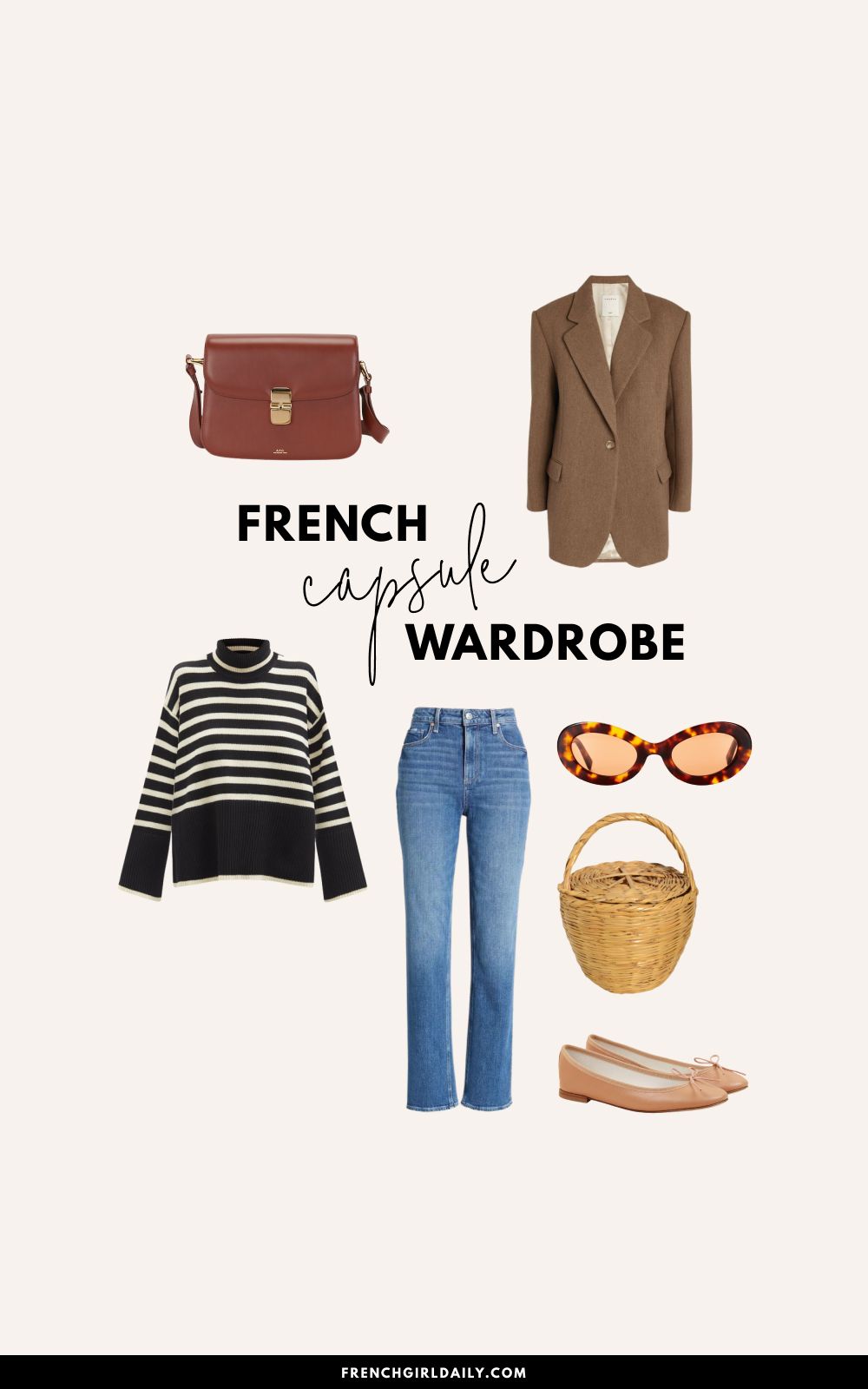 French Capsule Wardrobe Essentials
Here are the French capsule wardrobe essentials. I kept it to a neutral color palette of black, white, beige, and navy. The occasional pop of red is a great choice to incorporate into your French wardrobe but otherwise stick to neutrals.
Short Sleeve T-Shirts
Short sleeve t-shirts in black, navy, and white are a must for your French capsule wardrobe. They're easy to wear with jeans in the summer, or layer under a sweater in the fall.
Long Sleeve T-Shirts
Long sleeve t-shirts are perfect for wearing under a blazer during the fall or underneath a thick sweater in the winter.
Silk Camis
I love silk camis as they can really add a touch of elegance to any outfit. I wear them alone in the summer or let them peek out from under a cozy cashmere cardigan in winter.
White Button-Up
A slightly oversized white button-up shirt is a Parisian wardrobe essential. Figaret is a great French brand to buy one from.
Beige Cashmere Sweater
I have a very simple beige cashmere sweater in my closet which comes in handy when creating a simple chic outfit.
Cardigans
Several cozy cardigans are integral to a complete wardrobe.
Black Blazer
A simple black blazer is great for evenings out to dinner or cocktail hours.
Little Black Dress
The little black dress is a must-have in all French women's closets!
Straight Leg Jeans
Straight-leg jeans are the in-style jeans to own if you want to look chic in Paris right now.
Brown Corduroy Pants
Brown corduroy pants are a useful fall pant staple.
Black Mini Skirt
A black mini skirt can be a great wardrobe staple for creating lots of outfits. You can dress these mini skirts up or down depending on the day. 
Black Pants
Tailored black pants are another great basic for your French girl capsule wardrobe.
Trench Coat
The beige trench coat has become a French girl wardrobe staple, despite originating in Britain!
Wool Wrap Coat
When it starts getting chilly in Paris in fall, a black, beige, or camel wool wrap coat is the most stylish way to stay warm.
Puffer Coat
Temperatures can drop very low in France, so a cozy French puffer coat is necessary for creating the perfect capsule wardrobe.
Beige Flats
Beige suede or leather flats are a year-round French girl shoe staple. These basic shoes can be paired with endless outfits.
Brown Leather Boots
Brown leather boots are a fall wardrobe essential.
Black Pumps
A chic pair of black pumps are always good to have on hand.
Brown Leather Bag
For everyday use, a brown leather bag is all you need for your first French capsule wardrobe.
Black Tote Bag
For work days, a minimalist black tote bag is a smart solution.
I hope you found this French capsule wardrobe guide useful in building your ideal wardrobe!