These Parisian spring wardrobe essentials are what I spot most often on the streets of Paris. As you may already know, I live in the heart of Le Marais, one of the trendiest fashion districts in Paris. This affords me the incredible opportunity to check out some of the coolest street styles spotted on real Parisians during my daily life. Here is what I see most often!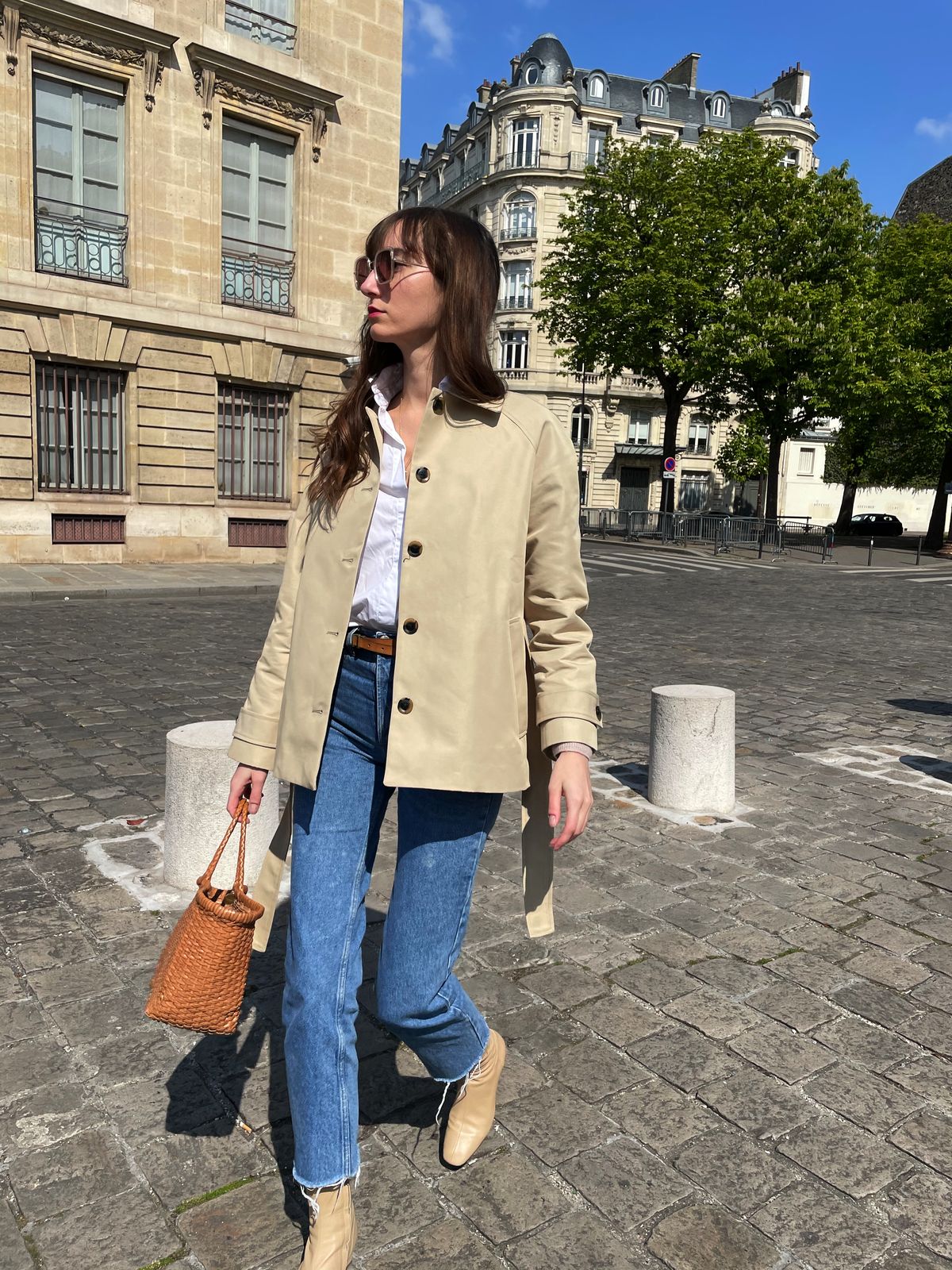 I am wearing a Samsoe Samsoe jacket, a Figaret button-up shirt, Dragon Diffusion bag, and Rouje Marais jeans and boots!
Parisian Spring Wardrobe
Here are my go-to Parisian spring wardrobe basics for getting chic Parisian spring style.
Trench Coat
I always have a good trench coat handy when springtime rolls around. The APC trench coat I own is perfect for chilly spring days and rainy Parisian mornings!
Beige Coat
My next spring essential is a thicker beige coat. It's typically shorter like the Rouje Jacques blazer but the wool keeps it snug and warm. It doesn't warm up here in Paris until well into May so having a good beige wool coat is essential to keep warm during the early spring days!
Ivory Sweater
I love tossing a cozy cream sweater over a t-shirt and a pair of jeans in spring! It always feels sooo nice the first time I can go outside without a heavy coat on! I love wearing a chunky sweater in a nice ivory or beige hue. I think it looks so nice beneath my brown hair and just brightens up my mood so much!
I have cream sweaters in wool and cashmere. Both of these materials are great depending on your preference.
My friend Hannah from Petite Chineuse gave me the cutest button-up white vintage cardigan from France and I can't stop wearing it! It layers so well with many outfits and I can easily open it up if it gets super sunny in the afternoon.
Button-Up Shirt
A well-tailored button-up shirt is a must-have year-round but especially in the spring so I can layer it beneath my blazers and jackets. You can see in the picture above I'm wearing a white button-up from my favorite French shirt brand: Figaret! I recommend the Caroline and Marion models which have become basics in my closet.
Beige Pants
I have quite a few pairs of beige pants that I just love wearing in spring. When it comes to spring, I really like to keep my wardrobe hues super light and bright! That means lots of off-white, cream, ivory, and beige. What does my beige pant collection look like? Well, it's either tailored pants or straight-leg jeans!
Jeans: I have a pair of beige Levi's 501s that I got from a Parisian vintage shop (got lucky!)
Pants: I have the Nathalie Dumeix Jeanne pants in beige as well as the Joplin in honey which is a darker beige or brown color. Both are amazing for spring in Paris.
Whether you go with jeans or fitted pants, get yourself a good pair of beige pants to pair with anything this spring! You can go for a colorful top or keep it neutral with a creamy white sweater. The options are endless with beige which is why I love this color so much!
Light-Wash Jeans
Spring means it's time to break out the light-wash jeans I have stored away during the winter! I pair my light wash jeans with so many different pieces like colorful tops, white t-shirts, and of course my dear button-ups. They're the perfect catch-all bottom for spring!
Midi Skirts
I have really come to love midi skirts in the last few years and I wish I had added them to my wardrobe sooner! They are just so feminine and elegant in a mature way. I always wear them with a small heel so that my legs don't look too short.
I pull out my midi skirts as soon as I can in the spring, even if it's not so warm. I can pair them with knee-high boots when it's still chilly and switch to low heels once it warms up.
Floral Dresses
It may be cliché, but I love wearing flowing floral dresses during spring! The hemlines start out long, but as it warms up, they get shorter! Sézane always has a great selection of spring dresses that take you into summer…
Flats
A good pair of French girl flats is essential for walking around Paris in the spring – something I try to do as often as possible now that it's actually warm enough to do so!
Basket Bag
I have my trusty basket bag from Polène (sadly discontinued) nearby when spring comes along. You can get a similar one from different shops online!
Voila! Each of these wardrobe items will help you create chic Parisian spring outfits in no time!