If there is just one item of clothing that could sum up French girl style, it would have to be la marinière.
While some may consider this iconic striped shirt a bit of a style cliché, the fact is I see women wearing them almost every day in Paris!
Keep in mind, tourists are banned right now, so it's certainly real Parisians who are sporting these classic French tops.
Whether you call it la Marnière, the Breton shirt, or just a striped top, this classic garment is found in nearly all French women's wardrobes.
What is a Marnière?
A marinière is traditionally a long-sleeve shirt with horizontal blue and white stripes. It became the original uniform of the French navy, or the Marine Nationale, in 1858 which is where its name comes from. Since many sailors in the French navy were from Bretagne, France, the shirt got its nickname: the "Breton shirt" as the people of Bretagne are called Bretons.
Genuine marinière tops have 20 navy blue stripes on the front and back. Each of the blue stripes is 10 millimeters wide and spaced 20 millimeters apart. The shirt sleeves have 14 navy blue stripes, also spaced 20 millimeters apart.
The 20 stripes are supposedly a reference to each of Napoleon's victories for France.
Where to Buy an Authentic Marnière
Breton shirts were first produced by various independent clothing makers in France. Over time, a few key companies began widespread mass production of these emblematic French shirts.
Saint James
Saint James is an authentic French marinière producer. It began with a single workshop producing wool on the shores of Normandy, France in 1850. The Moulin du Prieur workshop as it was called, produced warm sweaters for local Breton sailors and fishermen who worked along the coast's harsh seas.
In 1889, the first Saint James garment was created: the Breton fisherman sweater.
Saint James is the French marinière brand that has found the most success around the world. It is certainly the first brand most Americans think of when picturing the Breton shirt.
You can purchase Saint James clothing from Tuckernuck in the States.
Armor Lux
Founded in 1938 in Quimper, France by Walter Hubacher, the Armor Lux brand creates some of the most iconic seafaring wardrobe items. Their quality knits are made directly in their French factories in Brittany, the northwest French region. Armor Lux offers personalized Breton shirts, allowing you to have a short phrase embroidered near the collar.
The company prides itself on its use of fair trade cotton and local production. It's truly a Made in France brand that celebrates the French savoir-faire.
Armor Lux recently collaborated with American fashion designer Marc Jacobs on a luxury striped wool sweater.
Orcival
Orcival is a French company that created the durable marinière fabric known as "Rachel." Using looms that are capable of producing complex patterns like the stripes of the Breton shirts worn by the likes of Pablo Picasso, Orcival offers authentic Breton shirts made to last.
In 2017, the Museum of Modern Art selected a Breton top made by Orcival to represent the marrnière within its fashion exhibition "Is Fashion Modern?" exploring garments that changed the world.
Orcival notes that the marnière shirt is akin to the American creation of blue jeans – unisex and timeless.
The Impact of the Marnière on Fashion
French designer Gabrielle 'Coco' Chanel famously wore marinières during her vacations in the north of France as early as 1916, inspired by the sailor's way of dress. At her Deauville shop, she offered clients the "Navy Style," a shorter version of the traditional marinière.
In the following decades, everyone from Pablo Picasso to Brigitte Bardot would be spotted wearing the French navy striped tops. American actress Jean Seberg wore one in her breakout film, Breathless (1960) directed by Jean-Luc Godard.
Jean-Paul Gaultier is perhaps the designer most closely associated with the marnièere, having adapted the navy stripes into his most iconic pieces over the years, beginning in 1976. His inspiration comes from his mother, whom he fondly remembers dressing him in the shirts as a child.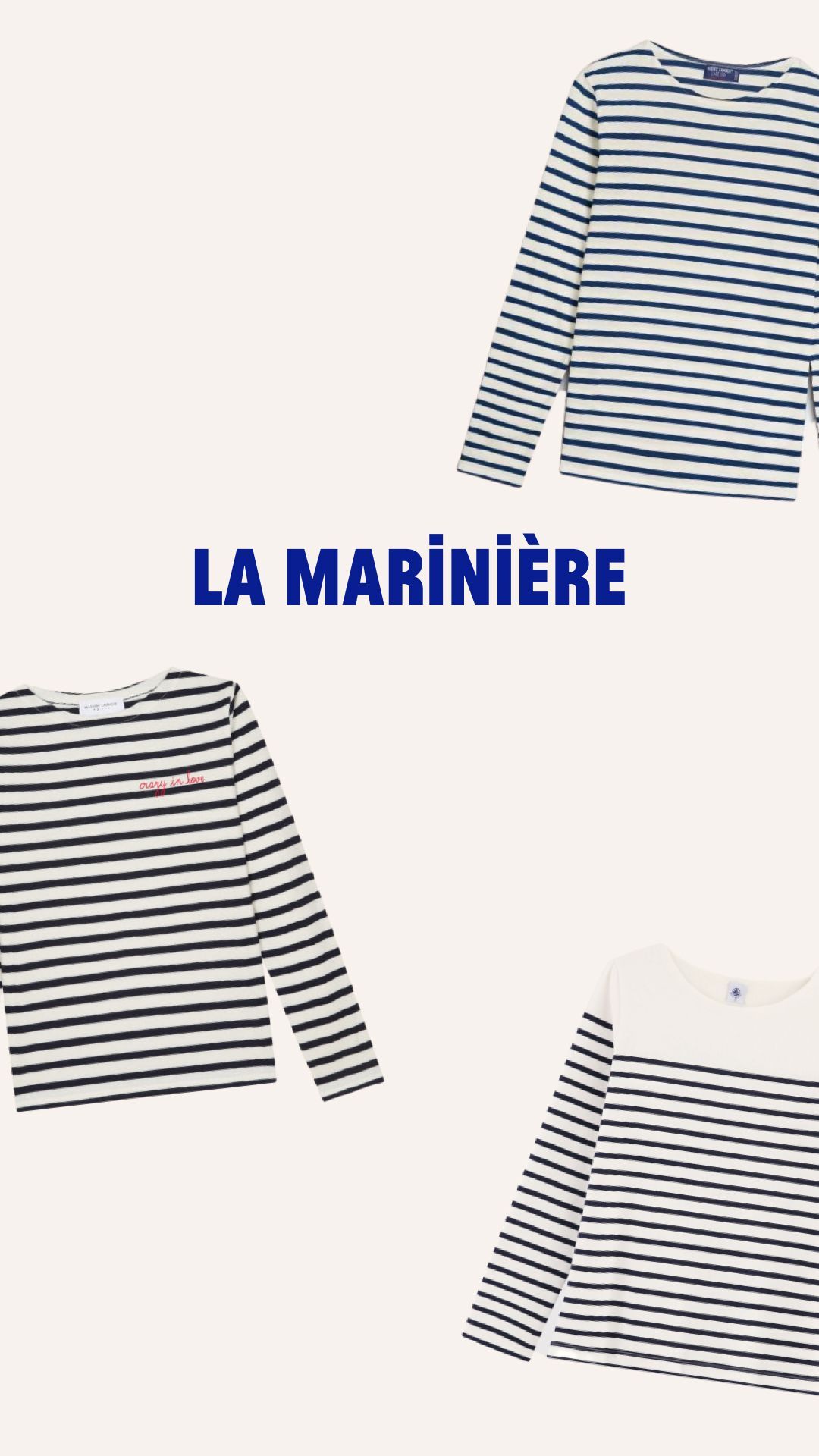 Marnière Shirts by French Brands
You can pick up a contemporary design of the marinière shirt from the following retailers in France. This style has been so successful that it's even been adapted into dresses, sweaters, and short sleeve tops. It also comes in different colors like black or red.
Sézane makes a marinière in blue, red, and yellow that sells out every season!
Breton Shirts by International Brands
If you're shopping from the United States, check out these international shops and American brands which sell their version of the classic Breton shirt:
What I love about the Breton shirt is how a wide variety of designers have been inspired by it. From high-end to affordable, you can find a marinière at just about every price point. It can be dressed up or down as you like!
Further Reading
If you want to read more about marinières, pick up the book Les marins font la mode for more history about this iconic piece of French clothing!