Many critics pointed out that the hit Netflix TV series Emily in Paris was riddled with French culture clichés, and the one thing everyone loved to hate the most was the fashion.
From red berets to Eiffel tower shirts, Emily Cooper seemed to adore breaking all the sacred Parisian fashion rules and preferred to walk around like an American-in-Paris cliché.
Recently, the Wall Street Journal declared that the perfect Parisian woman cliché is over, yet it chose a photo of French model Inès de la Fressange wearing a striped blue shirt as the featured image for their story.
But are all these French fashion clichés really just fake tropes from decades past? Is there any truth to them, even today? Do real Parisian women actually wear these fashion clichés?
I live in Paris and today I'm going to share whether each major French fashion stereotype is real or not!
French Fashion Clichés
Here are the biggest French fashion clichés and whether they are actually worn by French women or not.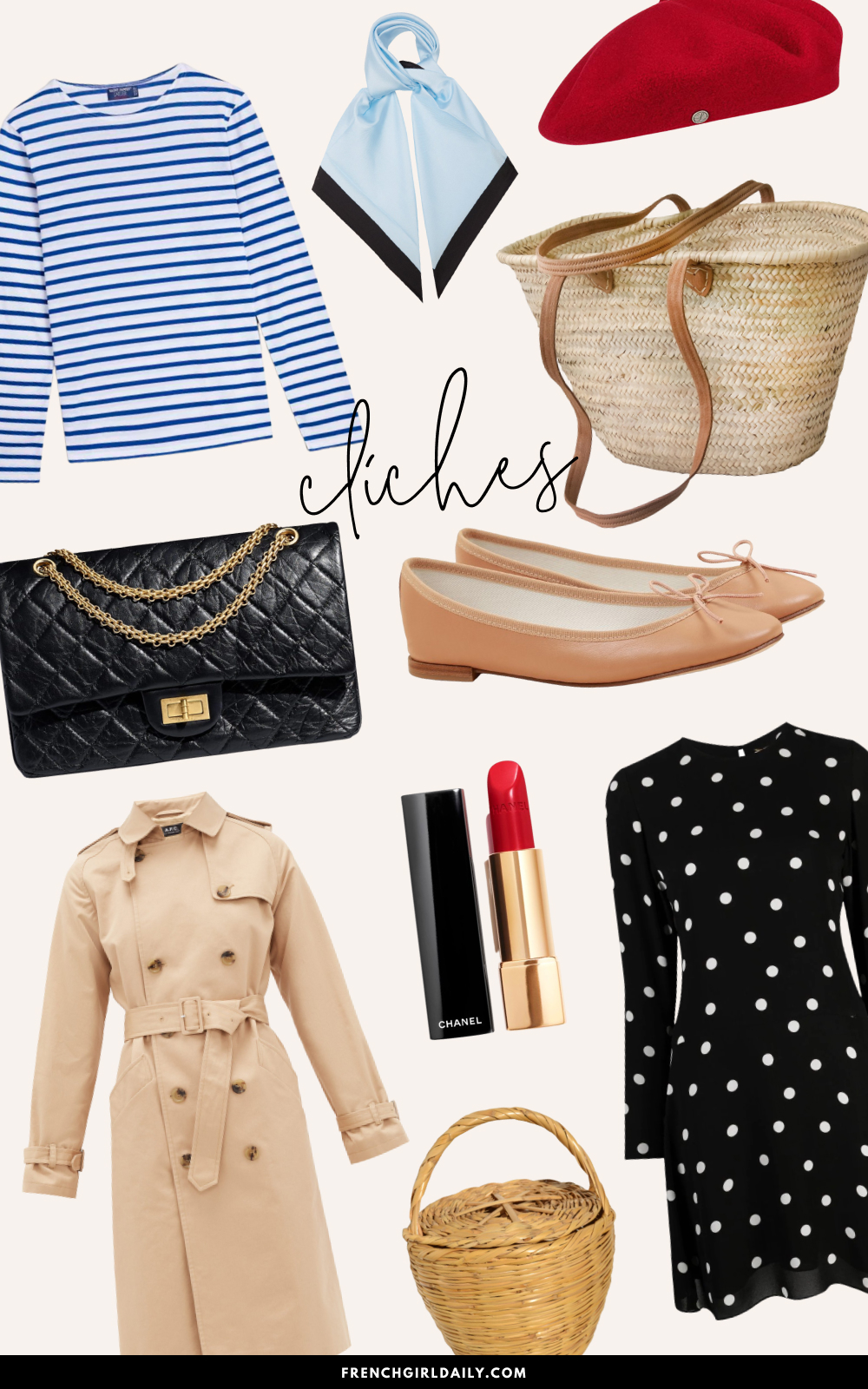 Beret
Cliché. The biggest French cliché of all, the beret, is just that – a stereotype with no real basis in reality. The rare berets I see on the streets of Paris are worn by much older couples, not young French women! So if French octogenarian style is your thing, then, by all means, wear the beret! Otherwise, this is one fashion trend that can rest firmly in the passé.
Striped Shirts
Real. The most quintessential French top is the La Marinière shirt, also known as the Breton top, with its many blue and white horizontal stripes. This is one fashion cliché that lives on in France. You can see striped shirts and even sweaters everywhere in France, including Paris. The style has been adapted and reinterpreted by dozens of fashion designers over the years, but the classic Saint James shirt still remains ever popular!
Silk Scarf
Real. French women really do wear beautiful silk scarves, even if they aren't all by Hermès. I see colorful silk scarves on the streets of Paris very often. While French women don't wear them every day, this is one trend that I don't see going away any time soon.
Polka Dots
Cliché. A black and white polka dot dress is the French fashion cliché I remember the most from decades past. While some designers still use polka-dotted fabrics for their clothing, polka-dotted dresses aren't everywhere on the streets of Paris the way one might imagine them to be. So while there's nothing wrong with polka dots, they aren't as ubiquitous as a real fashion trend.
Trench Coat
Real. Trench coats are very much an essential part of the French wardrobe and they can be seen on women across France. These waterproof beige coats are practical for rainy Parisian days and go very well with most outfits. This is one outerwear cliché that's real!
Chanel Bag
Cliché. Not every French woman owns a Chanel bag, or any other French designer bag for that matter! Luxury bags are still too expensive for most people, so the French prefer to buy a quality leather bag from a contemporary handbag designer.
Ballet Flats
Real. Ballet flats are an everyday shoe that you can spot on the sidewalks of Paris or at a local café terrasse. They might not be as high-end as Repetto ones, but this French girl shoe design is definitely still going strong.
Red Lips
Real. Red is the color of choice for French girls in Paris. The bright red lip is a Parisian makeup trend that has stood the test of time in France for sure!
Birkin Basket Bag
Cliché. Honestly, I adore the Birkin wicker basket bag and I get compliments every time I wear one. But the truth is that most French girls do not own one unless they're posing for Instagram!
Straw Market Bag
Real. French straw market tote bags are not a cliché in France at all. You can spot these large woven basket bags with brown leather straps at just about any French farmer's market in the country! They're a practical way to carry around your purchases and are beloved by the French!
There you have it – my take on the French fashion clichés the world associates with France. In total, it looks like only 4 are in fact clichés and 6 are actually real fashion trends worn by the French!
What are your thoughts on these French style clichés?